Xaar printhead set to 'revolutionize' aqueous inkjet
Xaar's newly developed Aquinox printhead technology is claimed to be able to jet inks and fluids with far higher viscosity and pigment loading, opening up exciting new application possibilities. Andy Thomas-Emans reports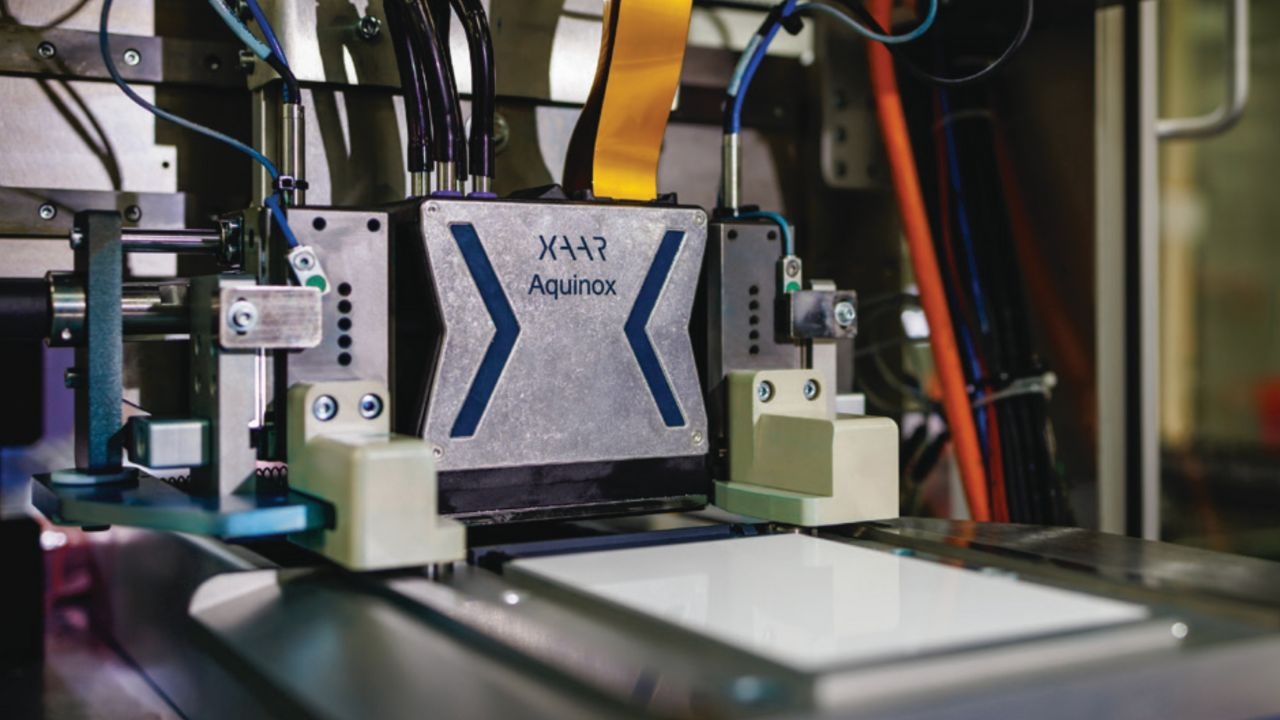 Xaar has launched a new printhead capable of jetting aqueous inks and functional fluids whilst also allowing the use of high viscosity and high pigment loaded fluids. This is expected to lead to the development of aqueous inks with more vibrant colors, superior adhesion properties and print process simplification.
Xaar's Aquinox technology, aQ Power, is built on the company's ImagineX platform, claimed to provide a radically new approach to how water‐based fluids are jetted reliably in an industrial environment.
Xaar's aQ Power is a combination of technologies designed to optimize the Aquinox's lifespan and robustness when handling aqueous fluids. These include a redesigned internal architecture, new water‐compatible materials capable of coping with an extended working range of pH levels, and a new drive system enabling optimum drop ejection. Xaar's TF technology ink recirculation allows Aquinox to deliver significantly increased nozzle open time.
Aquinox printheads are compatible with multiple aqueous fluid types and Xaar says operational speeds of over 100m/min can be achieved. Native resolution is 720dpi and a firing frequency up to 48kHz maintains a high level of fluid deposition.
Aquinox printheads are capable of jetting fluids with viscosities up to 100cP at jetting temperature, meaning larger particles and more pigment for higher opacity. Colors are claimed more vibrant and Whites and blacks stronger.
Xaar's chevron printhead architecture provides for energy efficient operation, reducing the power required for the printheads. Improved nozzle open time and latency reduces maintenance and ink waste, helping to minimize the total cost of ownership for users.
Aquinox is supported by Xaar's proven Hydra ink supply system, with a 'plug and print' capability and intuitive user interface, which allows easy integration into new digital presses or modules.
Aquinox is delivered with a development kit that gives OEMs everything they need to get up and running. This includes the ink supply system and printhead drive electronics.
Xaar has tested the Aquinox printhead with both dye‐based and pigmented fluids and inks, across a wide range of applications.
Deep dive
L&L interviewed Karl Forbes, Xaar Group R&D Director, to better understand why Xaar believes Aquinox is such a breakthrough technology.
'The key to the industrial reliability of the Aquinox printhead is our TF technology recirculation, which allows us to print highly pigmented, high opacity whites and other colors significantly improved jetting reliability and uptime. We are talking about an open time of potentially days not minutes, which means a huge reduction in maintenance requirements.'
Open time is a measure of how long it takes printheads to dry out when not printing. A typical open time for aqueous printheads is 30‐60 minutes, after which the printhead has to be serviced. 'Our TF technology recirculation means ink is recirculated past the back of the nozzle and importantly, within the nozzle itself, which
Xaar Aquinox printhead
"The key to the industrial reliability of the Aquinox printhead is our TF recirculation technology, which allows us to print highly pigmented, high opacity whites and other colors without any danger of the nozzle clogging up"
keeps the fluid moving at all times. This is all about increasing printer uptime.'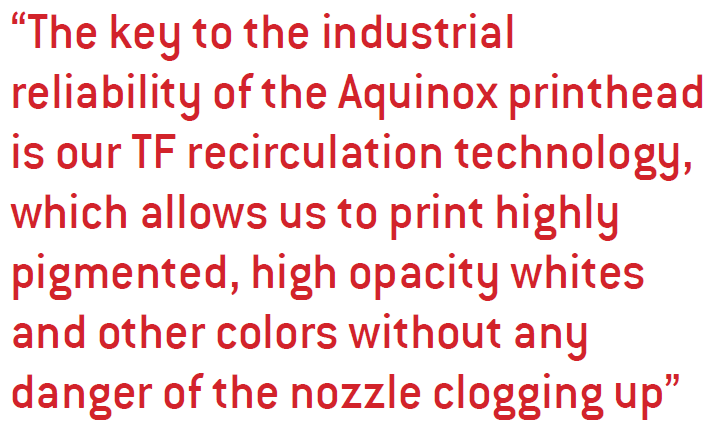 Karl Forbes notes that a typical printhead cannot handle fluids thicker than 10 – 15cP, which constrains the design window for the fluid chemist. 'This restricts the amount of ink pigment the fluid can carry to typically 15‐20 percent. With Xaar ImagineX Technology we can comfortably double that. So, the ink can be much more vibrant with a wider color gamut and will still dry quickly on the substrate and be tough and flexible. For the ink designers this gives a much bigger operating window.'
Forbes notes that this new design freedom should also see advances in changing the current process required for water‐based printing. Opportunities such as reducing the need for special primers and lowering energy levels in dryers are examples Forbes believes are possible.
The wider process window for the Aquinox printheads could also make it possible to use existing water‐based flexo ink raw chemistry, including metallic options.
Concludes John Mills, CEO of Xaar, 'Xaar Aquinox, powered by our ImagineX platform, is our most significant product launch in recent years. From textiles to ceramics and packaging, we see the Xaar Aquinox breaking new ground, enabling new water‐based print applications, many of which were previously not possible with inkjet. The Xaar Aquinox will revolutionize aqueous printing.'
Stay up to date
Subscribe to the free Label News newsletter and receive the latest content every week. We'll never share your email address.