Label Congress 2021, organized by Labelexpo Global Series, welcomed 743 people to the Donald E. Stephens Convention Center in Rosemont, Illinois, for a table-top exhibition featuring 57 exhibitors running alongside two days of conference sessions.
The first day, moderated by L&L's North America editor Luis Rodriguez, started with an overview of global and US label market trends, followed by an in-depth look at the hot topic of the day, digital embellishment. 
"We knew there was a terrific desire for the label industry to reconnect in person"
Two panel sessions followed on hybrid printing and whether label converters should move into flexible packaging, concluding with a presentation on IoT-driven connectivity for consumer products by Avery Dennison. 
Day two, moderated by L&L's online editor Jordan Hart, began with Label Industry Global Awards Lifetime Achievement winner Federico d'Annunzio explaining how data transparency will transform the label industry, and this was followed by a panel discussion on sustainability. L&L columnist Paul Brauss then looked at how to create a culture of continuous improvement and the conference concluded with a panel on recruiting and retaining young talent. 
The exhibition which ran alongside the conference attracted 57 exhibitors including Flint Group, Avery Dennison, Colordyne, Epson and Fujifilm.
'The response from visitors and exhibitors was overwhelmingly positive – in many cases this was the first time they had seen industry friends and colleagues for almost two years,' said Tasha Ventimiglia, event director at Labelexpo Americas. 'We were thrilled with the high quality of attendees from throughout the entire US and Latin America, and certainly all the feedback we heard was that decision makers were walking the floor. Our #labelreunion networking party on the first night was a great success. As a gold sponsor of the event, Xeikon was able to take attendees to its innovation center just 15 minutes away. They had four showings and each one was completely full.'
'We knew there was a terrific desire for the label industry to reconnect in person and Label Congress 2021 proved that to be the case, despite the continued restrictions on travel. This gives us great confidence as we look forward to our first full Labelexpo events next year in Europe in April and back here at the Donald E. Stephens Convention Center in September 2022,' said Lisa Milburn, MD of the Tarsus Labels & Packaging Group.
TLMI president Linnea Keen added: 'Label Congress was a fantastic event! Everyone who attended was highly engaged and actively participated. Tarsus put on an outstanding event for the label industry and the two-day conference sessions were well attended. Our fellow exhibitors and TLMI members that we spoke to commented on the high quality of the conversations with attendees. Thank you Tarsus for bringing the industry back together – well done.'
Technology and the global market
The conference was kicked off by Linnea Keen, president of TLMI, and Corey Reardon, president and CEO of Alexander Watson Associates, with a presentation covering the current state of the global label market.
Opening with a split-comparison of labeling technologies and applications focused on primary product labeling, Reardon and Keen pointed out the impact Covid had on both primary product and VIP labeling and how the growth of VIP especially has been accelerated by the pandemic. They then continued with a conversation about the estimated market growth of labeling by format and by technology.
Closing out their discussion on the current capacity backlog and supply chain challenges the label industry is facing, Reardon posited: 'I'd like to be more optimistic, like some people, in that it would be sooner rather than later. But reality might say that we're in for a period over the next six to 18 months of dealing with these capacity, backlog and supply chain issues.'
Next was a set of presentations on digital embellishment technologies by Hans Gerinckx, vice president global sales and channels of Flint Group Digital/Xeikon, and Jim Kehring, west coast regional sales manager at A B Graphic.
Gernickx opened his presentation by saying: 'I'm going to make a tough assumption here. I'm going to say that digital printing today becomes a commodity. So I'm not going to talk about what's currently standard on board a traditional digital press. We all know, we all know it works, so I'm not going to talk about that. But I am going to talk about the new possibilities of digital embellishment. How can we create new businesses, how can we create additional applications, things that we did not do before,' said Gernickx. He outlined the steps it would take for converters to implement and take advantage of the technology, providing the audience with physical examples of labels that used digital embellishment technologies and showing the steps it took to print these labels.
Kehring spoke about the capabilities of digital embellishment, pointing out that, in comparison to traditional printing processes, digital shines due to the lack of tooling required and the ability to more quickly fix issues that may come up while running a job. 'If they don't like how it looks, they can make live changes. Which is again, very different,' said Kehring. 'If you were to create a screen, conventionally, and get that all set up, get your ink down, and realize there's not enough height or it's too high or it doesn't look right, you are stuck with that screen. You've got to go get another one or make another one, but with digital embellishment it's just a push of a button.' He also discussed how there can be a complete lack of tooling with laser die-cutting and how digital print process can be fully automated with the use of automated pre-press and inspection software.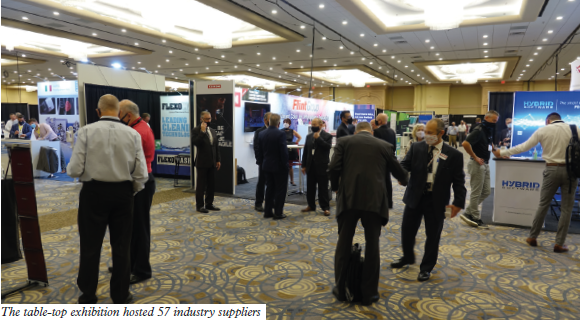 In the first panel discussion of the day, moderated by L&L's Luis Rodriguez, panelists Mike Pruitt, industrial printing product manager at Epson, Taylor Buckthorpe, director of sales at Colordyne, and Mark Turk, president and CEO of International Label & Printing, looked to answer the question, 'What are the benefits of hybrid printing?'
As the converter on the panel, Turk was keen to point out that one of the main benefits of International Label & Printing's hybrid press, which he called the workhorse of its operation, was allowing the company to have higher throughput and to get the product to customers more quickly.
"Do you have the data you need to make automated manufacturing decisions? Can you get that data where you need it? And can you make decisions based on that data?"
One discussion point was figuring out when is the best time to use a hybrid press – a question to which, according to the panel, there is no easy answer. 'There's no "if X then there's a success" statement you can make in terms of label and packaging production,' said Buckthorpe, agreeing with Turk who said that the choice depends on the job at hand. 'My customers who are making the most out of hybrid printing typically have the most robust costing systems in their facility.'
Buckthorpe said these systems allow customers to decide how much of specific run should be printed flexographically and how much should be printed digitally. Pruitt agreed that it's dependent on the job as a whole and the amount of manual work that is required.
In terms of challenges faced with hybrid printing, the panel agreed that using both flexo and digital inks is something that converters should be aware of, as bleed-over can occur depending on the substrates as well as having those sometimes-difficult conversations with brand owners when attempting to match colors. 'You have to have an extended conversation with your customer on what's been printed in the past, what's been matched, and what digital can do, because it's a little different,' said Pruitt. Buckthorpe agreed, describing how he has had these conversations with brand owners whose colors may not have matched exactly what they were looking for.
A second panel focused on whether label converters should diversify into flexible packaging. This session was moderated by TLMI's Linnea Keen and featured Bruce Hanson, CEO of AWT Labels & Packaging, Matt Bennett, global vice president business strategy, packaging at Fujifilm North, and Chris Baldwin, sales director at Omet Americas.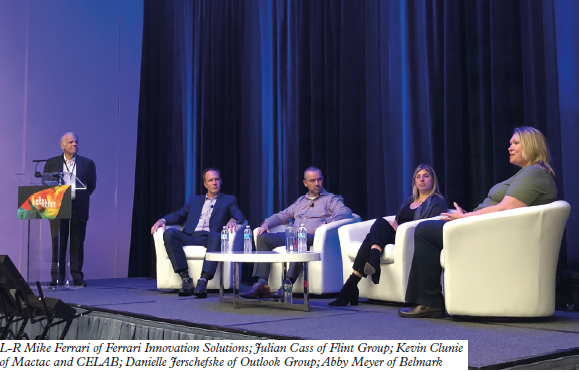 They discussed the challenges converters may face when diversifying into flexible packaging. Outside the financial challenges – the purchasing of a new press and so on – that the panelists agreed are necessary when expanding into flexible packaging, training operators on the skills required to run these machines, and also health and safety hazards that can occur if converters are not fully knowledgeable of the substrates or printing and drying processes that are necessary when printing flexible packages, can affect a converter's future in the market.  
'A lot of flexible package companies have chemists and scientists working with them who understand inks and films and barrier constructions, and how to make sure there's no contamination between the inks, coatings, primers, and what's in the bags,' said Bennett. 'It's really difficult stuff, and if you don't know that going in, you're not going to last long. You really have to have expertise. Because you don't want to be the company that delivers a bag with migration problems, because that may be the last bag you deliver.'
To finish day one, Salisha Fingerhut, market development manager, atma.io at Avery Dennison, gave a presentation on how converters can take advantage of the Internet of Things and how it will affect the label and packaging industry. She broke down the potential ways the end user can take advantage of 'smart' labels such as creating digital identities of each product in the cloud, being able to track each product from the beginning of its lifecycle in the supply chain all the way down to the consumer's hands, allowing end-users to authenticate products and track exactly where bottle necks happen when there are disruptions in the supply chain.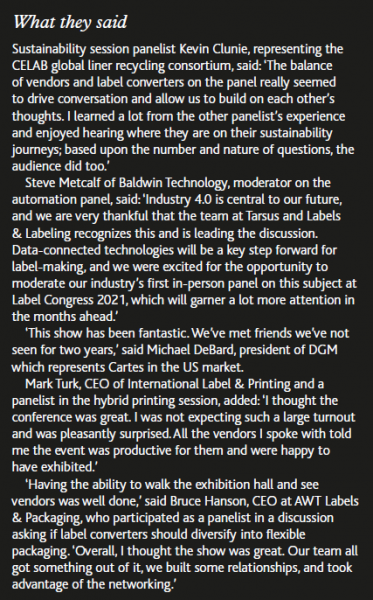 Future-proofing your business
Day two of the conference focused on future-proofing your business. The first session saw Federico d'Annunzio, founder and CEO of transpar3nt.com, outline a broad vision of the future of the printing industry. 'What we have to deliver is value, and value is tightly connected with data with digital,' he said. Good data will be key because, according to D'Annunzio, 'everything which can be automated, will be automated.' Businesses will need to take their digitization and data processes seriously if they want to continue to be relevant a few years down the line.
Picking up where d'Annunzio left off, a panel session asked the question: how far can automation and Industry 4.0 go? The discussion was moderated by Steve Metcalf, chief marketing and IoT officer at Baldwin technology, with panelists Michael Weyermann, VP of sales and marketing at MPS; Mike Rottenborn, CEO of Global Graphics; Nate Hoogeboom, MIS implementation specialist at Cerm; and Robert Buongiorno, president of BST North America.
'For us, Industry 4.0 is quite simply the digital conversion of manufacturing,' said Rottenborn. 'There are three factors to that: one, do you have the data you need to make automated manufacturing decisions; two, can you get that data where you need it; and three, can you make decisions based on that data?'
However, this process doesn't happen overnight. When talking about 'lights out' manufacturing, 'it doesn't need to be full lights out implementation,' said Nate Hoogeboom. 'It's the opportunity to start automation and improvement to your workflows today. It's a progress not perfection mindset. Every day, every month, every year we should be able to say we are doing it a little bit better, and that time starts today.'  
The third session focused on how to build a sustainable future for your converting business. Moderated by Mike Ferrari, founder and president of Ferrari Innovation Solutions, the panel was comprised of Julian Cass, VP North America NW at Flint Group; Kevin Clunie, VP of sales and marketing at Mactac and VP of CELAB; Abby Meyer, research engineer at Belmark; and Danielle Jerschefske, business development manager at Outlook Group. The group discussed how a corporate vision influences how and to what extent a business adopts sustainability. 'If you can make the sustainable choice the easy choice, then it's going to stick,' said Clunie.
"You need people who are passionate about sustainability and they will drive that agenda throughout the company"
For Belmark, the motive for sustainability is quite simple. 'At Belmark we have our overall company mission statement which is "we do what is right," and that applies to sustainability. Sustainability is simply the right thing to do,' said Meyer. To avoid sustainability becoming just another box to tick in the corporate checklist, Cass said: 'You need people who are passionate about sustainability and they will drive that agenda throughout the company.'
Similar to Hoogeboom's comments from the second session, Meyer echoed that sustainability can be a journey that starts with small steps, such as switching to efficient LED lightbulbs or more efficient batteries in forklifts. Setting a goal can be a good way to drive sustainability as well. 'At Outlook Group we have over a decade of being more than 95 percent landfill free,' said Jerschefske. Milestones such as that help define a target for a company to pursue, rather than trying to tackle sustainability from all angles at once.
The fourth session was a presentation by Paul Brauss, consultant and executive coach at Brauss Consulting and an L&L columnist. He discussed how to create a culture of continuous improvement and align leadership with business processes. 'Everyone wants to know, what is our company's strategy?' said Brauss. He clarified that a strategy is different from an outcome or a goal, such as increasing revenue. A strategy incorporates four key blocks: the financial perspective, the customer perspective, the internal perspective, and the learning and growth perspective. Considering each of these blocks gives a deeper understanding of the company and its strategy. He also discussed creating new metrics for your business, the difference between a driver and a result, fostering involvement and accountability within a company, and the benefits of adopting a Kaizen approach.
"There definitely needs to be a lot more exposure of this industry to high school students. We were told that print is dead; but labels are not going anywhere"
The final session was a panel focused on recruiting and retaining young talent. Moderated by L&L's Jordan Hart, the panel featured Elizabeth Yerecic, key account manager at Yerecic Label; Katelyn Bohr, director of marketing at Colordyne Technologies; Nicole Rivera, director of administration and operations at K Laser; and Amy Chott, a student studying graphic arts and applied sciences at Harper College. The panel discussed the ongoing labor shortage within the print industry – one cause of which is the lack of education about the benefits of a career in print.
'Our converting partners are going into high schools to let young people know that this is an option because frankly they just don't know. They don't know that this industry is a path or that it has growth opportunities. Just because someone starts operating a press doesn't mean they will stay there their whole lives,' said Bohr.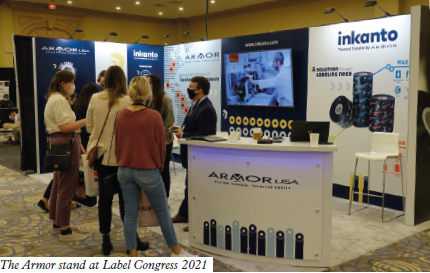 Defining a clear growth path for an employee's career is key to retention, according to Elizabeth Yerecic. Yerecic Label uses a tiered training system to progress its operators from basic finishing equipment to complex presses. This defined career path, along with providing good pay and good benefits, has resulted in a well-developed and tenured workforce.
However, a career in labels ultimately must start with awareness, as Chott emphasized. 'If I had known about the size and the scale of this industry sooner, I could have saved five years of my life trying out a bunch of different things and gotten here a lot sooner,' she said.
'There definitely needs to be a lot more exposure of this industry to high school students,' Rivera added. 'We were told that print is dead; while that may be true for magazines and newspapers, labels are not going anywhere.'