Technology and connectivity continue to develop rapidly, with their implementation rates rising across all modern business. Likewise, in the printing industry integration and automation of both in-line and off-line processes are becoming a reality. Automated unwinds and rewinds, inspection processes, finishing operations from turret rewinding to slitting, varnishing and cold foiling. This trend extends to management information systems (MIS) developers, software companies and equipment manufacturers who collaborate to implement significant production improvements. 
Workflow automation increasingly integrates all processes and production stages, be it of management information, pre-press, or the press and other process stages. It is undoubtedly the direction the industry is going in terms of running tomorrow's printing presses and converting plants. 
"Printing machines on average are not running 30 percent of the time. This downtime can be easily transformed into an additional production capacity and turned into extra profit"
Let the machine talk 
'Combining these technologies will uncover the hidden potential of machines and can bring up to 30 percent improvement in performance,' says Atze Bosma, CEO of MPS Systems. 'There is a world of opportunity in the printing industry when it comes to connectivity and data-driven service. We are keen to show our customers how to improve the performance of their presses.'
MPS' connectivity platform 'Talk to me' enables its presses to communicate with software and hardware on the printshop floor, allowing multi-directional data exchange. As a result, press operators and management can gain full control of the printing process and make instant data-driven decisions about each stage. 
'We strongly believe there is real potential to increase the efficiency of a printing machine, but it is not achievable without correct data collection and analysis,' adds Bert van den Brink, technical director of MPS. 'Connecting our printing press, Cerm's MIS system and Esko's pre-press gives us a clear set of data, helping to identify exactly where the inefficiencies occur and how to tackle them to increase the overall productivity.'
'All three individual systems offer an interesting set of functionalities that can easily improve converters' productivity,' comments Geert Van Damme, managing director at Cerm. 'But the interaction between these systems provides an extra dimension that can be compared to any team sport: it's the way they play together that makes them win.'
According to Tim Klappe, managing director of MPS Asia Pacific, the biggest gain from in-depth analysis is allowing printers to monitor performance details and use this knowledge to identify bottlenecks and weak points in their production lines in order to react accordingly. 
'The cost of label presses spans between 300,000 and 3 million EUR. These are sophisticated pieces of equipment. However, the information that we can normally extract from these machines is very limited. We can monitor speed, mechanical or electrical errors and sometimes pressure information along with the registration data,' says Klappe. 'There is no option to find out how exactly the machine is running. We don't know how long it takes to set it up, what the exact material wastage is, uptime, downtime, or even an average machine's speed per day or week.
'Of course, we can rely on machine operators to input some of this data manually, but it will not be real-time information and will certainly not be as valuable or accurate as the hundreds of measurements per minute that modern sensor technology can deliver.'
Digital twin
By using several hundreds of sensors attached to a machine, MPS has created a digital twin model to enable reading of the data. 
'With a detailed and continuous data stream we can understand exactly what is happening with the press at any given point in time in detail. Not just the 10 to 20 scans that the operators are able to make manually during the run of the job; having a digital twin with streamed dynamic data sets enables better decision-making,' adds Klappe.
The constant stream of real-time data opens new analytic opportunities in the form of an easily accessible online dashboard. Label converters no longer have to wait for productivity reports as all the important information about their production lines is collated on the virtual dashboard. 
According to Klappe these streaming analytics make business owners more agile and responsive to the realities of what is happing in the label print operation. 'The majority of label converters look back at past performance,' he notes. 'Today, real-time production data can be compared with historical information to give the management an immediate perspective on how the business is developing. Streaming analytics allow management to be proactive with real-time processing and decision making instead of just being reactive to older data. Converters have the opportunity to be faster than competitors and gain extra capacity due to the continuous implementation of the best practices, reductions of errors and downtimes.
'We might be talking about several seconds gains, a minute here and a minute there in faster set-up time. This might not sound especially exciting at first. However, these time gains can easily translate into hours a week and weeks in a year. According to our research, printing machines on average are not running 30 percent of the time. This downtime can be easily transformed into an additional production capacity and turned into extra profit for converters.'
'You can compare the real-time data exchange between the systems (hardware and software) and MIS with the input of a switch panel at a railway station,' adds Geert Van Damme. 'When a train has passed a switch (status change in pre-press, e.g. plates ready), the next train can start moving (printing is possible). The MIS is the switch panel, checking all conditions for the complete workflow. Hardware, software and the operator report status changes (switch signals) that fulfil consecutive or parallel conditions for following steps. If this real-time data exchange did not exist, operators would have to switch on/off manually or would have to tell the next operator that he is ready to go (as they did years ago by putting the job ticket on the in-box-pile of the next operator in line). Now they all see instructions on their screen for the next job in line when conditions are set automatically.'
Machine talk
Cerm and Esko have estimated that simply through integration of MIS and pre-press software, converters are already able to significantly raise their production performance. The efficiency boosted by a single entry of data reduces wastage and errors up to 80 percent and by automating the processes the throughput time can be reduced up to 50 percent.
These gains present converters with the opportunity to process over 40 percent more jobs using the same amount of printing presses and operators. 
Esko's Value Stream Mapping (VSM) focuses on a company's value creation workflow, exposing waste and delays based on real numbers and insights gathered from employees, and revealing opportunities to improve productivity and throughput. VSM considers the workflow a system of steps and activities which are all connected in one way or another, helping executives to establish a long-term zero waste strategy rather than undertaking singular actions. It is the starting point of a business improvement project.
Ken Polspoel, global solutions manager at Esko, comments: 'VSM forces you to think holistically. There's no point in creating islands of success in a sea of waste.' 
'The system is updating conditions in the work schedules, which lead to decisions like postponing jobs where conditions are not met and rescheduling jobs that are ready for production to an earlier and more optimal position (e.g. using the same paper/ die/colors) which leads – in turn – to a cheaper production cost (less changeover times and less material wasted),' adds Geert Van Damme. 'If you can consistently be more efficient than estimated, this can lead to lower sales prices with the same margin to beat competition.'
"With a detailed and continuous data stream we can understand exactly what is happening with the press in detail at any given point in time"
Besides the machine efficiency, enabling systems to communicate introduces label converters to consistency and quality of data used in different departments and significantly reduces the need for communication between pre-press department, customers and customer services delivering considerable time and cost savings. 
'We are talking to our partners, such as UV suppliers, anilox rollers suppliers, inking systems manufacturers to invite them to connect with us as well,' states Klappe. 'We can connect all elements of the label production, and we are currently making decisions about which devices we should link into our data collection network. I am certain about one fact; this development will not stop. On the contrary, it will accelerate even faster.'
'It will never end,' echoes Geert van Damme. 'There are many machines that cannot be connected yet and those who reach a first level can always do better. Even with Esko, starting about 17 years ago, we continue working on new workflows together, based on the experience and the requests from our customers. This leads, for example, to faster implementation of our systems, of the integration between our systems or to automate workflows for new products in our industry.'
Theory in practice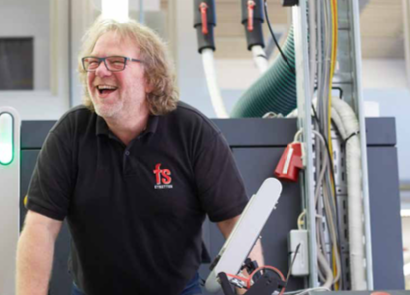 'For me, MPS is the number one press builder in terms of technology,' says Bernd Koch, chief information officer at fs-Etiketten, a family-run label converter based in Friesenheim, southern Germany. 'MPS is always at the forefront of innovations and it is the leader in the field of connectivity. Connectivity is something I was already interested in and MPS gave me the opportunity to experience it first-hand by running a trial in our production plant.'
The 'Talk to Me' connectivity platform in combination with the new machine was essential for Koch. 'The advantages of this platform are that it is faster, the changeover time is shorter, there is less waste, and the connectivity asks less from us, because everything is centrally controlled by the MIS we were already working with,' he says. 
"Thanks to multi- directional connectivity, we can arrange and control the entire production process ourselves. It saves us a significant amount of time."
Koch has a clear vision of the 'Talk to me' system's functionality and the benefits it presents to his business. 'The connectivity platform works fully automatically. If there is a printing job on the machine, we use the job memory function to take the pre-settings from the press,' he explains. 'When the operator goes to set up the next print job at the terminal, the press is already automatically set up in the right position, therefore, the changeover is very fast. As changeover time is where you do not make money, you want to keep it as short as possible. Thanks to the connectivity platform, there is more time for production of completely converted labels. The higher the automation, the higher the productivity.'
fs-Etiketten is working with the MIS data exchange of the connectivity platform. 'All my expectations are met,' continues Koch. 'Now the instrumental improvements need to take place; we want to integrate the systems even more. At the moment we are working with four terminals on the machine, each with a different task. One screen is for the AVT inspection camera, one for the CC1 register control, one for the Cerm MIS and one for the BST optical camera. We would like to see all systems connected so we can experience an even greater increase in productivity.'
For fs-Etiketten, 'Talk to Me' has proven its advantages in daily production as the company manages to minimize waste, achieve faster changeover times and increase productivity.
'As we were the first MPS customer with the "Talk to Me" platform in the development stage, we could collaborate with MPS. We believe this way of working is the way forward. We experienced the benefits almost immediately after the implementation of the platform. Thanks to multi-directional connectivity, we can arrange and control the entire production process ourselves. It saves us a significant amount of time. For now, the trial means no capital investment, but we would definitely invest as I can see the immense advantages it offers,' Koch concludes.
The future is here
All new MPS presses, shipped from the beginning of this year, are already equipped with an edge server allowing multidirectional data collection. It can also be retrofitted to the majority of EF presses produced back to 2018. 
'This does not mean that continuous improvements happen just by installing this type of technology,' warns Klappe. 'No, the technology gives us information. Knowledge about production lines and operation. We can report on it and present several suggestions on what we think should happen to improve the operation. However, it is the label converter who needs to be open to receiving knowledge and especially open to taking action to improve the production efficiencies. Successful companies will integrate these streaming analytics to move from a reactive to a more proactive approach to operations excellence.'