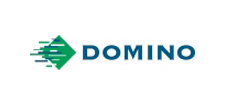 Headquarters
Bar Hill, Cambridge, Cambridgeshire, CB23 8TU, United Kingdom
Sector(s)

Flexible packaging
Folding cartons
Labels
About
Digital Printing Solutions is a division within Domino Printing Sciences.  The company, founded in 1978, has established a global reputation for the development and manufacture of digital ink jet printing technologies, as well as its worldwide aftermarket products and customer services.  Its services for the commercial print sector include digital ink jet printers and control systems designed to deliver solutions for a complete range of labelling and variable data printing applications.
All of Domino's printers are designed to meet the high speed, high quality demands of commercial printing environments, bringing new capabilities to a number of sectors including labelling, publications and security printing, transactional, packaging converting, plastic cards, tickets, game cards and forms, as well as the direct mail and postal sectors.
The Domino N610i is the only colour digital ink jet label press that combines the productivity of flexo with the flexibility of digital printing, offering label printers new business opportunities and the potential for increased profitability.
Printing on to a wide range of uncoated and coated, as well as plastic substrates, the Domino K600i combines the productivity with 600dpi print quality.
Domino employs 2,600 people worldwide and sells to more than 120 countries through a global network of 25 subsidiary offices and more than 200 distributors.  Domino's manufacturing facilities are situated in China, Germany, India, Sweden, Switzerland, UK and USA.
Domino's continued growth is underpinned by an unrivalled commitment to product development. In 2012, Domino was awarded the Queen's Award for Continuous Achievement in International Trade.
Domino became an autonomous division within Brother Industries on 11th June 2015.