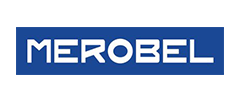 Headquarters
Zone Industrielle BP 79, Ferrieres, 45210, France
About
Acting as one of the worldwide leaders in Web Tension Control solutions, REDEX-MEROBEL designs, manufactures and sells high quality EMP brakes and clutches, digital controllers and sensors.
REDEX-MEROBEL's very long experience as a major supplier for converting, printing and labelling industries guarantees the best choice of components to be used for improving the quality and efficiency of processes.
With its wide sales network, REDEX-MEROBEL is committed to providing the finest service and support to its customers everywhere in the world.