RK Print Coat Instruments Ltd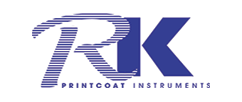 Headquarters
Abington Road, Litlington, Royston, Herts, SG8 0QZ, United Kingdom
Sector(s)

Flexible packaging
Folding cartons
Labels
About
RK Print was founded in the early 1960's; a family run business with over 60 years' experience in the surface coating industry. Designed and manufactured in the UK, RK equipment has one common theme, the production of repeatable samples; to be used for the purposes of research and development, quality control and computer colour matching data.
The major industrial users of RK equipment include printing ink and paint manufacturers, pigment, resin and dyestuff suppliers, textiles, adhesives, papers, film, foils, medical and pharmaceutical products.
Our products range from the simple and inexpensive K Hand Coater to our innovative FlexiProof 100/UV (LED UV also available) for realistic printability testing on all types of flexo substrates.  Our portfolio also includes pilot / production coating and printing machines. The complex Versatile Coating Machine, a reel-to-reel machine optimised to the specific requirements of the individual for R&D, Pilot and production applications used across many different types of industries.
For further information about our products, please visit our website www.rkprint.com