Albertin leaves its mark
Albertin has been making stamping tools and plates since 1971, with new investments to support 21st century production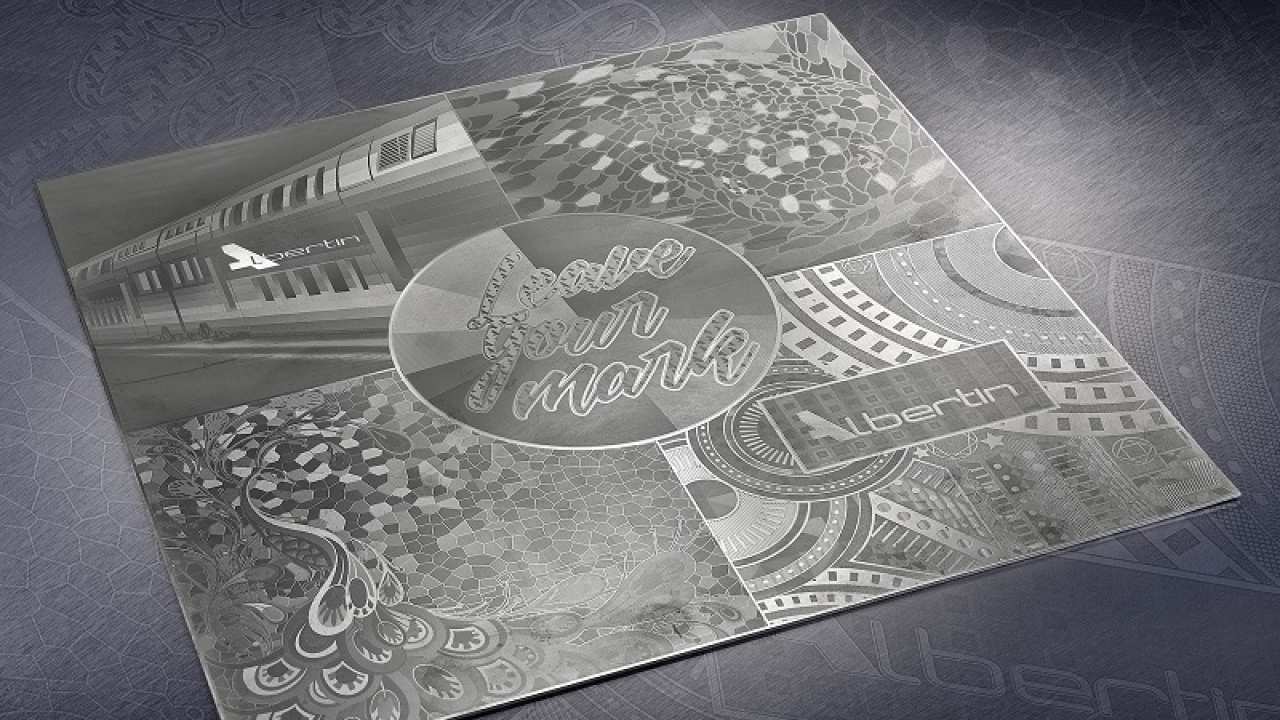 Since 1971, Italian company Albertin has been making stamping tools and plates, utilizing advanced techniques, as a result of continuous investment in machinery, software and workflow optimization.
The company's mission, summed up by the slogan 'Leave your mark', is to offer customers new opportunities for expression by making stamping tools for hot stamping, embossing and engraving at the highest level, says the company's CEO, Ferruccio Albertin.
As a result of experience gained over 45 years, the company offers magnesium and brass stamping tools. These are suitable for blind, micro, multi-level, sculptured and combined embossing. It also offers counterforces, brass cylinders, silicone rubber stamping tools for flat and curved surfaces, nyloprint, flexo coating and printing plates, and strippable coating plates.
A recent development from the Italian manufacturer is a 5-in-1 stamping tool. This allows five different effects – hot foil printing, blind embossing, debossing, texture and anti-counterfeiting holograms – to be achieved in one pass, without changing the stamping tool.
Without the need to change tools, Albertin said it allows quick processing and high precision as there is no need to adjust fine-tune register during changeovers. The in-line stamping tool is compatible with Rhino modules by Pantec, Big Foot from AB Graphic and Codimag.
Ferruccio Albertin said: 'We've reinforced our commercial team and we've invested in new machineries to take on European requests with the same care and promptness we use in the Italian market.'
Microengraving is another important offering in Albertin's arsenal. 'Microengraved plates have fantastic potential,' comments Ferruccio Albertin. 'Made of magnesium or brass, this type of plate is very fine in texture with random or repeated and fully customized designs. Logos, text or graphics, and an infinite number of optical refraction effects that change depending on the angle of view, can be created.
'Microengraving opens up new scenarios and allows the creation of two-dimensional holographic effects using a traditional foil. This is a big advantage not only in terms of costs, but also in time as plate engraving is much faster than producing a custom foil.
'Depending on the print run and the desired effect (brighter or more detailed), effects can be produced using magnesium plates with a thickness of 1-7mm or laser microengraved brass plates, 3-7mm thick. Whatever the substrate, the final effect will be the same: a hologram with changing reflections perfect for bottles, packaging, tags and labels, and universally affordable.'
The next stage
More recent investments have enhanced the company's production capabilities, including adopting Esko WebCenter. After a good experience with Automation Engine, a workflow server that automates and speeds up pre-press tasks, reducing the error rate, the company is adopting Esko's WebCenter. This powerful and user-friendly web-based platform manages packaging pre-production specification, approval and project lifecycle for brands and converters alike.
'Thanks to this new investment, Albertin's customers can manage all the pre-production complexities and give their approval to the project via browser, checking that every graphic aspect is in compliance with their needs.'
The company is also adding to its existing CtP technology, with a new high resolution flexo CtP shortly to be installed to improve production. This new Esko CDI flexo CtP imager, the only one installed in Italy, works with 1310 x 2032mm plates, even with high thickness.
'CDI plates offer quality and printing stability that has so far only been achievable in offset or gravure,' notes Ferruccio Albertin. 'Thanks to this new imager, Albertin offers a very fast production, with a better resolution, up to 5080 DPI.'
Stay up to date
Subscribe to the free Label News newsletter and receive the latest content every week. We'll never share your email address.