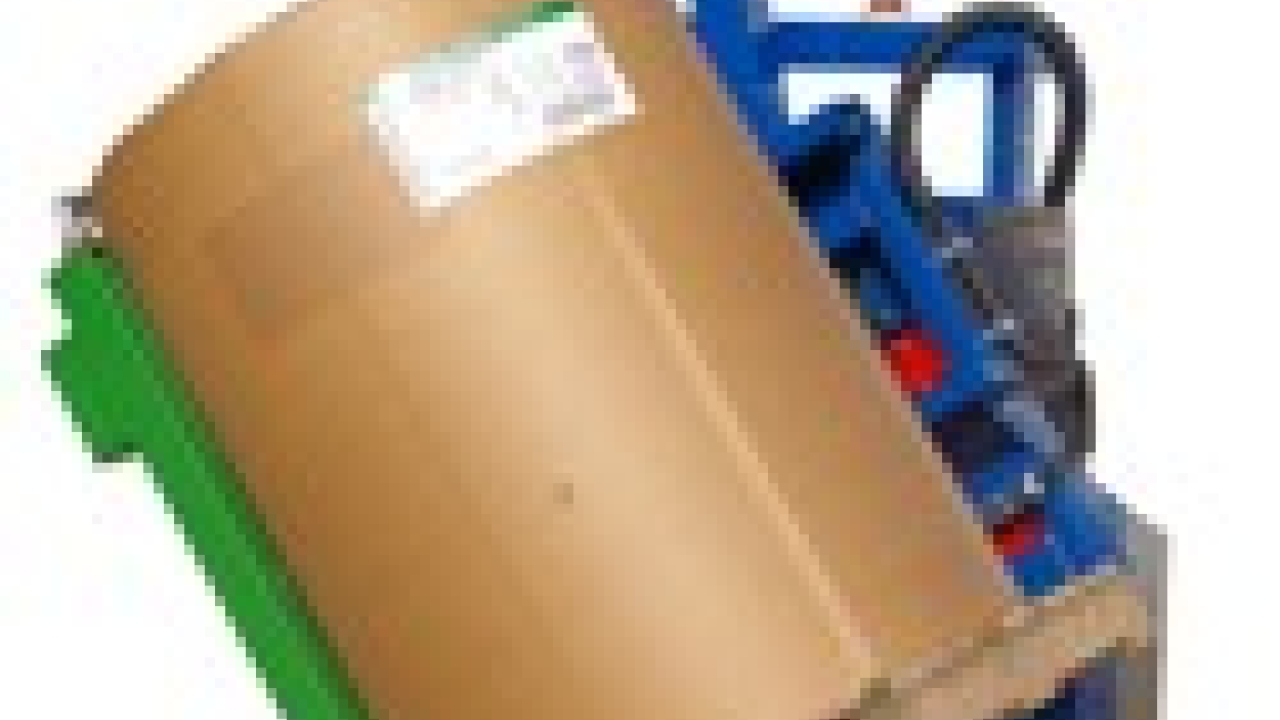 The handling of rolls of material is an important consideration for any printer or converter of flexible packaging. David Pittman speaks to a selection of those offering machinery to meet this need to find out the true benefits on offer.
 
As the market for flexible packaging grows so will the demand for printers and converters to handle increasing volumes of material.
 
In the pursuit of productivity gains, so companies have looked to make the most of their printing and converting machinery's capacities, and minimize downtime. While actual improvements to the hardware have formed a core component to maximizing potential, so have growing roll sizes and weights In practical terms, this means that at either end of a web-based printing process, printers and converters are required to lift and manipulate heavy rolls of material, from inserting a virgin web to an unwind unit, through to moving printed and finished rolls off a slitter rewinder to be palletized.

 
Health and safety
The option to manually move increasingly large and heavy rolls is shrinking, with numerous government directives requiring companies to work within certain parameters when it comes to material handling. The International Organization for Standardization (ISO) has a range of standards covering material handling equipment including lifting and storage equipment, and manual handling, while the European Union has a number of directives to facilitate national legislation amongst member states on musculoskeletal disorders.
 
Colin Jones, managing director at STS Trolleys, a UK-based manufacturer of bespoke roll handling equipment, says: 'The most valuable resource any company has is its people. For this reason it is important to do things safely and efficiently.
 
'The days are gone when you simply got more people to manually handle heavy rolls or boxes. In today's high-tech, lean manufacturing facilities it's all about working smart with the minimum amount of people whilst keeping them safe and healthy.'
 
Universal Converting Equipment, an international supplier of converting equipment from slitter rewinders to hot melt coaters, offers a selection of roll handling technology that is designed to work alongside its core machinery.
'Making the right investment in material handling technology upfront can save an awful lot of time and money'
 
'Health and safety is the big issue,' says Alan Jones, managing director at Universal. 'You should see what some people do in their factories when they don't know what the legal requirements for lifting heavy products are. You see workers trying to take a 50kg load off a machine and get it down onto a pallet.
 
'For the sake of not a lot of money, you could have a little machine to do it. It's not just about the company being sued either as you don't want employees missing work with a bad back. It's in the company's interest to keep its staff healthy.'
Efficiency gains
The correct application of roll handling equipment can provide printers and converters with a host of other operational benefits, namely more efficient production processes.
 
Wouter Verhagen, international account manager at Dutch firm Dotec, says one of the main gains for the converting market is the flexibility assisted material handling can offer.
 
'Cycle times are key indicators and operators have to adapt to circumstances that often change and where flexibility is required. Coping with these challenges requires focus, effort and commitment. In order to keep up with the physical load in these processes, material handling equipment allows the operator to fulfill their tasks in a safe, ergonomic and efficient manner.'
 
Colin Jones says: 'The best efficiency gains we see as part of our work is with companies moving to larger rolls. Some of our customers were loading 130kg rolls into a converting machine and these did not last long before the operator had to stop the machine and load in another roll.
 
'We then supplied them a powered roll handling unit that would load a 1,300kg roll into the same machine. The saving on machine downtime was considerable The machine we supplied was fully powered so it allowed any operator no matter how strong they were to easily and safely load a 1,300kg roll.'
 
STS Trolleys has built its business model around supplying bespoke material handling solutions to customers, although it also offers an off-the-shelf selection. And it works closely with overseas distributors to maximize its potential in Europe and beyond, with Colin Jones noting France as a big market, as well as reporting success in the US, Australia, Sweden, Germany, Russia, Poland, Ireland and even Azerbaijan.
'If a roll handling unit is broke, how are the operators going to load the machine?'
 
STS also invests a large amount in research and development of its products, with some feedback gathered by interacting with operators using its equipment and finding out what works for them and what does not.
 
Like STS, Dotec manufacturers bespoke solutions to meet specific needs of individual customers. Verhagen says: 'When selected technology is carefully streamlined in the work environment in which the operator feels confident with the available tools, an efficiency boost is guaranteed. If the operator experiences the handling device as an obstacle rather than a solution, results and experiences will be disappointing and the manual process will be preferred.
 
'For this reason, it is crucial to make sure that the total setup is customized to the wishes and needs of the operator and the converting or printing equipment.'
 
He adds: 'The infrastructure has to be customized in order to create a fluent flow of loading/unloading shafts and palletizing rolls, and vice versa. This means a clear view on all produced materials and measurements are necessary in order to define the best equipment.'
Universal's Jones says: 'This type of machinery can speed up processes and efficiencies. Take slitting machines, where you can get a roll straight off the shaft onto another hosting device. This allows you to restart the slitting machine and have that being productive while you handle finished rolls, which can be packed and palletized at a sensible speed while the slitting machine is producing the next set.
 
'Historically, one roll was slid off the shaft, wrapped and labelled while the machine was stopped for up to five minutes.'
 
Universal's roll handling equipment is designed to work with its range of converting machinery and to add value to these products. It offers a range of roll handling solutions rated to different capacities depending on the application, with those that can handle up to 300kg the most popular as they will take care of most rolls, according to Alan Jones.
 
He says Universal's converting machines normally start off with large rolls being loaded into the unwind system, so needing a system that can take a roll off the floor and place it in the machine. Universal offers attachments for its roll handling trolley to facilitate this, including a variant that will grab a roll standing in a vertical position by its core and rotate it to a horizontal position, as well as cradle, twin-arm, rotary V-bed and conventional single-arm systems.
 
At the rewind point on its slitting machines, Alan Jones says a robotic handling device can be used to take all rolls off the shaft and lower them to a position where they can be further processed with 'the minimum of fuss'.
 
Atlas Converting's Titian SR9 DT slitter rewinder, launched at the International Converting Exhibition (ICE) in Munich during November 2011, features a similar system. Available as an option, the reel stripping device automatically takes fully loaded cores off the rewind shaft and moves them to a secondary unit, allowing the main slitting rewinding unit to promptly return to its maximum 1,000m/min production speed.
 
Material handling machinery was heavily on show at ICE Europe 2011, with Dotec present alongside solutions from Germany's Zeilhofer, Italy's Dalmec and fellow Italian firm Cason, which has recently moved into the material handling market.
 
Mechanics
All STS equipment uses hydraulics to provide its lifting power, which Colin Jones says is to permit its equipment to be used for the maximum amount of time. 'You will always find hydraulics on commercial heavy-duty equipment. Take a forklift truck for example, where the forklift may have a battery but all power functions on the head are hydraulic.'
 
Universal's roll handling solutions primarily use electric motors to provide lifting assistance, with an in-built battery and charging unit with meter, and a braked motor to ensure accurate and safe control.
 
Verhagen says Dotec equipment is designed to offer ease of use, speed and good posture to the operator. 'It is of foremost importance that operators can work at their own speed – and speed up or slow down according to the circumstances,' he says.
 
That's why Dotec's LiftAssist technology uses pneumatics to power movement, as well as a gyroscope to keep the load at a constant orientation.
 
Controls are designed to be as intuitive as possible to make operation simple Material handling equipment, such as that on offer from Zeilhofer, is designed to make the operator's life as simple as possible.
 
STS offers heavy-duty roll handling solutions that can handle diameters from 600-1,100mm STS uses hydraulics to provide lift assistance to make it easier to handle rolls In addition, LiftAssist features a simple control system via the handle, and requires the operator to lift only one percent of the load weight.
 
'There's a lot of interest in the market, but companies tend to be reactive rather than proactive, and will try and avoid the outlay unless they are forced to do something,' says Universal's Alan Jones.
 
'In the UK, people have lost sight of the benefits of running a safe and efficient operation. Instead they think they will save money and use people instead. The truth is that making the right investment in material handling technology upfront can save an awful lot of time and money.'
 
Colin Jones says: 'The equipment we design is for commercial, continuous use 24 hours a day. As a result it is more expensive but we would expect it to still be doing its job in 15 years time.
 
'You can engineer equipment to last a long time and be very reliable provided you engineer it properly. So much equipment these days is poor quality and breaks down all the time. If a roll handling unit is broke, how are the operators going to load the machine?'
Stay up to date
Subscribe to the free Label News newsletter and receive the latest content every week. We'll never share your email address.