Solar power serves South African label converter
GM Graphix, based in Alberton, South Africa has installed an MPS press – combined with Phoseon UV LED and Paragon Inks – which it runs on solar power, resulting in significant energy and cost savings, and solving an energy crisis facing its business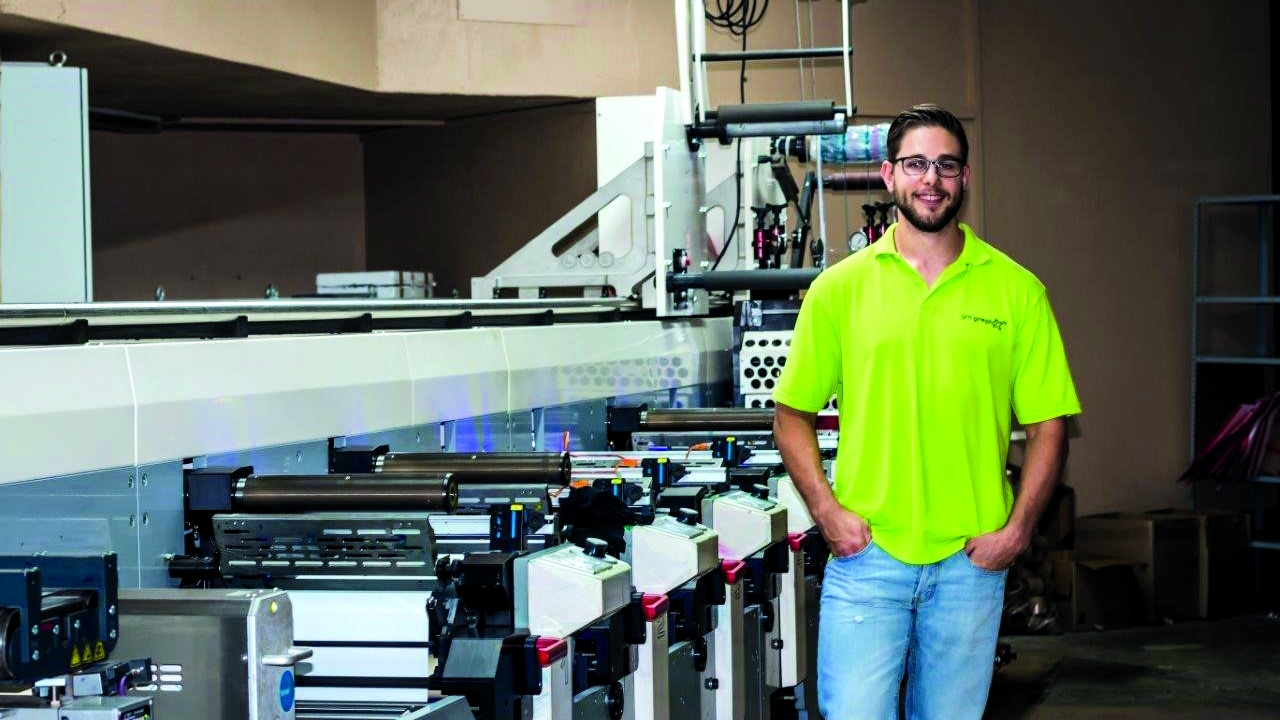 South Africa has been coping with an energy crisis so severe that once-common rolling blackouts have now been replaced with double digit energy rate hikes. For South African label converters this presented a unique challenge for conducting business that's reliant on energy-consuming machinery.
Alberton-based GM Graphix got creative to solve the energy woes it faced. The flexographic label converter partnered with MPS, Phoseon Technology and Paragon Inks to meet its growing demand for lower running costs and energy consumption. In January 2016, the company installed a 25kWh solar system, a power source by which it now operates a six-color EF340 MPS multi-substrate flexo press. The press combines Paragon Inks and LED light sources from Phoseon.
The label converter known for 'being ahead of the industry' by implementing environmental-friendly practices has turned its press installation into one of many firsts: the first press in South Africa to adopt UV LED curing, and, the company says, the first known label converter in the world to run a flexo press on solar power.
Pieter Massyn at GM Graphix says: 'The price of electricity is going up and up in South Africa and it is very expensive today. On top of that there are casual power breakdowns during the day. The cost saving for running even one press on solar power is significant and not to be disregarded.'
Energy savings
Headquartered in Alberton, with a branch in Bloemfontein, GM Graphix produces various products such as self-adhesive labels, sachets, shrink sleeves and wrap-around labels, particularly for fast-moving commercial goods and pharmaceutical applications.
Ten years ago, energy consumed at GM Graphix made up 0.02 percent of the company's total  production costs. As the price of energy increased in South Africa over the past few years, so did the company's electricity bill, ballooning to 2.4 percent of GM Graphix's total production costs.
By running a press on power from an independent source, the company has reduced its monthly energy costs by 40 percent in the first year, Massyn says.
The company is not alone in its energy consciousness. Because the cost of electricity is so expensive in South Africa, it has caused businesses and residents to use electricity more efficiently.
Across the country, energy costs have increased by 45 percent since January 2015. The hikes have subsequently caused businesses and residents to use energy more efficiently, which has prevented further blackouts – called load shedding.
'Energy costs are expected to increase annually by eight percent and therefore it is important to maintain sustainability by managing the use of energy as well as strive to become more independent,' says Massyn. 'By reducing production costs, we ensure sustainability.'
LED technology
The solar panels at GM Graphix generate enough energy to run the press for 5.5 hours each day. The press' electrical consumption is currently 30 percent less than GM Graphix's other flexo presses, Massyn says.
GM Graphix has two additional MPS presses, and four Mark Andy machines, and is currently evaluating those to see whether they will replace the press' curing system with Phoseon systems. The company also is planning to expand its solar capacity.
The LED curing also helps GM Graphix save energy. Phoseon's technology uses 70 percent less power than its mercury counterparts, the company claims. With its instant on/off capabilities, Phoseon's curing is ideal for South Africa's power fluctuations.
Massyn says: 'The start-up time for the LED light sources is instant, saving us at least 30 minutes of production time per day compared to mercury lamps. In addition, the inks are more stable and dry much faster with LED, so productivity increases and sharper color can be achieved.
'This system's reliability is very high, so hardly any maintenance is required. This all translates to higher productivity and no down time due to lamp maintenance or warm-up times, resulting in more printed material in an eight-hour shift.'
'Pieter Massyn always struck me as a brave person to pioneer this technology,' comments Phoseon's Amit Rothschild. 'He adopted our technology extremely well and was the first to do it in South Africa. He identified the potential advantages of our UV LED curing technology, and he took it a huge step forward by running on solar power.'
Massyn encouraged other label converters to look into independent energy.
'Geographically, any place with plenty of sunshine and low number of cloudy days is ideal,' he says. 'On top of that if electricity prices are high like in South Africa, the ROI would be fast.'
He continues: 'UV LED should be taken in consideration by every label converter as this technology is improving yield and productivity which are the real payback.
Running it on solar power makes it simply more sustainable and is a contribution in leaving this planet in better condition for the ones that come after us.'
Stay up to date
Subscribe to the free Label News newsletter and receive the latest content every week. We'll never share your email address.