Labelexpo Americas 2022 - dies and tooling
Companies at Labelexpo Americas 2022 showcasing dies and tooling brought a range of equipment looking to push the efficiencies of traditional printing further.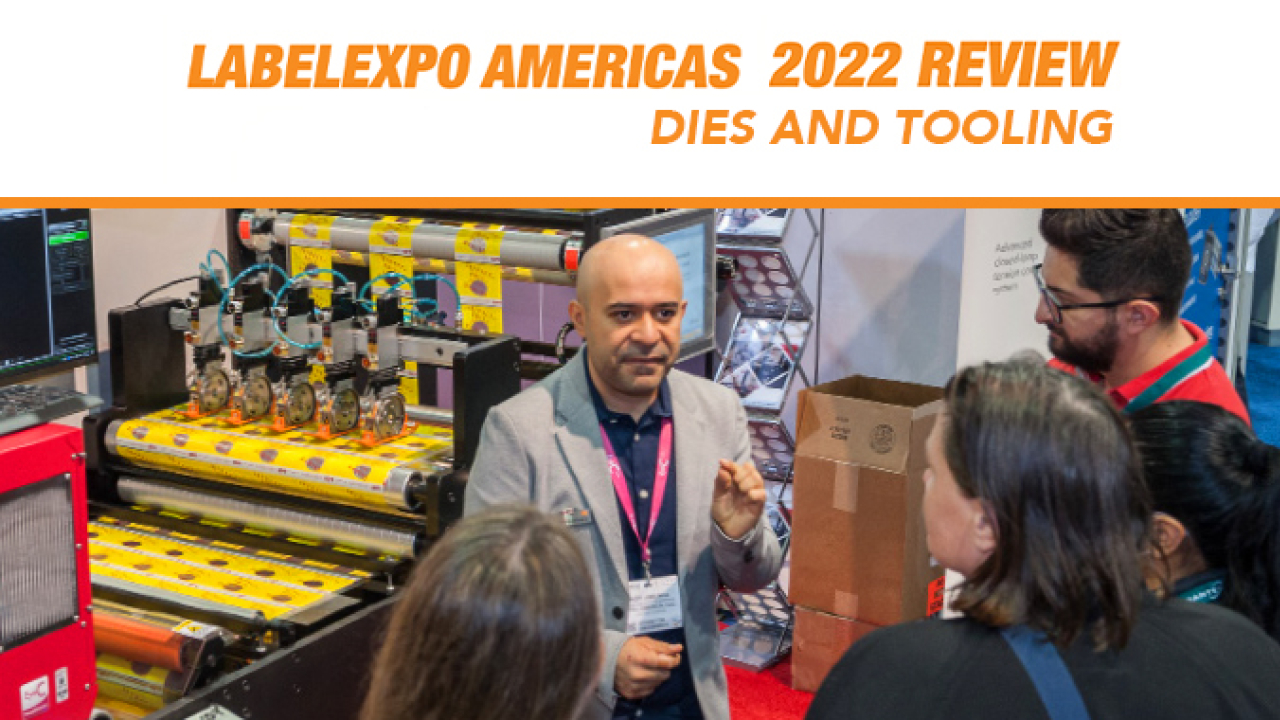 Once an operator completes set up on a flexographic press, for example, it can run for as long as it's needed. The problems arise at changeover when that press needs to be set up for a new job.
Vendors brought a range of dies and other tooling that aim to change the way converters look at changeover. From lightweight tooling to sleeves that last longer than before, these products are designed to shorten what can be a lengthy process.
Technology
Bottcher Systems showcased a wide range of its products from print rollers to press blankets and plates, promoting its range of elastomer-covered sleeves for lightweight design and easy changeover. Bottcher Systems highlighted the latest in its conventional printing blanket line, the BottcherTop Impressa. Converters can use the blanket on coated and uncoated stock, which Bottcher says makes it great for stochastic, FM or XM screened separations. The company also showcased Bottchertop 4800, a printing blanket designed to perform using any energy-curable ink systems. According to the company, it's resistant to swelling that may occur when using polar solvents found in UV inks and washes.
Efficiency was the theme at the Carey Color booth. Looking to provide converters with maximum efficiencies, the company promoted its ITR Elastomer sleeve, which is said to last longer than polymer plates or sleeves by up to two-to-four times, and can be set up within registration in minutes. Also at Carey Color's booth was the Kodak Flexcel NX system, which according to the company, can allow the pre-press department to compete for business that has been traditionally beyond what flexo has been capable of, because of the products image reproduction, high densities, and print contrast.
Bringing versions of its slitting machines to the show, Dienes featured the shear slitting machines saying that it can minimize the amount of downtime converters face having to check the knives and change them. The intelligent control systems can alert operators when a knife is ready to be replaced.
Impact Converting & Systems Solutions highlighted its range of flexible dies which are said to be much easier to mount and get within registration. According to the company, it can be used across all cylinder types, magnetic or not, regardless of materials. Also featured at its booth, was its multi-level cutting device which is said to lower the number of tools required on a press, lowering the cost, producing less waste between stations, reducing setup time, and ultimately improving efficiencies. The company also promoted its die-cutting modules that are designed and machined in-house.
Kocher+Beck showcased three of its die styles: Chrome 24, GlueX Range, 3L Laser Long Life. According to David Morris, president and CEO of Kocher+Beck, the chrome is developed for long runs due to the high performance with minimal wear, specifically designed for thermal transfer and direct thermal products. Also at the company's booth was the GapMaster EM unit, which was released less than a year ago. The unit is electronically controlled allowing for finer increments of adjustments and can also store jobs for a quicker changeover.
'We still provide the other GapMaster units, but with the electronic version, we've given more control to the operator,' Morris says. 'It's a well-proven system, and the electronic system gives more visibility to the system and helps guide efficiency.'
Highlighting its Load-n-Lok elastomer sleeves, Luminite Products Corporation touted the simple changeover process, saying that the sleeves can be mounted on any mandrel at a converter's plant and can decrease setup time. The company also brought a range of its other elastomer print cylinders and sleeves.The company spoke about its push for sustainability with the elastomer sleeves and covered cylinders, saying that it decreases wasted materials and, due to its long-lasting nature, reduces the amount of time sleeves need to change out.
Rotometal brought print cylinder for both narrow and wide web systems, highlighting its MCA Magnetic Cylinders which are significantly lighter due to the aluminum body. The company, however, wanted to ensure that the cylinder still maintains the strength and hardness of its other products.
'We've developed these magnetic cylinders to be upwards of 40 percent lighter,' said Stephen Bailey, UK and Ireland sales manager at Rotometal. 'It can be manually handled for easier changeover, and it's better for the machine itself because it takes less power to drive it.
The company also highlighted its newly-launched online shop, which allows customers to purchase equipment directly from the company. According to Rotometal, it is also looking to expand the shop to include equipment and machines from partners.
Schobertechnologies showcased its RSM410MX-Digi-VariCut, which, the company says, has a make-ready time of minutes and reduces waste due to its efficient, high-speed programmable robotic-automated stacking and counting system, known as the spider. According to the company, the system can work at a continuous web speed of up 164 ft/min due to the acceleration, velocity, and precision of the machine.
Wilson Manufacturing highlighted its Pin Eject Die, a newly released die part of the company's waste technologies portfolio, that looks to help converters with slug removal without needing an air source.'
Stay up to date
Subscribe to the free Label News newsletter and receive the latest content every week. We'll never share your email address.