Labelexpo Americas 2022 - Global Label Awards
Guests from all over the world attended the Global Label Awards at Labelexpo Americas 2022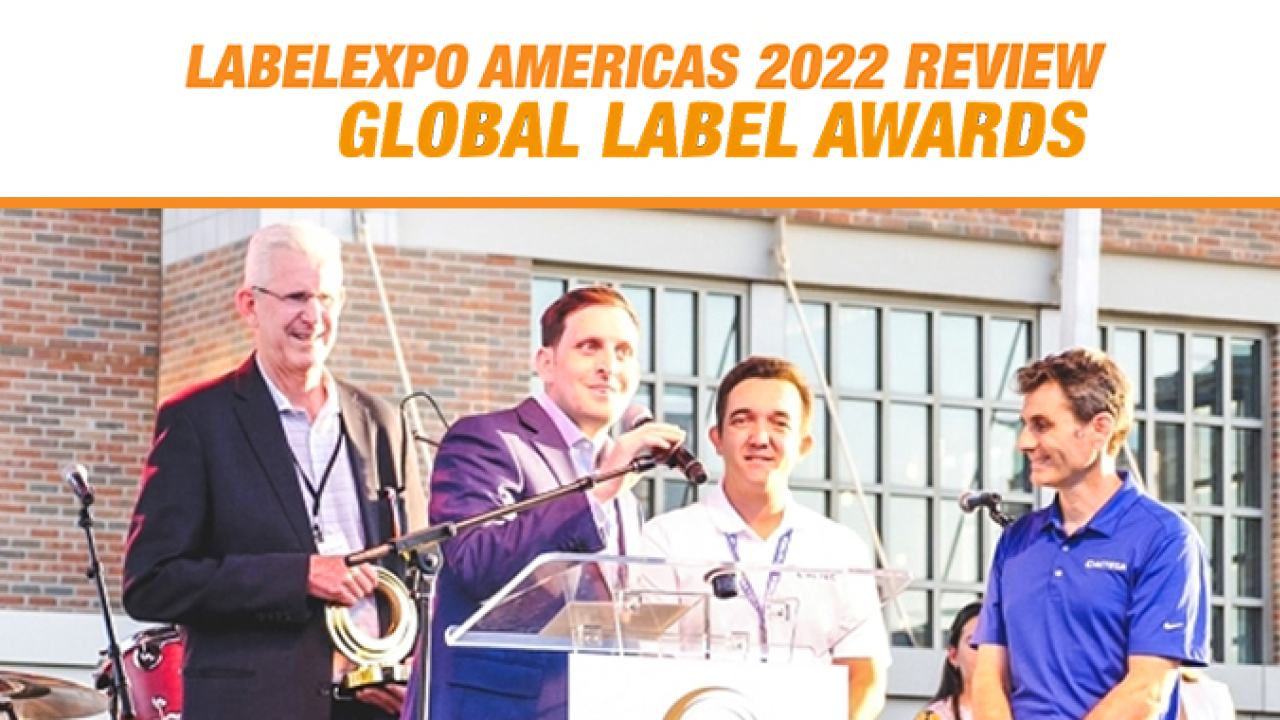 Labelexpo hosted the Global Label Awards and Reunion Party on the opening night of Labelexpo Americas 2022, bringing guests together to honor the innovations from across the label and packaging industry.
Actega, S-One Labels & Packaging and Flint Group Narrow Web all took home innovation awards, while Stijn Billiet, global sustainability director at MCC Label, was honored with the Rising Star Award. Harveer Sahni, chairman at Weldon Celloplast was honored with the R Stanton Avery Global Achievement Award.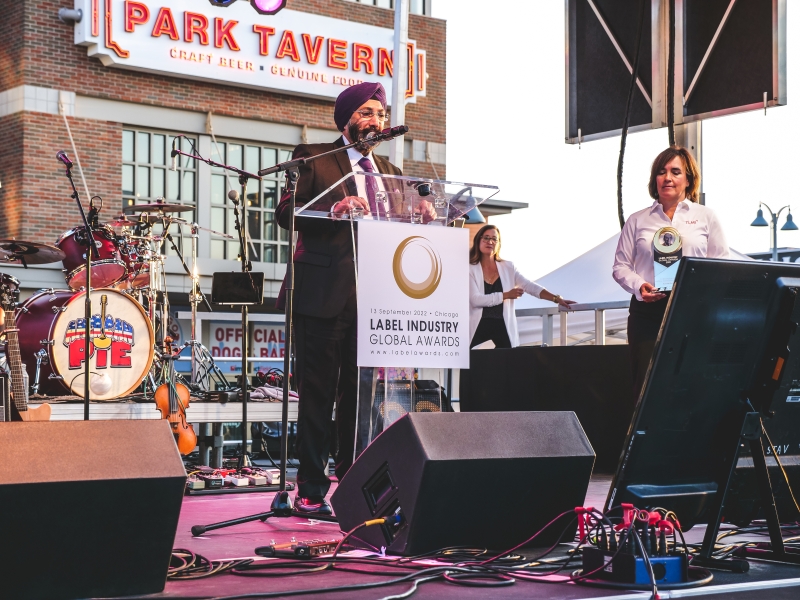 Sahni began his career in 1971 at Weldon Sales Corporation, his father's stationary company. From here, he used the Weldon laboratory to research the develop new products including inks, adhesives, and coatings, leveraging his degree in chemistry. In 1978, seeing a growing demand for self-adhesive stickers in India, Sahni invested in a siliconizing line, developing and producing poly-coated release liners and later a barrier coating for uncoated woodfree or brown sack kraft papers that could accept silicone release coating.
'There was a profound wish in myself to share my knowledge, so I started writing about labels. I wrote extensively to share with the label industry. If anybody would I ask anything, I would share,' Sahni says in an interview with L&L's India editor, Akanksha Meena. 'I would not really treat them as competitors because they would eventually gain the knowledge in one way or another. Since I gave them the answers properly and correctly, today they respect all that.'
Sahni continues his work on his blog, sharing his knowledge to the labels and packaging world, and sits on the board of directors of the Label Manufacturers Association of India.
Sustainable innovations
At the Global Label Awards, four other awards were given out, all of which in one way or another, had a sustainable push behind them. One of which was the Environmental Sustainability Award taken home by Flint Group Narrow Web for its Evolution line of products, which are designed to enable more sustainable packaging.
'All the work that we've been doing, our innovations, are all based around sustainability and how we can help in the circular economy from a packaging standpoint,' says Paulo Viera, research and development – packaging and narrow web for Flint Group Narrow Web.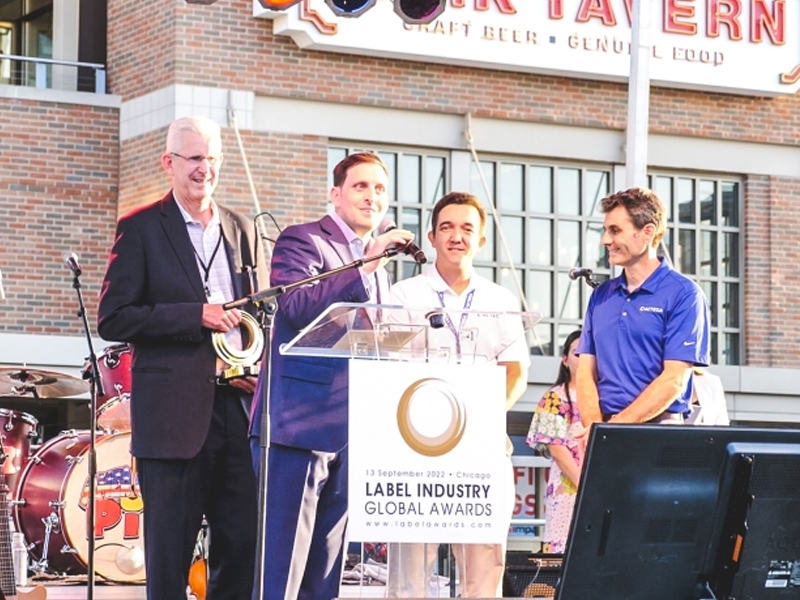 The award was specifically given for two products, the first being its Evolution Deinking Primer. This product, when used with a crystallizable shrink sleeve label and Flint Group EkoCure XS inks, enables the deinking of shrink sleeve materials and as a result the clean sleeve label material can be recycled into PET packaging. The second is an overprint varnish that's resistant to the caustic solutions and protects the ink in the case of a floatable pressure-sensitive label.
Receiving the Rising Star award, Billiet started his career at MCC Label in 2020, bringing sustainability into nearly aspect of the business. And by early 2021, Billiet was said to have presented a roadmap for all global production sites of MCC Label to reduce its carbon footprint, guiding the Belgian facility to achieve a carbon neutral production.
'Sustainability is something that comes in every corner of what we do, and at MCC, we actually wanted to make sure that we had different opportunities in [sustainability],' Billiet says. 'First of all, we wanted to focus on our people, making sure they have sustainable jobs and can work for a longer time. Next, is what we do in our operations. As an industry leader, we want to give the example of how to do this and give all kinds of projects, which can be reducing our carbon emission, making sure we have projects in waste, and all of this needs to lead into having products for our customers that are sustainable.'
Awarded the Innovation Award for companies over 300 employees was Actega for its Signite low waste decoration technology.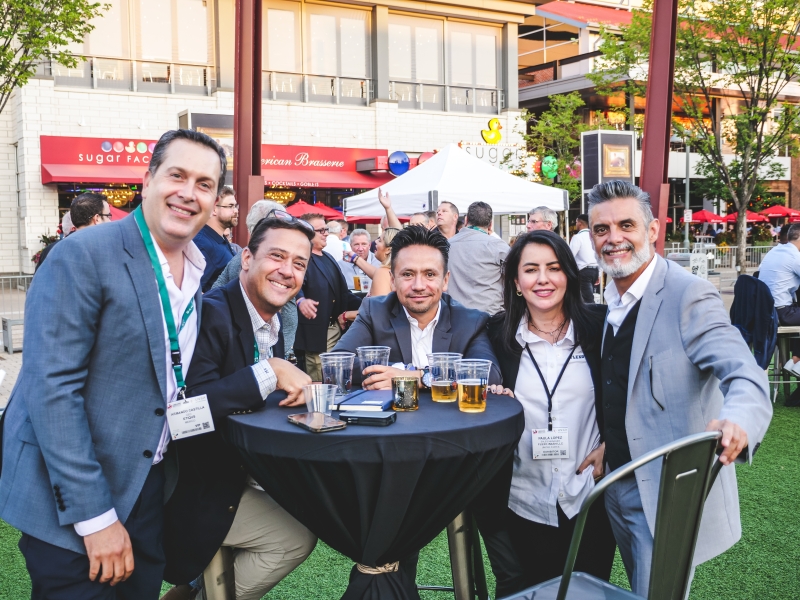 'We were a bit shocked really, to be honest,' says Grant Schutte, vice president of Actega North America Technologies. 'We were competing with another Actega startup for the award … so [we] kind of feel a bit bad about the fact that our colleagues, we have to walk past them and be like "I'm sorry, but at the same time, we're not so sorry."'
Actega acquired the Signite technology in 2017, it utilizes UV-curable chemistry to create decorations entirely on press, eliminating the need for laminated constructions used in traditional pressure-sensitive label production.
For the Innovation Award for companies under 300 employees, S-One Labels & Packaging took the win for its ReEarth commercially-compostable flexible film.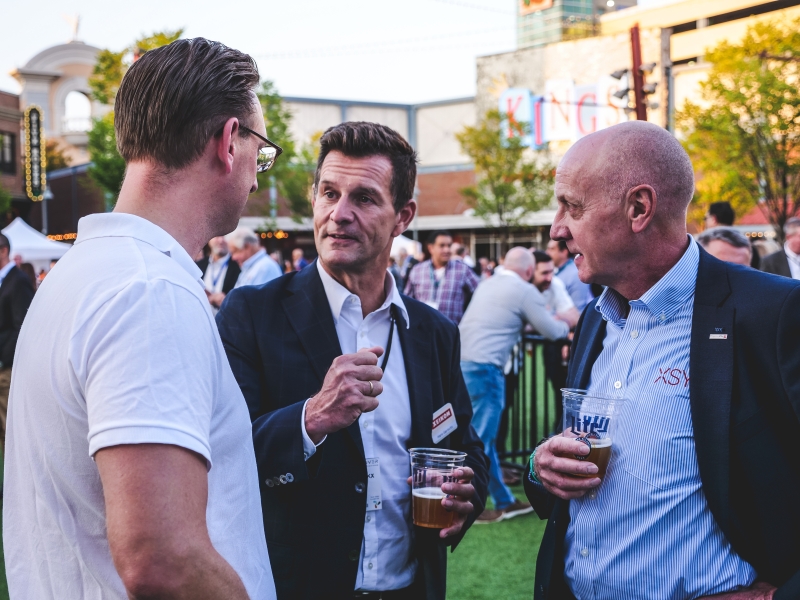 The films have passed the ASTM D6400 commercial compostability standards, and are BPI and USDA Biopreferred certified. The ReEarth material has achieved 100 percent disintegration, successfully composted in 47 days in real-world testing at a Compost Manufacturers Association facility during an 84-day industrial exposure independent lab test.
'As opposed to an end-of-life package that can end up in a landfill or the ocean, it's actually ending up in your garden and you're growing tomatoes or corn, so it's a pretty fun innovation,' said Tom Hauenstein, vice president of sales at S-One Labels and Packaging, adding that, while he spoke on behalf of the company, there was a large team behind this innovation and they deserve the honor just as much.
The judging panel for the awards was Lori Campbell, chairman of TLMI; Linnea Keen, president of TLMI; Philippe Voet, president of FINAT; Greg Hrinya, editor of Label & Narrow Web; James Quirk, the former content director at Labels & Labeling; and Jean Poncet, editor-in-chief at Etiq+Pack. The chair of the judging panel was Andy Thomas-Emans, strategic director Tarsus Labels & Packaging Group.
Stay up to date
Subscribe to the free Label News newsletter and receive the latest content every week. We'll never share your email address.