Labelexpo Americas 2022 - materials
Sustainable innovations in materials and a resurgence of RFID technology were key trends for substrate and adhesive suppliers, while inks and coatings manufacturers focused on more opaque whites, dual-cure technologies and low migration inks.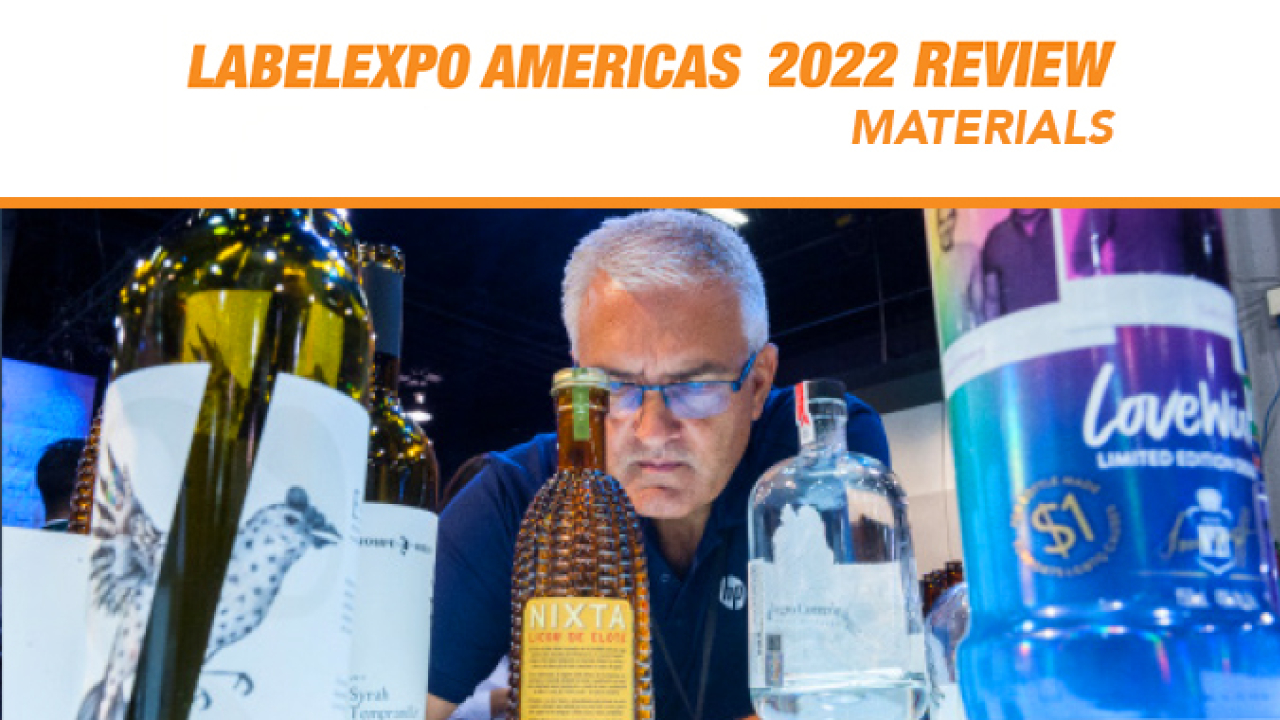 Material suppliers at Labelexpo Americas 2022 faced a unique challenge. One that tasked them with showcasing the innovations that they've been working on in the three-year absence without a global label and packaging exhibition, all while balancing difficult conversations about lead times, supply backlogs and price increases. 
In short, materials suppliers had to remain both innovative and prudent, pragmatic while groundbreaking at the same time.
If judging by anecdotal evidence and foot traffic at their booths, it appears as if they succeeded. 
Material innovations on display at Labelexpo Americas 2022 were showcasing an industry-wide push toward a circular economy, while RFID and intelligent labels are making inroads. And while many challenges remain, the market volatility that has plagued the industry in recent years appears to be on the verge of stabilizing.
Addressing supply chain woes
Aside from a few exceptions, most end-use segments in the label industry had witnessed rapid growth during the Covid years. However, as prosperous as the good times have been for label converters, they've also been met with a chaotic global supply chain, heavy inflation, historically high lead times, persistent price increases and aggravating backlogs. 
While no one has a crystal ball, many material suppliers believe the hardest times are nearly behind us. Industry experts predict that the label and packaging market may soon begin to see some stabilization, at least in terms of cost, as raw materials become more readily available, driving down the price of goods.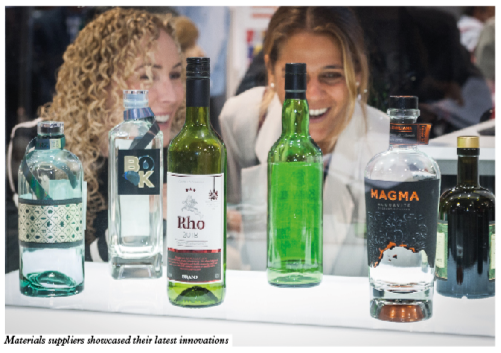 And yet, paper shortages remain a top concern both for facestocks and liners, as industry-wide demand outpaces availability. 
'The fact is, there's not enough paper capacity allocated to the label market, and it's not going to end anytime soon. Paper mills are closing or they're not building enough new mills,' says UPM Raflatac Americas senior vice president Tim Kirchen. 'There's been unprecedented growth in the label industry, but there's not enough paper supply in North America. We have to make sure our suppliers know the label market is an attractive, long-term, healthy business.'
'We're not out of the woods, but we're seeing gradual improvement and stabilization,' he continues. 'Over the next six months I think the supply chain will become more predictable, and the lead times will be less extensive.'
However, the Russian invasion of Ukraine and an energy crisis in Europe may further complicate market recovery efforts and the efforts are stabilizing the market, experts warn. 
Sustainability 
Though it was made more difficult by the market conditions, the innovation in sustainable materials hadn't slowed down in the years without a Labelexpo.
As the conversation around sustainability advances, material suppliers are moving beyond simply offering sustainable products, to focusing on the impact of label materials in the waste stream.
Adhesives that remove cleanly in the wash process, or that don't interfere with or contaminate the recycling process were a key trend among material suppliers. Removing the label material from glass or plastic containers enables their greater recycling, which in turn meets the growing demands of brand owners and consumers for products that are more sustainable. 
Avery Dennison, pioneers of its CleanFlake wash-off adhesive, showcased at Labelexpo Americas 2022 the 'next generation' CleanFlake portfolio. This technology enables the recycling of rigid plastic packaging by either removing cleanly from or staying with the package, which results in good quality flakes, conserves virgin resources, and creates less landfill waste. Avery Dennison says this product has the potential to divert over 200 billion rigid plastic bottles and containers from landfills.
Fedrigoni showcased WOff, a wash-off adhesive that is expected to be certified by the Association of Plastic Recyclers (APR). This water-based formula provides debonding of nonrecyclable label materials from PET and glass containers – making them recoverable. Fedrigoni also displayed dissolvable facestocks and coupons.
Flexcon brought to the show its V-52RE wash-off adhesive for BOPP films. V-52RE separates from PET flake in the reclaim process, increasing the amount of rPET available for future use. Flexcon's PE films with V-127RE adhesive ensure the performance and recyclability of HDPE containers. 
Also on the sustainability front, Nastar promoted its TwoFer Twin Signage portfolio, which includes the latest fully-recyclable TwoFer Linerless Label. It is made up of two recyclable face sheets temporarily secured with adhesive sides together until ready to be applied. TwoFer Linerless Label can be used for in-store signage for an end cap, wall, or aisle graphics. Both sides can be printed in one pass flexographically or digitally in rolls and sheets.
Also on display was Nastar's temporarily permanent and permanently removable T1055 adhesive, linerless pressure sensitive including direct thermal stocked in DT printer ready rolls, laser paper and film products, and pattern coated products. 
Avery Dennison launched at the show a direct thermal (DT) linerless label platform for variable information labels used in e-commerce, food delivery and pickup, quick-serve restaurants, weigh scale, and transportation and logistics applications. Avery Dennison says its DT linerless product can eliminate liner waste associated with direct thermal label printing. The new platform uses emulsion adhesives to support semi-permanent and removable applications and ensures consistent adhesive and silicone coating. According to the company, it's 32 percent thinner than linered labels and features up to 50 percent more labels per roll. Available through a flexible service model with roll widths from four to 60 inches, the platform reduces the number of SKUs converters must stock and eliminates die cuts by offering one roll for every label length. With more labels per roll, converters also benefit from fewer changeovers and higher productivity.
UPM Raflatac's latest innovation is Ocean Action Label, a label material made from ocean-bound plastic waste. UPM Raflatac also showcased its sustainable films, including UPM Raflatac Forest Film, PP PCR and PET PCR materials, and RAFNXT+, a product verified by the Carbon Trust and certified as Carbon Neutral, and Renewal Hemp material made with alternative fibers. Further, the label material supplier exhibited its Carbon Neutral OptiCut and its print-on-demand and digital labeling solutions for digital printing systems.
Klear Plastic Ventures (Klear) presented its sustainable PET heat shrinkable film, Crystallizable TopGreen, a film that is recognized by the APR. Klear says these films pass through the PET bottle recycling process without clumping or negatively impacting the material flow. Sleeve labels made with crystallizable PET film allow the recyclability of post-consumer PET bottles. Klear also showcased its films made with 30 percent post-consumer recycled content.
S-One Labels & Packaging won the Global Award for Innovation for ReEarth, a commercially compostable flexible packaging film. The company also showcased its recyclable ReTreve EVOH high-barrier flexible packaging films, as well as laminating technologies, coatings and varnishes, finishing equipment, slitters and rewinders, cast and cure products for eBeam holograms, ink control and dispensing equipment, overlaminate films and prelaminated metalized films.
Wausau Coated Products showcased its sustainable labeling options, including FSC-certified materials and products manufactured with up to 100 percent post-consumer waste and up to 90 percent recycled polyester (rPET) liner. Wausau offers products that use tree‑alternative raw materials, like sugar cane paper and cotton.
Polyart Group launched r-Polyart, which is claimed to be the first synthetic paper made of 30 percent post-consumer recycled material. It looks and prints like 100 percent virgin material and has virtually the same mechanical properties, but, according to the company, has a lower carbon footprint.
Breit Technologies brought its eco-friendly cast and cure films, in which a decorative, clear holographic pattern or matte finish is applied to a printed substrate. Unlike laminated holography or cold and hot foils, the cast-and-cure film can be re-used up to a dozen times. Additionally, the cast-and-cure process does not use any adhesives or metals, so it doesn't affect labels' recyclability.
Ink and coating manufacturers also were launching developments in this area. Winner of the Environmental Award, at the Global Label Awards, Flint Group Narrow Web showcased its Evolution primer and varnish that boosts the recyclability of shrink sleeves and pressure-sensitive labels. The Evolution portfolio from Flint Group includes a de-inking primer for shrink sleeves and an overprint varnish for pressure-sensitive labels – both to prevent ink contamination during recycling so that the PET quality remains clear in the waste stream. Applied in a single pass on a press, these products are said to require no changes to the converter's existing ink system or curing processes.
INX International launched its INXFlex Contour a UV and LED dual-cure flexographic ink system for shrink sleeve labels. When used with INX's Genesis UV primer, INXFlex Contour is washable from shrinkable cPET and meets APR guidelines for recycling PET bottles with shrink sleeves.
Sun Chemical introduced bio-renewable, compostable and recyclable products under Sun Chemical's SunEco portfolio, including SolarFlex CRCL for shrink and non-shrink applications, SolarFlex High Adhesion Technology, SunCure mono-web coatings, SunVisto AquaGreen renewable ink series, MX12 ink dispensing technology and SolarWave UV-LED inks. 
RFID in the mainstream
If material suppliers weren't talking about sustainability, they were talking about RFID. 
Avery Dennison demonstrated its RFID/intelligent labeling capabilities through Avery Dennison Smartrac and atma.io harnessing the power of unique digital identification, improving origin tracing and inventory tracking while enabling consumers to interact with products directly. The company was running interactive demonstrations showcasing how converters can verify a food item's journey across the entire supply chain, providing transparency from the source to its final destination. It can also manage healthcare inventory, increase efficiencies, and ensure the wellbeing of patients; gain complete quality control and improved visibility throughout the automotive production process.
Just ahead of Labelexpo Americas 2022, Beontag announced the acquisition of Technicote as part of its global expansion and internationalization strategy initiated in 2020. Beontag has become a global RFID player in recent years, with rapid growth coming from acquisitions. The companies exhibited together in the Technicote booth.
Fedrigoni also was highlighting RFID with Tageos, a portfolio of high-performance, premium-quality RFID inlays and tags in UHG (RAIN RFID) and HF (NFC) frequency bands, as well as battery-free RAIN RFID sensor inlays and tags.  
Ink Innovations
Ink manufacturers were launching innovations for inks that cure in both UV and LED curing systems that allow label converters to embrace the environmental and productivity advantages of UV-LED curing while managing the financial risk as they integrate LED lamps into their production processes.
Flint Group showcased an expanded range of dual cure UV-flexo inks that are curable under LED lamps as well as mercury lamps. Dual Cure Ultra Clear is a UV-flexo clear over-printed coating that does not yellow over time. 
Hubergroup Print Solutions introduced its I-Ray UV flexographic ink system available for conventional mercury bulb UV curing and I-Ray Max dual-cure for both UV LED and mercury bulb UV curing. I-Ray and I-Ray Dual Cure UV ink systems utilize the latest advancements in energy-curable technology, including high strength, low viscosity and compatibility with most substrates, including labels, flexible packaging and shrink films.
Hubergroup also was showing UV and LED curable coatings. The Hydro-X line of water-based inks, optimized for label, folding carton, bag and flexible packaging printing applications. The inks are imprintable, scuff-, rub-, scratch- and fade-resistant. 
Ink manufacturers were also showcasing development for brighter, vibrant colors and opaque whites. 
Zeller+Gmelin was a prime example with its newest development for UV/LED label opaque white inks that were launched at the show. The new ink formula was developed to provide advanced opacity, brighter hues, and smoother lay downs for dual-cure opaque white flood coat applications. The new ink chemistry developed by Zeller+Gmelin allows converters to achieve more opaque white laydowns in a single pass.
Natural Ink was promoting its 'ultra opaque' whites to 'ultra transparent' colors for wine labels and special effects for premium labels. Also on display were its latest developments for food contact inks and high-performance overprint varnishes.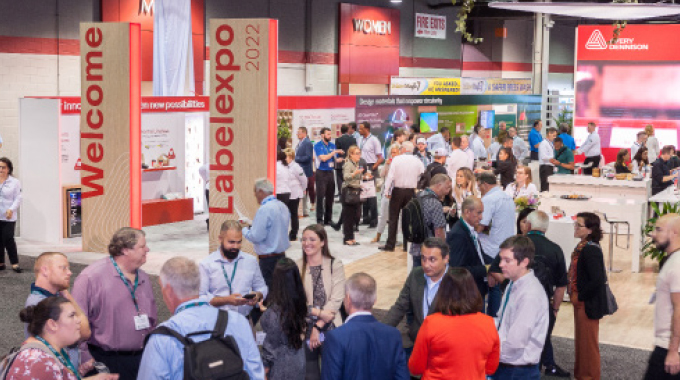 Actega was also showcasing food safety at its booth and introduced a new ActExact SafeShield UV and LED flexo ink products for labels with stringent low migration requirements, including indirect food contact packaging, cosmetics and nutraceutical applications.
Nazdar Ink Technologies highlighted its latest LED curing Nestlé compliant inks, coatings, and adhesives. Additionally, the company will promote its new water-based flexible packaging inks.
Mixed Bag
Michelman offered a selection of water-based in-line and off-line primers and overprint varnishes for HP Indigo and inkjet-based printing platforms. The company's range of products for digital presses includes DigiPrime primers for HP Indigo, JetPrime primers for inkjet, and DigiGuard OPVs. 
Michelman's DigiGuard Plus strengtheners enhance HP-validated UV OPVs' performance when combined with DigiPrime priming technologies for HP Indigo high-performance labels. 
Complementing its product line-up, Sun Chemical also presented a range of SunInspire specialty inks and coatings for label applications.
Stouse presented the new silver BOPP roll labels for a high-end metallic finish for product packaging. 
Over at the 3M booth, the company was showcasing durable label products for automotive, medical and general industrial markets, a new print topcoat and a variety of solvent and solventless adhesives.
Channeled Resources Group presented its Frost AT technology that features a service temperature range from -65° F to 147° F and a minimum application temperature of -8° F.
Cyngient and Imageworx unveiled security labeling and brand protection innovations the companies have jointly developed. Showcasing the advancements of high-speed microscopic flexo security printing – utilizing high-definition inks from Cyngient and enhanced resolution printing plates from Imageworx.
Durico offered a new phenol-free film with increased heat stability and showed highly-resistant materials that are suitable for harsh environments such as solvent, alcohol, hot water and meat blood. 
International Media Products showcased its most recent thermal transfer ribbon addition, the Z200+ wax/resin, offering image durability, abrasion resistance and high-speed printing capability.
K Laser Technology showcased its multi-application cold foil substrate, Koldfoil One which is said to be the industry's only multi-application substrate covering three different printing applications (flexo, digital, and offset). According to K Laser, the metalized substrate can reduce inventory costs, increase uptime and product consistency, and improve purchasing logistics for label and packaging manufacturers.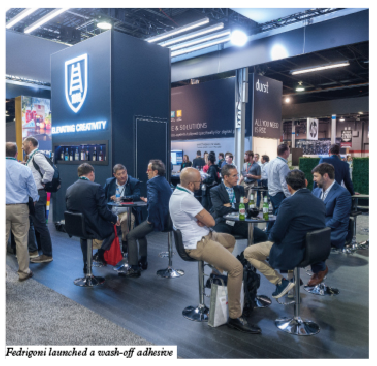 Luminescence Sun Chemical Security promoted its HelioMark inks for brand authentication, including a comprehensive range of security inks and product authentication tools. 
Strata-Tac Advanced Coating Technologies launched coupon films for IRC labels and showcased new and existing inkjet and laser printable durable films, lay flat products, and security products.  
UVitec Printing Ink presented its UV/LED curable flexographic and rotary screen inks, coatings and adhesives uniquely formulated for shrink label applications. The range includes overprintable or controlled COF high opacity white inks, gloss clears, scuff-resistant mattes, high build gloss and matte tactile effects, soft touch and sandy textures, cold foil adhesives, glitters, pearlescence and additional specialties. 
Nobelus, a supplier of thermal laminate for general commercial print, introduced a portfolio of specialty unsupported films, designed for the prime label industry. 
The portfolio featured a range of materials, textures, and visual effects, like rainbow holographic, high-efficiency soft touch and ultra-durable scuff-proof films.
Qspac presented its soft touch overlaminate for digital printers and its holographic overlaminate, offering more decorative options to converters.
Univacco released its Univacco 724 Series hot-stamping foil, specifically developed for hot stamping on a wide variety of wine label stocks providing excellent transfer at high-speed stamping on rotary and vertical presses.
Stay up to date
Subscribe to the free Label News newsletter and receive the latest content every week. We'll never share your email address.