Labelexpo Americas 2022- plates and platemaking
Labelexpo Americas 2022 demonstrated how automation and water processing can drive efficiencies and make sustainability gains in the printed label production process.
Asahi Photoproducts launched its AWP-CleanPrint line of water-washable flexographic plates, designed as a more sustainable alternative to traditional solvent-washable plates and to deliver improved quality on press with reduced cycle time. The water-wash plates have low surface energy resulting in fewer press stops for plate cleaning. 
Asahi also promoted a new water recycling unit for use with its larger plate processing systems. The filtering system recycles approximately 85 percent of the water used in plate processing, leaving the remaining waste as a slurry or sludge to be disposed of. A portion of the additive used in the water wash remains in the filtered water, reducing the amount of additive required for processing subsequent plates. Using this recycling unit results in a cleaner processor, extending the time between cleaning and reducing maintenance costs.
Fujifilm showcased its established Flenex water-wash plates and processors. The plates are 100 percent solvent-free and are claimed to have a lower cost-in-use than thermal or solvent technology. Fujifilm's ColorPath Sync cloud-based color management software was demonstrated, providing one location to manage color for multiple workflows, devices and media.
DuPont demonstrated its Cyrel Lightning plate family, optimized for UV-LED exposure units. Previously, exposure settings on LED units often had to be adjusted for either higher quality or shorter access time.
Cyrel Lightning plates were formulated from the ground up with UV-LED exposure characteristics in mind. Plate chemistry is designed to produce UV profiles tailored to achieve tunability between surface- and through-cures. This enables a balanced cure that can be tailored to the unique dynamics of a scanned LED exposure sequence. At the same time, it provides sufficient through-cure using a finely tuned UV absorption profile.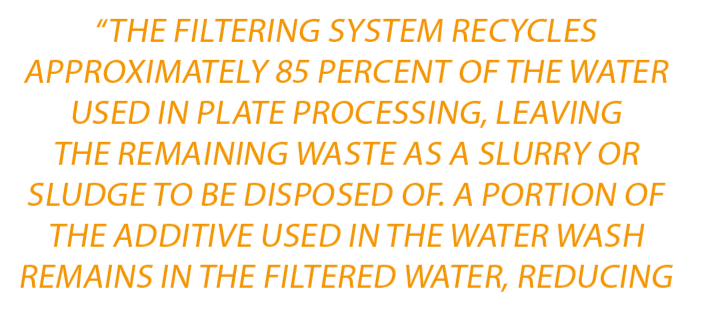 Cyrel LSH is the first of the new range of Lightning photopolymer plates and will be available in 045 and 067 gauges. It is solvent processable and comes with certified exposure recipes in the latest software of the Esko XPS Crystal units. Cyrel LSH is a hard durometer plate with a smooth surface, suited for advanced surface screenings and optimized for a broad range of substrates across flexible packaging, tag and label and paper printing applications.
The company also showcased its established Cyrel Fast thermal platemaking system, consisting of a thermal processor and a variety of photopolymer printing plates for flexible packaging and labels.
Esko, meanwhile, focused on demonstrating its CDI Crystal 4260 XPS in combination with the company's new Flexo Engine module, demonstrating digitization of the flexo production process.
Screening advancements also were demonstrated at the show. XSYS showed a new version of its ThermoFlexX Woodpecker surface microstructure technology. Woodpecker Nevis enables higher imaging speeds for flat top dot flexographic plates used for standard white inks. This potentially allows flexible packaging converters to save on white ink costs while providing more contrast and improved color strength.
Woodpecker surface screening works by controlling the ink more accurately as it is transferred from the anilox to the plate and onto the substrate. The result is a smoother, higher opacity ink laydown, sharper line work, and cleaner screens, without the common printing defects often found in flexo printing, such as pin holing, trail edge voids and halo effects, at full press speed.
Woodpecker surface microstructures are applied at the imaging stage and will work with common open RIPs. 
Nevis is the latest addition to the Woodpecker portfolio, which also includes the Sharp, Nano and Replay options for ThermoFlexX TFxX plate imagers.
XSYS also demonstrated its nyloflex Xpress Thermal Processing System, capable of producing press-ready plates in less than one hour. 
Automation in plate mounting was demonstrated by JM Heaford with its AutoMounter, which eliminates operator judgment from the mounting process. Options include pre-register compatibility, plate and tape cutters and a sleeve exchange unit. The company also showed a semi-automatic FTS model plate mounter. The Heaford ELS model completed the trio of plate mounters on the booth. 
AV Flexologic showcased its Automatic SAMM 2.0 800 automatic mounting machine for the flexo narrow-web industry, capable of mounting a flexo plate in less than one minute.
Stay up to date
Subscribe to the free Label News newsletter and receive the latest content every week. We'll never share your email address.