Labelexpo Americas 2022 - workflow and software
Automation, collaboration and consolidation were the key workflow trends on display at Labelexpo Americas 2022.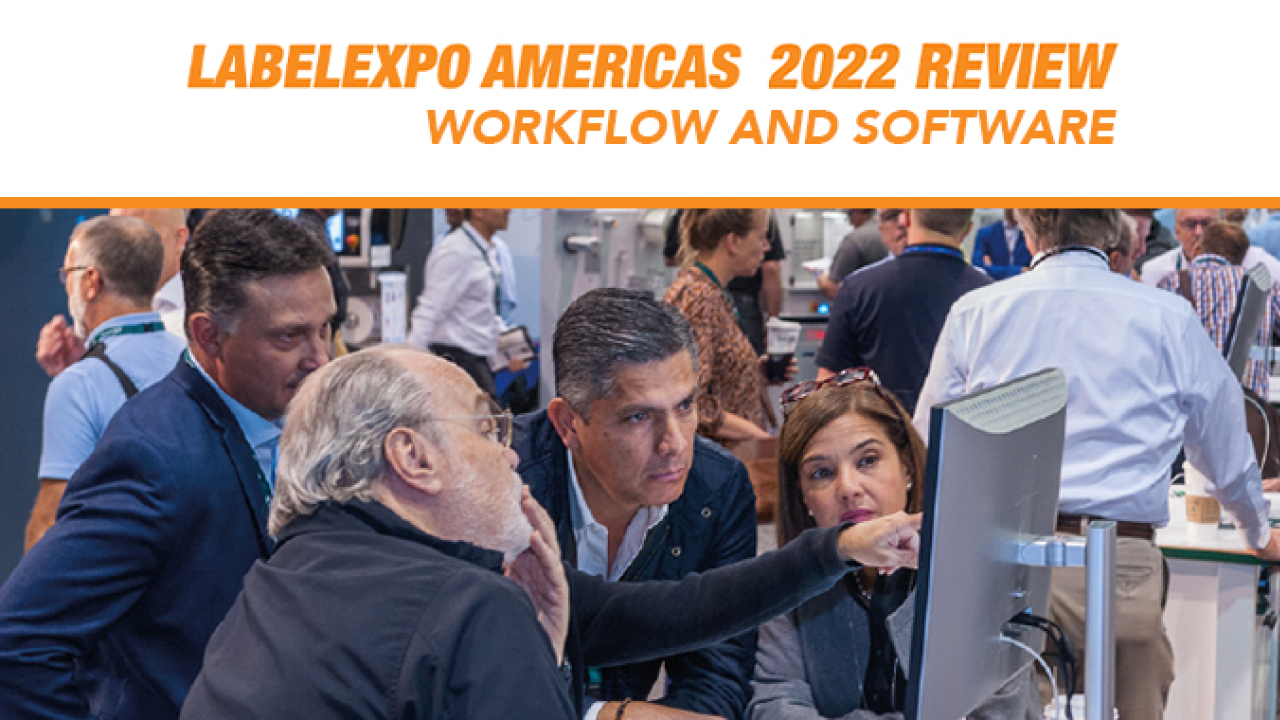 As consolidation continues apace in the label sector, it was no surprise that major announcements from workflow software suppliers at Labelexpo Americas 2022 were centered on mergers and acquisitions.
The show also saw advancements in other key workflow trends: increased automation, the move toward cloud-based operations, and increasingly open systems that allow data collaboration and integration across multiple technology vendors. 
NEW ACQUISITIONS AND PARTNERSHIPS
Labelexpo Americas 2022 was the first public showing for
AMP
, a recently founded new member of the
Baldwin Technology
family of companies. Described by chief IoT office Steve Metcalf as 'a health data app for the converting process,' AMP is a cloud-based data aggregation and analytics platform designed for printing companies to create new Industry 4.0 advantages with their production data. The vendor-neutral platform can connect to and collect data from any physical pressroom asset in addition to MIS, ERP and other workflow software.
Esko
was joined at its booth by newly-acquired AI software developer
Tilia Labs
, whose range of intelligent algorithms for sheet layout, estimation and planning will be integrated into Esko's existing software suite.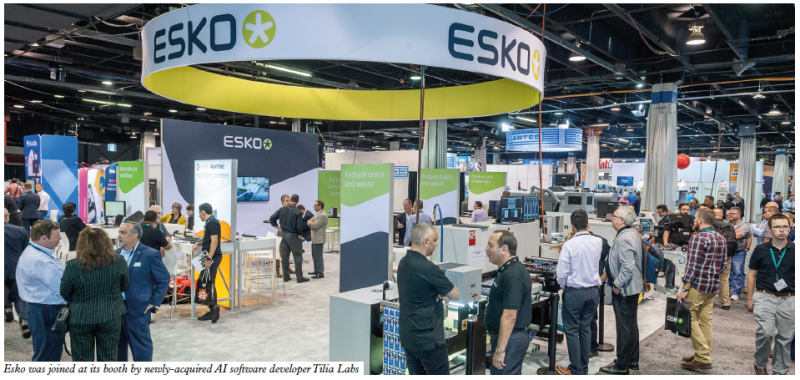 Esko also announced a new partnership with
GMG
, which will see GMG's profiling and color prediction technology GMG OpenColor connected to Esko's native pre-press editing software, ArtPro+. The connector will be launched in November.
The new ArtPro+ GMG OpenColor Connector enhances the connectivity and data exchange between the two technologies, creating a smoother and more efficient color conversion process. This integration ensures uninterrupted file processing and color conversion, without losing mission-critical metadata between systems – allowing both technologies to operate at their best.
Geert de Proost, director of product management at Esko, says: 'The manual reseparation of images and artwork to match brands' color accuracy demands can be a laborious and error-prone process. But by automating the reseparation using GMG OpenColor technology, via the unique integration with Esko ArtPro+, pre-press professionals can now accurately visualize color in before-and-after states and assess color deviations on-screen with precise Delta E readouts.'
The new connector will deliver wide-ranging benefits for converters using ArtPro+ and GMG OpenColor, including the creation of a standardized and automated process for color matching and reseparation of multi-color image and vector data, eliminating manual work, reducing the risk of errors and saving up to 60 minutes of operator time per job.
Hybrid Software Group showcased its recent acquisition of iC3D by demonstrating 3D visualization throughout the entire pre-press process. iC3D joined its Hybrid Software Group sister companies – Hybrid Software, Global Graphics Software, ColorLogic, Xitron and Meteor Inkjet – at the show. The latest acquisition brings the group's employees to around 300 and adds 3D visualization technology to Hybrid's extensive software and hardware offering. The company's business is split evenly between supplying OEMs and direct selling to customers. 'You'd struggle to find a digital press at the show which didn't have a solution from one of our group companies,' says CEO Mike Rottenborn.
Label Traxx
announced a merger with its two key partners,
Siteline
and
Batched
, to create a fully integrated, end-to-end production technology designed specifically for the label and flexible packaging market. 

For the last six years, Label Traxx has collaborated with Siteline to develop and deploy a web-to-print technology that enables label customers to reorder, approve the artwork, pay invoices and manage their label product catalogs online. 
Label Traxx has been collaborating with Batched for the last three years. Both companies developed production optimization technologies specifically targeting the unique needs of label printing, including automated scheduling, capacity planning and operational dashboards. This integration allows production operations to schedule and manage complex, multi-step production environments more efficiently.
'We are approaching our 30th year in business. Over the last six years, we have cultivated partners to accelerate our innovation. Now it's time to consolidate the portfolio and the teams to bring a well-coordinated and seamless solution to the industry,' says Ken Meinhardt, co-founder of Label Traxx.
For the last year, Label Traxx, Batched and Siteline have consolidated operations across sales, support, professional services and product development. This consolidation results in a unified approach to support existing customers and build a team with complementary skill sets. The unified system includes the Label Traxx system of record using a data model. Siteline provides the front-end web application for optimizing the front office, and Batched provides the web application for optimizing the production floor.
The ownership/leadership group will consist of Ken Meinhardt (Label Traxx), Jennifer Matt (Siteline), and Matt Murphy (Batched), with no outside investors. Rob Mayerson will lead day-to-day activities and the consolidation of operations as president. 'Label customers of all sizes are participating in rapid consolidation,' says Mayerson. 'We are investing in the ability to service growing organizations with the upcoming release of Label Traxx Enterprise, which will support multi-site operations. Siteline and Batched are tightly integrated into Label Traxx while being "loosely coupled" to Label Traxx, which means that in mixed ERP environments, Siteline and Batched will be able to work across the Enterprise. The new REST API from Label Traxx will extend the ability to connect Label Traxx to external systems.'
Artwork Flow presented its flexible workflow management system for multi-stage approval and artwork collaboration. Additionally, the company featured AI-enabled Smart Proofing for FDA compliance, helping brands go to market faster. 
Axicon showed its 15000 series 1D/2D barcode verifier, designed to read both linear and two-dimensional matrix barcodes simultaneously. All the symbols seen in their field of view are verified individually in accordance with the appropriate ISO/IEC standards. The verifiers are designed to be used in three different positions, so even barcodes on awkwardly shaped objects can be easily read. The 15200 barcode verifier has a 60mm x 45mm field of view, for use with retail point-of-sale linear barcodes as well as those used on small healthcare trade items. The 15500 version is claimed to have the world's largest field of view – 95mm x 70mm – on a handheld linear and 2D barcode verifier.
Baldwin Technology launched the Guardian PQV 100 percent print inspection version 4.0, designed to help converters achieve print quality and reduce material waste. These state-of-the-art camera systems can provide single or dual-sided 100 percent print quality inspection for any application, ranging from high-volume label production with variable data to inspecting the challenging security print applications with features such as UV fluorescent, fiber inspection, IR covert, optically variable devices and inks, and magnetic inks.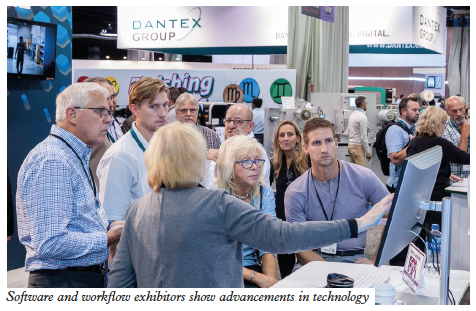 Baldwin also showed products from its Vision Systems segment, comprising advanced color management and inspection technology.
BST
launched its new ProView video web monitoring system. The plug-and-play print image monitoring system is suitable for both narrow and wide web applications and can handle web speeds of up to 1,000m/min. The company also showed web guiding equipment with newly upgraded camera technology and its updated Tubescan 100 percent inspection system. It ran a CEI rewinder equipped with BST inspection technology on its booth, and its web guiding and inspection systems were also featured on technology shown at the stands of CEI, Epson, GM and Kor Engineering.
CC1
showed its RapidVision high-resolution digital viewing technology, which it describes as an off-the-shelf, ready-to-ship system. It features a full complement of web scanning tools, including sequencing, multiscreen, tracking, master image, lateral direction full scan and running direction full scan. High-speed traversing allows for full repeat viewing and positioning. Also on show was the new DRC 6000-L automatic register control for flexo presses, which claimed to significantly reduce make-ready and run waste. A new mark pattern design corrects large register errors on set-up. 
Cerm
featured an 'Integration Arena' on its stand, which demonstrated the 30-odd manufacturing partners with which the company's MIS can be linked – a figure that is 'rising all the time,' according to managing director Geert Van Damme. 'We are demonstrating the importance of linking with equipment suppliers,' he says. 'It has become a key factor when converters choose our system.'
New for the company's label MIS is a shift to a cloud-based engine. It is currently available only for scheduling but will be rolled out in other areas soon. The company also was showing its new software for packaging companies, which is being targeted both at wider-web converters and also label converters who have moved into the production of flexible packaging or folding cartons – allowing them to expand their existing label MIS to handle packaging production requirements.
Cerm is growing its presence in the US market, with a dedicated office now housing five staff. Around 40 of its 400 customers worldwide are based in the United States. 
Cognex showed its range of handheld barcode verification scanners, including the latest version, the DataMan 8700 series. Aimed at manufacturing environments in automotive, medical device, electronics and aerospace, the DataMan 8700 series decodes the toughest direct part mark (DPM) and label-based codes while withstanding harsh oils, dirt and water.
Also on display was the Cognex Mobile Barcode Software Development Kit (SDK), which allows simple, enterprise-grade barcode scanning for mobile devices.
Colorware USA
promoted its MeasureColor branded products and services, including MeasureColor Reports, MeasureColor Mobile and MeasureColor software. New MeasureColor Reports 22.1 sees the release of several reports and dashboards specifically targeted at brand owners. These new views complement the library of more than 50 existing templates for print suppliers and pre-media agencies. 
GMG Color showcased predictive multi-channel profiling and ink-saving tools. Its ColorServer bundle products are complementary software designed to drive ink and time savings through smarter color management automation. GMG OpenColor is a platform for accurate predictive simulation of the overprinting effects of spot colors. 
Marc Levine, director of business development, says: 'It's no secret that label printers are under pressure from rising ink costs, labor shortages and complex color and substrate combinations compounded by shorter product cycles. One of the greatest challenges they face today is to create more with less. More throughput and color accuracy, in less time or with fewer resources. That's where the GMG solution range, powered by automation, truly shines.'

Esko
demonstrated how its portfolio of hardware and software enables businesses to better digitize, automate and connect to accelerate the go-to-market process of packaged goods.
Melissa Plemen, senior director of inside sales and marketing at Esko, says: 'Thanks to cloud-based workflow automation, complete integration with MIS is possible throughout the entire pre-press workflow. So now all processes are connected – from design, editing and color accuracy through to customer feedback and approvals with WebCenter.'
The company showcased innovations in ArtPro+ including printing unit support and repeat layout creation, as well as folding carton improvements, a new usage dashboard, and enhanced WebCenter usability features improving ease of use and maximizing productivity and efficiency.
Esko also demonstrated its AVT Helios line, an automatic 100 percent inspection system designed for labels and other narrow web printing applications. 'A market-proven, automatic 100 percent inspection solution designed for labels and other narrow web printing applications, the Helios system automatically inspects the printed web for defects and imperfections, delivering exceptional quality results and eliminating customer rejections,' adds Plemen. 'With over 3,000 installations worldwide, Helios instantly identifies defects on labels as soon as they occur, reducing waste, boosting performance, and delivering 100 percent quality assurance.'
'Esko has developed full end-to-end workflow solutions for the digital printing of labels, from ideation through to inspection. Adopting these integrated hardware and software solutions serves to digitize, automate and connect workflows, systems and processes in label businesses, delivering the clearest benefit in meeting the challenges of today and tomorrow,' concludes Plemen.
EyeC featured a wide range of systems, including live demos of ProofRunner 100 percent print inspection technology, available for presses and rewinders with up to 68in (1.70m) web width. The system features new options to improve inspection performance on challenging raw materials and complex services. On display were also two EyeC Proofiler print sample inspection systems for sample sizes up to 50 x 36in (1,270 x 915mm). 
The company demonstrated its cloud-based artwork proofreading software EyeC ProofText and the EyeC Proofiler Graphic, which automatically matches the entire content of print-ready files or step-and-repeat files to the approved artwork when integrated into a workflow system. 
Hybrid Software Group showed version 8 of PackZ, its native PDF editor. Enhancements include complex layered artwork that can now be viewed in color and wired modes simultaneously, and object-based screenings can be inspected per separation. The Smart Flattener guarantees artwork quality and consistency, professionally managing spot color and transparency interactions as well as press gamut conversions. Pactions is a programmed toolset with action lists, responding to customer needs for advanced automation. It reduces the amount of operator time needed to edit, approve and print a new package design. 
Also on display was StepZ 8, an interactive software package based on the award-winning technology of PackZ, which allows for the preparation and execution of step-and-repeat and variable data tasks for high-speed digital printing of labels. Hybrid Software also presented Cloudflow, SmartDFE and variable data printing technology. According to CEO Mike Rottenborn, cloud-based workflow will be 'a big push' for the company over the next year.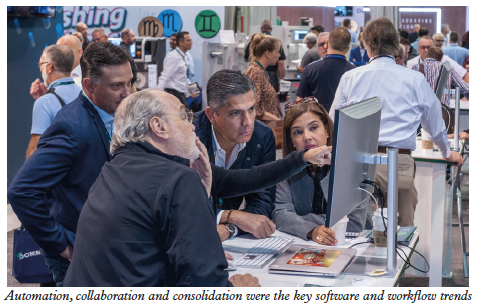 Infigo
showed how its web-to-print systems can help with launching an e-commerce brand and building an online presence in as little as 90 days. Through the fictional ice cream brand Scoops, Douglas Gibson, CEO of Infigo, and Greg Young, head of customer success, dissected everything required for print e-commerce success – from the integrations that provide a seamless customer experience and printing workflow, to the strategies that improve conversions and enable scale.    
The Infigo platform allows the creation of both B2B and B2C storefronts, supports artwork upload including pre-flighting by using Enfocus Pitstop technology, provides pre-designed templates and shows how to handle full variable data personalization. 
Infigo also demonstrated the Infigo Connect open API, which syncs orders directly into workflow and MIS systems such as Hybrid, Esko, Print IQ, Tharstern, Cerm and Label Traxx.  
Young says that often web-to-print is sold as a silver bullet for label manufacturers. However not every vendor has the integration capabilities or professional services experience to help their users 'hit the sweet spot' with web-to-print.   
The company demonstrated how to create a storefront, how customers can upload and edit their own artwork, how the storefront integrates with their MIS and other platforms and the strategies that are required to push and scale the brand.   
Label Traxx launched Version 9.0 of its workflow software at the show. In response to ongoing industry consolidation, the Enterprise Edition offers a set of capabilities designed to serve the requirements of multi-site organizations for the first time. The company demonstrated new CRM features with the Customer Service suite, including Rapid Quoting. The recently-added Inventory Forecast Tool provides the operations team insights and alternatives to respond to supply chain challenges in real-time from its Automated Planning & Scheduling Suite. Also announced were new subscription plans and cloud-hosting alternatives.
Meteor Inkjet
, part of Hybrid Software Group, showed its portfolio of industrial products for labels and packaging, including a range of drive electronics for all major industrial inkjet printheads; ready-to-use digital front ends and workflow systems; software development kits allowing custom printers to be built from the ground up; and a complete suite of tools and services to support machine builders in the design and optimization of print systems.
OneVision showed its Label Automation Suite, which combines production planning with print file optimization. The intuitive user interface allows label printers to control and monitor their production. All production steps are mapped as a 'digital job ticket' in the software. Incoming print files are automatically checked by more than 130 criteria. Detected errors are automatically corrected and the files are optimized for the individual requirements of the label production. Among other things, the software performs the following corrections: creation of bleed and white/varnish masks, correction of cut lines, and trimming to cutting dies.   
In addition, the software places the labels on the web in an AI-based, efficient and material-saving manner. This can be done collected by job or customer, or across different jobs. Finished print files are transferred to the press. Files for embellishment and finishing are sent to the production machines. From order entry to printing, embellishment and finishing, the software offers maximum transparency and reliability for all production steps.  
OneVision offers connections to common software systems or hardware components. Additional connections can be extended at any time.  
Print IQ showed its end-to-end estimating, ordering and production system, eliminating the need for workarounds and offering time-saving and cost benefits. The Australia-headquartered company, with offices in the US, UK and New Zealand, has a background in commercial print and began its focus on the label market two years ago. At a press conference during the show, representatives from US-based Abbott Label spoke about the converter's role in developing the software alongside Print IQ.

Synkrato announced the incorporation of Cloud Label Service enterprise label management into its platform. The addition enhances Synkrato as a single system to manage end-to-end logistics processes by adding label template management capabilities.
'We are committed to offering a comprehensive solution to make supply chains reliable, resilient and scalable. Labeling keeps all supply chain parts moving by tracking, locating and identifying products throughout the supply chain. It made perfect sense to incorporate enterprise label management into the Synkrato logistics platform,' says Amin Sikander, Synkrato president.
The addition of labeling empowers companies to manage label templates — without needing to write any code — from a single platform. Synkrato lets supply chain professionals make label template changes without IT assistance. Companies will be able to create and validate labels, reducing response time to label requirements and changes. 
Jason Mancuso, Synkrato product director, says: 'Our intent is always to simplify complex tasks. Label template owners can log in and make changes without relying on the IT department and share templates with suppliers in just a few clicks. This feature is advantageous for companies with different label versions, long label-revision processes, or short delivery timelines.'
Cloud Label Service incorporation also supports the current mobile application, one of Synkrato's core functionalities, opening new possibilities for small and mid-sized companies without robust warehouse management systems. Synkrato's mobile app removes the need to log into a system, access a label template, and enter the information to print it. The mobile app can be used to scan an item and choose a label template — for example, item, PO or LPN labels — add the corresponding data, and print it.
Techkon USA demonstrated the latest innovations in its SpectroVision in-line color measurement system and its newest handheld, all-in-one spectrodensitometer, SpectroDens 4. On display was a version of the SpectroVision system designed specifically for retrofitting Mark Andy, Nilpeter, Bobst, Omet, Domino, MPS and Gallus flexo and digital presses for automated color measurement and control.
SpectroVision is an in-line system that improves the color measurement and barcode reading process to keep presses moving at high speeds and to help flexo printers reduce waste. Each system includes a color spectrophotometer, a 2D camera (for web viewing), a dedicated press-side PC/command console, and two seats of Techkon's ChromaQA color management software suite.
Tharstern was offering Labelexpo Americas attendees free, three-month trials of its new MIS for the label and flexible packaging sector. Following the launch of its cloud-native software in 2021, Tharstern has spent the last year working with a group of beta customers to create a product that 'will transform and modernize the MIS market for label and flexible packaging converters,' according to CEO Keith McMurtrie. 'We've created Tharstern Cloud to be so intuitive and easy to use that we've removed any cost associated with the onboarding and training process,' he says.
Tharstern also demonstrated the connectivity that has been built into the MIS product. 'We've created Tharstern Cloud using an API First approach, which means that any data within the MIS can be written and read by any external application at any level. Client details, order statuses, shipment information, ink colors – every data object. In today's technologically connected world, that is pivotal,' adds McMurtrie.
The software initially will support the label and flexible packaging sectors. Over the coming months, support will be added for manufacturing methods used in other sectors, such as carton packaging, wide format and commercial printing. This is down to the 'sector agnostic' approach the software developer has taken when creating the product. It can work with any type of manufacturing process, in any type of sector, to support the growing trend for diversification into other areas of print. 
Theurer.com showed its C3 MIS aimed at the printing and packaging industry. The modular system can be adapted to the user's requirements and expanded step-by-step. It covers every area of business, from estimating to manufacturing through to accounting and reporting. 
Trinity Graphic promoted its shrink sleeve distortion services. As a shrink sleeve label shrinks around a bottle or packaging, all the graphics and embellishments on the label become distorted in proportion to the bottle or packaging dimensions. To compensate, all the graphics must be pre-distorted during the pre-press stage to ensure that the final label appears as the designer intended. The technology developed by Trinity Graphic uses the latest software, scanners and distortion measurement techniques to overcome these challenges. 
Unilux showed its recently launched UniPrint web monitoring system, which can identify registration and color defects. It is available in a standard software package or a version with upgraded inspection features.
Stay up to date
Subscribe to the free Label News newsletter and receive the latest content every week. We'll never share your email address.