Anti-counterfeit boost in China
Shenzhen Hongyuanqing specializes in anti-counterfeiting products. With its recently purchased Haotian HTS-220-5C inkjet press and a self-developed composite nano anti-counterfeiting material made visible with water and with color-change reversibly, it has started a new phase of 'digital + anti-counterfeiting' label printing.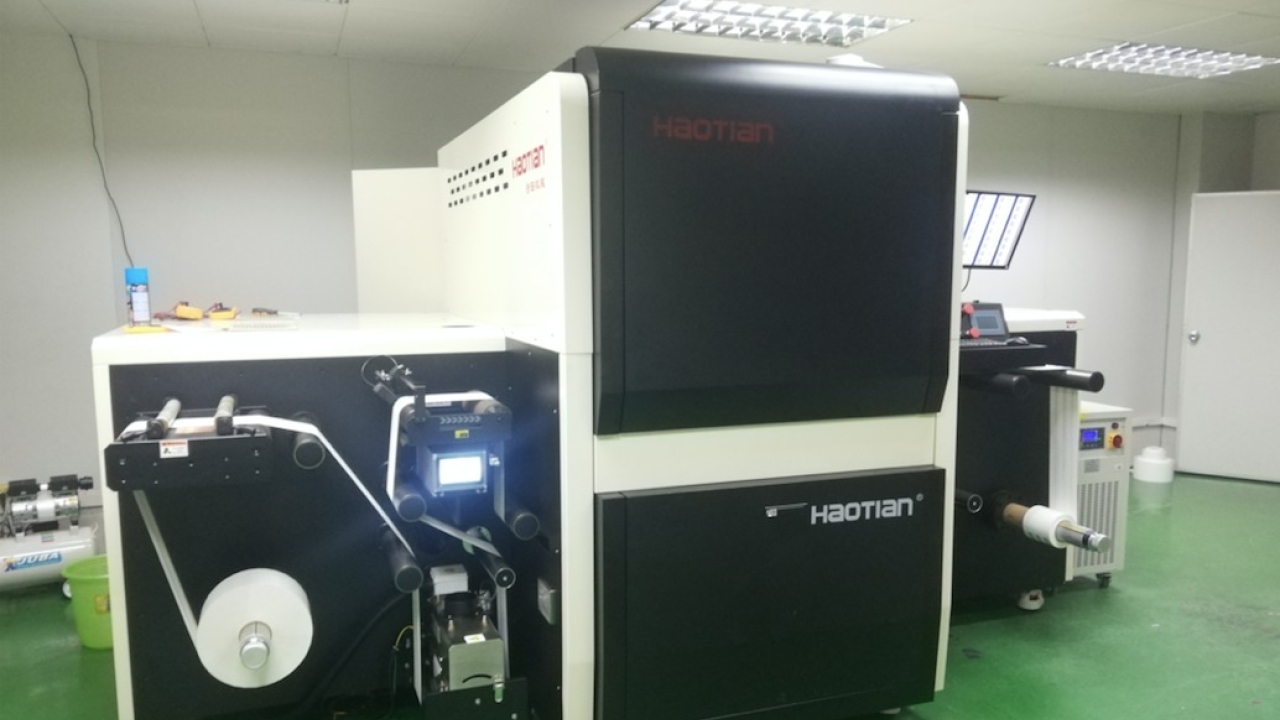 Founded in 2001, Hongyuanqing's business is divided in two parts. One division focuses on developing anti-counterfeiting materials, the other on print production of anti-counterfeit labels, which now account for 80 percent of total business volume.
With support from Tsinghua University's Institute of Nuclear and Energy Technology, Hongyuanqing has successfully developed a variety of anti-counterfeiting products, which have won more than ten national patents. Among these, 'Nuclear track/trace and anti-counterfeiting technology' was listed as a 'National key sci- tech project' by the Ministry of Science and Technology. Its self-developed composite nano anti-counterfeiting material meanwhile is a world-leading innovation in anti-counterfeiting materials. 
Having developed this unique material, Hongyuanqing then considered how to turn it into practical label products with appropriate printing technology, carrying out trials on conventional and digital presses. 'We were successful using conventional printing technology, and the final products would be easily accepted by customers and the market,' said Wang Jingyan, general manager of Hongyuanqing. 'However, considering the features of this new type of anti-counterfeit label such as individual identification and security as well as customization, we think digital printing is maybe a better choice to give full play to the added-value benefits of anti-counterfeit labels'.
For this reason Hongyuanqing installed a Haotian HTS-220-5C inkjet press in October 2019, where it joined three Haotian letterpress presses. This was the first installation of this new press model in China. 'The investment in digital printing has profound implications for our future development,' said Wang. 'It's not only for our current production requirements for anti-counterfeit labels but also our future development plan. Before this purchase, we investigated and compared almost all digital printing technologies on the market. As a stress-free, non-contact and plate-free printing method, inkjet has few limits on printing stocks, so it's suitable for printing anti-counterfeit labels.
'We decided to buy Haotian's HTS-220-5C press for three reasons: first, cost advantage. Various materials can be used on this machine such as paper, PVC, PET, PE, BOPP and gold/silver foils with no need for precoating. This not only reduces work but also lowers costs. Second, performance stability. The imported environmentally friendly ink has good color rendition and rarely blocks the nozzle. Finally, the energy-saving and sustainability features. The digital press produces no toxic substances or VOCs during production and the overall environmental index is much higher than officially stated "green" printing standards. So this is much more suitable for future printing demands.'
Wang says he is looking for a long-term relationship with Haotian, which has engaged in R&D and production of label presses for more than 20 years. 'We established mutual trust with Haotian by buying its letterpress machines. Their excellent quality and strong after-sales service, and especially their pioneering spirit, encouraged us to keep developing more valuable anti-counterfeiting products with them.' The digital press entered production soon after being installed. Since then Hongyuanqing has developed several 'digital + anti-counterfeiting' label products with the machine, opening up new market opportunities.
Turning point 
Hongyuanqing operates in a factory with a floor area of over 3,000sqm and employs more than 20 people. The anticounterfeiting labels it produces are mainly used in applications for high value wine, lubricants, household chemicals and event tickets. 
The installation of the Haotian HTS-220-5C has led to a growing number of digital orders. Despite the absence of many employees during the Covid-19 outbreak, Hongyuanqing's business suffered less thanks to the digital press.
However, the 'butterfly effect' of the epidemic brought new considerations for Wang and her team. She tells L&L that the company was forced to consider how they might reduce the management risks brought on by the crisis. 'We focused on business generation, receiving both online and offline orders, and we created diversified management roles while enhancing communication with customers. We also focused on studying technology, supporting our conventional printing operation with digital printing, extending our product line and providing "one-stop" anti-counterfeiting solutions for customers. There must be a turning point in the crisis and the key is how to make good use of existing resources to create new opportunities. "Digital + anti-counterfeiting" is just one of them.' She also thinks that as the virus is brought under control and restrictions are lifted,'human contact will then become intensive again, and demand for labels for the supermarket, FMCG and entertainment industries will explode.'
Stay up to date
Subscribe to the free Label News newsletter and receive the latest content every week. We'll never share your email address.