The battle for beer
According to research from Nielsen, 71 percent of craft beer buyers said they decide which beer to try once they've made it to the store, rather than knowing what they want ahead of time. Further, that same percentage said they like to try brands with bold or interesting packaging.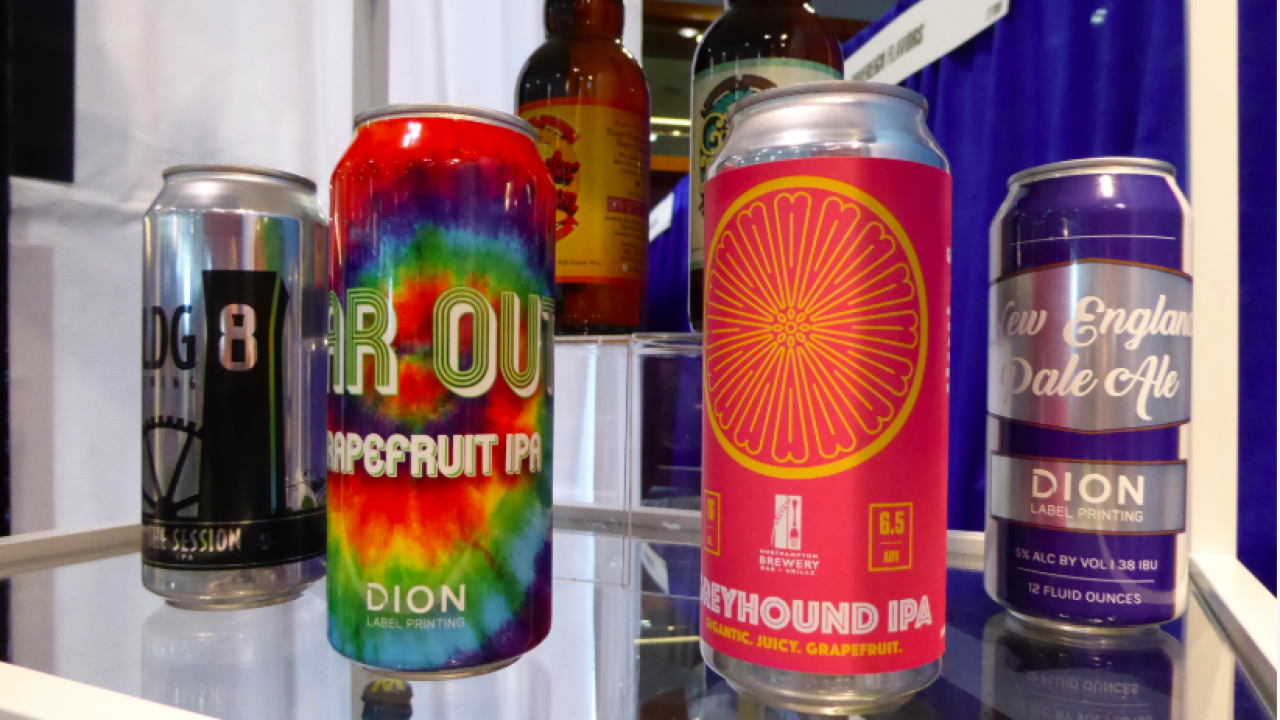 With those figures in mind, craft beer really becomes a market in which the outside of the can or bottle is just as important as what is on the inside.
By the numbers 
Globally, the craft beer market is dominated by the US and Europe. The US creates more craft beer across the globe both in terms of volume and in revenue. American craft beers are driving much of the demand in Asia and in Europe, according to a report by Research and Markets.
Craft beer is defined as operations with annual production of six million barrels of beer or less. Small independent brewers such as this make up about three percent of US annual beer sales. 
The Colorado-based Brewers Association puts into context just how rapidly the market is expanding. In 1980 there were eight craft brewers in the US. By 1994, that grew to 537 small or independent breweries. Today, the US is home to an estimated 6,000 craft brewers – and growing. 
The Brewers Association says there are an estimated 9,200 active brewery permits, meaning more breweries are expected to come on line soon.
The market's rapid growth rate is creating a competitive landscape, and craft breweries strive to differentiate their beer against a sea of competitors. 
'Breweries love to experiment. They like to play with holographic materials, add foils, embossing, colorful graphics,' says Lorri Martinez, VP of sales at Columbine Label Company in Centennial, Colorado. 
Some breweries might start small, but soon move to more value: 'When they're starting out, every cent counts,' Martinez says. 'As they grow and get off the ground, they realize how important labels are.'
Adam Heissler, from Prime Package & Label in St Louis, Missouri, is not alone in saying that labels and packaging are often a forgotten piece of the puzzle. 'It's the cheapest part of the pie, and it's the last to go on, so we're often thought of last. But it's arguably the most important piece. They need it from a regulation stand point, but most importantly, it captures their brand.' 
Shrink and PS on cans
Columbine Label and Prime Package & Label, were two of several label suppliers either exhibiting or attending the Craft Brewers Conference, an annual trade show and conference organized by The Brewers Association. The event hosted 14,000 attendees in Nashville for its four-day show. They welcomed small and independent breweries across the US, as well as attendees from foreign breweries who came to learn about the market at a trade show and conference. 
Blue Label Digital Printing, an all-digital label converter in Lancaster, Ohio, counts about 800 craft brewers as its customers. Blue Label recently purchased an HP Indigo 8000 and at the show was displaying some of the work the company has done for labels on beer cans. 
Blue Label Digital Printing president Andrew Boyd says: 'Everybody moved to cans pretty quickly. I remember first seeing craft beer in a can and thinking why would they market a premium product like that? Now it's ubiquitous.'
In the US, craft breweries are largely moving away from bottling beer in glass and turning to canning beers, and quickly realizing the flexibility and benefits. 
Canned craft beer is lighter and easier to transport, making it a more sustainable and less expensive way to ship to retail, and a boon for on-the-go consumers. 
Cans also preserve beer freshness and integrity longer, and canning lines are proving themselves cheaper to manage than most bottling operations. 
Further, many small brewing operations don't have the space or budget to meet the minimum orders for direct-to-can printing. So, they're ordering blank cans and slapping a highly decorated label or shrink sleeve on it. 
'Some of the world's leading brewers are switching to pressure-sensitive beer labels to improve shelf impact and increase market share,' says Avery Dennison in a new case study. 'The no-label look, in particular, is sweeping the market.'
UPM Raflatac, an exhibitor at the Craft Brewers Conference, was talking to show visitors about pressure-sensitive labeling for cans, and its materials that work well with the cold and wet conditions of canning lines.
'Pressure-sensitive labels on cans is a huge shift in the market,' says Jean Willson, UPM Raflatac segment manager for wine, sprits and craft beverage. 'Initially, the buzz was all about shrink when the market shifted to cans, but breweries are realizing the flexibility of pressure-sensitive labels over shrink sleeves.'
Flexibility, Willson says, means custom die-cuts, smaller rolls, ease of application, and the seemingly endless value adds. 
'Pressure-sensitive labels open up so many opportunities to experiment,' she says.
While PS labels on cans are popular, label converters at the show were fielding the most questions about shrink sleeves. 
Shrink sleeves on cans are growing in popularity among craft breweries looking for the benefits of direct-to-can printing, without having to maintain the minimums required those companies often require. Such large MOQs can be problematic for small craft breweries, or those who frequently change their artwork or experiment with seasonal or promotional flavors – in other words, pretty much every craft brewer on the market.
'The beauty of shrink compared to pressure-sensitive or cut-and-stack labels is that you have a larger platform to play with,' said Inland Packaging's Mike Miller during a sponsored presentation. 'You can have 360-degree graphics to cover that bottle or can and there are some neat special effects that you can do with them. A label can accentuate the contours of the can. You have deeper colors and have some design freedom with your artwork'
Stand out 
According to Kurz, foil has a proven track record of successful eye tracking results. Foil can boost the likelihood of a consumer picking up a product by a considerable percentage. In the wine, spirits and craft beer markets, foil markedly raises the eye-tracking and shelf appeal statistics. With the increased interest in premium products, foil is absolutely key in selling the concepts of individuality and quality, according to a Kurz white paper.
In a double-blind study using a selection of similar products in a grocery store, consumers chose the products with a metallized label over similar products with a plain paper label as much as 26.7 percent more often over similar products. 
'Our research shows that consumers like packages that shine or gleam,' says Kym Lee, business development manager, Rexam Metallising. 'With food products, there is a lot of shelf competition. A metallized label can increase the perception of value.'
Harry Leibowitz, PhD, president of the research firm, adds: 'This study confirms that shoppers are attracted to items that catch their eye. With all things being equal, a label or package that has a metallic look stands out, giving those products a clear advantage in the marketplace.' 
For burgeoning craft brewers, the label can be a make or break moment.
Stay up to date
Subscribe to the free Label News newsletter and receive the latest content every week. We'll never share your email address.