Beverage labels become greener and smarter
Designing, developing and printing beverage labels is a tricky business. Even excluding beer, wine and spirits, the huge range of beverages to be covered includes coffee, tea, juice, sports drinks, water, and countless other soft drink-related products. Like the beverage consumer, the beverage label is continually evolving, influenced by changing demographics and new printing and finishing techniques.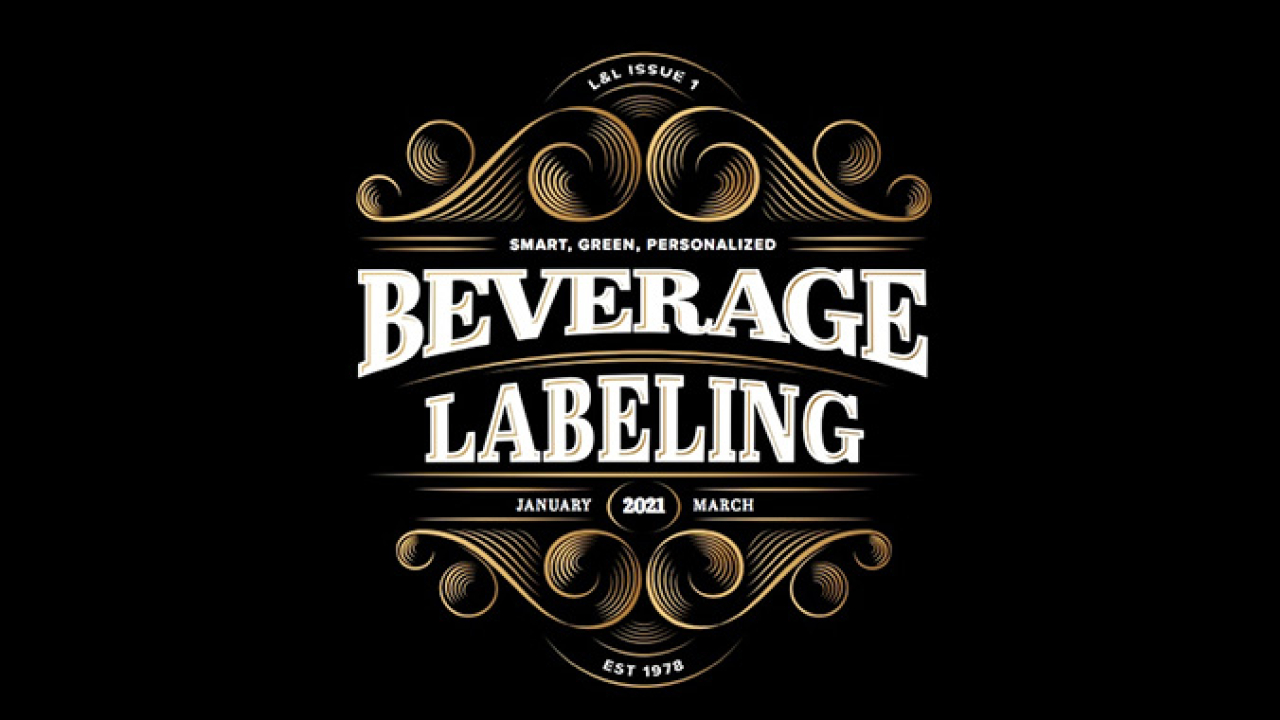 The global non-alcoholic beverage industry remains one of the fastest growing of all label segments, expected to grow from USD 378.38bn in 2020 to USD 410bn in 2021 at 8.4 percent CAGR. The Business Research Company estimates it will continue to grow by at least 7 percent CAGR to reach a value of USD 532bn in 2025.
An increase in the global population – expected to reach 10 billion by 2050 – and a rising global middle class with disposable income will drive this demand for beverages. Countless niche brands are challenging the established global players as they seek an increased presence, especially as organic ingredients and healthier lifestyle options are a growing trend, particularly among younger consumers. The pressure on a label to make a sufficient impact on customers that it results in a purchase decision is now greater than ever.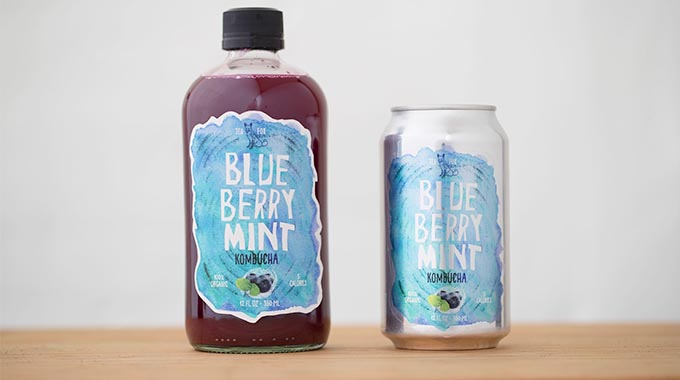 A good label sticks 
'A good label needs to stick,' jokes Filip Weymans, vice president of marketing at Xeikon. 'We know that a label has to stick to the bottle. But besides the bottle, it also needs to stick with the consumer. The look and feel, the story and how it is told, have gained significant importance. The story is not something a printer can influence, it's more the designer and brand owner's job to express the authentic story, but the printer can recommend how to best present that story.'
'A beverage label should articulate the brand's message or brand statement,' echoes Riley Nay, senior product manager for films at Avery Dennison. 'The label needs to ensure the brand stands out on the shelf whether that be through facestock, ink, graphics or embellishments.'
"There's increased interest in coatings that provide textured effects, high-performance adhesives for cold foiling, and the use of high luster metallic inks to add a touch of luxury"
Andy Igglesden, category sales director Labels & Board at Coveris UK, thinks that print and color consistency is of significant importance. 'Color is used as a major cue within beverage labeling to navigate the category on-shelf and to identify different product types,' he says. 'Given the way this is merchandised and recognized at the point of sale, delivery of color consistently and across multiple substrates and print processes is critical to brand management.'
Likewise, Sarah Harriman, marketing and communications manager at printing ink specialist, Pulse Roll Label Products, agrees that strong, bold colors, sophisticated graphics, and decorative label embellishments must make the product stand out from the crowd in a sector that is full of innovative new products, all vying for the consumer's attention.
'Outstanding effects for serious aesthetic appeal can be created using a combination of high-quality inks and varnishes to create the perfect premium non-alcoholic beverage label,' says Harriman. 
'Functionality and product protection are also critical, along with coating properties such as scuff resistance, which are vital in protecting the label and bottle from damage on high-speed bottling and packing lines to transit and shelf displays.'
Liz Waters, managing director of Watershed Group, an Irish converter with production plants across several countries in Europe, confirms that beverage clients are producing a premium product that requires premium print quality. 
'Print capability and the necessary capex investment to achieve this is critical to servicing this market. High-end brands need to be supported by converters that can not only provide maximum brand impact on a shelf through print quality but also guaranteed repeat print quality and color consistency,' says Waters. 'A sophisticated color management system is vital as are all the necessary in-line and off-line print embellishments.'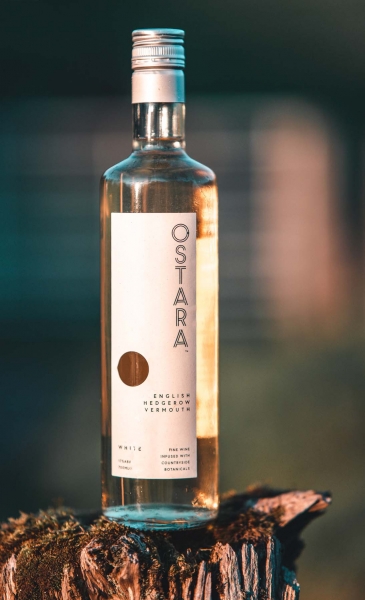 Stelios Manousakis, product owner at digital print specialist Mouvent, agrees: 'We see a divergence in overall styles, both bright, vibrant colors and more muted neutral tones. It seems to be an overall theme for the beverage market: either design products with premium, flashier label designs using embellishments or specialist inks, or to strip back design into minimalism and transparent or translucent materials. Both approaches appear to be connecting with the audience, so we expect to see this accelerate further.'
Premiumization and personalization 
Health-conscious consumers are increasingly seeking alternatives to alcoholic beverages, and there's a grand offering of premium non-alcoholic products to rival their alcoholic counterparts. From mocktails to non-alcoholic spirits and alcohol-free beers, labeling is becoming more complex – often combining embellishments such as foiling, embossing and tactile varnishes to present a luxury product.
'There's increased interest in coatings that provide textured effects, highperformance adhesives for cold foiling, and the use of high luster metallic inks to add a touch of luxury. The non-alcoholic sector is certainly showing that, with the help of innovative and eye-catching labeling, it can rival its boozy counterparts,' says Sarah Harriman.
'Premiumization is the biggest trend at the moment,' agrees Paul Jones, sales and technical director at Skanem, one of the world's biggest printer groups with headquarters in Norway and production sites as far away as Kenya and Thailand. 'Everyone is trying to win the war of the shopping aisle by creating more embellished or premium looking labels to differentiate between all the other products on the shelf and get the consumer to pick it up. It is widely known that if a consumer picks up your product, they will more than likely put it in their basket.'
"Premiumization is the biggest trend at the moment. Everyone is trying to win the war of the shopping aisle by creating more embellished or premium looking labels"
Creating an impact using the sensory aspects of the packaging is equally important, in Jones's opinion. The use of a wide range of embellishments and other techniques, which are usually seen in high-end alcoholic drinks packaging, is becoming more prominent in non-alcoholic brands.
This theory is echoed by Adam Newman, sales manager at Labelnet, a British converter active in both beverage label markets, servicing breweries and distilleries as well as soft drinks manufacturers.
'Previously, you would associate the large spirit manufacturers with high-end embellished labels, but in the age of social media, where image and branding are so important, the non-alcoholic beverage customers are demanding high-end quality labels too. For example, tonic water companies in particular are keen to stand out from their competitors to grab a share of the market created by gin's surging popularity in the past few years,' confirms Newman.
'With mixers and alcohol substitutes now becoming as popular and value-added as alcoholic beverages, we see that these drinks are following the decorative trends of the alcoholic beverage through premium and complex embellishment,' adds Andy Igglesden.
Matt Burton, global sales director at A B Graphic, considers personalization to be one of the key trends, driving web-to-print, digital printing, and short run finishing technologies to produce stand-out labels.
'Digital embellishment solutions such as DigiJet also allow digital labels to offer that extra level of embellishment for increased personalization. We saw Coca-Cola starting this trend a few years ago. With the developments in the digital print market, we see this option continuing to trend in 2021, by being of interest to many smaller businesses without the budget of Coca-Cola,' he says. 'These same developments also enable the continued growth of the smaller brands and cottage industries, as they can also have beautiful and impactful labels. We witnessed increased support during 2020 to local businesses, with consumers still expecting these labels to stand out on the shelf.' 
Adds Filip Weymans, 'There is a trend towards more personal decoration, hence the consumer market being broken down into smaller segments, addressing them with a more personal message. This pushes for more cost-effective solutions to address the varying run length with a product line and would need more efficiency to avoid waste.'
Due to the Covid-19 pandemic, major beverage brands are rationalizing the number of SKUs they offer. This is primarily driven by consumption shifts to healthy and 'functional' drinks. For example, bottled water is projected to grow at a 14 percent CAGR until 2024. 
The pandemic has also affected what consumers are purchasing and has created greater disparity and erosion of middle-tier products, according to Riley Nay. 'Consumers affected economically by the pandemic have moved to lower-tier products, while those not affected have shifted to more premium products due to having extra money that would normally have been spent on entertainment and travel. We will see more consumers willing to buy products that offer immune, physical, and mental health benefits within functional beverages. Calming beverages are also on the rise as the pandemic continues to affect consumers' mental health.
Liz Waters has also observed this trend: 'Emerging trends aimed at the healthconscious market include fermented drinks, kefir, probiotics and kombucha. Also, practically all our beer customers now offer a non-alcoholic product in their range. Premium waters in high-end sustainable packaging are also growing.'
Get smart, and QR'd
The health crisis worldwide continues to shape consumer behavior, pushing brands to interact and engage with consumers in new and innovative ways. 'Smart labeling provides unique opportunities to both directly engage with customers and effectively get across the story, innovation and create drama around the brand,' notes Liz Waters. 'The potential information gained from data analytics will also be enormous. Younger demographics already expect to gain most of their information through their smartphones – the packaging industry must take this seriously.'
According to Stelios Manousakis, the Millennial market that the beverage sector is currently refocusing on is the first generation to grow up digitally native. 'Interactive labels offer more opportunity to get creative and connect the product to marketing communication in new and exciting ways,' he comments. 'Similarly, the consumer's increased focus on nutrition and ingredient data could be an ideal candidate for using smart labels as part of a marketing strategy.'
'While some of the more inventive and perhaps quirky apps left the market as quickly as they arrived, we are expecting to see QR codes, in particular, leveraged much more strongly after a slow start and connect the dots between label design and the brand content marketing programs,' says Matt Francklow, managing director at pre-press specialist Creation Reprographics. 'A crucial part of that trend has been the Covid-19 venue registration process, which has removed a lot of the uncertainty of use for consumers.'
A study published by Statista in September 2019 found that almost 47 percent of consumers in the US and UK had noticed a sizeable increase in the use of QR codes. With the technology being available by default on most new mobile technologies, it seems a prime opportunity for brands to push interactive label designs.
We see this growing in the non-alcohol beverage space,' agrees Grey Moore, director of sales at MCC Label. 'MCC has many offerings, including QR code printing, covert and overt print solutions and implementation of RFID and NFC tags within our label offerings on a global scale. As consumers continue to rely more and more on their smart devices, implementing interactive labels is a must to capture the consumer's attention through our clients' brands. This will assist our clients to not only connect easier and faster with their consumers but will also allow a more efficient supply chain and recyclability and sustainability offering for our client's business model.'
'Brand owners love the idea of cross-promotion and gathering data on their consumers, but NFC is still expensive and watermark hidden codes require specific apps to gain access to the content on the label,' comments Skanem's Paul Jones. 'QR codes are seen as unsightly, and marketing teams don't like to look at them on their premium labels. But the smart label category is improving all the time, and the cost for NFC, watermarks, and app design are coming down, plus using apps for more than one brand is growing. Smart technology can also be used for sustainability in the Holy Grail project, which encodes watermarks in the packaging, making it easier to filter and sort packaging during the recycling process.'
Avery Dennison believes that intelligent labels will continue to grow in the beverage space across many different applications. 
'We have seen many brands engaging with solutions to better interact with consumers and stand out on the shelf,' confirms Riley Nay. 'We are also seeing beverage companies that utilize plastic packaging that look to RFID-based solutions to incentivize consumers to recycle and dispose of their containers properly.'
Likewise, Coveris sees smart technology as an essential step towards more effective recycling: 'We have seen a growing interest in smart solutions like AR and NFC for the beverage category,' agrees Andy Igglesden. 'Combining these intelligent technologies with sustainability demands around DRS (Deposit Return Systems) and recycling systems presents an exciting opportunity for labels and the functionality of the format – moving beyond a consumer and product communication to a technology one. Advances in watermarking, smart technology, and intelligent inks are all development areas for the future.'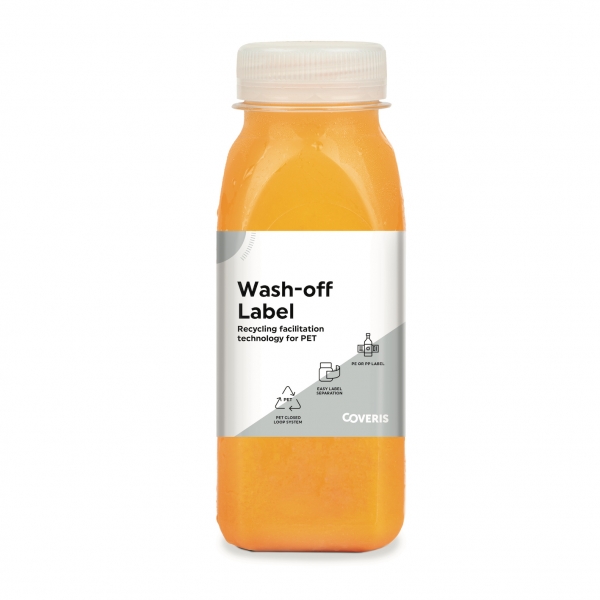 Green elephant in the room
The push for sustainable packaging and label design has been gathering pace for several years. It has already written itself firmly onto the agenda for brands and their entire supply chain.
'Consumers are becoming more mindful of the impact their purchases and behavior have on the planet. As a result, they will support businesses that promote circular models aimed at reduce, reuse and recycle,' says Riley Nay. 'Brands are looking to design their packaging for recyclability, and the label plays an important role. The label can help communicate to consumers how their product impacts the environment, educate the consumer on how to recycle their product, and help enable the recycling of the bottle.'
"We are expecting to see QR codes leveraged much more strongly after a slow start and connect the dots between label design and the brand content marketing programs"
'Eco-friendly packaging practices have taken a back seat to logistics and volume management over many months, but when it still matters to the consumer, it should be just as business-critical to the brand,' agrees Creation Reprographics' Matt Francklow. 'Likewise, consumers are pushing for greater transparency to inform their purchase decisions. Not just in terms of supply chain honesty, but literally too. Labels that are transparent or translucent allow the consumer to see the product. Although it sounds simple in principle, it helps to build that subconscious trust that consumers consider when selecting products.'
'The label is a primary way to communicate to the consumer, but a good label is one that does not negatively impact the recyclability nor quality of the beverage's package,' echoes Kyle Strenski, business director, food, HPC, beverage, films, and specials in Americas for UPM Raflatac. 'Sustainability and recyclability continue to drive the agenda. More and more brands in the non-alcoholic segment are moving to labels and adhesives designed for recycling, especially when it comes to PET packaging.'
Skanem has initiated the 'Sustainable Labels, Designed for Recyclability' program, which covers all aspects of the label supply chain and recycling process, pointing out that it is not just about making a label sustainable but also about designing the packaging for recyclability. 
'Customers in the past would put a paper label on a PET bottle as it was cost-effective. This combination contaminates the recycling process; therefore, we are recommending moving to synthetic substrates and wash-off adhesives to enable the PET bottle to be recycled fully,' says Paul Jones. 
"Sustainability will continue to be a major focus as brands look to leverage earth-friendly packaging materials and materials that promote circularity"
According to Kyle Strenski, more beverage companies are focusing on improving their packaging's sustainability – and they are starting to look at the impact of their labels. 'We can now give brand owners the option to use post-consumer recycled (PCR) content, reduce fossil fuels with our bio-based materials, enhance recyclability for PET bottles with wash-off label materials and adhesive, and keep label waste material out of the landfill by utilizing our RafCycle by UPM Raflatac program,' he adds.
'Pressure will continue to be put on brand owners to seek out more sustainable options,' agrees Liz Waters. 'Watershed Dublin has been working recently with a UK beverage brand and became the first printer in Northern Europe to manufacture a label produced from 40 percent citrus waste and with a 20 percent lower CO2 footprint.' 
Rob Lorkins, operations manager at Labelnet, thinks that everyone needs to be mindful of their CO2 footprint and look at what we can do going forward to minimize it. 'It is not always easy with self-adhesive materials, but there are interesting developments. Everyone in the supply chain is aware that it is an issue that needs addressing,' he says. 'We continue to look at sustainable sourcing materials and how we can positively impact this with our production processes.'
Sustainability is also a top priority for Xeikon: 'Recyclability of a print, a healthy environment for the press operators to work in, not being harmful to the consumer, and understanding how even downstream in the decoration we can bring benefit to the environment,' are the most important areas for Filip Weymans. 'For example, we have developed together with Tigital Tattoo a technology which allows for full-color direct decoration on a glass bottle and achieves 82 percent CO2 reduction in the whole process compared to conventional direct print onto the glass.'
Creation Reprographics, as well as supporting its customers with digital workflows that reduce the need for face-to-face meetings and the accompanying CO2 emissions, also champions water-washable flexo plates that eliminate the need for harmful solvent washout. 
'Customers are often surprised at the benefits – we tend to think that sustainability makes a concession in performance or quality, but the Asahi AWP plates, for example, actually show the opposite to be true,' says Matt Fracklow. 'The plates offer superior quality, ink registration and make-ready, while actively eliminating the need for solvents in the platemaking process. This is the principle that we see guiding the beverage labeling market: sustainability cannot just be treated as a buzzword, it must be meaningful, actionable, and repeatable to make a difference and resonate with what the industry and the consumer alike are looking for.'
As one of the leading finishing equipment suppliers, A B Graphic acknowledges that its customers and the brands they serve are demanding more sustainable options. 'Clearly, this is reflected in ABG's innovations, which are designed to reduce waste and improve productivity, such as our non-stop winders,' details Matt Burton. 'In 2021, we will be officially launching EcoLeaf, which we provisionally launched to beta customers last year. EcoLeaf is an innovative foiling solution that dramatically reduces CO2 emissions. We see this as a key component of our sustainable beverage labeling offering in 2021.'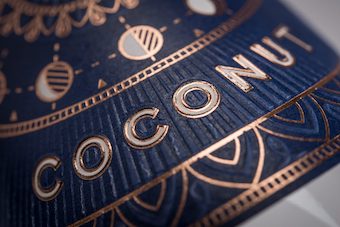 Material selection and a shift away from PET substrates into polyolefin materials such as PE and PP-based labels to support the separability and recyclability requirements of Deposit Return Systems are equally crucial. According to Andy Igglesden, 'Wash-off adhesives and labels are key. There's an increased demand for recycled content in both paper and plastic substrates combined with brand owners looking to communicate this sustainable benefit.'
'With our solutions around APR and EPBP requirements, as well as being a full-time member of the Ellen MacArthur Foundation, MCC is leading the sustainability charge on a global scale,' confirms Grey Moore, director of sales at MCC Label. 'The non-alcoholic beverage vertical is a leading segment for this, as this is where we see the largest volume of plastics being used (PET and HDPE). We are working very closely with our clients and delivering the most sustainable solutions for them around material reductions, recyclable compatibility in the waste streams and, overall, reducing our carbon footprint, as well as our clients'.'
Sustainability dominates 
'Sustainability will also continue to be a major focus as brands look to leverage earth-friendly packaging materials and materials that promote circularity,' says Avery Dennison's Riley Nay. 
'Given the changing priorities and regulatory demands of sustainability, driven by deposit return schemes, simplification and rationalization of materials and adhesives will be key going forward to support a circular economy through separability and bottle recycling, echoes Andy Igglesden. 'We also believe that the category will place greater reliance on labels going forward as a smart technology carrier given it is the only component on the pack that can integrate this. Ensuring minimal contamination to maximize the value of recyclate and drive investment in recovery systems is a key driver. Therefore, designing labels to meet the needs of the systems is critical.'
'We believe that inks, substrates, label technologies, and adhesives will continue to advance. Sustainability, as always, will continue to gain more and more momentum. Beverage packaging will continue to evolve, while the decorating methods will need to meet the demands for communication, sustainability, and performance,' concludes UPM Raflatac's Kyle Strenski.
Stay up to date
Subscribe to the free Label News newsletter and receive the latest content every week. We'll never share your email address.