Digital takes on flexo
The digital and hybrid press launches announced for Labelexpo Europe 2022 – now postponed until 2023 – demonstrate how far the technology has come. When narrow web digital presses were commercialized in the late 1990s, digital was seen not as a challenge to flexo, but as a complementary technology, designed to take away the pain of short run jobs at a time when changing jobs on an 8-color flexo press could take the best part of a half a day. Fast forward to 2022 and the digital landscape has been completely transformed. Digital presses have become faster, wider, and with print resolutions and color gamut to match flexo.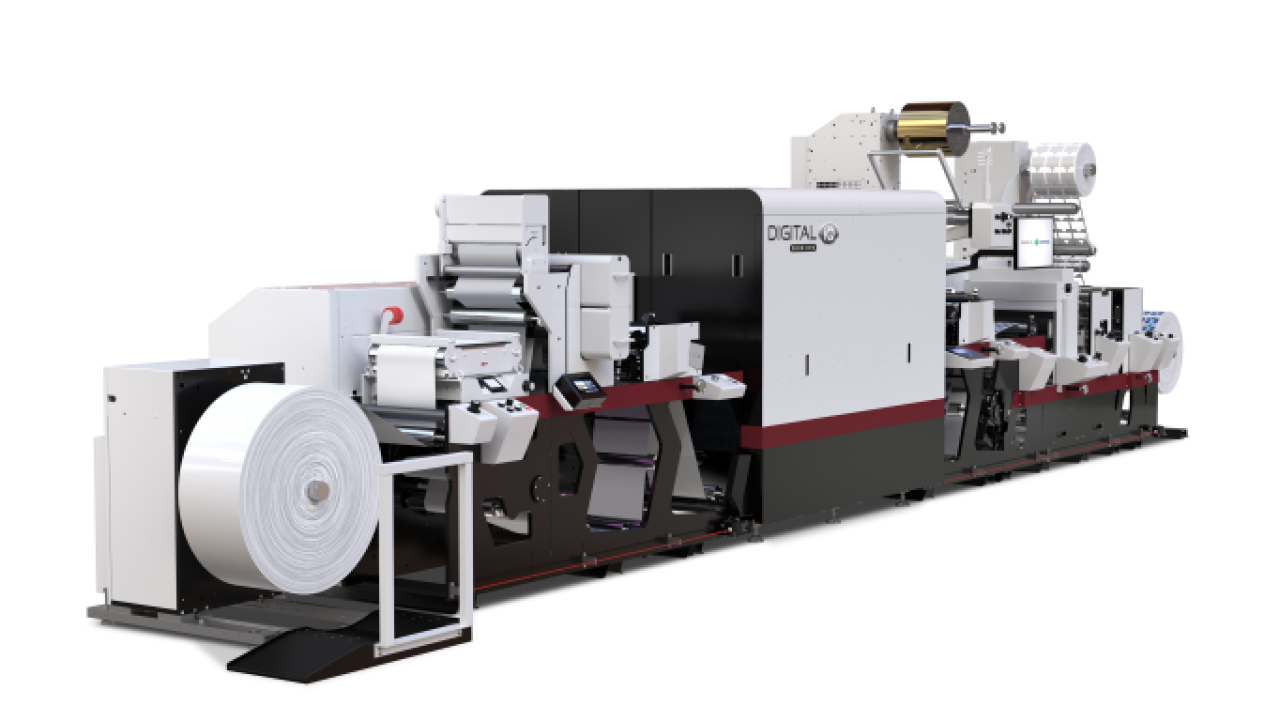 The greater productivity of today's digital print engines has also changed the equation of off-line versus in-line finishing. Narrow web converters have traditionally been used to printing, decorating and converting labels in one pass on modular in-line presses. With digital, finishing was, in the early days, predominantly an off-line process since conventional converting and finishing systems were so much faster than digital print speeds.
But faster and wider digital print engines soon made in-line finishing a more viable proposition, and we have seen the development of both hybrid digital-flexo presses and digital press manufacturers adding in-line finishing and flexo print units to their presses. 
In-line finishing is by no means universal, however, even for faster digital presses. For many applications off-line remains the preferred option, particularly where rolls contain multiple short-run jobs with varying die-cuts and decorating requirements.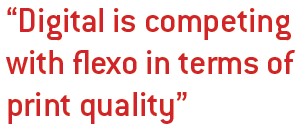 The main takeaway is that the modern digital press platform is highly flexible and well suited for a wide range of applications from multiple short runs to increasingly challenging flex on medium and longer runs. 
Durst provides an excellent example of all the points made above. The company announced the introduction of the 510mm (20in)-wide Tau 510 RSCi, printing at speeds up to 100m/min (80m/min at full resolution). The press will be configured with flexo decks both before and after the 1200 dpi print engine. Save-Ink mode is a new feature aimed at reducing the cost of inks to compete more effectively with flexography. It works by analyzing the image and reducing ink consumption where it will least affect print quality.   
Working with industry OEM partners, Durst has also developed hybrid digital-flexo print systems alongside its own digital print ecosystem, and the company now promotes both the advantages and disadvantages of hybrid configurations depending on the job profile of the converter.
Martin Leitner, Durst product manager, Label & Flexible Packaging, believes these developments mark a turning point for UV inkjet digital printing: 'Digital is competing with flexo in terms of print quality – the Tau RSC print quality is as good or even better than flexo. Some customers compare it even with offset. Productivity-wise the presses are extremely competitive with low setup times combined with high printing speeds. Keep in mind that the minimum printing speed on our presses is 40m/min, so the operator cannot go lower, which he is often doing on other technologies.'
Leitner says Durst already sees multiple customers substituting conventional flexo presses with UV inkjet technology. 'We have several customers which really produce volume jobs on our presses. In 2021 we had customers printing in 12 months more than 2m sqm on a single press, or multiple customers with regularly daily productions between 20-25,000 sqm, so 60-75,000 linear meters a day.
'I do not say that UV inkjet is today a full substitution for flexo. Each technology has its space and advantages, but in the past two years UV inkjet made huge steps forwards and provides customers with more and more advantages.'
Xeikon is another digital press manufacturer promoting the benefits of wider print webs, with its 520mm-wide CX500 press printing full rotary at speeds up to 30m/min. The company says the press' 1,200dpi print resolution makes it 'impossible' to distinguish any difference from flexo, and its productivity also now approaches the flexo process, as Filip Weymans, VP marketing at Xeikon, explains: 'The CX500's unique print width and print speed makes possible the printing of large volumes of many variants using the same die-cut and also larger sized labels compared to a 13in web. Think oil labels, cosmetic labels for example, which are 160mm high and which fit only 1x across on a 13in web. This makes the CX500 press very cost effective and enables applications beyond self-adhesive labels such as pouches and sachets.' 
Xeikon of course also now plays in the UV inkjet arena, which it promotes mainly for durable label applications. The line-up now includes the entry-level PX3300 and the PX30000 for longer runs and where a wider color gamut (CMYK+OVW) is required. 'This is indeed the ideal substitute for older UV flexo presses,' says Weymans. 'From speed and color gamut the Xeikon PX30000 can replace a UV flexo press but with digital values, no tools, no setup time, so you gain a lot of efficiency.
Screen, meanwhile, continues to build on the success of its Truepress Jet UV platform with the Truepress Jet L350UVSAI E and its high-end counterpart the Truepress Jet L350UVSAI S.
The Truepress Jet L350UVSAI S can be equipped with up to seven colors (CMYK+Orange+ Blue+White) and prints at speeds up to 60mpm. Screen promises new features for the press at the show, with details currently confidential.
The Truepress Jet L350UVSAI E is now Screen's standard model and can be equipped with up to 6 colors (CMYK+Orange+White) and optionally configured to print at speeds up to 60m/min.
Hybrid launch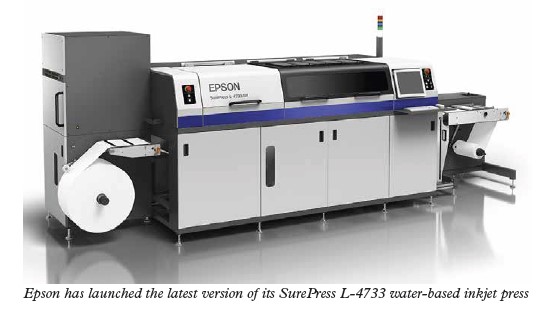 Labelexpo Europe 2022 was to have seen the European launch by Mark Andy of its Digital Series iQ hybrid press powered by Domino. The iQ press combines units from a Mark Andy 13in Evolution series press with a Domino N601i UV inkjet engine, and is targeted in particular at replacing legacy entry-level flexo presses for smaller and mid-sized label converting operations.
Mark Andy was also going to show its flagship Digital Series HD (DSHD) press, based around the proven Performance Series P7 full servo platform with fully integrated UV inkjet engine. The DSHD press prints with a resolution claimed to match high-definition flexo at speeds up to 73m/min (240 ft/min).
Both the Mark Andy DSHD and Digital Series iQ are inkjet digital hybrid presses capable of printing with extended color gamut, 6-color process, and opaque white. Both machines are designed with fast-change flexo features for top coating, lamination, foil stamping, and specialty color printing and product decoration, along with Mark Andy's high-speed semi-rotary die-cutting system.
Comments Tom Cavalco, managing director of Mark Andy Europe, 'Since its launch last year in the Americas, Digital Series iQ has been a fast seller, easily integrated by label converters.'
Konica Minolta now has a wide range of equipment specialized for the label market. This includes the AccurioLabel230 digital press, which can now be configured in-line with a DC330Mini converting unit with a new compact buffer and flexo unit.
Carsten Bamberg, business development manager, Professional Printing Group, Konica Minolta Europe, says the company remains fully committed to the label market seven years after moving across from the commercial print sector. 'Label, packaging and embellishment markets will continue to be as vibrant as ever. The potential to push boundaries, enter new markets and seize opportunities to create unique customer experiences has never been more exciting.'
Automation and a continued trend towards digitization are other trends identified by Bamberg: 'Demands will continue to increase for complete start-to-finish manufacturing process with more all-in-one solutions, as well as a need for production devices that need fewer and less-skilled operators. One specific growth trend includes enhanced finishing such as embellishment, increased automation, online print purchasing and webshops, plus, of course, the unstoppable analogue to digital transition.'
Canon is a relatively recent entry to the narrow web market with its LabelStream 4000 UV inkjet technology, which can be configured either standalone unit or as part of a hybrid line. The press prints at 75m/min on a 410mm print width using Xaar 2001 inkjet heads. The hybrid format LabelStream 4000 incorporates a 6-color print engine (WCMYKO) with one flexo station before and one after the digital unit, along with cold foil unit, semi rotary die-cutter and slitter, all in-line.
The LabelStream 4000 has been awarded Pantone Capable certification, meaning it can cover over 81 percent of the Pantone range using a 5-color CMYKO ink set and adopting a Delta E 2000 < 1.5. Applying a Delta E of 2 enables coverage of 96 percent of the Pantone book. The press has also been certified to the Process Standard Digital (PSD) Print Check based on the Fogra 55 7-color reference gamut.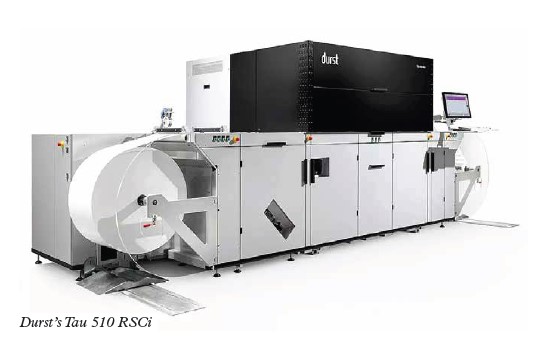 Epson has further developed its highly successful SurePress L-4733 water-based inkjet press. The 6-color SurePress L-4733A/AW uses new water-based inks with improved wettability to expand substrate and application versatility and new print modes for higher productivity and print quality. A focus on greater automation including a new head cleaning system which reduces maintenance activity and minimizes downtime.
Afinia is looking to widen the options available for digital printing of flexible packaging with the commercial launch of its FP-230 press – seen at Labelexpo Europe 2019 in its prototype form. The FP-230 uses the company's L901 Plus 1,600dpi Memjet print engine to produce full-color prints on rolls up to 230mm wide with a maximum speed of 18m/min. Variable data and color matching are handled by the optional Northstar RIP. The water-based inks have been approved for food packaging when combined with in-line cold lamination, with the finished roll trimmed using the two rotary knives.
---
For further info: Labelexpo Europe now takes place in Brussels in September 2023. The technology in this article can next be seen at Labelexpo Americas in September 2022. www.labelexpo.com
Stay up to date
Subscribe to the free Label News newsletter and receive the latest content every week. We'll never share your email address.