Digital transformation
After installing a HanGlobal inkjet press in 2019, Chinese converter Winku Printing talks to L&L about its digital transformation.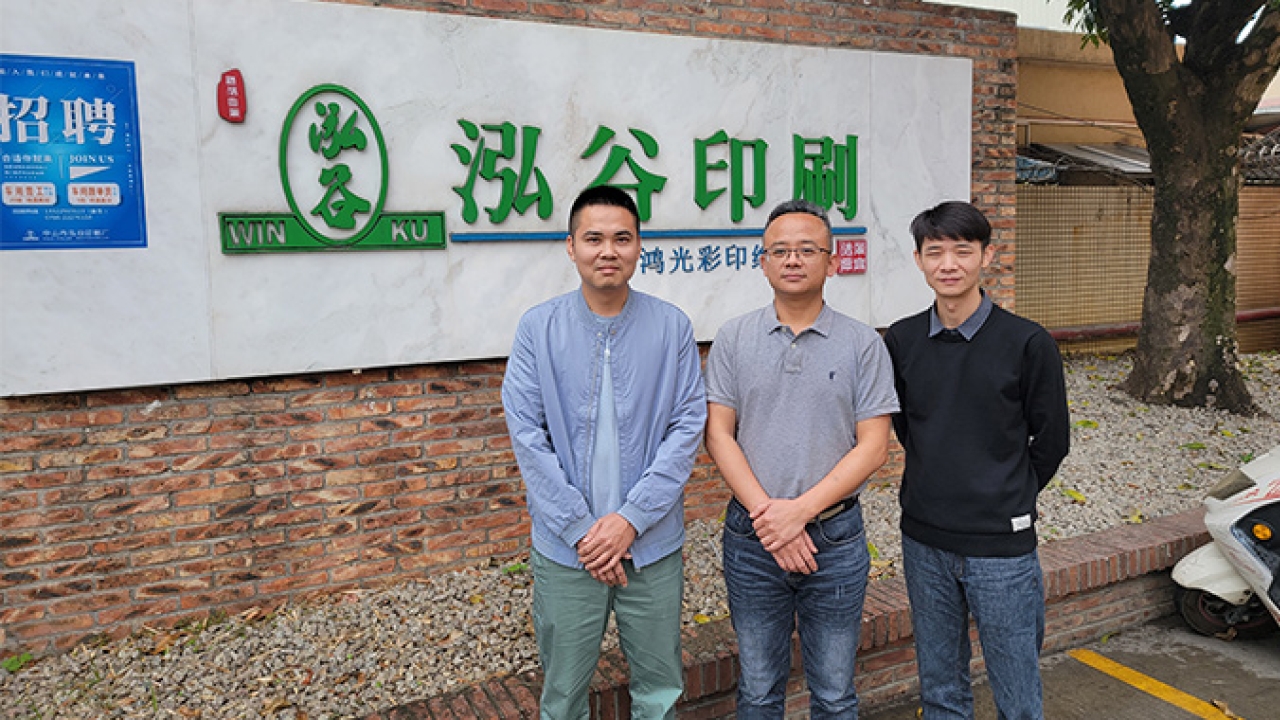 Established in 2000, Winku Printing, located in Zhongshan City, Guangdong Province, produces electrical labels, fruit labels, special nameplates, variable data labels, color page printing and folding cartons. Among these, label products account for about 30 percent of the company's total business volume.
In 2007, the company moved from the printing hub of Xiaolan Town to the Maohui Industrial Zone in Henglan Town. After business consolidation and optimization, Winku now focuses mainly on labels and carton printing.
'Nowadays, customers require shorter lead times for label orders but with more versions and SKUs. If we still used conventional printing equipment to produce these products, it would not only affect the delivery time but also drive up costs,' says Yuan Zuwang, plant manager. 'The pandemic greatly increased costs of labor, materials and logistics, which has undoubtedly accelerated the digital transformation of the entire industry.'
Winku Printing had begun to pay attention to digital printing technology in the label and packaging industries in 2017,when it invested in its first digital carton printing machine. In August 2019, Winku invested in a HanGlobal Labstar 330 inkjet label press.

Liang Chengqian, GM at Winku Printing, says: 'Before the investment, we spent a long time investigating internationally renowned digital suppliers. For a newcomer to digital transformation, the prices and daily running costs were relatively high. There was pressure for us to invest in digital, but the rate of return on investment did not seem obvious in the short term.'
With the continuous development of China's domestic digital inkjet technology in recent years, printing quality, running speed and stability have significantly improved.
'During our contact with HanGlobal, we found that although their digital label press is a new product, the wider Hanglory Group's experience in digital inkjet has been accumulated for more than ten years, and it can provide a combined solution from equipment, software, ink and accessories to support and training,' says Liang Chengqian.
'We found that the press perfectly met our expectations in printing quality, efficiency, stability, application range and cost control,' Yuan Zuwang adds. 'The Labstar 330 digital label press can not only shorten the order delivery time but also can quickly handle those orders which require prompt delivery which were being missed before.'
So far, the first pass yield (FPY) of products being produced by the digital press and delivered to customers has reached more than 99 percent. And there has been no customer complaint about printing quality. 
Digital transformation
'Many conventional label converters misunderstand the process of digital transformation – that it is simply the investment in a new digital press and some post-press finishing equipment. But this is awfully one-sided,' says Yuan Zuwang.
'Digital transformation is not just investment in digital printing equipment. It is a complete transformation all the way from inquiry, ordering and pre-press processing, to production scheduling, printing, post-press finishing, warehousing and delivery.'
Winku had already started its preparation and personnel training long before investing in digital equipment.
After the installation, Winku tested the printing quality and running speed on different materials such as coated paper, synthetic paper, film, PVC, PC, PET film, offset paper, white card paper and more, as well as the processing time and speed of different types of orders. 'We want to know the maximum speed and the best printing performance in practical applications, so that we can make accurate judgments after understanding our customers' needs,' says press operator Peng Chongji.
Digital is not an alternative to conventional printing but a supplement, says Yuan Zuwang. 'Both digital and conventional have respective advantages. Digital saves on operators but requires higher technician quality. With the experience accumulated in conventional printing over the years, especially pre-press graphic processing and color management, Winku can provide more professional services for customers, which will enable them to unlock the infinite possibilities of digital printing,' explains Yuan Zuwang.
At present, the record production achieved at Winku Printing on the Labstar 330 digital press is 23,000 meters in eight hours. The press is now handling 40 to 50 orders every day.
In Zhongshan City, Guangdong Province, where Winku Printing is located, there are 2,000-3,000 printing enterprises of different sizes, forming one of the main printing industrial clusters in China.
'As peer competition becomes increasingly fierce, the company's profit is being squeezed lower and lower. We realized that we might be stuck in a dead end if we are still busy with competition based on price,' Yuan Zuwang says. 'Therefore, we developed plans to use the integrated advantages of "digital + conventional" to escape from the price war by differentiating ourselves.'
For each job, Winku Printing comprehensively evaluates both conventional and digital production routes and makes a choice based on the order quantities, materials, use environment, lead time and other factors. 
This has reduced production costs, including costs of materials, labor and time, which significantly raised the company's profitability. 
---
Stay up to date
Subscribe to the free Label News newsletter and receive the latest content every week. We'll never share your email address.