Holy Grail of a circular economy
One of the most pressing challenges in achieving a circular economy for packaging is to improve the sorting of post-consumer waste by accurately identifying recyclable packaging, resulting in more efficient and higher-quality recycling. 'The current low EU recycling rates are mainly related to lack of infrastructure/collection schemes and consumer participation, next to inefficient sorting,' says Gian De Belder, technical director of packaging sustainability at Procter & Gamble. 'We want to bring the solution for the latter.'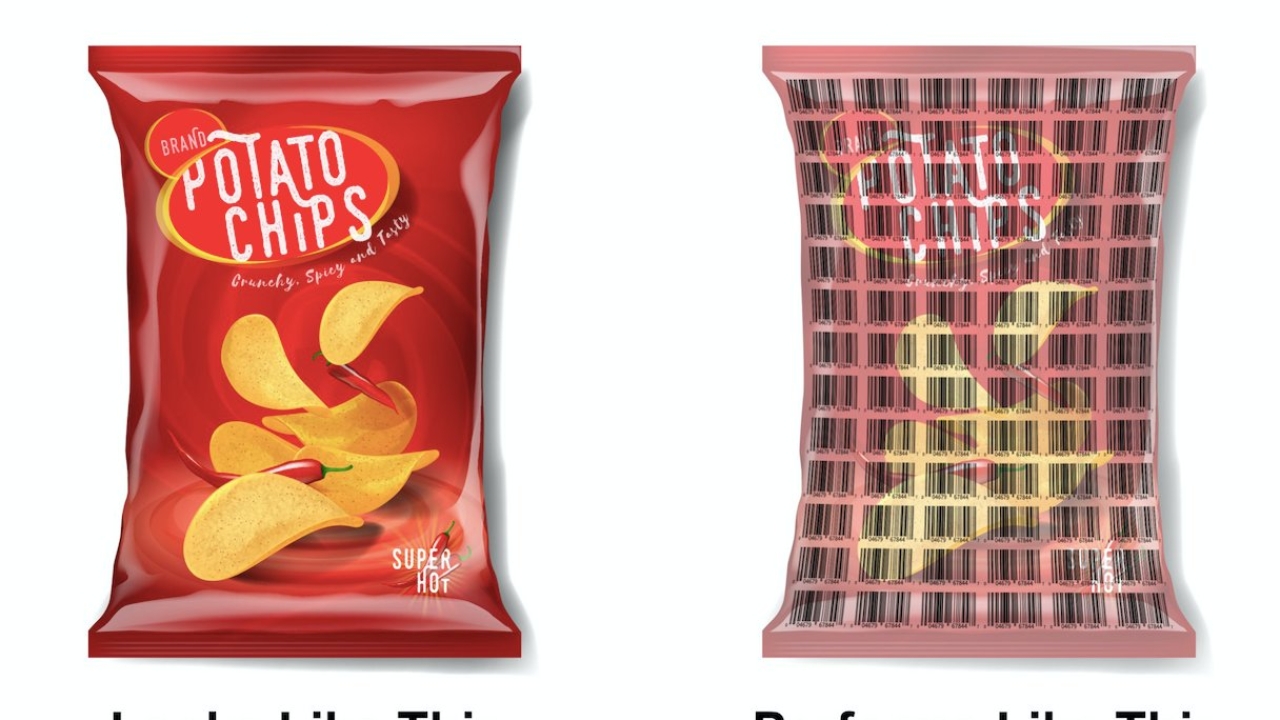 'Effective sorting of waste is a barrier to wider recycling of packaging materials in Europe,' agrees Silviu Popovici, CEO of PepsiCo Europe. 'This industry-wide challenge can only be resolved by working together for a system-wide solution.'
The search begins 
Project HolyGrail, established in 2017 under the New Plastics Economy program of the Ellen MacArthur Foundation, brought together 29 corporations, led by P&G. The initiative investigated new ways to improve post-consumer recycling through more effective sorting of materials. 
"Effective sorting of waste is a barrier to wider recycling of packaging materials in Europe"
Digital watermark technology developed by US-based Digimarc was ultimately chosen. It won support from a majority of stakeholders and passed a basic proof of concept on a test sorting line.
Digital watermarks are imperceptible codes, the size of a postage stamp, covering the surface of consumer goods packaging. They can carry a wide range of attributes such as manufacturer, SKU, whether it's come into contact with food, type of plastics used, and composition for multilayer objects.
'With respect to sortation, Digimarc Barcode turns an object into an Internet-of-Things object,' explains Larry Logan, chief evangelist at Digimarc. 'It links to virtually unlimited data, so the object can inform the sorting equipment who is the manufacturer, what is the specific product, resin type, the individual components of a multi-layer package, prior food versus non-food contact, and so on.'
'By making the packaging more intelligent through digital watermarks, an add-on module linked to existing sorting equipment can read these barcodes for recycling and can do a more effective job,' says P&G's Gian De Belder. 
'This includes jobs that are not possible today, like making a distinction between food and non-food packs, sorting efficiently all colored packs including blacks, proper sorting of full-body shrink-sleeved bottles, proper identification of recyclable vs compostable packaging, efficient sorting of multi-layers, and many more.'
Once the packaging has entered a waste-sorting facility, the digital watermark can be detected and decoded by a standard high-resolution camera on the sorting line, which then, based on the transferred attributes, can sort the packaging into corresponding streams. This results in better and more accurate sorting streams and high-quality recyclates, benefiting the complete packaging value chain.
'Any hardware would require some change. Initially, for sortation, this will be delivered in the form of an add-on module, which allows a facility to enjoy the benefits but at a lower capital cost than replacing existing equipment,' confirms Logan.
'The module works in parallel with existing NIR scanning, although Digimarc is upstream a very short distance on the conveyor because if the object has a Digimarc Barcode, then we know the precise identity, and again this is coordinated with the X-Y air jets. 
'Over time, these components will be integrated into the single sortation unit. Although we provide the basic specifications, sorting hardware manufacturers can add their features and "magic sauce" for additional functionality and competitive differentiation.'
Digital watermarks also provide other opportunities. Consumers can use a smartphone app to find details about the packaging and how to recycle it; brand owners can add product details and use it as an interactive engagement tool.
'Digimarc Barcode is more than a digital identifier,' adds Logan. 'It is a platform that combines both the enhancement of objects with a digital identifier and also the detection of the identifier by a wide variety of hardware devices and smartphones. There are benefits throughout what we have characterized as the package journey. Some examples are parts matching in manufacturing, trackand-trace in the supply chain, greater efficiencies in retail store operations such as scanning at check-out, consumer engagement, and our new solution for recycling. We have also introduced serialization in print, which means that each individual item can have its own unique identity. We refer to the comprehensive nature of these solutions as benefiting the package journey from birth in design and manufacturing to rebirth in recycling and new products.'
"Collaboration is the way forward to achieve the EU's circular economy goals"
Digimarc's technology uses a short identifier, such as the Global Trade Item Number carried in the EAN/UPC code or an internal tracking code for the manufacturer. Upon scanning the code, there is virtually unlimited data in the cloud that can be associated with the object. 
'The approach is the same, regardless of whether it is a printed object or plastic substrate, although in the plastic substrate we use a different approach on the identifier in order to avoid conflicts with scanning at retail check-out,' says Logan.
Industry comes together
The branded goods industry stepped up in 2020 to facilitate the next phase of the initiative – HolyGrail 2.0 – under the patronage of AIM, the European Brands Association. The leadership team, which includes Procter & Gamble, Nestlé, PepsiCo and Danone, joined forces with over 85 organizations from the packaging value chain with the ambitious goal of assessing whether a pioneering digital watermark technology can enable better sorting and higher-quality recycling rates for packaging in the EU.
'The three key ingredients here are innovation, sustainability, and digitalization, combined to achieve the objective of the Green Deal towards a clean, circular, and climate neutral economy,' says Michelle Gibbons, director general at AIM.
'It is terrific to see such enthusiasm from across the industry and to be able to unite such expertise from the complete packaging value chain, from brand owners and retailers to converters, EPR schemes, waste management systems, recyclers, and many more. Collaboration is the way forward to achieve the EU's circular economy goals.'
The new phase of this project includes the launch of an industrial pilot to prove the viability of digital watermark technology.
'We are currently working with both Tomra and Pellenc, and of course, will be working with other manufacturers as this is a solution across the ecosystem,' remarks Logan. 
'Tomra has been prominent for its role in the HolyGrail 1.0 initiative, and we held two highly attended demonstrations at their facility outside of Koblenz, Germany. The demonstration proved our joint implementation feasibility, with a very high success rate across 49 different objects, addressing various print labels and packages, and plastics substrates.'
'During our first open house, we had many people joining us during the proof-of-concept trials, and each of these associations truly embraces the technology,' adds P&G's Gian De Belder. 'The next steps have been identified, and we hope to soon bring it into a (test) market to further learn and prepare for a full rollout. We need to work on solutions that offer benefits in both LCA metrics and recyclability profile, as the ultimate goal is to become fully circular. We need to all speak the same language and, here, harmonization of all aspects – especially recyclability definitions – is crucial. We need to move away from opinion-based assessments and create scientific-based assessments.'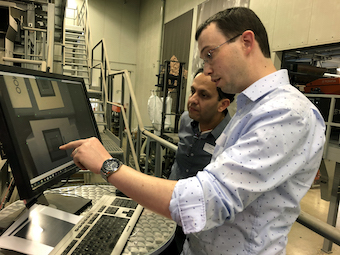 According to Logan, the technology's adoption must involve participation across the entire value chain – including brands, sorting equipment manufacturers, facility operators, and often trade and producer responsibility organizations – to create initiatives such as eco-modulation of Extended Producer Responsibility (EPR) fees. 
'We take a methodical approach and look for facilitators such as AIM for the HolyGrail 2.0 project, similarly with other initiatives we have underway,' confirms Logan. 'The initial focus is on Europe, and now we are pushing forward for opportunities in North America. There is also a great deal of interest coming from Asia, but again it's important to grow with a sustained approach. Our timing is very much tied to the pull of the market, which of course is having to move rapidly owing to packaging regulations for PCR content, various public pledges by brands, and consumers demanding solutions to address plastic waste.'
'I am a true believer in cross-value chain collaborations, as no single company can solve these challenges on their own. HolyGrail is a perfect example of this. The keyword is definitely collaboration,' concludes Gian de Belder.
Stay up to date
Subscribe to the free Label News newsletter and receive the latest content every week. We'll never share your email address.