HP Indigo introduces one-pass embellishment
At Labelexpo Europe 2017, HP Indigo introduced its GEM technology, a UV inkjet-based unit which enables the application of fully digital graphic embellishments in one pass with an HP Indigo WS6800 digital press. GEM is capable of a wide range embellishments including digital spot and tactile varnishes, digital foils, and a range of other creative effects.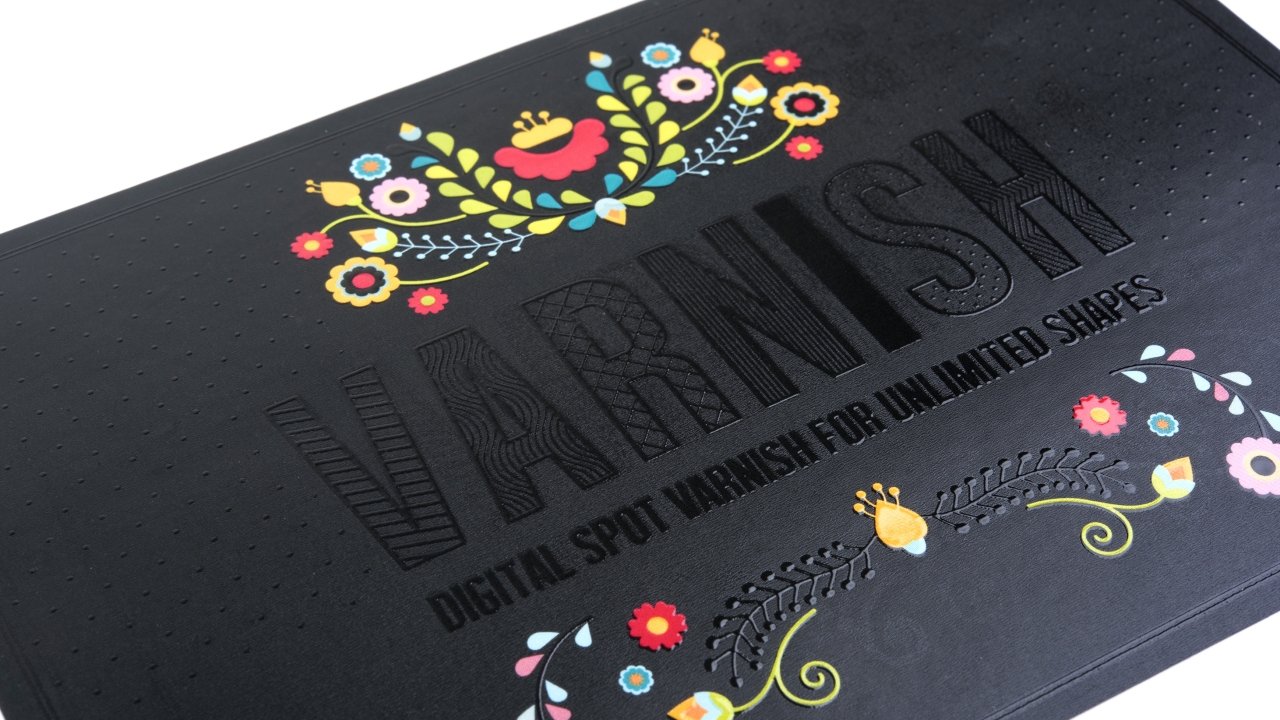 The HP Indigo GEM is a joint development between HP Indigo and UV inkjet specialist JetFX, a company co-founded by industry veteran Ed Wiegand. 
Wiegand was, in fact, an early adopter of HP Indigo technology. He started work at Avery Dennison company Soabar in 1988 before moving to Sancoa International in 2008, where he had a 17-year tenure. 'In 2008 we looked at the first WS6000 press that HP brought to drupa,' Wiegand tells L&L. 'We had three 6000-series presses within 18 months, and since then I have sat on the HP Indigo advisory board.
'From a very early stage I had this vision of combination printing because that was what the analog label world was about. I was already asking what was the opportunity for these new digital technologies to complement each other. And I was aware that HP was looking at how to expand its own digital solutions.' 
Wiegand left Sancoa just before it was acquired by CCL and, as part of a non-compete agreement, left the label industry for three years, moving into the sheet-fed market. 'There, I started to develop sheet-fed inkjet embellishment technology. But because I was involved with HP I shared what I was doing with them, and the feedback was "We're interested". In October 2014, JetFX was co-founded with my partner Daniel Hodhod to develop the technology with HP, and we were building prototypes by June 2015.' 
Alon Bar-Shany, vice president and general manager of HP's Indigo Division, takes up the story: 'Ed sat on our advisory board, and we were talking about what the brands will need going forward to continue growing. With JetFX we brought an early model to drupa to validate the concept and see where it would fit. 
'It turned out to be an idea which met a strong customer need. If converters need to move to analog for the second pass, this takes away the benefits of digital. Focusing on one-pass production with the full flexibility of digital is the logical solution. And we knew our customers would think of ways to use this technology we had not considered.' 
'There are thousands of printers out there who are not looking at future technology states,' adds Ed Wiegand. 'Most digital today is three steps – the Indigo print, then a separate line for embellishing, and then finishing and inspection. You have to anticipate waste at each step of the process, not just in moving between machines, but also because every analogue embellishment step slows the process down. 
'If you have one process station and a die-cutter in digital finishing you're operating at speeds of 55-60 meters/minute, but add a flexo spot station and you're down to 35-40m/min. Add screen and foiling and it slows down still further until the whole line is down to at 15-20m/min. 
'The HP Indigo in-line concept is one operator, one pass and one workflow, with fully predictable waste and an optimized process. And this is where our full tactile digital screen and foiling system fits.' 
GEM technology
The GEM unit makes use of single pass piezo inkjet heads which can carry out any combination of embellishment processes. This might include digital foiling overlaid with a 3D effect, or a spot coating. 'We aim to create enough flexibility that innovation will come from the end customer,' says Wiegand. 
The digital foiling unit on the current GEM has been completely redesigned from the original prototype. Instead of a more traditional tower, the foil unwind and rewind are now at waist level and built into the machine body. 
'A nice feature is that we disengage the foil unwind so you don't have to break the foil and then re-link it for the next job, which significantly reduces waste,' says Wiegand. 
Foils have to be specially specced for the GEM. 'We are now qualifying a number of manufacturers.' 
To give an idea of the tactile print capabilities, Wiegand compares the GEM with analog. 'Flexo varnish is up to 8 microns high, while most rotary screen printing of text or fine details has a height around 15-16 microns. High-build flat screen to a height of 40 microns is typically limited to the wine and spirits sectors. These heights can all now be achieved at Indigo press speeds. Braille print meanwhile has a range of 80-150 microns, and early testing indicates that we can match this at a slower speed.' 
The UV inkjet fluids developed for the GEM system have a high scratch resistance – at least the equivalent of plate-based systems, says Wiegand. 'Our ink chemistry is optimized for the HP Indigo ElectroInk process.' Inks will be HP Indigo branded and sold through the company's distributor network. 
The first coating products available are the GEM Coat and GEM Clear.
Design possibilities 
Perhaps the most exciting aspect of the GEM system is the full integration of the digital embellishment engine into the digital front end (DFE) of the HP Indigo press, requiring only a single design file. 
'The embellishment is simply a separate layer within an Illustrator file,' says Alon Bar-Shany. 'The DFE automatically separates the layers and sends to the Indigo imaging laser and then to the piezo inkjet.' 
At Labelexo Europe HP Indigo introduced a new DFE which uses technology developed by the company for the commercial and photo worlds where an immense an amount of data is processed. The HP Production Pro for Indigo labels and packaging RIP offers five times faster processing than the existing RIP. 
'As label customers use this full system more they will need commercial power, and together with the powerful Esko tools this new front end will enable everything Ed just talked about,' continues Bar-Shany. 'Not only for embellishment but also driving multiple presses, as well as security and variable data applications.' 
There are no current plans to add laser to this in-line print and embellishment system. 'Laser would be a dream, but laser solutions are still not versatile enough on all substrates.' 
Bar-Shany asserts that as well as reducing production and labor costs through more efficient workflow with less waste, the GEM workflow will open a new category of innovation – in particular using HP Indigo's unique Mosaic software with the GEM. Mosaic allows set elements within a design to be infinitely varied, an effect which has been applied by many brands including Coca-Cola – and for a previous L&L front cover. 
'We have created an open platform and architecture which will enable designers and brands to see ways they can benefit from something which is still evolving,' says Bar-Shany. 
'We can put the inkjet through the same Mosaic process and combine this in many ways with Mosaic print. For example to keep the Indigo static and "Mosaic" the spot varnish or foil. You can imagine what aesthetic effects you might achieve for a wine label. We can already add serial numbers, for example, and now we can foil those numbers as well.' 
Many other examples come to mind – Wiegand cites pharma security printing as one, where the product does not always justify high-end holograms. 'Now you can create unique holograms on site.' 
Stay up to date
Subscribe to the free Label News newsletter and receive the latest content every week. We'll never share your email address.