Unlocking creative freedom
Chandigarh, India-based non-alcoholic beverage start-up Quirky Beverages Company (QBC), unlocked new creative opportunities in labels and packaging when it switched to digital print technology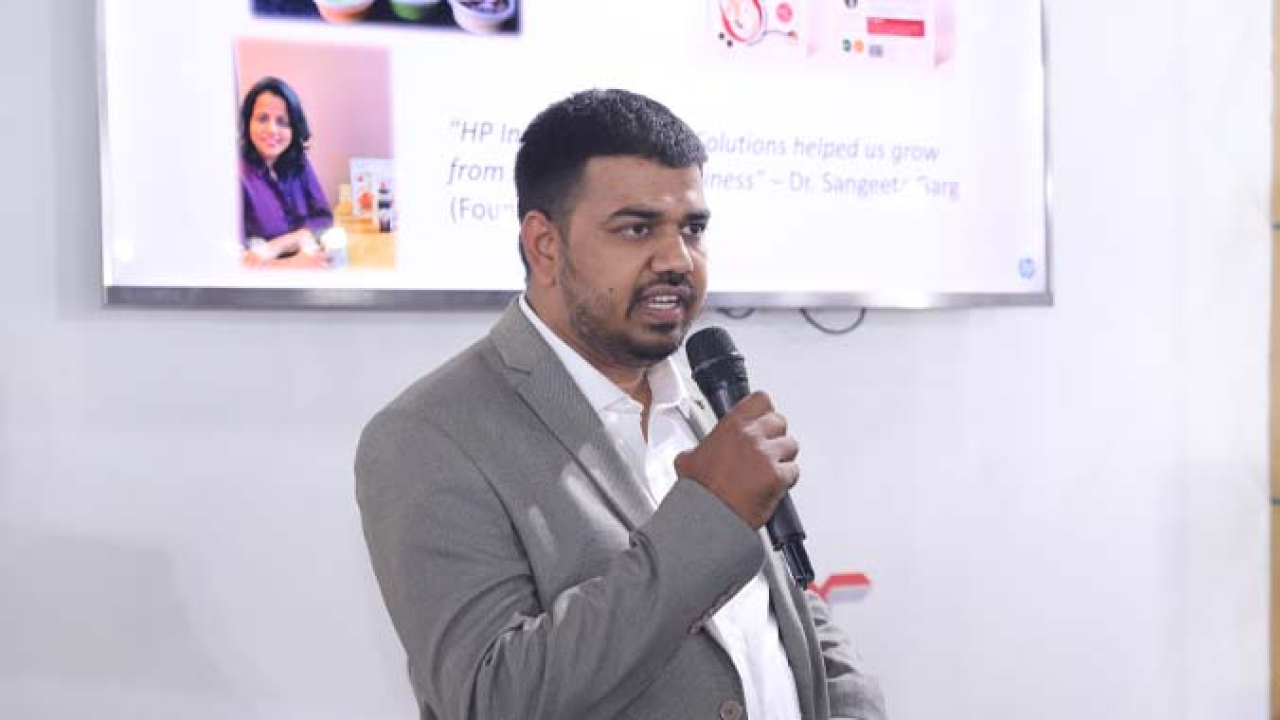 Fresh graduate Vivek Sonar was out with his friends in 2016 when he noticed that the Indian market lacked quality non-alcoholic beverages apart from established brands like Coca-Cola and Pepsi.
Sonar says that the so-called 'beverage revolution' in India began in 2018 when new beverage brands started appearing in the market.
A passionate entrepreneur, Sonar jumped at the opportunity to start his brand of non-alcoholic beverages, called Quirky Beverages Company (QBC). He found success in the very first year.
I place labels higher than what's inside because that is what sells. We can make the finest products, but if the packaging does not do justice, it will not sell
The positive market response motivated him to push the brand further despite the challenges of a start-up.
'We run our company for people,' Sonar says. 'People love our product. They love to flaunt them and tag us on social media. When we see people enjoying our product, it makes us happy. That is where we feel we are different from other brands. That was our core starting point, and that is still where we are still.'
He then took a break from the market to focus on product and packaging research and development.
'Technology advances every day, and we have to keep up with them,' Sonar says. 'Printing and packaging exhibitions have helped us immensely in terms of learning, getting to know the right people and new technologies.'
Sonar met with HP in 2020 and says that the digital press manufacturer helped resolve the brand's labels and packaging concerns. HP recommended a converter that prints QBC's labels and shrink sleeves.
He says: 'Usually, when we go with conventional print technology set up, we are stuck with one label design, and you need to get out almost 2.3 million labels at once. That was holding us back on several of our products.'
Quirky Beverages Company was forced to stick with one label wrap-around design for its entire range of products. It could not experiment and prototype with the inability to order short runs. The brand was finding it difficult to launch new product variants that required new label designs and formats.
Exploring label formats
Switching to HP Indigo digital print technology enabled the brand to produce short-run labels in new designs for its complete range of beverages. This breakthrough allowed QBC to focus on its branding
and design.
'There is a massive change in our labels, and it took us five years to reach this point. There is a lot of learning that goes on every day. For us, labels are the most important part of our products. I place them higher than what's inside because that is what sells. We can make the finest products, but if the packaging does not do justice, it will not sell,' Sonar explains. 
The company has now introduced PET bottles and cans to its packaging lineup. Sonar explains that getting low-volume can printing is difficult in India, so he opted for shrink sleeves for his canned beverages. The shrink sleeves are printed on HP Indigo. 
'It becomes very helpful when we get low-volume batches of shrink sleeves. We get more than 220 designs printed for market research. Rapid prototyping has been possible due to HP digital technology. It was not possible for us earlier. Around 10 different jobs used to cost us 6,000 to 10,000 USD on any conventional press. With digital, we can get labels for 60 USD with a quick turnaround time.'
This empowered the brand to launch 20 to 30 new products in a short period.
'Our creativity has increased. A label may look good on screen but might not match the final print result. We did not have the capability to check that earlier. We had to stick to our old designs due to the inability to print short runs. But now, we do not have to worry about timelines, getting cylinders and color matching. If anything goes wrong, labels can be printed again,' Sonar adds.
QBC uses self-adhesive labels for its glass bottles and shrink sleeves on its PET bottles and cans. A digital-focused strategy has helped QBC launch new packaging forms, not just variants. 
'This intervention and upgrade in technology have enabled us to do that otherwise wouldn't have been possible. This is a huge problem for us because we are always creating new things. When we go to label converter, they quote around 2 million labels. They don't print anything below that. We cannot invest that kind of money in labels until we have tested our products in the market. Vendors do not understand this, and those who do understand this are using digital technology. If I have 20-30 SKUs all in different flavors and sizes, a conventional guy would not be able to pull it off.'
Conventionally printed labels would also lead to wastage, adding to the costs. 'It also added to the environmental waste. A lot of paper was wasted in what could have been printed on smaller size materials.'
Even the label design process has changed since the early days of QBC.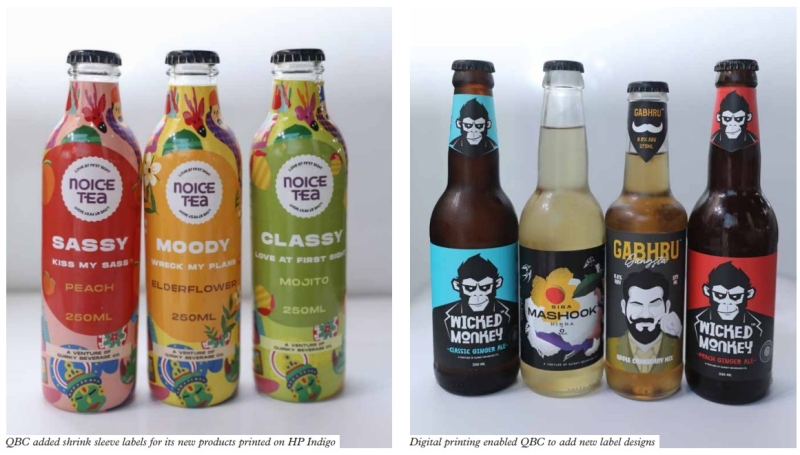 'I used to just go to a print shop with an idea and guide their designer. He would charge me hourly, and I would then get the labels printed and stick them on the bottles. We used to have the same template for all the labels and would just change the name of the product on them.
'We sat there for around 12 hours and came up with one design. I was very happy with them at that time. Now, if I look at those designs, I would not have approved them. But it used to sell, which was crazy.'
Today Sonar and his team understand the aspects of designing. The company now hires professional designers and design agencies. Sonar learned several elements of design and color, including the design process, Pantone colors, standardization of materials, bottle sizing and costing.
Knowledge sharing
Sonar added that resources and knowledge on packaging, technology, and vendors are not readily available on the internet. For a start-up or layman, typing in a search engine for what they need is the endpoint.
'Good vendors don't show up on the internet. They are like Illuminati – behind the shadows.'
When Sonar came across digital technology, he was surprised to see its capabilities.
'How come I did not know about this back then? Things would have been massively different,' he says. 'But I guess everything takes time, and it is important as a learning curve to network and connect to the correct guys. That's how you grow. You have to visit exhibitions on packaging printing and understand every aspect of it and meet the right partners. You have to go out there; nobody is coming to tell you.'
What can technology providers and converters do to help start-ups? For starters, says Sonar, they need to improve their search engine optimization and clearly mention the services they offer. They should be available on Google to be visible in the search results. A handful of vendors appear in search results despite the market being full of them.
He says that the company has adopted a few new policies this year. It will have five vendors for each service because relying on a single vendor might cause delays.
He also adds that label converters need to educate start-up businesses who need guidance through the process.
'As a start-up, we have one thing in mind – it should be cheap; everything else is secondary. Before that, let's talk about substrates; not everyone knows relevant vendors and details about the substrates in terms of gsm, strength, coated or uncoated and material sourcing. You cannot change your label later on because customers get used to them. For me, the biggest learning as a start-up was if the material is available locally or can be sourced from multiple suppliers.'
For start-ups, he says: 'You should always, first of all, standardize the processes. You should know what you want exactly and do not always focus on low cost; it might turn expensive later on. Once the cat is out of the bag, it cannot be put back in. So do your research before putting out a product and research packaging. Make a checklist of all the things that could go wrong and keep a check on it because once your reputation is formed in the market, it is too difficult to remake it.'
The company has a plant in Chandigarh and is setting up new plants in Goa, Gujarat, Guwahati, Delhi and South India. The sites have been finalized and will be operational by 2023.
The response to QBC products has been 'overwhelming,' and Sonar gives most of the credit to branding, design and packaging. 'Nothing has changed other than packaging. The product and recipe are the same as four years ago. What has changed is the perception of how people see a brand.' 
Stay up to date
Subscribe to the free Label News newsletter and receive the latest content every week. We'll never share your email address.