Yingcai transforms to digital with Durst
Fan Fengzai, general manager of Yingcai Printing, says the Chinese's label converter's decision to transition to digital technology 'will power the future transformation and development of our company'.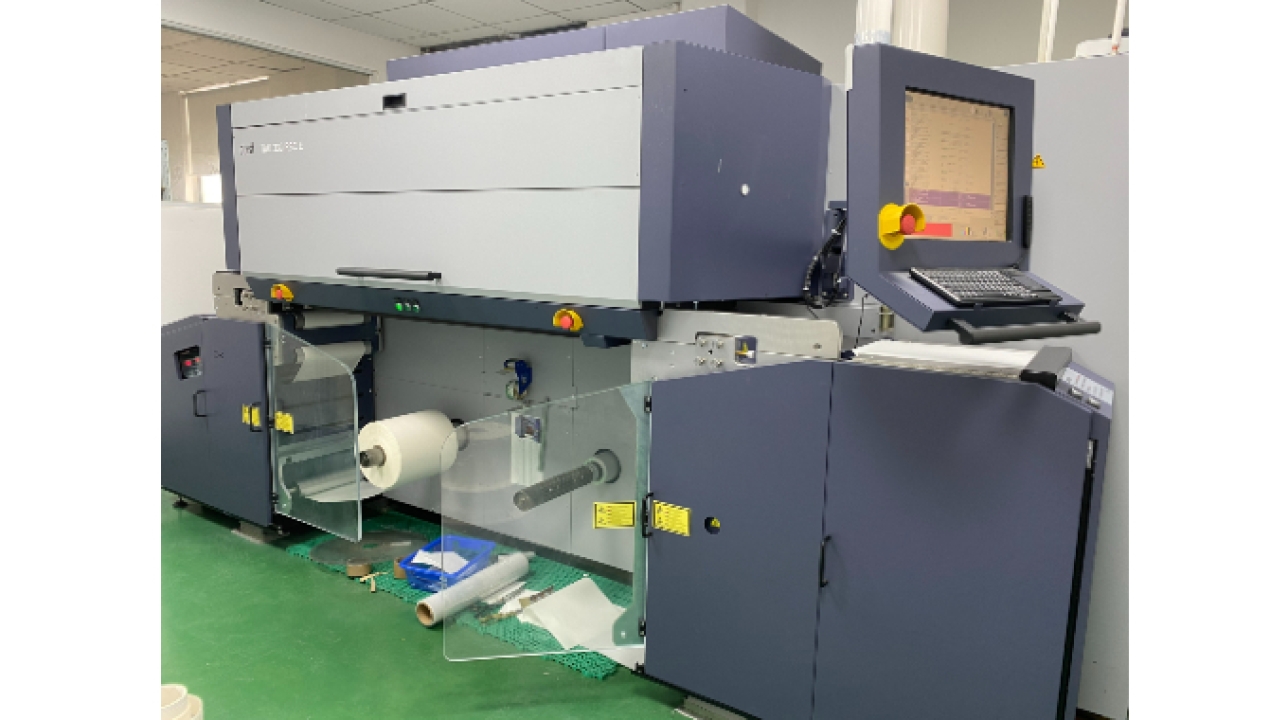 Established in 2008 and located in Qingpu District, Shanghai, Yingcai is a comprehensive PS label manufacturer integrating R&D, production, sales and technical services. The company has been focusing on high-end label products in the cosmetics industry, and mainly serving the world's Top 500 cosmetic brands and relevant OEM manufacturers, such as Cosmax and many others.
Quality first
The rise and development of China's label printing industry has benefited from the so-called 'demographic dividend' – a vast consumer market and an abundant labor supply, which together have promoted the continuous development of cutting-edge industrial technologies.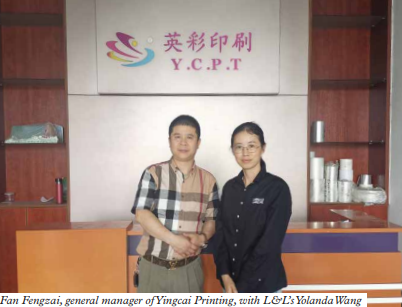 On the other hand, the continued expansion of small and medium-sized label printing enterprises has made competition in the label industry more and more fierce. In addition, the rising cost of raw materials and the tightening pressures of environmental protection are adversely impacting the development of the label printing industry.
'Based on current business volume, Yingcai Printing can only be regarded as a small label printing company. So the question is how to survive, and even make long-term progress, in this increasingly competitive market environment?' comments Fan Fengzai, general manager of Yingcai Printing.
'The key point is to fully understand our own advantages, find out the overall positioning of the company, constantly optimize the company's production and service level, deeply explore the needs of the market, and provide the label products with best quality for customers.'
When starting his company, Fan Fengzai thoroughly investigated different end use markets for labels and discovered the huge market and future development potential of labels for the electronics and cosmetics industries.
After considering the very special requirements for labels in the electronics industry, he decided to focus on label products for the cosmetics sector, which then became the primary business field for Yingcai Printing.
"The question is how to survive, and even make long-term progress, in this increasingly competitive market environment?"
Today, Yingcai Printing has 20 employees and a workshop with a floor area of 1,800 sqm, which is divided into conventional printing, digital printing, post-press finishing, storage and delivery workshops. The company is equipped with conventional printing equipment including Hontec 12+1 and 6+1 satellite letterpress machines, Reborn high-speed die-cutting system, Rhyguan die-cutting machine, Zhongheng inspection system, as well as digital equipment which now includes a Durst Tau 330 RSC digital press and Polly DGi-330 digital die-cutting system.
The cosmetics industry has very high quality and process requirements for its label products. The quality of the label not only directly affects the shelf appeal of cosmetics products, but also highlights the brand power. 'So we always put product quality in the first place. We are trying to create additional value for their product packaging, so as to achieve a win-win outcome with our customers,' Fan Fengzai tells Labels & Labeling.
Yingcai Printing has a wide range of quality control equipment in its print lab, including a light box with standard light source, adhesive tape peel strength tester, constant temperature and humidity test chamber, QD-3055 initial adhesion tape tester and QD-3056 tape retention tester.
This focus on quality over many years has allowed the company to gradually accumulate a number of very loyal global brand customers.
Digital
The investment in digital printing equipment is a milestone in the history of Yingcai Printing.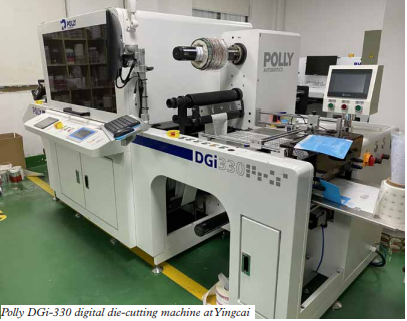 Considering the current production scale of Yingcai Printing, we have to say that a Durst Tau 330 RSC digital press represents a stunning scale of investment. 'Many peers in the industry had doubts once they heard about our investment plan: why would such a small label printing enterprise invest in such high-end digital printing equipment? What supported such a bold investment?' L&L had the same questions.
This is the third Durst Tau 330 RSC digital press installed in China, only two months after the first installation at Shandong Golden Realm.
'To be honest, it was me who took the initiative to contact the supplier and bought this Durst press, and it only took me a very short time to make this decision,' 'Fan Fengzai says. 'I've never seen this device before installation, and I've never even seen any sample of its production. However, with years of experience in the beauty and cosmetics label market, I am very clear about what kind of label products we need to produce and accordingly what kind of digital printing equipment we need to introduce.'
For this investment, he is clearly focused on two points: first, digital transformation is the inevitable direction of the future development of Yingcai Printing; second, the company's mainstream product is the label for the cosmetics and beauty industry.
Fan Fengzai continues, 'At present, Durst does not have much of an installation base in China, but I do know that they have installed more than 20 systems in South Korea, where the cosmetics and beauty industry is well developed.' This was a key factor contributing to Yingcai Printing's investment in the Durst press.
"Many industry peers had doubts once they heard about our investment: why would such a small label converter invest in such high-end digital printing equipment?"
Digital printing and processing equipment is a supplement to the existing conventional production equipment at Yingcai Printing. Its role is to effectively improve the overall production capacity and service level of the company and provide technical capabilities and support for innovative label products.
'As more and more millennials, Generation Z and Generation α become the main consumer force, the benchmark brand owners in the cosmetics industry put forward higher requirements for the production process, delivery time and technical innovation of label products. Investing in digital printing can not only meet the needs of customers, but also provide them with more personalized and variable creative products and solutions.'
The 'Qingpingle' series of label products produced by Yingcai Printing also won the Gold award in Durst's 2020 RSC Label Masters competition and were exhibited at the Durst Customer Experience Center at Bressanone, Italy.
Ready for future
'I know clearly that Yingcai Printing does not have the scale advantages in terms of equipment, personnel, capital and so on compared with some leading label converters such as CCL, All4labels, Cymmetrik, Jiangtian and Meikei. If we try to strive for some large orders – for example, those with a value of more than 5 million RMB (7.75m USD) – we will not give full play to our unique advantages and may also expose ourselves to shortcomings in service and delivery of long-run orders,'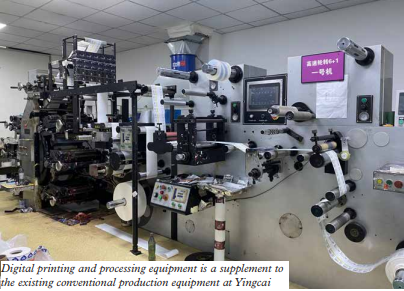 admits Fan Fengzai.
One cosmetics brand owner, for example, needs both big volume label orders to support popular products and small orders of personalized and innovative niche label products. The target business of Yingcai Printing is just these small, bespoke label orders.
The investment in digital printing and finishing equipment is the first step of Yingcai's digital and intelligent transformation for the future. In 2021, the company's investment in new equipment will reach 30 million RMB (over 4.5m USD). Today the company is building its own plant in Songjiang District, Shanghai, which will focus on digital printing and contract packing. The new plant is expected to be in full operation this month, and a newly purchased HP Indigo press will become the first equipment to be installed there.
'Moreover, we also hope that this new digital printing and processing technology can attract a group of young workers in this industry so we can develop a reserve of future talent and ensure the future development of the company,' concludes Fan Fengzai.
Stay up to date
Subscribe to the free Label News newsletter and receive the latest content every week. We'll never share your email address.