Beontag becomes a global RFID player
Rapid growth and a spate of recent acquisitions have propelled Beontag to the position of second largest RFID tag manufacturer in the world – despite only moving into the sector in 2013 and beginning exports in 2018.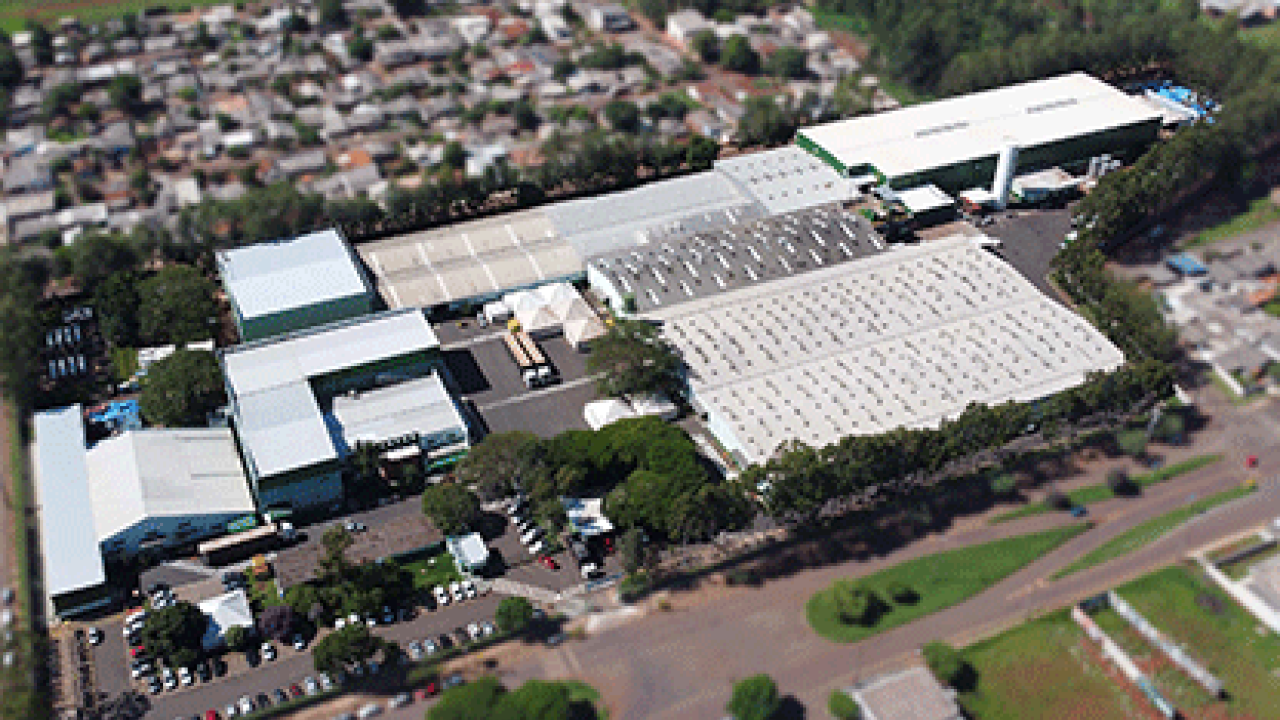 Beontag began its days as CCRR, a merger between Brazilian labelstock manufacturer Colacril and Brazilian converter RR Etiquetas, but rebranded last year as part of its drive for international expansion. It started manufacturing RFID tags in 2013 and now claims a 90 percent share of the Brazilian market. In the last year, its international growth has been exponential, with six acquisitions in Europe so far – completed within 12 months – and plans are in place for additional deals.
In April 2021, Beontag acquired France-based Digital Tags. Six months later, it tied up deals for Italian company LabID and the RFID arm of Finland-based Stora Enso. In January this year, Beontag acquired the Scandstick Group, a manufacturer of self-adhesive materials with factories in Sweden, Belgium, Slovenia and Poland. This was swiftly followed by the purchase of Temera, an Italian company known for its Internet of Things software and technology for RFID and BlockChain.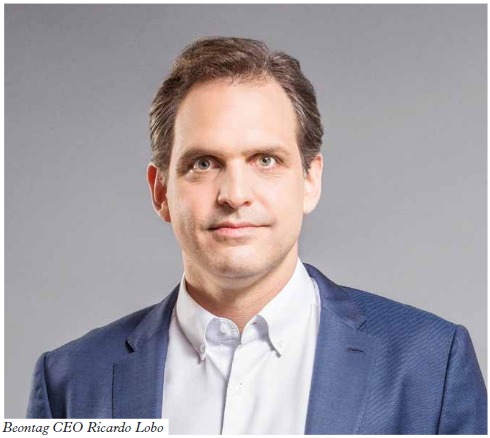 In April, Beontag finalized a deal with Confidex, a provider of RFID, NFC and BLE (Bluetooth Low Energy) products for mobility, logistics and industrial clients, with operations in Finland, China, France, Netherlands and the United States. These acquisitions are expected to multiply Beontag's revenue by two and a half times this year.
The company has set up a new head office in Milan, Italy. Senior executives – including CEO Ricardo Lobo – have relocated there and elsewhere in Europe. Now present in 14 countries and exporting worldwide, Beontag's next target is the United States, with an acquisition in advanced stages and expected to be announced soon. Its sights are set on Asia for the next stage of its global expansion.
Rapid expansion
The seeds for this rapid expansion were sown around a decade ago when CCRR received private equity backing from BTG Pactual, the largest investment bank in Latin America. This prompted the move into RFID production. Later, the first phase of acquisitions focused on the Brazilian market, including synthetic paper distributor Syntpaper and the office label converter Pimaco, formerly owned by BIC.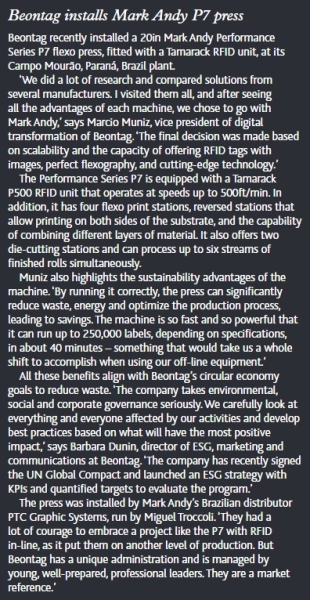 Beontag, which is 40 years old, has 35 percent of the coating market in Brazil and operates slitting centers locally as well as in Argentina, Bolivia and Paraguay. The company is in the process of installing a new state-of-the-art coater which should expand capacity in Brazil by up to 50 percent. The Germany-built machinery has a dual adhesive system, capable of providing products both in hotmelt and acrylic, as well as a state-of-the-art drying system. With a length of 82m, an operating speed of 400m per minute, and a working width of 1,500mm, the machine also has a surface defects detection system.
Ricardo Lobo joined Beontag from BTG Pactual in 2015, becoming CFO and then CEO the following year. A chemical engineer by training, he studied in Brazil and France, completed his MBA in the United States, and worked for Procter & Gamble in eastern Europe before joining BTG's private equity division.
'It is a global market, so we have to be present in all continents to serve global brands. We are building a multi-national company as best we can,' he explains.
'We are getting the right advice. We have built an M&A team and raised investment. Everything has been done in a thoughtful fashion. We have been watching the market and preparing for many years. We are doing well – the companies we have acquired are being integrated quickly and effectively. We have fantastic technologies and people thanks to these acquisitions.'
The local and international acquisitions – a mixture of labelstock manufacturers and smart technology providers – have brought Beontag exposure to a wide variety of technologies and markets. Still, they adhere to a business model put in place long before the private equity investment supercharged the company's growth: divisions that are complementary, technology that can be applied across many market sectors, and opportunities for cross-selling.
'We don't have channel conflict,' explains Lobo. 'We work in many vertical markets where there is not much integration, so you need to supply software and support as well as the products. We are in more verticals in different industries than anyone else. Apparel, of course, but also many other areas: toll roads, banking, luxury goods, leisure, tickets, industrials, pharma and more.'
The acquisition of Scandstick is a good example. It offers Beontag presence in multiple EU markets, with coating or slitting facilities in Sweden, Belgium, Slovenia and Poland.
It also has a linerless label business, Linerless AB, capable of producing uncoated self-adhesive materials with reduced environmental impact, which Beontag plans to expand into other parts of the world.
'We have many synergies with Scandstick, so we are going to be able to cross-sell a lot,' says Lobo. 'They have impressive technologies which we did not possess, and similarly, there are things that we can do that they can't. There is a really interesting synergy and potential for integration. But most important are the people that come with the acquisition.'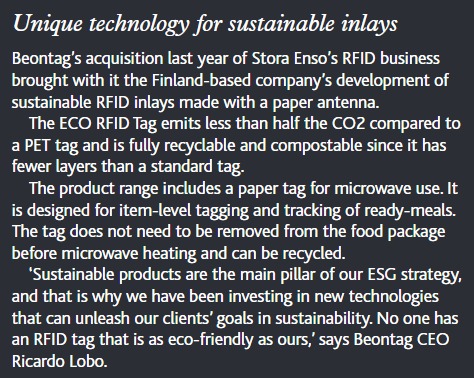 Following the acquisitions, Beontag now has a higher revenue in the United States and Europe than in Brazil. Thirty-five percent of revenue comes from RFID; 65 percent from self-adhesive materials and labels. Products from both business areas are exported worldwide, though the RFID products perhaps have a greater reach – they are exported throughout North and South America, Europe, Asia, China and India.
'Most of what we do comes in a full bundle – RFID inlays (both dry and wet), software applications and label printing,' says Lobo. 'We don't produce prime labels, just RFID labels and labelstock.
'We want to serve well the key clients in the key markets, wherever they are, with the best technology in the most verticals. That will ultimately give us a leadership position, but it would also be going about it in the right way. We used to try to follow what international companies were doing. Now we can be in the avant-garde.' 
Stay up to date
Subscribe to the free Label News newsletter and receive the latest content every week. We'll never share your email address.