M&A in the North American label market
The North American label industry has historically been a very fragmented space, with a large number of converters operating on a local-to-regional level for decades. However, after an influx of M&A activity over the past few years, it's clear that this dynamic is shifting.
'The US industry is absolutely going through a consolidation. Some of which are significant, where most of the larger players are getting much larger,' says Bob Cronin, L&L columnist and managing partner at The Open Approach, an M&A consultancy focused on the world of print.
In the North American market, with thousands of independent converters operating across the continent, the fragmentation has created opportunities for many of the larger converting groups to make major plays, expanding their reach and what they can offer to current and potential customers.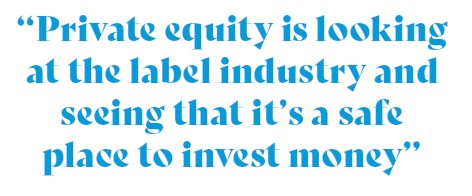 Take, for example, Fortis Solutions Group, a converter headquartered in Virginia Beach, Virginia, providing pressure-sensitive labels, multi-ply coupon and booklets, flexible packaging printing, shrink sleeves, folding cartons, and label applicators.
'We have a particularly fragmented industry of over 2,000 converters. That fragmentation has led Fortis and others to pursue M&A as we see the benefits of scale for our customers,' says John Wynne, president and CEO at Fortis Solutions Group. 'As we think about our acquisition strategy, the four pillars that have guided us have been geographic expansion, product diversification, end-market diversification, and intellectual capital.'
Over the last decade, Fortis has expanded its operations from just a single manufacturing plant to 15 facilities with over 1,000 employees across the United States. It was recently acquired by private equity firm, Harvest Partners.
The strategy that Wynne describes is common among other converting groups across North America.
Larger converters such as I.D. Images, Resource Label Group and Brook & Whittle have also been making strategic acquisitions to enhance their service and to have a leg up over others in an industry where being in the backyard of a potential customer is still an advantage.
And outside the larger converting groups, other players are placing a stake in the label sector. Private equity firms such as Sole Source Capital, Wynnchurch Capital, Warburg Pincus, Clayton, and Dubilier & Rice see the label industry as a safe and profitable place to invest.
'Right now, private equity is looking at the label industry and seeing that it's a safe place to invest money,' says Cronin, 'because of the growth, upside momentum, technology advances and other items that are going to make it important in the future and make them comfortable about where their money is going.'
Growth, over the past few years, is not a word one has heard in in most other industries. But as the Covid-19 pandemic proved, the label industry is resilient and has shown itself to be not only a necessary business, but wholly essential to the global supply chain. This has made the decision much easier for private equity firms to invest in the label space.
'The printed packaging industry has long been of interest to private equity groups given the industry's steady growth and, in the case of the label industry, consistently performing above GDP gains,' says Jennifer Dochstader of LPC, a marketing communications and industry research company. 'However, we've witnessed increased interest in the past two years given growth rates for printed packaging companies due to factors associated with the pandemic. Our industry has decidedly proven itself not only 'essential', but one that also happens to witness higher growth rates during lasting global pandemics.'
With the proven resilience and growing interest of the label industry from outside investors, many private equity firms and converters are vying for the limited amount of label manufacturers within the 50-to-100 million USD in sales-per-year range, leading to different strategies when making deals and acquiring said manufacturers.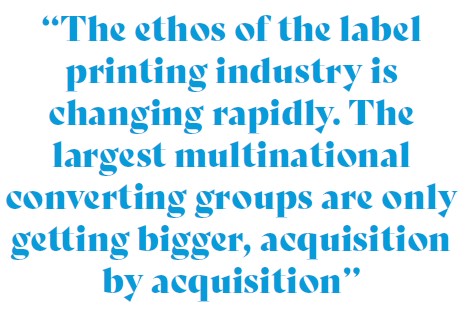 'There are a couple of us that have been acquisitive over the past couple of years but over the past 18 months or so, we've certainly seen a lot of new entrants into the space. We're all chasing a lot of the same, good companies that are out there,' says Wynne. 'So, that has led to valuations going up which is why you're seeing a lot of activity recently. We bring a differentiated approach to sellers focused on employee and customer growth opportunities.'
As Wynne mentioned, the last few years have seen more companies take an interest in the label industry. Though there have been many private equity firms with long-standing interest and ongoing investments in the sector, and mergers and acquisitions between converters are not at all uncommon, it's hard to disagree that the last few years have been decidedly different.
Recent M&A activity
Over the last 24 months, barely two weeks go by without another acquisition taking place. Because of this, it can be confusing at times to make sense of all the activity the industry is seeing, leaving some to ask why certain companies are being acquired.
There are several factors that have drawn the interest of those investing or making acquisitions. One of which is the label industry's durability and proven potential to push through most economic downturns.
'The economic resilience of the sector is a major factor in our interest in the label industry,' says Scott Sussman, chief investment officer at Sole Source Capital, an industrial-focused private equity firm. 'Labels are low-cost, mission-critical products and we're targeting businesses with end markets in food and health care. The label industry will do well in both bad and good economic times.'
Through economic crashes and an ongoing pandemic, many label converters continued to experience high profit margins and growth. Some, during the Covid-19 pandemic, reported higher profits than ever before. And though this is important when it comes to valuations, it is not the sole reason in the added interest of the industry.
Sussman adds: 'Sole Source Capital is interested in the label industry for several reasons: the economic resilience of the sector; the low cost, mission critical nature of the products; and the high barriers to entry. We're seeing significant growth in the secondary label industry because of warehouse automation which is being driven by the customer's desire for efficiency and due to the labor shortages.'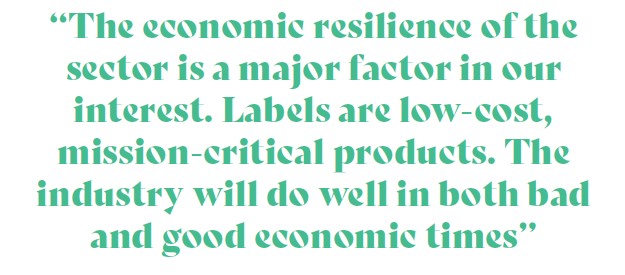 Dochstader echoes a similar sentiment: 'There really isn't a distinctive preference – investor groups are looking for sustained growth. We have been working extensively with private equity groups, doing all aspects of commercial due diligence for more than a decade, and our experience has shown us that these firms are almost always seeking the same set of factors: consistent EBITDA [earnings before interest, taxes, depreciation, and amortization] growth over the past half decade, production floors with state-of-the-art equipment, an impressive track record in customer care, and some type of specialization.'
When it comes to purchasing strategy, every private equity firm and converting group will obviously have its own way of going about an acquisition or merger. But what happens after the acquisition is complete is also dependent on the purchasing company.
Effects of an acquisition
In many other industries, being acquired can be scary for current staff as the worrying sense that one may lose their job because a position has become redundant is not uncommon. However, the label industry is different.
Currently going through a workforce shortage, and with jobs like press operators and quality assurance technicians being highly skilled positions, it has been a difficult process across the industry to find and maintain staff.
After an acquisition, at least for Fortis Solutions Group, the plan is simple: keep the employees.
'We love keeping the teams in place and are just looking to accelerate the respective opportunity sets. We look to be good stewards of acquired businesses and embrace finding talent that then can enhance management leadership at Fortis,' says Wynne.
'The acquired company's employees are the ones that developed the processes, they're the ones with the internal knowledge, they're the ones that have created what's special and unique about the company we're acquiring. We're not acquiring turnaround companies; we're acquiring good businesses and are looking to further scale and grow them. Foundational to that approach is having good people in place.'
The people who work on these presses, whether digital or conventional, have been doing so for years. They know how to do their job and they do it well. However, passing on that knowledge to people who may not be on the same skill level can prove difficult. This leads to institutional knowledge, which has been a historical for manufacturing across industries.
At Fortis, a label manufacturer that has experienced consistent growth over the past decade with a large handful of facilities under its belt, spreading this knowledge across the organization is of the utmost importance, according to Wynne: 'We want employees at Fortis to feel like they're part of something bigger. We want to make sure that they're not feeling on an island or operating as a fiefdom but part of the broader Fortis organization.'
This mentality is also how Fortis handles company culture and how it operates from a strategic standpoint. 'We have a cohesive internal culture and strategy and that informs a singular, go-to-market external strategy because we want our customers to really benefit from all our locations and the breadth and depth of our people,' says Wynne. 'The Fortis culture just looks to be additive rather than overtaking what was historically in place. We embrace the legacy cultures and look to build upon them.'
Extending to the ownership, Wynne says: '100 percent of the owners that want to stay with us, stay with us. If they're actively involved and engaged in the business, then we absolutely want to continue that trajectory. It's the local employees that have made these companies so successful and we want to continue building upon that success with them.'
At I.D. Images, like Fortis Solutions Group, it's important for the company to ensure that all the assets – the reasons why these companies were acquired in the first place – are maintained well after the acquisition is closed.
Regarding the ownership, the company likes to provide options. It wants to ensure that the owners can run each facility how they like, giving them the options provided by the parent company to remove the sometimes-difficult daily operations to focus on aspects of the job where they feel they would be more beneficial to the company as a whole.

'When you think about running a business, there are so many obstacles in the day-to-day operations. You see owners who are in this business and very passionate about what they do but are distracted by the mundane tasks that are necessary to run a business,' says Sussman. 'One of the main pitches for I.D. Images is that we can help the owners of these businesses with all those day-to-day tasks and allow them to focus on what they're passionate about and where they can create value.'
A company acquired by I.D. Images is not just thrown into the fold, according to Jeff Fielkow, CEO at I.D. Images. The company considers each of the acquired companies as partners, not looking to change the way it operates but to standardize its procedures to provide a higher quality product to its customers.
'Each site is unique and, therefore, it is unlikely that two sites will be set up the same way. However, it is possible to standardize processes across all facilities in order to ensure that the same standards of safety, quality and sustainability are being maintained,' says Fielkow. 'As a result, labels produced at any of our facilities will meet the high standards we have pledged to deliver. Additionally, we can cross-sell the unique portfolio capabilities of each facility to our customers that may not be fully aware of all our service offerings. This will ultimately help optimize capacity utilization.'
The uniqueness of each facility is much more important than it may seem. And for the most part, it isn't possible to standardize machinery across facilities; it may not even be advantageous to do so as being having a wide range of capabilities and specializations under a company's umbrella may be more appealing to customers.
'This specialization can be a wide range of things. For example, it might be a converter that has extreme technical prowess in multi-web extended text/extended content applications. Or perhaps it's a converter that excels at producing highest-definition film beverage labels for sectors like craft spirits and wines,' says Dochstader. 'Or maybe it's a label converting company that is really good at printing extremely resilient applications for the durables and chemicals sectors. Equity groups want the target to be good at something.'
These companies were acquired for a reason. The large converting groups and private equity firms aren't putting in the work to acquire companies for fun. These acquisitions are purely strategic, made to leverage the capabilities of the newly acquired company to enhance the capabilities of the group.
For there were no more worlds to conquer
Like the packaging industry before it, at some point the consolidation of the label industry will be complete. It may never get to the point where only a handful of companies exist, but a large portion of the roughly 2,000 converters that are operating now will eventually be acquired.
Where the industry will be at that point and when it will happen isn't exactly written on the wall, but, according to Dochstader, the pace at which the label industry is changing is a clue to what the future will hold.
'The ethos of the label printing industry is changing rapidly. The largest multinational converting groups are only getting bigger, acquisition by acquisition. At the same time, the mid-sized converters know that they have to acquire to stay relevant and competitive, so they are looking to buy smaller companies to grow and to fill in potential gaps in their own expertise and application offerings,' says Dochstader. 'Investment groups and private equity firms buy with the intention to expand the portfolio and to make future acquisitions in the space. We are seeing fewer and fewer label converting players with annual sales of 10-50 million USD because they are rapidly being acquired either by strategics or by private equity. This is going to create a less fragmented industry with the largest players having huge amounts of market share. We've seen this dynamic occur in the flexible packaging and folding carton sectors and I believe that in another decade or so, the label sector will look very similar.'
As covered earlier, with automation in warehousing becoming more prevalent and shipping prices becoming more reasonable, the local presence that for decades drove sales of labels is still important to consider – but not quite as much.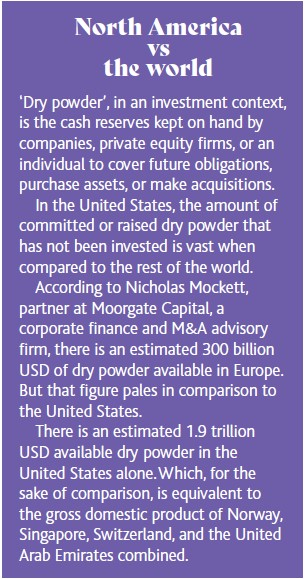 'Sales within labels have significantly been a strong geographic play supported by strong local manufacturers, but it's now becoming more of a national play where the national player, along the customer side of things, are wanting a manufacturer that can handle all its volume across multiple locations,' says Bob Cronin. 'So that is what brought about many of those early merger strategies.'
Size and capabilities are now larger drivers for new customers than just being down the street. Because of this, the larger converters with extended capabilities and, ultimately, the money to expand and provide whatever services a customer may need are only going to become more important.
'There are less smaller players than there were before and, speaking of the smaller businesses, they're facing the problem of trying to compete against the capabilities of a company with a much stronger balance sheet than they may have themselves,' says Cronin.
From a customer point of view, the consolidation has plenty of benefits. A company that provides particular services across the board, no matter where its customer may be located, is driving customers to the larger converters with said extended capabilities. And at I.D. Images, that is its ultimate end goal.
'Our ambition is to be a one-stop shop for our customers' labeling needs,' says Sussman. 'We'll continue to expand our capacity and capability to meet the needs of the customers we serve. Acquisitions are a key part of our growth strategy to enable us to fulfill our value proposition.'
As said earlier, the full consolidation of the industry may not occur for another decade or so. It may even take longer. The label sector will, however, continue to be a safe place for investors to place money, and for the time being, the consolidation and M&A activity across the North American will surely continue, at least, for the foreseeable future.
'As long as the cost of capital remains attractive, I think you're absolutely going to see continued consolidation given all the new entrants, continued fragmentation within the industry and the benefits seen by customers with companies that have multiple locations and product offerings,' says Wynne.
---
For more on M&A in the label industry, read Bob Cronin's regular column on the subject
Stay up to date
Subscribe to the free Label News newsletter and receive the latest content every week. We'll never share your email address.