Supply chain fears hit industrial labeling market
Sustainability, personalization and digital printing, which dominated the list of top industrial labeling trends for the past few years, lost their significance as market players focused on supply chain issues.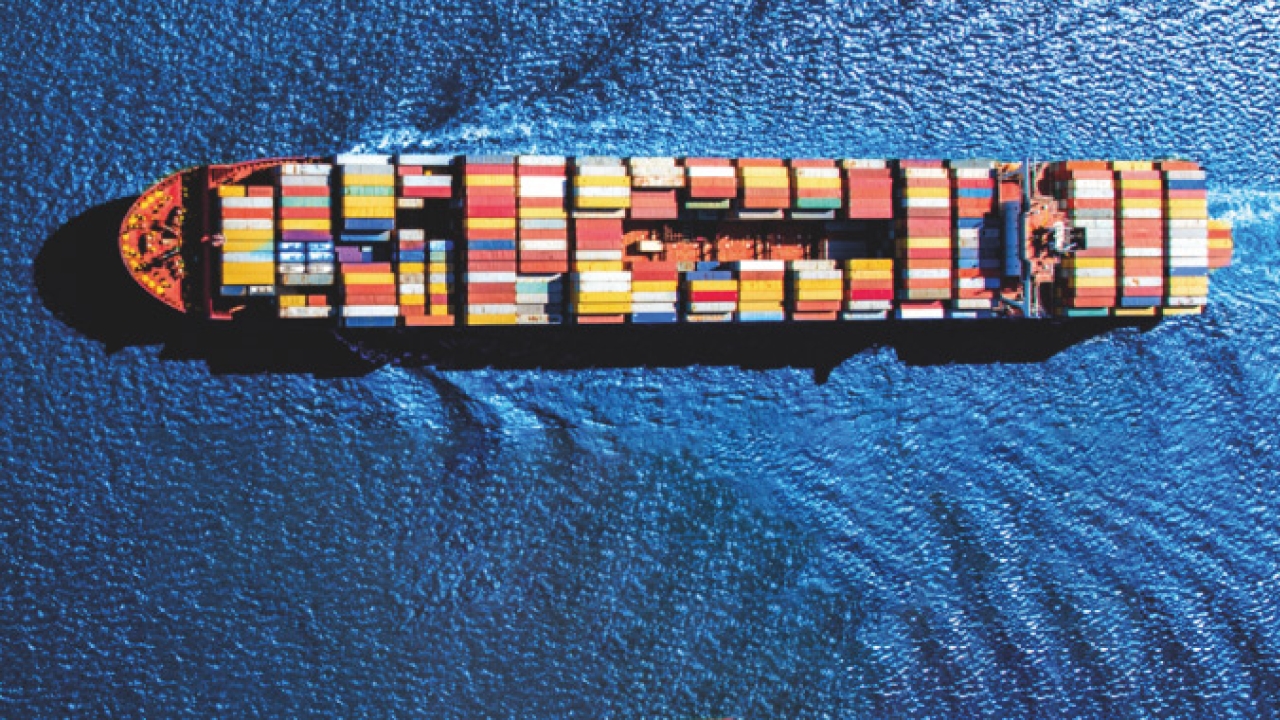 Industrial labels might lack the glamour and design efforts that go into customer-focused, attention-grabbing primary labels. However, they are an essential ingredient in keeping the wheels of global industry turning. In most cases, industrial labels must be machine-readable and be adapted to industrial processes. Industrial labels are also a vital component of a track-and-trace system, ensuring traceability and combatting the counterfeiter.
The market was valued by Mordor Intelligence at USD 49.25 billion in 2020 and is forecast to reach USD 69.8 billion by 2026, growing at a CAGR of 6 percent between 2021 and 2026.
The global e-commerce sector continues to grow rapidly, a trend accelerated by the Covid pandemic. According to a report by PayPal, 27 percent of US citizens have accessed domestic and cross-border e-commerce. The need for high-quality shipping labels grows proportionally.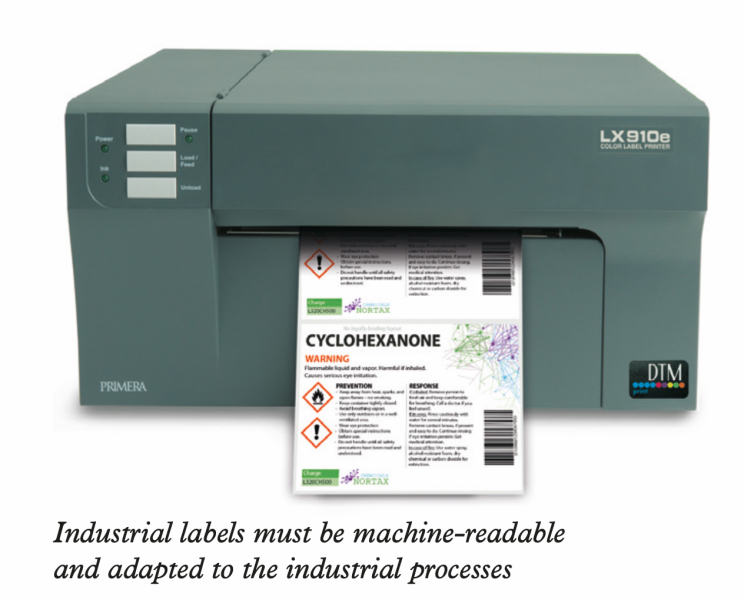 shipping labels are also smarter, incorporating tracing and tracking technologies to prevent items from getting lost or delayed during transport. There is also a push for greener options as the industrial label segment catches up with similar trends in the wider packaging market.
It sounds like the industrial labeling space is a profitable and safe market, but the increasing cost and lack of availability of raw materials now threatens that growth.
Confronting reality
'It is obvious, but the impact of the Covid-19 outbreak has been the biggest challenge many businesses have ever faced, let alone in recent times,' says Colin Le Gresley, managing director of UK-based converter Aztec Label. 'The impact on industrial labels was as immediate as it was severe – manufacture of machinery, equipment and even vehicles were all deeply affected by the various lockdowns and restrictions, effectively grinding to a halt overnight. There were serious repercussions in the logistics sector too; first due to the stock management problems arising from the initial lockdown, and more recently with a lack of haulage driver availability and pent-up demand accelerating shortages.'
Matthew Palinkas, product manager for durables at Avery Dennison Labels and Packaging Materials, says the industry has shown a high level of resilience. 'The industrial segment has continued to grow despite the challenges over the past two years. Overall, we faced challenges with strong demand growth, supply chain disruptions in raw material availability, capacity restrictions and freight, as well as double-digit inflationary pressure. We are expanding our supplier base to ensure a wider variety of sourcing options while continuing to intensify collaboration and joint supply chain planning with our existing strategic suppliers.' 
Jason Hellman, senior manager of business, pharma and industrial markets at UPM Raflatac, Americas, agrees that the most significant challenge is the ongoing global supply chain issue, and the company has responded by identifying new sources of supply.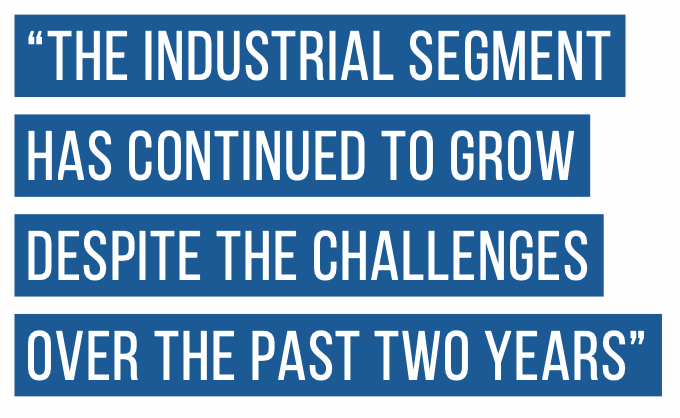 FLEXcon is a pressure-sensitive material manufacturer that focuses strongly on the industrial market. 'The major challenge is with the current supply chain problems,' explains product manager Ross Hodnett. 'Converters and customers in this space need material so that end users' factory lines won't have to be shut down. Discussions about backup materials and alternate materials are dominating the conversation. This is a particular challenge in this segment because the label materials are often precisely specified and require a lengthy qualification process to be approved. Suppliers who can give converters a steady supply by using a multitude of suitable options are winning the most right now.'
As Hodnett points out, industrial sector specifications and regulatory standards are rigid and lock converters into specific products without much flexibility. This has led industry stakeholders to rethink how different standards can be harmonized to offer more flexibility to converters and end users.
Turning to digital 
'The challenge now remains to maintain the speed and standard of service being demanded by customers facing their own increasing and growing pressures,' remarks Aztec Label's Colin Le Gresley. 'With our investment in planning and production technology, this is a challenge we feel well equipped to meet.'
The latest Finat Radar report demonstrates the growing popularity of digital print in the industrial labeling sector. Brands and label buyers forecast that their label volumes will witness robust growth in 2022. The report estimates 6.4 percent overall growth and a healthy 5.4 percent for labels printed digitally. For digital labels, the data suggests that one of the highest spikes will be seen in the industrial segment.
Palinkas confirms that brands demanding more customization drives smaller SKU counts. This requires converters to produce shorter runs, pushing them to digital technologies. 'We continue to see this, especially in the chemical drum industry,' he adds.

'One of the major trends is the use of digital print technologies in industrial and durable labeling,' confirms FLEXcon's Ross Hodnett. 'Particularly, UV inkjet printing is growing in this segment more and more each year. Materials that can be printed digitally, as well as some of the older conventional methods such as flexographic or thermal transfer, are becoming more and more important.' 
Andreas Hoffmann, managing director of DTM Print, says the transition to digital is already well under way. 'That means the challenge now is to stay in the market by the numerous competitors because digital printing is much easier and can be offered almost by anyone. The challenge and opportunity are to be better by offering outstanding, specialized digital print technologies.'
Greener supply chain
'We are hearing requests about sustainable solutions and addressing them where possible,' confirms Avery Dennison's Matthew Palinkas. 'When it comes to durable labels, performance is critical. So, the biggest challenge is ensuring that a sustainable technology doesn't sacrifice the required levels of performance for a specific application. That said, there are areas where sustainable components are being used, areas like liners, for example with rPET.'
DTM Print's Andreas Hoffman goes one step further, stating that becoming green is not only an option – it is a necessity to stay in the market. 'With digital printing, there is no need to produce waste; substrates are now available from paper to plastics. DTM Print has recently introduced Permatec, which is compostable and offers various paper-based products and even food-approved ink.' 
'It is important to define individual sustainability goals regarding industrial labels,' says UPM Raflatac's Jason Hellman. 'We can produce more sustainable facestocks and get the same performance as virgin products. The market needs to define the way we go.'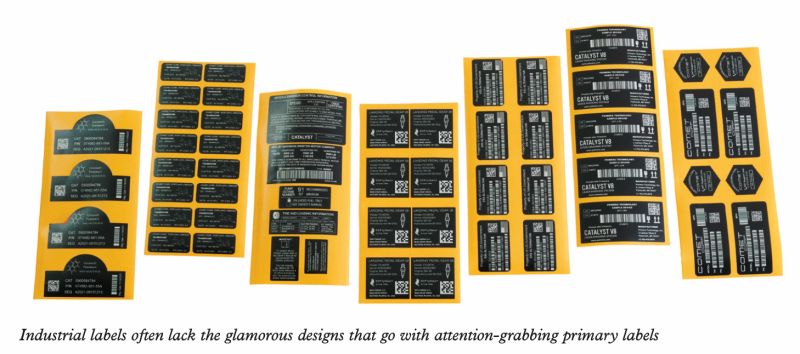 One could argue that durable labels, by nature and definition, are sustainable as they are designed to perform over a long time with minimal material resource use, therefore naturally have a low carbon footprint and align directly with waste hierarchy principles. That being said, manufacturers are looking at using recycled content when possible, to achieve their wider sustainability goals without sacrificing performance.
'We need to look at the complete life cycle analysis of the product, including the bulk product inside. If the chemical inside damages the container or ingresses into it, which would lead to poor quality PCR, then we should be investing in the best quality raw materials, which have little impact on the environment (carbon trust papers or biofilms),' says Paul Jones, sales and technical director at Skanem UK and the company's sustainability leader. 'If bulk is not so aggressive and the container can be recycled, then we should be designing for recyclability, ensuring high-quality PCR at the end and using PCR labels.'
Jones points out the challenges posed by the sheer range of applications for industrial labels and the different specifications for each sector. For instance, a screen wash for cars can be classed as industrial, but the plastic container it is sold in can be easily cleaned and recycled. On the other hand, motor oil ingresses into the HDPE containers and contaminates them; therefore, incineration is the only way to dispose of them. There are, of course, facilities that can clean the HDPE containers for full recycling. Still, the challenge remains how to guarantee that these containers are adequately segregated from household recycling centers or sent to special facilities.
'How do we ensure that these (contaminated) containers do not mix with high-quality PCR to enable the PCR to be used in food / cosmetics / beverage?' asks Jones. 'Do we choose the best, most sustainable raw material for the label and incur plastic tax or do we invest in higher-cost PCR and avoid the plastic tax – Holy Grail project 2.0 will really help solve these issues.'
FLEXcon's Ross Hodnett acknowledges these issues, and says sustainability efforts need to be better targeted. 'For example, liners with post-consumer waste content are a step in the right direction. Liners are a throwaway piece, so any opportunity to make them more sustainable goes a long way. Since the liner rarely ends up in the end-use application, post-consumer waste options can work well in various applications so long as they can still convert well.' 
Katsu Araki, Mactac's businesses development manager, mentions that although durable products are usually tightly specified and not an easy item to switch, the product construction can still go thinner, or could use recycled content or biomass materials to reduce the environmental impact.
Ross Hodnett adds that finding ways to use greener plastics is another step in the right direction. Vinyl is typically seen as one of the least sustainable or least green plastics, and FLEXcon now offers a durable polypropylene film that can be used as a replacement for vinyl in many durable labeling applications. 'There is definitely interest for sustainable options if they actually can meet the performance needs of the application,' he says.

'Concerning the level of interest in such products, as with all areas of the industry, sustainability and the environment have been hot topics in the labels sector for a long time,' states Aztec Label's Le Gresley. 'While some label manufacturers are happy to wax lyrical on the subject without acting, I'm proud that at Aztec Label, we have invested first and foremost in sustainable operations and remain focused on delivering an environmentally sustainable business.'
Aztec Label is an early adopter of the BPIF Zero Labels 2 Landfill scheme, which seeks to divert label waste from landfills to replace fossil fuels in blast furnaces. 'With that initiative working well, we're also looking to extend our current solar power energy system to the roof of the new extension to help us meet our long-term goal of becoming completely self-sustaining in terms of electricity use,' adds Le Gresley.
Smart anchor
Smart and interactive technologies are starting to have a major impact on the industrial label segment. This year, Avery Dennison Smartrac launched AD Maxdura, which embeds UHF RFID tags directly into tires, providing detailed lifecycle information and enabling a range of environmental and safety features.
Some 3 billion tires are manufactured globally every year, and RFID is increasingly being adopted by all leading manufacturers. Michelin, for instance, has announced it will fit RFID sensor tags to all its tires by 2023, and countries such as China are looking to make its use mandatory. 
The tag is attached to the tires directly during vulcanization, enabling track and trace through the logistic chain to identify tires at warehouses and dealerships. Stock counts can be performed almost instantly, tire assembly and fitting errors can be reduced, and it becomes a powerful defense against counterfeiting. The AD Maxdura tag will also detail the exact materials used in the manufacturing process, making it easier to reuse and providing details needed by recycling centers.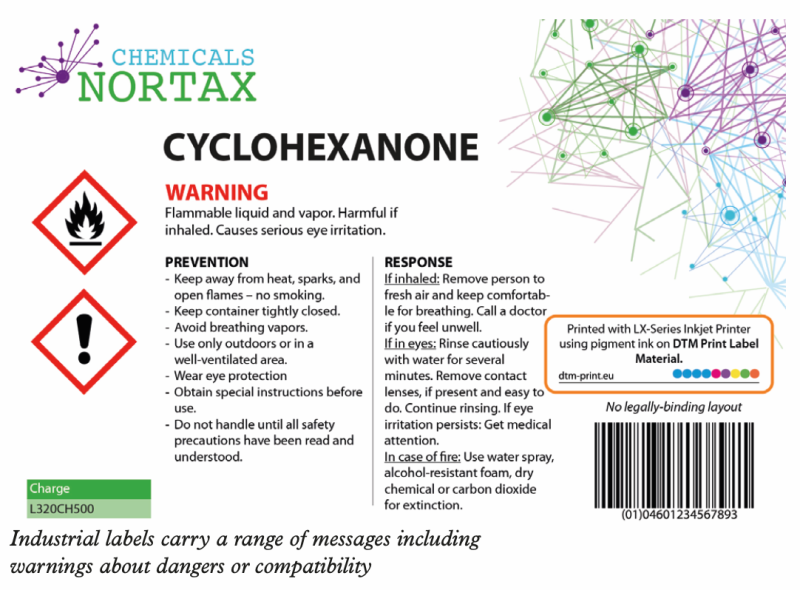 'The automotive industry is in the biggest upheaval in its more than 130-year history,' says Lauri Hyytinen, market development manager, automotive at Avery Dennison Smartrac. 'Avery Dennison is working with all the leading tire manufacturers as they turn to RFID. The benefits are clear, not least in terms of safety and the ability to fully track the life cycle of the 3 billion manufactured each year. However, we have designed the AD Maxdura tire tag to be future proof for a wide range of future uses, which Avery Dennison Smartrac is already working on with OEM partners in the automotive industry, including logistics solutions and brand protection applications.'
Mactac's Araki agrees that interactive technology will play an essential role in certain parts of industrial labeling, including asset tracking and identification labels that display critical information for a part or product. 'As labels become smarter, they will become more interactive in some ways. It may not be as exciting as some potential opportunities for interacting with graphics in the outdoor advertising space, like augmented reality. However, there is still much to explore with interactive labels, such as displaying safety information to a machine user in real-time.'
States Avery Dennison's Matthew Palinkas, 'There are two reasons why I believe this will become an integral part of industrial labeling. Firstly, the supply chain challenges we are seeing today mean it is crucial for a manufacturer or brand owner to really understand their inventories of finished goods, WHIP, and raw materials. We see solutions become more prevalent to help automate track and trace. 
'Secondly, interactive technology can help brands better communicate and bring value to their customers. One example would be adding a digital component to a durable label for applications like appliances. A technician can scan the label and log a service record digitally, for example. That way, should there be an issue in the future with that appliance, it becomes very easy for a technician to quickly scan and see what has been done in the past to a specific unit.'
DTM Print's Andreas Hoffman also thinks interactive labels will become an integral part of the industrial labeling segment. 'Engineers are already going further with new label technologies by printing electronics onto the label,' he adds. 'Where the RFID chip in the label was the beginning, they can now produce labels which send a message, light up, or sensor the environment to display a flexible best-before date depending on the outside temperature.' 
'Smart labels will also help massively with the sustainability angle,' adds Skanem UK's Paul Jones. 'When Holy Grail is implemented, it will identify the makeup of the container and the product inside. Therefore, it should segregate the unrecyclable containers and send the ones that can be with no harm to the quality if the PCR is recycled. For the track and trace side, RFID will really help this process.'
Stay ahead of the game
Industrial labels can remove complexity from the supply chain, minimize worker input – and therefore the risk of an error – and enable complete connectivity and traceability across supply chains, minimizing costs and maximizing efficiency.
'With more and more businesses depending on the traceability of products, people, and assets, the quality and accuracy of labels is increasingly vital, ensuring everything from stock management accuracy and real-time delivery tracking through to avoiding customer penalties and potentially costly compliance-related fines,' says Aztec Label's Colin Le Gresley. 'As the demand for "more and faster" continues to increase, the future success of label converters hinges on their ability to meet the challenges of their customers – something which we do through our continued investment in technology across our business.'
Avery Dennison's Matthew Palinkas sees a lot of opportunities in new industrial sectors such as the growing infrastructure around electric vehicle battery production. 'This continued investment opens new opportunities for labels, and we are working closely to understand the needs of these materials.'
Guy Boxhall, UK sales manager at DTM Print, thinks that despite the relatively slow take-up of NFC and RFID in the label sector, these technologies will gain considerable importance in the next five to ten years in areas like biometrics in banking security. 
As the requirements of industrial end users continue to change, there will always be a need for labels to follow that innovation process. Whether it is smarter labels or new chemical resistance challenges, there is no doubt label suppliers will have to adapt quickly. 
'It is hard to say specifically what the future will hold for in such a broad segment, but one thing is clear: the demand for high performance and high-quality labels for this space is not slowing down,' concludes FLEXcon's Ross Hodnett. 
---
For further info: 
More info about industrial labels, including a detailed breakdown of substrates and end-user market applications, read our Label Academy article.
Stay up to date
Subscribe to the free Label News newsletter and receive the latest content every week. We'll never share your email address.