Versatility in printing and coding of pharmaceutical products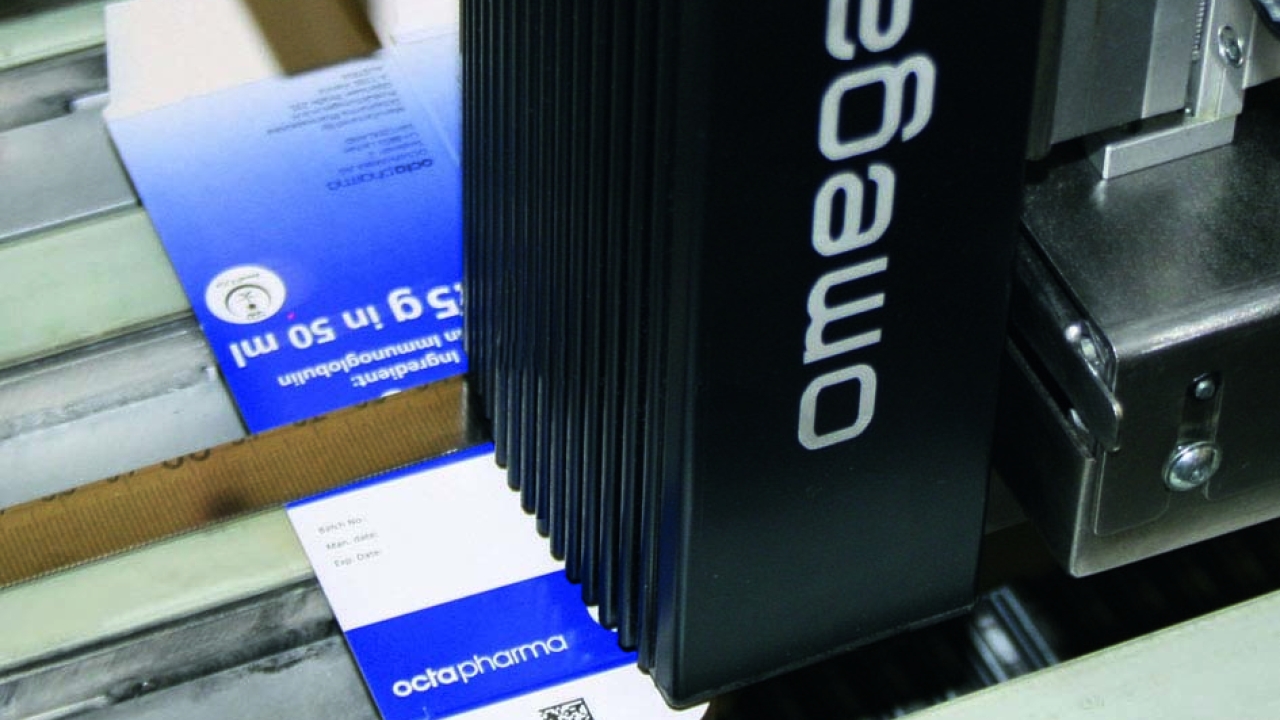 Austria-based company Octapharma is using Atlantic Zeiser's versatile Omega inkjet digital printing system to code up to 50 different folding carton formats, and 10,000 pieces a day. Nick Coombes reports
Up to 50 different folding carton formats are coded and printed by Octapharma, in Vienna, using Atlantic Zeiser's versatile Omega inkjet digital printing system.
The contactless printing and coding system guarantees fast print job changes, maximum quality and variability with small batch sizes.
Octapharma is one of the leading companies in plasma fractionation, as well as the development, production and marketing of immunology, hemophilia and intensive care products.
All liquid and freeze-dried products are derived from blood plasma, produced and finally packaged under stringent clean room conditions. These standardized processes follow a total quality system specially developed for them, which meets the American GMP standards through the latest manufacturing technology, quality controls and IT-systems.
Since 2004 the production plants have been certified by the FDA (American Food & Drug Agency). As well as Europe and the US, Octapharma possesses approval in over 80 countries worldwide.
Packaging as a coding medium
Pharmaceutical packaging has developed as the principal medium for product, production and identification information, and Octapharma needs to react to market requirements and in future print variable data and serialized marking on packaging.
Implementation of official standards such as the FDA in the US or the EMA in Europe also guarantees successful business, as without correct and standardized marking of the products, worldwide approvals would not be sustainable.
Counterfeit products and their devastating effect on users have brought about uniform product marking in the pharmaceutical sector. France has already adopted a uniform marking requirement for medicines that includes a three-line numerical code containing production information, content and expiry date, in combination with a two-dimensional machine-readable barcode.
This GS-1 code contains these plus product tracking and serialization data.
Other EU countries are required to adopt similar laws by 2013, with European-wide implementation by 2015.
Cost-efficient marking
With this political pressure, pharmaceutical producers are making preparations to meet the new marking and serialization requirements.
Sustainable solutions that can be quickly brought into line are needed to limit downtime, and versatility in relation to the accruing costs of single print runs is the crucial factor.
'Ink consumption of the Omega is extremely lean,' says Christian Schneeweis (pictured, below on the right), technical supervisor at Octapharma. 'We mark a package at top quality for approximately 70 cents per 10,000 cartons.
'The fine adjustment of the ink droplets allows us to achieve 100 percent quality with only 80 percent ink usage, so we save 20 percent on cost.'
Torsten Konrad (pictured, left on the left), head of visual inspection for labeling and packaging at Octapharma, said: 'We knew we would be faced with a standardized marking obligation, and from other mandatory regulations in our industry were aware that we had to deal with the situation early on to have a functioning, reliable and high-capacity system in your production line on the date of implementation.'
Octapharma has been using Atlantic Zeiser's Omega inkjet marking and coding system since October 2010 and appreciated its versatility and low operating costs.
It also prepares the company for future requirements such as variable serialization of each individual product, and can respond to the future decisions of the FDA, EU and EMA.
Versatility comes up trumps
Octapharma has about 50 different carton formats, and prints and codes up to 10,000 each day in single shift operation with an Omega 36. Even slightly curved surfaces are printed at top quality, with a 7mm gap between the printhead and product.
Schneeweis adds: 'We tested the maximum gap we could print on our different formats and decided on 7mm. This shortened time for converting from one format to another by several minutes and minimized production downtimes.
'We can also mark folding cartons of varying height without adjusting the printhead. The pollution-free UV-curing process also means the liquid ink is immediately dry and wipe-proof, both on absorbent and non-absorbent carton surfaces.
'This would be inconceivable with the thermal transfer or CIJ (continuous inkjet) printing process used up till now.'
Omega recommendation
The project to complete the packaging installation, which was developed and produced by Schleuter, took nearly two years, and two machines were built to handle the complex carton packages from flat to 3D, and pack the varying bottle bundles.
Octapharma and Atlantic Zeiser began to work together via Pauer, a machine manufacturer for labeling systems, who suggested using the Omega system.
Trials with a variety of carton materials proved 'simply amazing', according to Schneeweis. 'Even on absorbent substrates and slightly curved cartons the print was high quality, which convinced us that Omega was the ideal system for our requirements.'
Konrad adds: 'We wanted future-proof technology for printing variable data, coding and serialization with different barcodes and for product tracking as well as protection from counterfeiting, and that is precisely what Atlantic Zeiser has given us with the Omega.'
Read more on Atlantic Zeiser here
Read more on coding technology here
Read more PPW features here
Register to receive PPW for free here
Stay up to date
Subscribe to the free Label News newsletter and receive the latest content every week. We'll never share your email address.