Q&A: John Wynne
John Wynne is the founder and CEO of Fortis Solutions Group, a converter based in the United States. Founded in 2010 in Virginia Beach, Virginia, the company continues to expand its footprint with over 20 manufacturing facilities across the North America.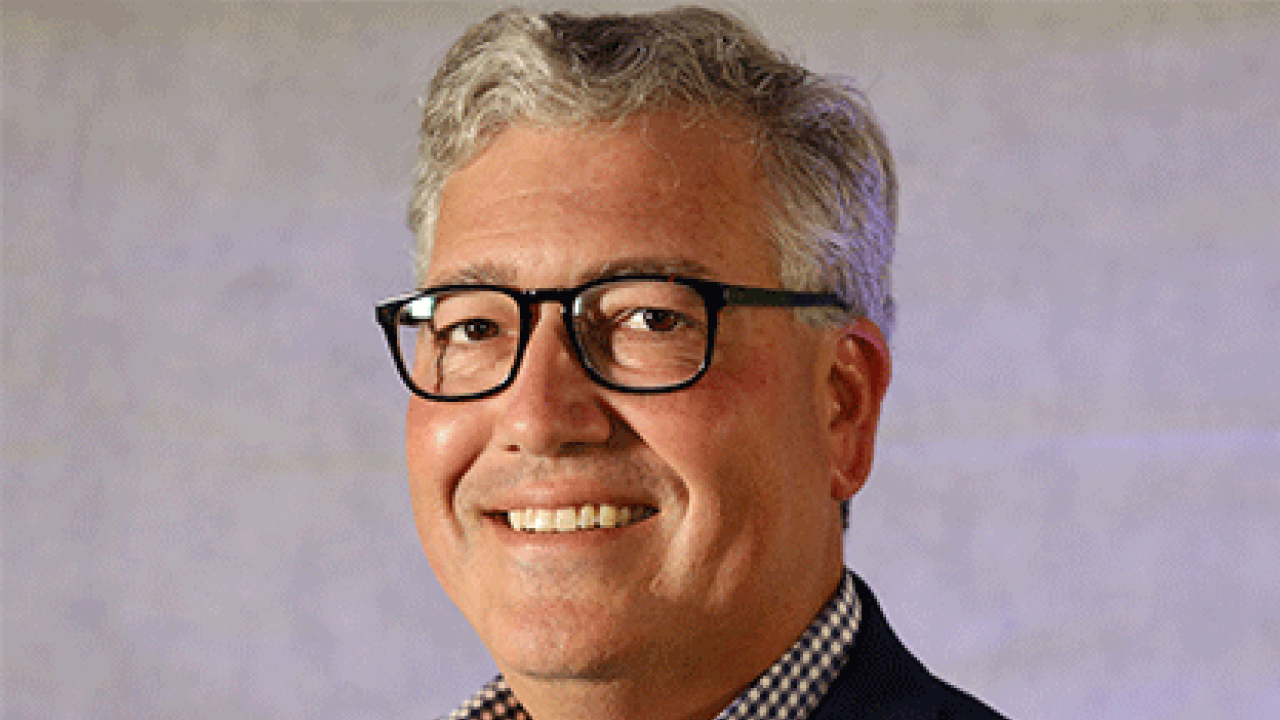 L&L: Tell us about your career to date.
John Wynne: Post college, I spent seven-and-a-half years working within the media and communication investment banking units at Deutsche Bank and Morgan Stanley in New York. There I spent time capital-raising both on the debt and equity side, as well as working on M&A engagements.
I got an MBA along the way and eventually got the entrepreneurial bug at about the same time I had gotten engaged, so I started thinking about what's next.
I ultimately decided to leave New York and pursue my own opportunity. And decided to move back to where I grew up, Virginia Beach, Virginia, thinking I could network better here than I could in New York.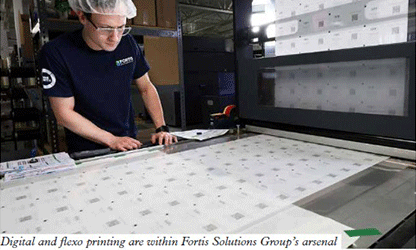 Back in Virginia, I treated my search like a job. I was setting up meetings every day – breakfast, lunch, dinner meetings and everything in between. Initially, I started out by meeting with the professionals, accountants, bankers and lawyers across town that would have access to some of the companies, which ultimately led to some introductions into various companies and industries.
I didn't start out by saying that I have to find my way into the printing industry per se. There were certain business characteristics that I was seeking but that could have been applicable to a lot of different industries.
I eventually came across a company here in Virginia, a label converter that was in the process of being sold to York, now Multicolor, and I became intrigued with custom manufacturing. I liked the brands they were working with and thought that was an industry I could really wrap my arms around and was very fortunate that just 30 minutes away was a company by the name of Labels Unlimited.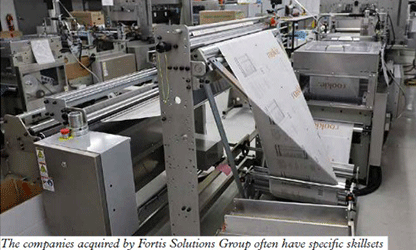 I made an inbound to the owner and spent time going lunch with him, and as he got to know me and my approach to the business end and how I would treat the employees, he said that I should come down and take a look under the hood.
He invited me in to take a look and see if there's something here, telling everyone I was a consultant, which ultimately led to me acquiring the initial business in October 2010.
L&L: How has Fortis Solutions Group changed since your start at the company in 2010?
JW: We've grown significantly since 2010. From one site here in Virginia Beach with one product line, which was pressure-sensitive labels, to now selling five core product lines – pressure-sensitive, flexible packaging, shrink, folding carton, and label applicators – in 17 other locations, including one of our latest in Montreal.
We also diversified from what was primarily a single end-market focus, food, into a more diversified portfolio focused on food, which is about 50 percent of our base and is very stable. But we've augmented that base with markets like health and beauty, nutraceutical, household chemical, ad chem, and others.
And then, like I said, we added people. We've added a ton of talent along the way, which, frankly, has allowed us to offer more comprehensive solutions to our customers. More value adds than we could previously, and that's been one of the core tenants of our acquisition strategy: making sure we can find some additive intellectual capital along the way that can not only work within their legacy facility but add value across all our locations.
L&L: Has your background in investment banking had any benefits for your M&A strategy?
JW: My experience in New York provided a foundation for the technical analysis that's associated with M&A, and it was incredibly helpful to work on both the buy and sell side to understand the perspectives on both ends: like what's the ultimate intent, for example.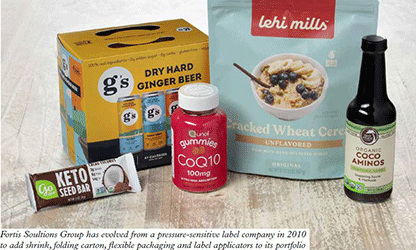 Both parties want to do a deal, but they may want to get there a little bit differently, and so it kind of becomes more of a social, interpersonal interaction, where it's best just to be a good listener. To be empathetic and understand their perspectives. You don't want to have any preconceived notions; you just want to be a good partner and understand how you would want to be treated if you were on the other side.
For example, if someone is bringing something up, they're not bringing it up to be difficult. They're bringing it up because it's a pain point for them, and they want to work through it.
Ultimately, it's about being patient and understanding that and giving validity to whatever the topic may be. Having good bedside mannerisms and how you treat and interact with people are just as important as the technical aspects of delegation.
L&L: Do you envision the stream of acquisitions continuing at its current pace?
JW: I do. We see M&A as one of our key growth drivers. Through M&A, we've been able to enhance our product lines, core competencies and geographic presence to offer more value for our customers, and so, ultimately, we're going to continue to pursue additional opportunities.
You have to be in your customer's backyard to service them really well, and so we continue to pursue other companies. There are certainly still some gaps because at the end of the day if you get a one-day ship time right to customers, they certainly value that a lot more than one week. We all live in an Amazon world, and that extends to our business as well.
L&L: As Fortis gets larger and the business evolves, has your approach to leading the company changed as well?
JW: We've been incredibly fortunate to have been able to scale effectively. And that's thanks to our incredibly talented team.
I'm very much engaged in the day-to-day of the business, but I also recognize that we can't accomplish all our objectives without dividing and conquering. So, as we evolved, those leadership responsibilities have continued to be spread among our team, allowing me to work more on the business rather than in the business.
And that felt like the right transition. It's been a natural evolution in that regard. There's really no playbook with the way we've been scaling, figuring things out on the fly, and adjusting in the air. But we've got a great team, we're working collaboratively, and we've been able to really keep a lot of the noise that slows down companies as they grow out of the equation.

You can't be micromanaging functional areas. To get the right people, they have to know they're going to have your support but can ultimately paint their own canvases. And that's really been the messaging I've delivered as we've been recruiting additional people at Fortis.
L&L: What are the main benefits for a converter when becoming part of Fortis Solutions Group?
JW: We always embrace that local representation in the functional area. Going back to that team dynamic, because we recognize that those local touch points are what made those businesses so successful. And so we really focus on being excellent stewards of the acquired businesses and supporting their continued growth by leveraging our best practices, including cross-selling our products, work-sharing across facilities, opening up our capital resources, and the vendor relationship.
When you look at the supply chain challenges of today, that certainly highlights the benefits of working with a larger group.
And, given our size, we've been able to further support our new employees with additional investment benefits, attractive wages, 401k match, profit sharing, educational reimbursement, and we provide them with upward mobility across the group as well.
We've had some folks who, in their current role, wanted to move for family reasons or otherwise, and in many cases, we've been able to find them a role in a location nearer to them.
L&L: Where do you see the most changes happening in the label industry right now?
JW: We've seen a move to more automated workflows. One example: think about the continued labor challenges that are out there right now, and more people are starting to look at material handling automation. Robotics has certainly become more topical.
Certainly, we'll see more enhanced sustainability offerings.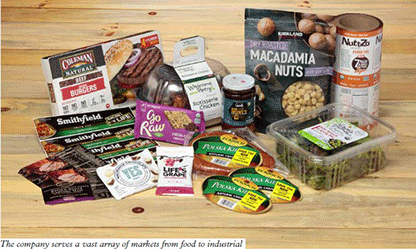 And, not just because of the pandemic but the Texas freeze and the strikes overseas. I think people are starting to pursue broader supply chain networks.
There are a few other trends out there, too. You're seeing more and more consumer engagement with brands. The continued proliferation of variable data personalization.
More informative, descriptive packaging. Just more descriptions about the product you're buying, different ways to engage the consumer through your packaging.
L&L: How has Fortis Solutions Group coped with the material shortages and supply chain challenges of the past year?
JW: It hasn't been easy. I feel like our team is frequently playing whack-a-mole with the challenges of the day.
When we say supply chain disruption, it includes cost increases as well as material availability. We've dedicated additional personnel to our supply chain team to bring in more resources to our sourcing effort. We've also enhanced the communication level between the plants, so we now hold daily calls among our group to discuss priority items and ensure continual supply for our customers.
Lead times used to be four-to-five days on materials and now they're around 40-to-50 days, so it's certainly impacted working capital levels as you don't know for certain if you're going to get the material. It has really impacted the way in which we buy and hold material as well.

But we've been really fortunate to really have that collaborative culture internally because we can quickly leverage another plant and we have visibility on who has what.
So, if we need to ship material from one site to another, we certainly will.
It's not a fun topic, but we've been able to deliver for our customers, which, ultimately, is why we're here.
L&L: What has Fortis Solutions Group done to improves the sustainability of its production across the larger group?
JW: We've installed improved technology across the footprint such as LED lighting, better air compressors, and cardboard bailers to reduce our footprint.
We launched a dedicated continuous improvement team with the primary goal of attacking waste throughout our footprints. And operationally, we've been focusing on combination runs to reduce and process scrap.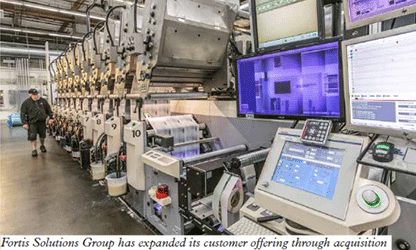 We've removed solvent inks from our press room. And the new presses we're bringing in are fitted with UV LED. So, we're trying to attack it from a number of different angles.
L&L: What are your interests or hobbies outside of work?
JW: I've got three youngsters running around that keep me busy, which is always fun. I dabble in some racket sports – tennis, pickle ball. And I like being out on the water. We do a lot of water-related activities as a family, and we enjoy traveling together. Those are the things that tend to keep me busy when I'm not in front of the computer or on the phone.
Stay up to date
Subscribe to the free Label News newsletter and receive the latest content every week. We'll never share your email address.