MLJ sets up self-adhesive and silicone coating plant in India
MLJ Industries has set up a new plant in Greater Noida, India, to produce self-adhesive labelstock and silicone liners. It has ambitious plans to ramp up production and investment in the next four years.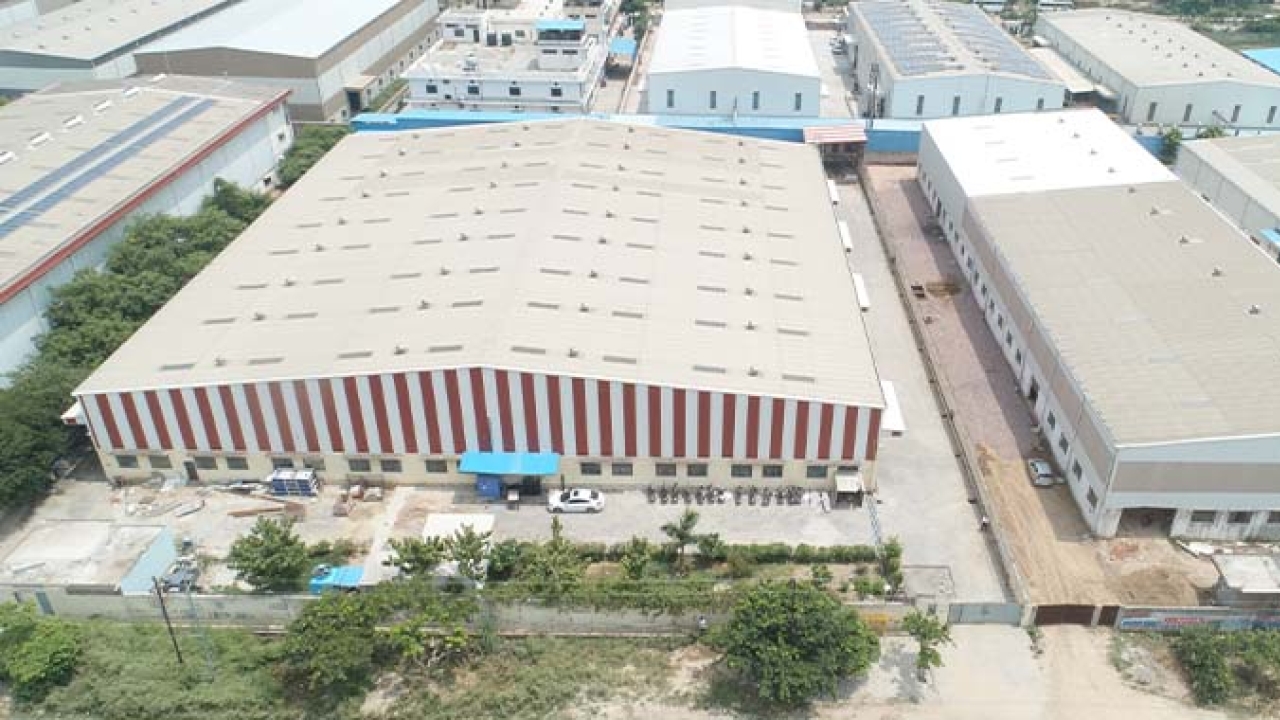 MLJ parent company MLM (Mitthan Lal Marketing) is a family-run paper raw material business established by Mitthan Lal Jain in 1933 – before India's independence. In 1948, he registered the company. In 1996, MLM began importing and supplying paper, paperboard, pulp and newsprint in India.
Now in its fourth generation, the family has diversified into labelstock and silicone liners through a new venture, MLJ Industries, to be headed by young entrepreneurs Siddharth and Chirag Jain, the sons of Vinay Jain, managing director of MLM.
'The legacy came from MLM and MLJ is the new brand,' says Vinay Jain.
MLM's main business is in North America, South America and Europe. 'We have very little business in Asia. But in India, we handle close to 150,000 tons of paper a year,' he adds.
Last year, MLJ decided to add self-adhesive and silicone coating lines in its three-acre plant in Greater Noida. The plant was already equipped with poly extrusion lines, one siliconizer, and two combination coating lines for silicone and hot melt adhesive to create pressure-sensitive adhesive labelstock.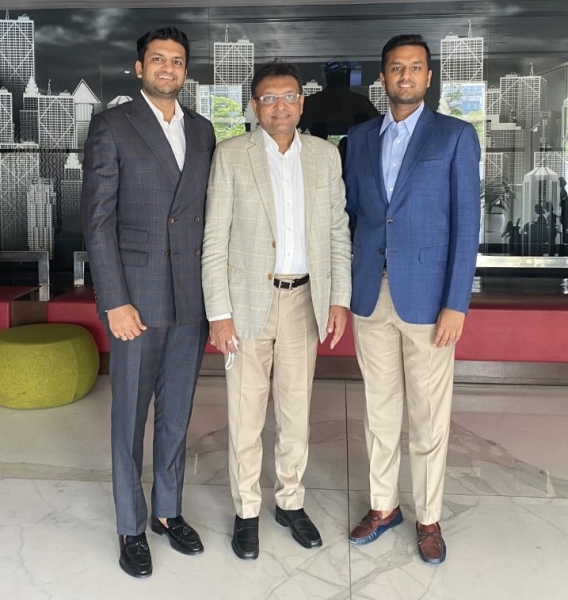 The company intends to install seven coating lines in total by the end of 2021. 'Currently, we have combination units for silicone and adhesive. But soon we will have dedicated lines of 63in high-speed silicone coating with multiple coating heads.
'We have an advantage of having poly extrusion in the same premises. Paper absorbs silicone and when you do poly coating on it, the silicone penetration reduces. It saves silicone while retaining the same effect.'
In terms of capacity, MLJ aims to produce five million square meters of self-adhesive hot melt and five million square meters monthly of water-based acrylic adhesive labelstock in the next six months.
The factory is also equipped with an IOT-based data acquisition system to monitor plant activities. A system for in-house composting and disposal of hazardous waste is also being developed.
Chirag Jain adds that the company is investing in automation and making its products traceable back into the supply chain.
In the next four years, the company will expand the plant to 10 acres. The plans were outlined for March 2021 but the second wave of Covid delayed the process.
Scalability
Vinay Jain explains that paper is being replaced by digital media in segments such as commercial print but there is no replacement for labels, which is why MLM decided to diversify into labelstock. It was already providing raw material to the label industry through MLM.
There will be several brands within MLJ for labelstock in different price ranges.
'But it will not affect our core business in any way. We will continue to provide raw materials and at the same time start our production. Our motive is to create different verticals and then scale them,' Vinay Jain explains.
The manufacturer plans to export 60-70 percent of its labelstock to Africa and the Middle East. It will be distributed through a distributor network of its sister company and directly to end users.
We are passionate about it. We understand paper. If you cut my hand, you will see that I bleed paper. And now my sons, as the younger generation, bring new thoughts and energy to the business
MLJ has also acquired 10 acres of land in Gandhi Dham in Gujarat near Mundra port for easier exports and plans to expand it to 25 acres. Mundra Port is India's largest private port, located on the north shores of the Gulf of Kutch near Mundra, Kutch district, Gujarat.
Vinay Jain explains that the family is in this business because of its strong control over raw materials. 'We work directly with mills and have roots in the paper industry. We have a strong network for the procurement of raw materials.
'And scalability is not a problem in the paper industry. But our business through MLM has come to a scale and cannot go further.' The trading business' profitability has been minimal in the last few years.
'There are four stages of a business – start-up, growth, maturity and decline. Our old business is now declining. The operating cost is increasing but profits are not. We want to enter a vertical where we can grow with investment. Once our product line is set then the volume is not a problem,' he adds.
It will not affect our core business in any way. We will continue to provide raw materials and at the same time start our production. Our motive is to create different verticals and then scale them
When it comes to the paper industry in India, Vinay Jain comments that others may be richer but are not as knowledgeable as the Jain family. MLM imports 100 grades of paper.
'We are passionate about it. We understand paper. If you cut my hand, you will see that I bleed paper,' he adds.
'And now my sons, as the younger generation, bring new thoughts and energy to the business. They have studied in the US and are taking a course from Harvard for business development strategies.'
Siddharth and Chirag Jain are getting acquainted with the new products and do not expect too many challenges in terms of marketing and buying.
MLJ had recruited over 100 employees for its operations on a global scale and is planning to hire 150-200 more. 'We are hiring experts in the field from all over the world across production, maintenance, marketing and sales,' highlights Siddharth Jain.
The production will begin in September 2021. The first trial runs of the new products will take place in July and will be launched after they are qualified. The company will then increase production and investment.
MLJ plans to set up subsidiaries for converting and a corporate office in Africa.
Vinay Jain forecasts that in the next three to four years, the company will convert 8,000 tons of paper monthly in different verticals of coating and converting. Approximately 3,000-4,000 tons of the total volumes will be dedicated to self-adhesive and silicone coating. In total, MLJ plans to set up 20-25 coating lines across different verticals including labels.
The manufacturer is looking to target Middle East, Africa and South America. 'I have a habit of working 10 years ahead of time. We are targeting these regions because they are growing economies,' Vinay Jain highlights.
Paper industry trends
Highlighting major trends in the paper industry, Vinay Jain says that the e-commerce segment will switch from plastic to paper. National Green Tribunal (NGT) has banned plastic 'which means paper will boom'.
Flipkart, India's homegrown e-commerce marketplace, has eliminated all single-use plastic packaging across its fulfillment centers in India, delivering on its public commitment to move to plastic-free packaging in its own supply chain by 2021.
The e-commerce giant has eliminated single-use plastic packaging by introducing alternatives such as paper shreds, replacing poly pouches with recycled paper bags, replacing bubble wraps with carton waste shredded material and two-ply roll to name a few.
Siddharth Jain adds: 'We also plan to include thermal labelstock for barcoding. Today everything is sold online, and thermal barcode labels are used in every shipment. We are working to supply thermal labelstock to large e-commerce companies.'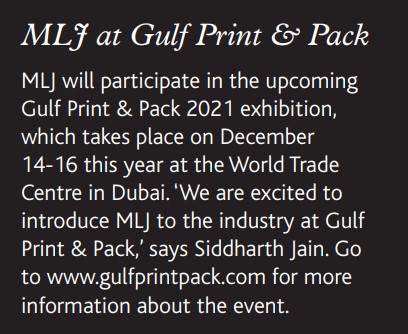 He adds that with the issue of counterfeiting rising in India, the demand for tamper-proof and anti-counterfeiting packaging will increase – which means more opportunities for labels.
And the rising concern of sustainability will further propel paper products. 'Everything is going to convert to paper. A leading e-commerce business is shifting from printed plastic tapes to paper tapes and MLM is one of their major suppliers.'
Chirag Jain comments that the self-adhesive label is the future. 'And now there's a talk of biodegradable label materials. We are also working on biodegradable coating lines and linerless labels.'
Vinay Jain concludes by saying that the world is changing rapidly. 'In the early 1990s, there was a revolution of globalization in India. Now, the revolution is AI and digitalization. There will be disruptions and whoever can adjust to it early will survive. Chirag and Siddharth are studying future market circumstances.'
Taking the example of how the pandemic has been tough on 'relatively safe businesses' such as hospitality, education and rental, he says that businessmen need to work keeping in mind the future. 'We work ten years ahead in time.'
Stay up to date
Subscribe to the free Label News newsletter and receive the latest content every week. We'll never share your email address.