Liner recycling: dispelling the myths
The paper industry has historically regarded siliconized substrate as a problem. The perception is that silicone cannot effectively be dispersed in the de-inking process, leaving defects in the material structure. This notion is part of a longstanding culture, yet at least one paper pulping company has found the material to be highly valuable, proving that PS label release liner can, in fact, be recycled.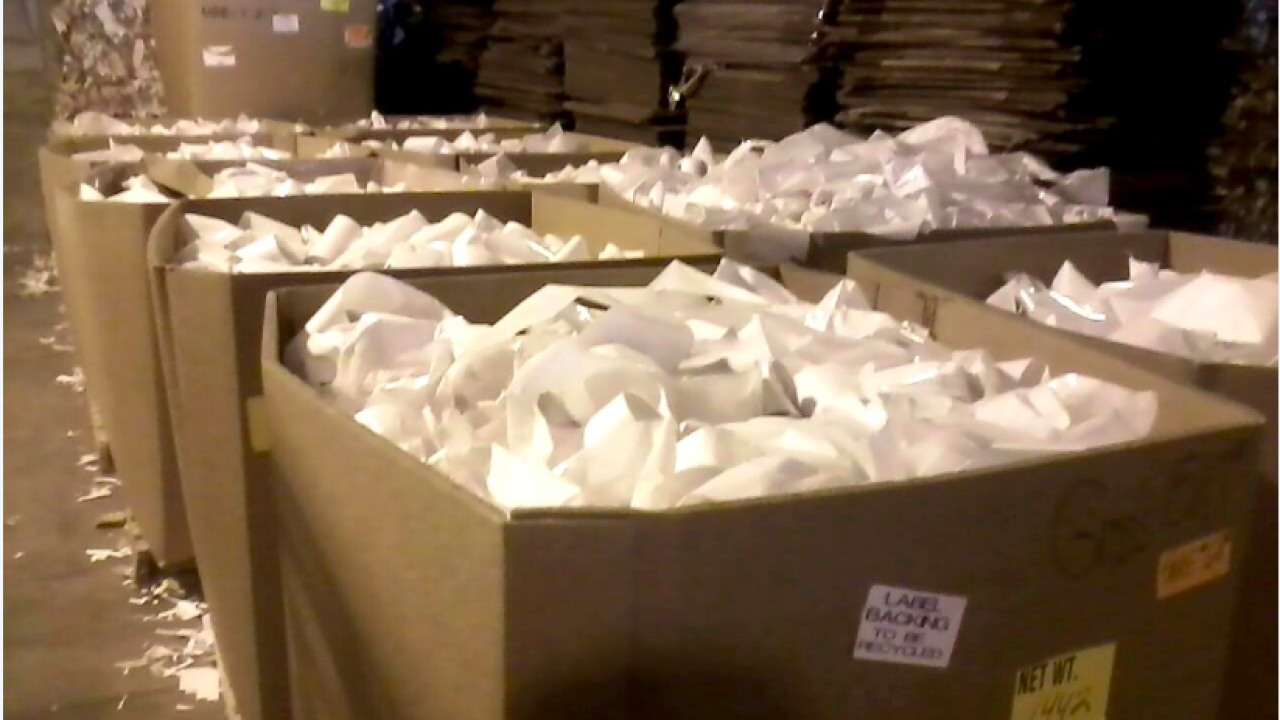 The Fox River Fiber Company, located in De Pere outside Green Bay, Wisconsin, collects and repulps paper release liner. Adam Kositzke, fiber procurement manager at Fox River Fiber, says: 'We love liner because the material is 100 percent cellulose; it's silicone on paper only. Years ago, we were in the same mold as other mills, communicating no and declining to accept residual liner because it would create fish eyes in the paper. 
'With the help of label industry leaders, we discovered we're able to remove the silicone coating with our existing mechanical equipment. We now view this capability as a differentiator.'
A number of years ago, Calvin Frost, chairman of Channeled Resources Group (CRG) based in the US, and Petri Tani, founder of Cycle4green in Finland, together approached Fox River Fiber wanting to make desilconized pulp (DSP) from 100 percent liner. And while the trials were unsuccessful in a 100 percent inclusion rate, the pulper collects release liner, using it as 20-30 percent of the value of post-consumer mixed paper and other office materials, effectively removing all of the silicone coating.
Collecting paper liner 
Fox River Fiber continues its relationship with CRG, purchasing 100-150 tons of bailed liner per month from the business, which accounts for approximately 30 percent of spent liner received monthly. It has educated and now collaborates with recycling collectors in Milwaukee, Chicago and northern Indiana, working to capture more suppliers to move it closer towards collecting up to 3,000 tons each month. 
Fox River Fiber has close relationships with many of the industry's suppliers that create the base sheet and facestocks for PS labels, collaborating to bring viable solutions to the value chain. 
Volume and distance continue to be challenges at this point. While the company receives calls from many small end users, the cost of getting the material collected can be more expensive than throwing the liner into landfill. 
Kositzke explains: 'The way we can make it work depends on what we're talking about, what format the material is in and what it costs to transport it to our facility. Each scenario is different.'
From liner to alternative fuel 
Convergen Energy is the rebranded business formerly known as Greenwood Fuels, a supplier of cleaner burning fuels (pellets) used as a substitute for traditional fuels such as coal or other solid fuel used in a boiler. The enterprise accepts printed packaging industry waste – such as paper and film release liner, matrix, unsupported and laminated flexible films – and converts it into pellets that meet the economic and environmental objectives of power plants and brand owners alike.
Since its onset, Convergen had been beholden to natural gas prices and extreme weather conditions, which can dramatically affect material intake volumes. This ebb and flow caused planning and capacity issues, creating many uncontrollable variables. The company needed to be able to control demand in-house. 
Therefore, in 2016 Convergen purchased a small power plant in upper Michigan, L'anse Warden Electric Company (LWEC), to close the loop on converting and generating energy. The power plant has different fuel sources and long-term contracts. The liner waste to energy pellet fuels are an additional usable resource to provide alternative energy to the grid. 
Explains Ted Hansen, CEO at Convergen Energy: 'The vertical integration is a huge step forward for us. In the past, we relied on fuel sales to customers that were out of the company's control. We changed the model by purchasing our own power plant, making us vertically integrated, and providing our business and customers with a continuous outlet for these otherwise landfilled materials.'
The fuel pellets are manufactured in Green Bay, Wisconsin, and are shipped direct to LWEC. 
Rising importance of zero waste
With the closed loop system, Convergen's pellet plant is currently at about 40 percent capacity, collecting, on average, 4,000 tons of raw materials each month. As sustainability continues to drive a certain amount of sales – with consumers rewarding environmentally conscious product suppliers with their hard earned dollars – Convergen is steadily increasing the amount of material brought into the pellet plant. 
'Our goal is to ramp this up and build plants in other parts of the country,' continues Hansen. 'It used to be that there wasn't a lot of drive to get the materials out of the landfill, but we are finding more and more that our suppliers' [end users] customers [consumers] are pushing them to be landfill-free and to demonstrate sustainability.'
Still, most participants are looking for cost savings compared to landfill, and an attractive means for facilitating the switch. The company is working with recyclers, providing certificates of destruction to show that the material is not going to landfill, and verification that the system will protect their brand's authenticity. The last thing a participating end user wants to see is their packaging material being used in a second-hand or counterfeit marketplace. 
Convergen is busy educating recyclers and waste haulers on its capabilities so when these companies provide a bid for a current or prospective customer's waste hauling and disposal, the waste-to-energy, landfill-avoidance solution can be included in the offer. 
'Every customer is different,' says Hansen. 'Some will do more to be landfill-free. Others understand that their landfill costs may decrease with the right volume and distance from our facility. Some want a more economical opportunity for their business. As an alternative energy company, we try to make it work for all of these parties in the most seamless way possible.'
Stay up to date
Subscribe to the free Label News newsletter and receive the latest content every week. We'll never share your email address.