LMAI announces award winners and orphan training program
The LMAI held its 2016 label awards ceremony during Labelexpo India - the first time the categories have matched those of the World Label Association, making all winners eligible for entry to the next WLA judging panel.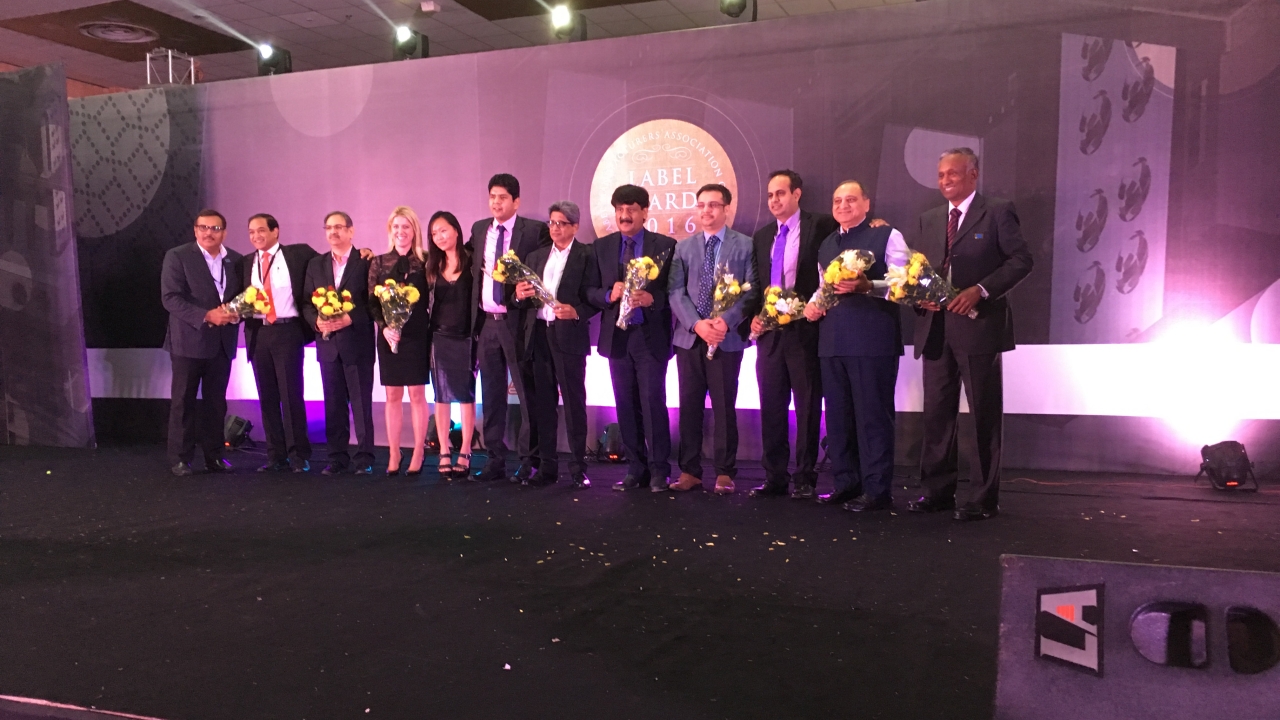 Speaking for the Labelexpo India organisers, Lisa Milburn, managing director Labelexpo Global Series, congratulated the winners and said 'I am pleased to announce that Labelexpo India 2016 has been the greatest gathering of our industry ever in India. And for the winners, don't forget, you are all automatically entered into the World Label Awards, so tonight is just the beginning of your journey towards international acclaim.'
At the event, LMAI president Sandeep Zaveri announced a ground-breaking initiative to take orphans from around India and train them as flexo press operators at Avery Dennison's Knowledge Center in Bangalore. 
'This idea is simple, but may become revolutionary,' said Zaveri. 'We visit numerous orphanages and institutions across the country and from there select 5,000 children (who are 18+), with the idea to guide them, train them and hopefully turn them into trained machine operators. This could be our small effort in giving back to the industry which has given us so much. And who knows, one of these kids could grow up to be the next big out of the box thinker.'
The LMAI worked closely with the Tata Institute of Social Science and the government-backed Learn and Improve initiative on the project, which is supported by Avery Dennison.
The first batch of around 20 children will attend the Avery Dennison Knowledge Center in Bangalore in December. 'The syllabus has been modelled by the LMAI team to ensure than all children will have hands-on machine time, training in professional etiquette and know-how to come a successful operator,' said Zaveri.
The label awards judges this year were Dr Rajendrakumar Anayath, Kiran P Prayagi and Rajiv Dhar, all of whom have long-standing involvement in education and training in the print industry.
Dr Anayath commented on the overall quality of the entries, 'An offset printer wrote, "with all the difficulties it matched the quality of digital" - could you imagine that before now? And another challenge was to find out the process. In previous years it was easy to tell what was flexo print, but with the latest plate making technology, it is not.' He welcomed the 'transparency and freedom' giving to the judges. 
The awards category sponsors were Omet, UPM Raflatac, Orthotec, Iwasaki, Nilpeter and Avery Dennison, and the winners were as follows:
Flexo Line, Webtech; Flexo Line & Screen Tone, Mudrika Labels; Flexo Color Process, Kwality Offset Printers; Flexo Wine & Spirit, joint winners Kumar Labels/Ajanta Packaging; Letterpress Line, Webtech Labels; Letterpress Line & Screen, Webtech Labels; Letterpress color process, Sicon Packs; Letterpress Wine and Spirits, Kumar Labels; Offset Line, Update Prints; Offset Line & Screen Tone, Update Prints; Offset Color Process, Seljegat Printers; Offset Wine & Spirits, Update Prints; Combination Line, Universal Print Systems; Combination Line and Screen Tone, Kumar Labels; Combination Printing Color: joint winners Any Graphics/Kumar Labels; Combination Wine & Spirits, Pragati Pack/RP; Digital Printing, Any Graphics; Digital Printing Wine & Spirits, Pragati Pack; Screen Printing, Wine & Spirits, Any Graphics; Rotogravure, Mudrika Labels; Booklets & Coupons, joint winners LetraGraphix and Unick Fix-A-Form.
The Innovation Award went to Mudrika Labels  and the special Jury Award to Any Graphics.
Speaking as the gold sponsor of the awards, Anil Sharma, VP/GM South Asia Pacific and Sub Saharan Africa, Avery Dennison, explained that the three main drivers of growth in India are: the need for 'powerful and engaging brand activation' between brands and consumers; rising consumer and government concerns about counterfeiting; and growing legislation across the world, including developing nations, for sustainability. 'At the same time India's low per capita consumption of pressure-sensitive labels gives us a long haul opportunity for us all to see and exploit. 
Sharma spoke of Avery Dennison' co-operation with LMAI around sustainability in particular. 'We need to make the industry sustainable and a key part of that is human development. I like the vision the LMAI is coming up with.'
Concluding, Sandeep Zaveri announced the next LMAI congress in July 2017 at Agra and said there would be a major series of workshops and seminars across India.
Stay up to date
Subscribe to the free Label News newsletter and receive the latest content every week. We'll never share your email address.