US label industry emerges as 'helpers'
Fred Rogers, the beloved host of American children's show TV 'Mister Rogers' Neighborhood', has a now-famous quote for soothing children frightened by world events.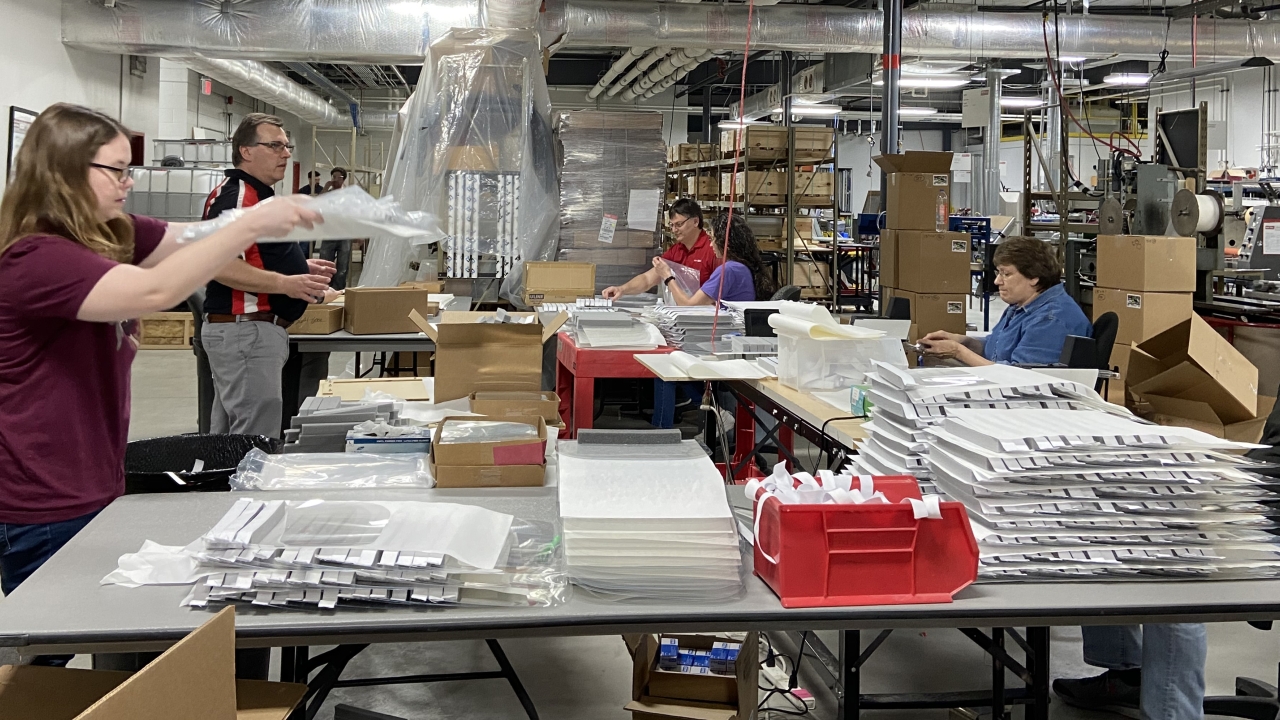 'When I was a boy and I would see scary things in the news,' Rogers told his neighbors, 'my mother would say to me, "Look for the helpers. You will always find people who are helping."'
Rogers' quote resonates today as the printing community emerges as 'helpers' as the deadly coronavirus grinds much of the world to a halt. 
At capacity
In the US, label converters are mobilizing to deliver printed products that are in high demand during the Covid-19 health crisis. Hammer Packaging, the New York-based label converter, reported a new production milestone. 
'Not one thousand. Not one million. We shipped one billion labels in the last two weeks,' Hammer Packaging revealed on LinkedIn. 'That's almost one billion products ready to replenish the shelves. Sanitizer labels, food labels, cleaning product labels, we're firing on all press cylinders to make sure customers can keep products on the shelves.'
Nosco of Gurnee, Illinois, supplies folding cartons, labels and flexible packaging focused heavily on pharmaceutical and healthcare, is using multiple HP Indigo digital label presses 24/7 to produce packaging testing kits, drug products, syringes for hospitals, face masks, and hand sanitizer. The company says millions of labels have already been produced and production will continue to support the needs of the pharma and healthcare market.
Likewise, Custom Label of California is a supplier with designated 'essential business' status producing products for healthcare, food and more. As a result of a spike in orders, HP has shipped emergency ink supplies the same day to the site to ensure no disruption in production. 
'One of the largest increases in incremental volume is for packaging for ready-to-eat food due to the shift from dining out to making food at home,' said Lars Ho-Tseung, president and CEO of Custom Label. 'Volume is also increasing for labels and packaging for over-the-counter drug products for flu symptoms.'
Some industry experts believe much of the increased production was driven by consumers panic-shopping in the early days of the crisis, and many label converters don't expect the boom to last.
But as the orders are coming in, label converters across the US are working with limited staff, adhering to health regulations from the Centers for Disease Prevention and Control and applying for government assistance in the form of loans, grants and credits that are offered to small businesses.
Many US label converters are muddling through remote work scenarios and doing everything to limit interaction between the essential workers still reporting for work. Some companies have added a voluntary third shift to reduce contact between employees, while other are implementing 7.5 hour workdays (and paying for eight hours) to avoid interaction at shift change over.
PPE
While many converting companies are working around the clock churning out labels for critical products, other are retooling production lines to support healthcare, first responders and other front-line workers with critical personal protection equipment (PPE).
Michigan-based MacArthur Corp, a label supplier to the automotive industry, is working on several fronts to support the fight against Covid-19.
The company is working with General Motors and medical device supplier Ventec Life Systems on the ramp-up of ventilator production in Kokomo, Indiana. MacArthur is manufacturing several labels for this project and has been working around the clock since mid-March on urgent part launches and production needs. 
Additionally, engineers at MacArthur have prototyped three designs for disposable face shields using more commonly available material stock, as traditional medical material supply chains have become more scarce. The company is providing face shields to its employees and identifying other front-line workers in its community to distribute further.
'We have a great team of employees and suppliers that have jumped through hoops to support an accelerated timeline to get these complex devices to those in need,' said MacArthur CEO Christie Wong Barrett. 'To rapidly design, manufacture and launch products when there is no time for mistakes, we needed to coordinate across a strong set of supplier partners to ensure everything was done right the first time. We are fortunate to have a great group of supplier partners involved in this project providing their technical expertise, delivery capabilities, and the agility to escalate focus on this life-saving initiative.'
Mason City, Iowa-based Metalcraft shifted its focus from RFID tags and barcode labels to PPE, using a 3D printer to produce headbands and face shields for the medical community.
'We have a 3D printer that can do about 10 halo portions of that shield a day. We're looking at giving those away and donating those,' said Kyle Bermel, COO at Metalcraft.  'We wanted to get involved to help out our local hospitals. We live in north Iowa and that isn't a huge city. We wanted to make sure that the people around us were protected.'
The project started with face shields supplied to its local hospital, but  Metalcraft has already been receiving requests from hospitals and individual emergency workers and other agencies throughout Iowa.
Similarly, Duggal Visual Solutions, a New York City-based provider of commercial print and labels, has retooled its production facility to produce face shields for medical staff and first responders in New York City, which has emerged as the epicenter of the Covid-19 crisis in the US. 
'Over the past week, we assembled a task force to address the shortage in health care safety equipment and immediately saw we could quickly produce face shields,' said Marc Lovci, vice president at Duggal. 'Over 150 volunteers are coming to work to make this life-saving equipment, producing 120,000 units in the first week, with a total order of 360,000 units.'
Suppliers are also getting involved. Wausau Coated is helping to produce face shields and skin-contact thermometer labels. 
Wausau Coated is creating material for new face shields and sending it to a national converter to complete and assemble the masks. The shields will go to medical workers or other front-line workers, said Jim Sheibley, executive VP of sales and marketing.
Wausau Coated has also hand-assembled more than 1,200 shields for their regional health and safety professionals.
The company is also manufacturing materials for labels that get printed with thermochromatic ink. The skin-contact friendly material will be to be used for single-use fever indication labels that change color when a person's body temperature is above normal. 
'There are lots of people around the country that are moving on this,' Sheibley told his local newspaper. 'There is plenty of good being done and lots of creative ideas for helping people stay safe and healthy.'
Sanitizer labels
Across the country, many distilleries are pivoting to make alcohol-based hand sanitizer that's in short supply. Many label companies have donated the labels or printed them at cost to these projects, including Sticker Giant in Longmont, Colorado, Steinhauser in Newport, Kentucky, and Sheetlabels.com in Queensbury, New York. 
'We have printed more of sanitizer labels than I could ever imagine in the last couple of weeks, and most are for distillers and brewers that have converted their business over,' Sheetlabels.com president Adam Gray said. 'These local distilleries were impacted significantly, and this is one way they were able to stay in business while also helping the community. We had a lot of local community support behind the projects.'
Steinhauser partnered with Eureka! Ranch and Brain Brew, who were making hand sanitizer to give to those who need it most. Steinhauser printed 10,000 labels for the project. 
Tara Halpin, Steinhauser CEO, said: 'Their CEO was so touched that he gave us a shout out on the local radio station and some of my team heard it – just so cool. They were very grateful for everyone who helped them make their project possible. That is what it is all about!'
Steinhauser is keeping its employees motivated with weekly lunches for staff, donuts and even a family dinner for each of the team using restaurants in the City of Newport in support of its local community. Halpin's mother-in-law even made masks for the team and for an employee's family veterinary office. 
'Everyone is pitching to help those who need it,' Halpin said. 'I feel so blessed to be able to operate my business with no layoffs and I want to be able to do whatever we can to help our team, their families, our customers and our community.'
StickerGiant has also seen local beverage companies pivot to manufacturing hand sanitizers and donated custom labels for their production. 
'We have seen our business portfolio drastically change in the response to this pandemic,' said Jesse Frietas, marketing director at Sticker Giant. 'The stories we are telling with our custom stickers and labels are all in response to businesses whose goal is to keep the world running while people remain apart.'
Stay up to date
Subscribe to the free Label News newsletter and receive the latest content every week. We'll never share your email address.