LMAI hosts third brand owner meet
LMAI hosted an interaction between printers, suppliers and brand owners in New Delhi. A well-attended evening, it followed the theme of Future-Next; Brand Owners' Perspective of Label.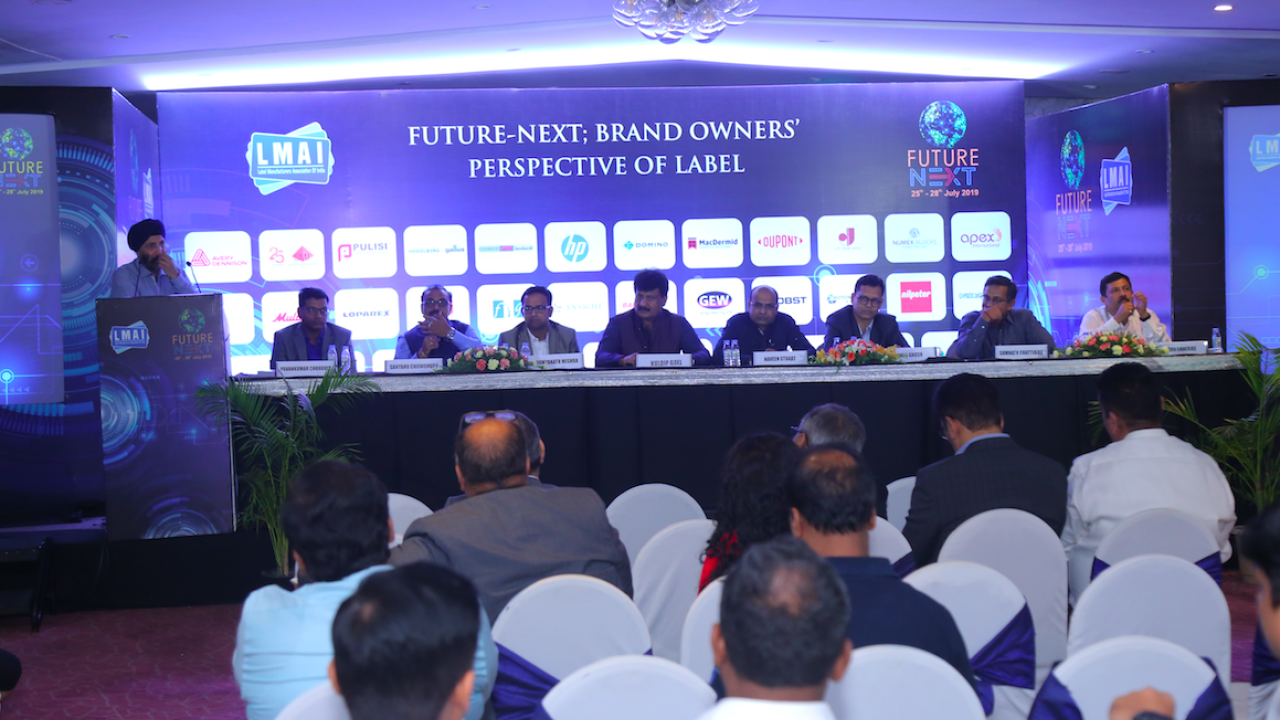 The event was curated by Harveer Sahni, chairman at Weldon Celloplast. LMAI president, Kuldip Goel welcomed the label industry and seven prominent brands who discussed the future of labels and their expectations from the Indian label printers. Anti-counterfeiting and sustainability set the tone of the evening.
In his presentation, Pavankumar Chougule, associate director, packaging development, Dr. Reddy's Laboratories, said that pharmaceutical industry expected printers to comply with government regulations and patient safety by focusing on smart packaging, supply chain and data security. 'India is supplying medicines to all major pharmaceutical markets around the world so printers need to understand the requirements of both domestic as well overseas markets,' he said.
Naveen Stuart, packaging development manager, Reckitt Benckiser discussed consumer trends and brand expectations. 'There is a generational, cultural and demographic shift happening and it is moving very fast. New generation is moving towards a digital world and taking a balanced approach. Therefore, the best thing is customization when developing a product. Therefore, we need technology that can customize labels in a short turnaround time. Secondly, we need to look beyond just the look of labels and engage customers with a brand story which is essential for consumer connection.'
The third important aspect is anti-counterfeiting. 'Product authentication is critical to growth. Therefore, we want consumers to see the product and know whether it is genuine or not. Sustainability and e-commerce remain important to business growth as well but the cost has to be optimized,' said Stuart.  
Tamal Ghosh, strategic packaging development leader, corporate packaging development, Dabur India discussed trends in the FMCG industry. 'In-mold labeling is becoming a popular technology for the advantages it offers such as expanded graphics while maintaining high quality printing and no wastage of liner.' The challenge, however, is that the company would like to use PET in-mold label on a PET bottle, similar to HDPE label on HDPE bottle for easy recycling. 'We prefer using same material and thinner substrates without compromising on print and performance quality in the FMCG industry. We are also looking at making a linerless label from a sustainability point of view,' he said.
Somnath Chatterjee, general manager procurement, Pernord Ricard, thanked the label industry for being their business partner and helping them grow. Addressing challenges, he said, 'Packaging is going through a lot of tweaks. Consumer wants products that are value preserving with age-appropriate and operational packaging to suit new lifestyles. We have challenges in liquor industry such as improvement of productivity in with higher speed, on faster lines, with lesser waste, and we need lower changeover time. Therefore, we need printers to work in this direction. Legal compliance, sustainability and counterfeiting are serious issues for liquor.' Pernord Ricard uses polycarbonate caps which are uniquely coded so if a compliance issue happens, the company can immediately track it.
Santanu Chowdhary, senior general manager, global packaging development, Sun Pharmaceutical, discussed about a new anti-counterfeiting technology, steganography, where alphanumeric code gets embedded in a label without any change in the image. All the data gets stored in the cloud. 'The end-user will not only authenticate medicine but also give you reminders and store all your data in cloud,' he says. 'Digitization helps connect brands and customers which delights a brand owner, and it is possible through this technology.'
Presentations were followed by a panel discussion.
Read a detailed report in Labels & Labeling, issue 4. 
Stay up to date
Subscribe to the free Label News newsletter and receive the latest content every week. We'll never share your email address.