Comexi introduces laminator optimized for use with HP Indigo 20000 digital press
Comexi Group has introduced the Nexus L20000, a water-based laminating machine specially designed to complement the HP Indigo 20000 digital press, to a group of 75 representatives from companies belonging to the flexible packaging and labeling sector from 15 countries.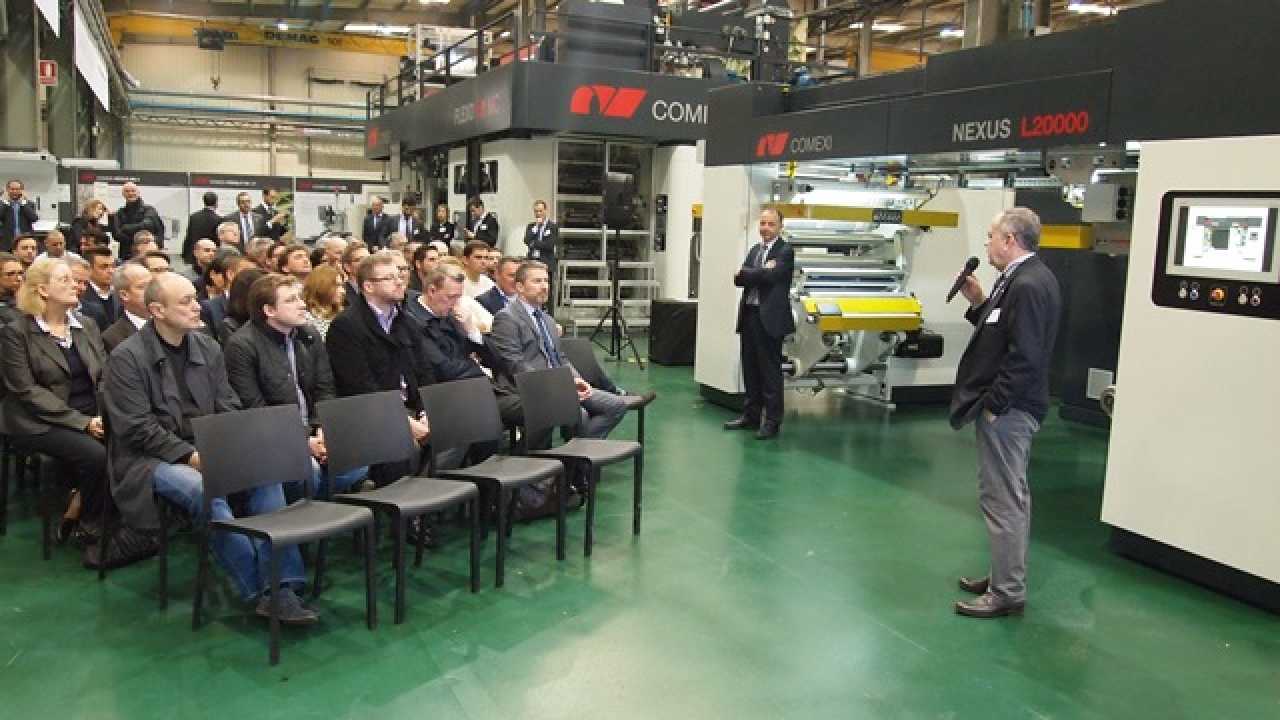 The system, announced last year, has been developed to satisfy the demands on short runs and fast time to market for flexible packaging applications.
The Nexus L20000 is a compact machine that uses water-based adhesives, instead of solvent-based or solventless, with a future option for in-line configuration with the HP Indigo 20000.
In addition, the system also has an automatic cleaning system which allows full wash-out and adhesive re-filling in 10 minutes.
Comexi said the need to reduce the products' lifecycle, and the boom in personalized and mass customized packaging as a marketing tool are two factors that have caused an increase in short term projects, which demand a faster delivery time.
The Comexi Nexus L20000 makes it possible to deliver a package in less than 24 hours, thanks to the fast, intuitive machine set-up, and the fast curing of the water-based adhesives. This implies a 60 percent time reduction with respect to conventional solvent-based and solventless technologies that might require a 2-14-day set-up.
'Joining the HP Indigo 20000 digital press and the Comexi Nexus L20000 laminating machine, as the result of a strategic agreement, is a qualitative leap for those flexible packaging converters who want to satisfy client demands and promote their business,' said Miquel Salvà, corporate business development director at Comexi.
The presentation of the Comexi Nexus L20000 took place at the Manel Xifra Boada Technological Centre located at Comexi Group's headquarters in Girona, Catalonia, Spain.
The event at Comexi's facilities also gave attendees the opportunity to see first-hand the HP Indigo 20000 press at the nearby HP demonstration center. Further, BASF, one of the partners involved in developing water-based adhesives, spoke of new opportunities for innovative water-based adhesives in flexible packaging, with Dr Christoph Kiener, product manager at BASF, detailing the multiple advantages and benefits of water-based adhesives available on the market for different applications.
Comexi will officially launch the Nexus L20000 on the HP Indigo stand at Labelexpo Europe 2015, which takes place September 29 to October 2 in Brussels, Belgium. 
Stay up to date
Subscribe to the free Label News newsletter and receive the latest content every week. We'll never share your email address.