UFlex wins 12 awards at SIES SOP Star Awards 2020
Uflex has won 12 awards at SIES SOP Star Awards 2020, a platform that recognises the Indian packaging sector for its efforts in the industry ranging from primary and ancillary packages to the machinery and equipment.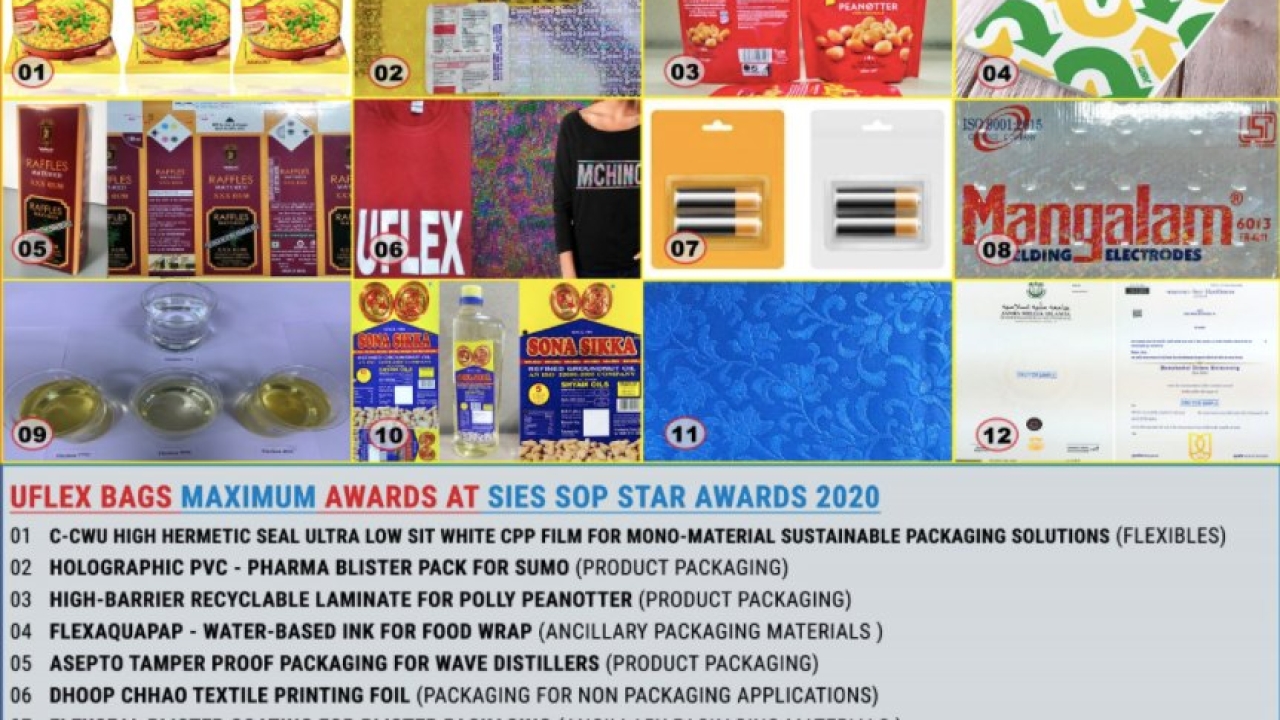 UFlex's Holography business led the pack with five awards, Chemicals won three awards whereas its other businesses of Asepto (Aseptic Liquid Packaging), Flexible Packaging, Packaging Films and Cylinders bagged an award each. The awards were concluded with 130 different participants who nominated their innovations.
Company's chairman and managing director, Ashok Chaturvedi said, 'We are extremely proud to win these awards and are thankful to SIES for providing a platform to recognize our innovative and creative concepts and developments not only in flexible packaging pouches but also other products that we offer across the gamut of packaging. Winning an award in almost all our verticals demonstrates the strength and talent each business possesses and further bolsters our position as a fully vertically integrated company. As a responsible corporate, we have pledged to develop and work with technology that helps us save the environment and build our bottom lines at the same time.'
Holography business won the first award for registered lens technology with holographic labels for Sona Sikka FMCG company. The second was under Product Packaging category for holographic PVC for pharma blister packaging for Alkem. The third award, also won under Product Packaging category, was bagged for transparent UV HRI holographic film for carton packaging. Dhoop Chhao textile printing foil with specialized environmentally friendly foil coating won the fourth award under Packaging for Non-packaging Applications category. And lastly, printing security documents for education sector won the fifth award under Packaging in Academics category. 
The Chemicals business at Uflex won three awards under Ancillary Packaging Materials category. The first was for innovative solvent-free polyurethane adhesive with 3OH component for packaging. The second award was bagged for Flexaqapap water-based ink for food wrap. Flexaquapap is suitable for printing on non-absorbent substrates like butter paper, grease-proof papers on which printing is difficult. The third was won for Flexseal blister coating for blister packaging. Here, solvent-based coatings are being used with offline applications that are being replaced with water-based PUDs that are eco-friendly, fire safe with all enhanced sealable properties. 
Cylinders business won an award for flower design by hand embossing effect under Packaging for non-packaging applications. 
Flexible Packaging business bagged an award for recyclable laminate for polly peanotter under Product Packaging category. This high-barrier recyclable laminate combines the benefits of each monolayer in terms of enhanced barrier properties, mechanical integrity, and functional properties that help retain freshness of the packed product. It can be recycled in existing plastic recycling streams and roll stocks convert into stand up DOY packs with bottom fold and zipper. 
Packaging Films business won an award, under Flexible category, for C-CWU high hermetic seal ultra low sit white CPP film for mono-material sustainable packaging solutions. C-CWU acts as a sealing layer in combination with high heat resistance along with outstanding oxygen barrier printable BOPP film that offers mono-material packaging solutions with 100% percent recyclability.  The film is a big push in view of sustainable, cost-efficient with improved functionality mono-materials solution for flexible packaging. 
Aseptic liquid packaging (Asepto) business won an award, under Product Packaging category, for Asepto tamper proof packaging for the company Wave Distillers. 
Stay up to date
Subscribe to the free Label News newsletter and receive the latest content every week. We'll never share your email address.