Inkjet matches flexo quality and speed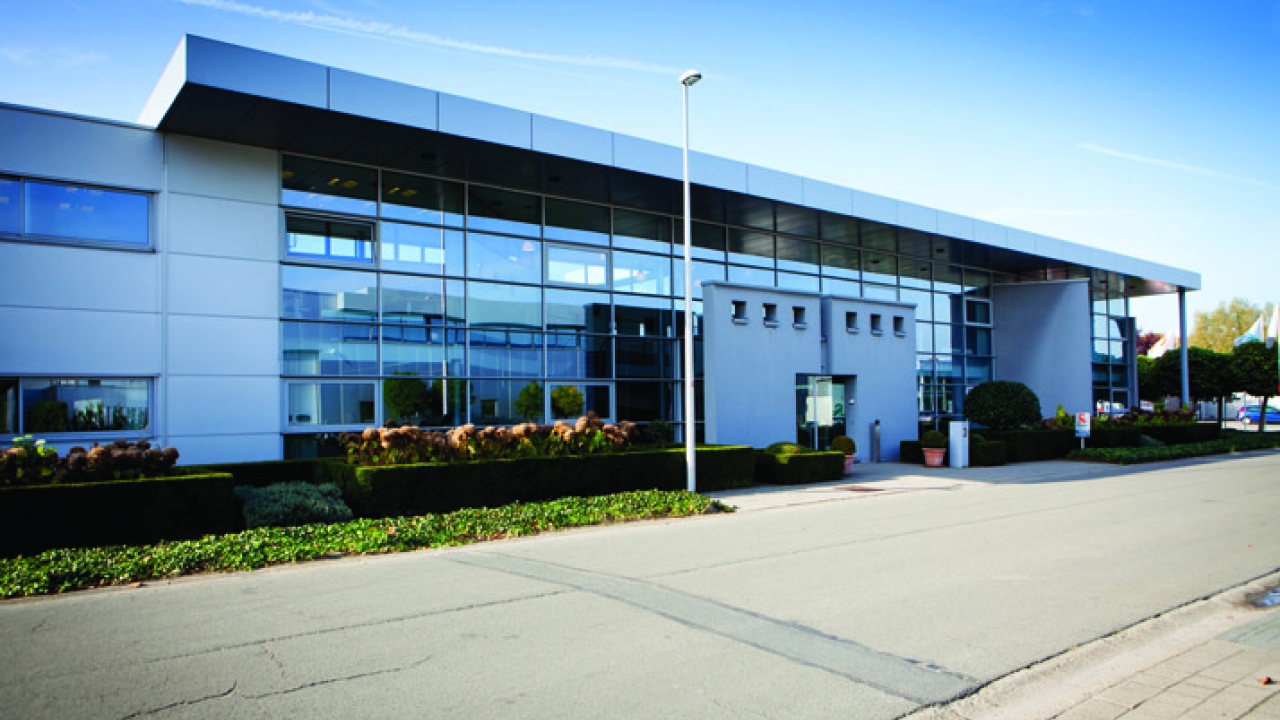 Mike Fairley visits Reynders Label Printing, headquatered in Boechout, Belgium, to see the impressive output now being achieved on the industry's first Domino N600i inkjet label press
Digital printing has grown rapidly in recent years and more and more converters have installed one, two, or more, digital presses from the leading electrophotographic or inkjet press manufacturers to complement their conventional printing technologies. Few however, can claim to have extensive experience of all the main digital printing technologies, or to have established a complete separate digital printing factory, let alone be at the forefront of digital development in working with one of the newest digital presses to come to the market.
It is therefore something of a revelation to visit Reynders Label Printing, Belgium, and experience seeing a digital press hall with a range of Xeikon, HP Indigo and Agfa Dotrix machines, as well as the very first installation of a Domino N600i inkjet press, all working together in one factory site.
From its humble beginnings over half a century ago, when Mr Emile Reynders founded the company in 1956 printing stationery in the family home, the company has expanded to become one of the leading label specialists in Europe and can rightfully claim to be one of the European pioneers and leaders in digital label printing – perhaps a world leader in their understanding of the various digital technologies, and in their experience of working with Domino to achieve the impressive inkjet printing output now being attained.
Headquartered in Boechout, Belgium, with six specialized printing divisions and eight production facilities spread throughout West and Eastern Europe and Asia, Reynders Label Printing certainly prides itself in its commitment to delivering the very best in design and label printing in which innovation, quality and customer service are of paramount importance. 
Today, Reynders, which remains a family-run business, has over 60 printing presses and more than 450 printing stations covering flexography, offset, letterpress, screen, dry toner, wet toner and ink jet printing technologies, enabling the company to offer one of the broadest ranges of label printing equipment for a host of applications. It has been this focus on maintaining its leading position through investment in the very latest label printing equipment that led to the installation of a Domino N600i digital colour label press at its Belgium production facility earlier this year.
Chief executive officer Marc Reynders told Labels & Labeling, 'Over the past few years, label printing has been facing new challenges with customers demanding ever tighter delivery deadlines, shorter average run lengths, more personalized data; but still the highest quality of end product.  As a result, we needed to find solutions that can not only cope with these changing demands, but that also means adjusting our service offering for our customers.  It ultimately helps us to move our business forward in line with the changing dynamics of the industry.
'When we first saw an early technology demonstration of the N600i at Ipex 2010, our production team were immediately impressed.  For a digital printing press, it looked to offer much higher levels of productivity than we had seen before. This was combined with an improved print quality for inkjet.
'We already had a number of HP Indigos, the latest Xeikon technologies and three Agfa Dotrix digital inkjet label presses all of which were doing a good job,' explained Marc, 'But to take Reynders to the next level in digital label production we needed a solution that could offer high quality digital printing at significantly increased speeds. 
'When Agfa decided to stop production of their Dotrix machines we faced the challenge of finding a new digital inkjet press partner. It looks as if we have now found that new partner in Domino. The N600i has proved to be just what we were looking for.'
The press offers a native 600dpi print resolution and uses one of the smallest drop sizes (six pl) to deliver the highest quality output onto a range of coated paper and plastic label stocks, and operates at speeds of 50-75 meters per minute. Combined with a standard 333mm (13") wide web width it provides up to 1,500m sq of print per hour.  In addition, by varying the droplet sizes delivered from a single print head combined with the composition of the ink, the N600i can reproduce a wide colour gamut including over 80 percent of the Pantone color range.
With this being the first installation of an N600i as you would expect it didn't go without its challenges, but both the Reynders and Domino teams worked together to ensure any issues were addressed and the installation met all requirements. 'It's fair to say that with any beta site, installation can take longer than usual, but we are delighted with the outcome,' confirmed Marc. 'We always had complete confidence in Domino throughout the process.  They listened to our requirements, were extremely helpful in exploring ways to overcome any issues and conducted the installation with the utmost professionalism.'
Within a short time, the operations team had the N600i running at production speeds of 50 meters per minute, a significantly higher rate than the company's existing digital technologies, and were using the press for new mid-volume applications of up to 3,000 meters, well above the 1,000 meters limit they typically would schedule on digital machines. 
The increased speed of throughput brought additional challenges for the operators, as it meant they could no longer manually check for rejects and quality of output, as was the procedure for the company's slower running digital press solutions.  As a result, Reynders installed an AVT automated vision system onto the N600i line that could cope with verification of output at such high speeds, reducing operator intervention and adding further to production efficiencies.
Reynders' pre-press and digital production manager André Vandepitte explained that the Domino press technology fitted in well. 'We already worked with the Esko workflow and this together with the intuitive user interface made working with the N600i so much more straightforward. With so many label press technologies installed across the Reynders multiple sites, the fact that Domino had integrated the Esko front end into its N600i undoubtedly added to its appeal to Reynders and it certainly assisted with its integration.
'The press installation and set-up to full running capability was also quicker than we anticipated,' added Andre. 'And that's based on our previous experiences with other digital press installations. I would say that we have been more than pleased with the work that Domino has put in to bring us up to the production quality and output speeds that we are consistently and reliably producing.
'To date, we have been running the Domino N600i on a single shift. This is now moving to two shifts as we find more and more work that meets the presses impressive production capabilities. We are also working with the Domino team to develop new inks and in the installation shortly of a GM in-line die-cutting and finishing line. This will enable us to run reel-to-reel, or reel-to-finishing, undertake varnishing and to print larger rolls and take on even longer-run jobs.'
Some 10 months on from installation, Marc comments on the N600i technology: 'Although it is still early days, we are extremely impressed with the capabilities of the N600i.' He is already looking to exploit the potential it can offer in terms of longer term new business opportunities. 'The press has certainly lived up to our expectations of high resolution, high quality output at significantly higher operational speeds. The operation has been reliable and we are able to run much longer production jobs than we would normally print with digital technology, in this respect it is more targeted at replacing what we would normally run on flexo machines.
'We still have a requirement for an enhanced white ink. However, we are already in discussions with Domino regarding its latest white ink developments and I'm hopeful that we will have the white ink quality and performance we require in the near future. This will enable us to target new opportunities and markets for the press.
 'Having said that, if the N600i continues to perform to our expectations and we can achieve all our ongoing business goals, we will certainly be considering further investment in this technology in the future,' concludes Marc.
Watch a video of the Domino N600i digital label press installed at Reynders Label Printing on Label TV
Pictured: Reynders' Boechout production plant
This article was published in Labels & Labeling issue 6, 2012
Stay up to date
Subscribe to the free Label News newsletter and receive the latest content every week. We'll never share your email address.