Labelexpo Europe 2011 review: Digital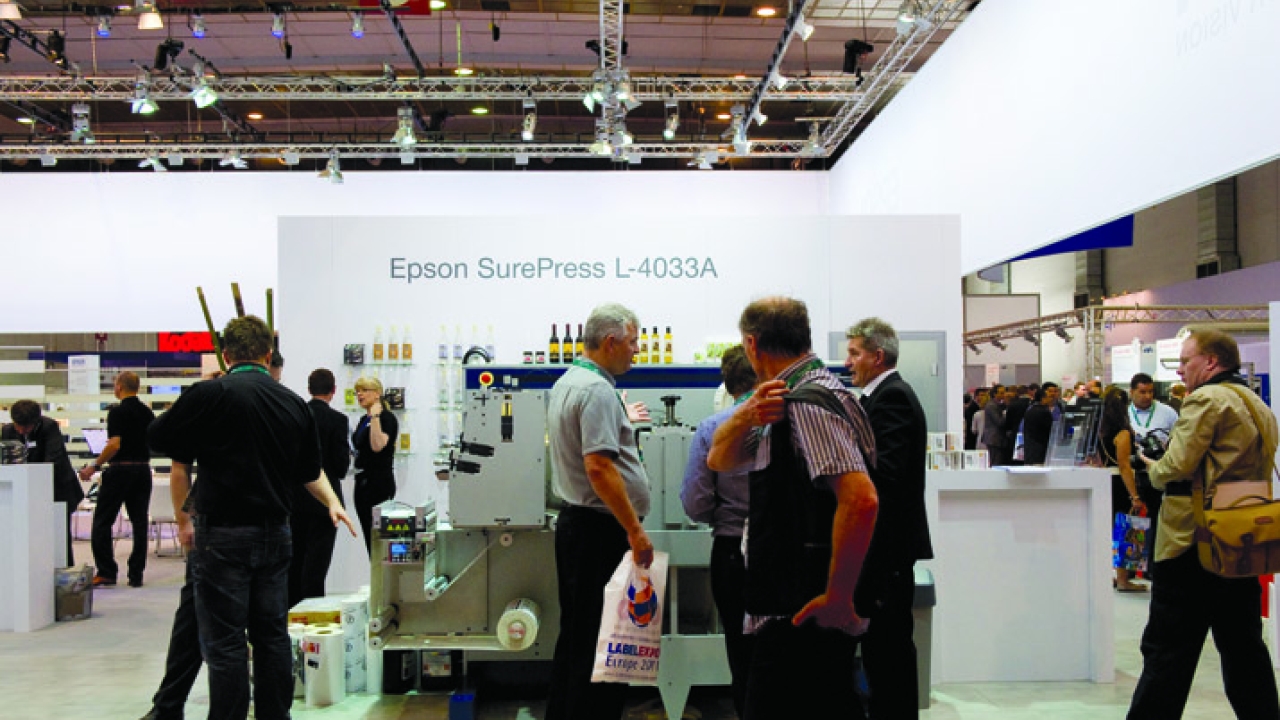 Barry Hunt examines some of the key developments in digital printing on show at Labelexpo Europe 2011
The constant buzz that surrounded the digital technology hall, plus the busy series of Digital Print Workshops, proved beyond doubt that digital printing has stepped up a gear. Building upon their various characteristics, the different digital technologies have become more widely spread beyond just being short-run processes with some added versioning. Market demands have taken digital printing further into the packaging arena, while it has carved out niche applications in such disparate segments as pharmaceuticals, health care, wines and spirits, and security printing.
For many converters, digital printing will continue to complement conventional methods. However, it appears to be at a stage whereby head-to-head confrontation with the lower end of flexo is set to increase, despite flexo's fight back. This was made clear at the launch of the seven-color WS6600 press. HP Indigo confidently expects it will extend the economic break-even point between digital and flexo. That means a narrower gap with mid-level flexo could allow users to improve their margins over conventional methods when handling print jobs of 50,000 labels or more.
The new model is derived from the established WS6000 with its wide color gamut and can print at 40 m/min for full-color products including Pantone spot colors. It has an enhanced capability to produce film-based packaging, including wraparound/shrink sleeves. A new in-line priming unit allows the use of standard, untreated paper substrates. HP also launched the WS4600 as an entry-level version derived from the popular WS4500. It also includes HP's Enhanced Productivity Mode, which in this case gives effective press speed of over 21 m/min.
Xeikon featured its flagship 3500 press, with a wider-than-normal width of 500mm and top speed of19.2m/min. This is not affected by label lengths or number of colors (up to five). It ran with the new DCoat500 finishing line. Narrower version serve other 3000 Series models in either in-line or off-line mode to offer UV varnishing, lamination, rotary or semi-rotary die cutting, as well as slitting/rewinding. The firm's latest VOC-free QA-1 dry toners offer single-pass white and can print on 'difficult' PE film. Xeikon's new two-step heat transfer process offers an alternative to direct printing or in-mold labeling for decorating containers, flexible seamless tubes, aluminum closures and similar articles. The process feeds rolls of printed labels into a dedicated Moss-built applicator with a turret mechanism for application by heat and/or pressure. Also new was VariLane plug-in for the X-800 Digital Front End allowing the creation of flexible imposition schemes for end-users' product variants to optimize print time, materials used and also gain improved productivity.
The bulk of digital vendors offered single-pass inkjet presses. They varied from larger industrial-level types aimed at flexo printers, to the more basic bench-top models for an entry level into short run color printing for converters and in-house use. Backing them are the OEM suppliers of drop-on-demand CMYK printheads, principally Xaar, Kyocera, Memjet, Epson, Iwatsu and Konica/Minolta. Some printheads achieve single-pass printing at speeds of 50 m/min or higher, depending on resolutions and grayscale levels.
EFI Jetrion unveiled its Jetrion 4900 UV inkjet press. It prints CMYK plus opaque White using Xaar 1001 grayscale printheads and the company's own inks. Like the established 4830 model it takes webs up to 228mm (nine inches), but the full resolution speed is slower at 24 m/min (80 ft/min) compared with 37 m/min (120 ft/min). This reflects Jetrion's end-to-end approach: buy the 4900 package and you get dual laser cutters, a festoon system, web slitting and automatic turret rewinding. It is supported by EFI's Fiery XF RIP within a front-end workflow that can include Radius MIS. Incidentally, the OEM laser cutters are made in Italy by SEI Laser Converting, which showed its own Label Master web-fed finishing line for packaging and labels. Again, EFI has flexo printers in its sights by offering short-run capability with versioning and flexo-like quality, but with lower set-up costs and no expensive plate or die costs.
The Tau 150-8C UV inkjet label press from Durst Phototechnik is an eight-color version (CMYK, plus White, Orange and Violet) of the original Tau 150. It prints at up to 48 m/min (157 ft/min) and offers optional digital spot varnishing with different gloss levels. More ambitious UV-cured varnishing for applying different gloss levels, including textured and tactile effects, is achieved on the stand-alone DIVA digital varnishing module. It is also fully integrated with the 330mm wide Rotoworx 330 off-line finishing module with semi-rotary die cutting of all short-run labels. Durst also offers the high speed Tau 150 VDP option with insetter functionality to print on pre-die cut or preprinted labels to give label-to-label variability on a Tau press.
Domino Printing Sciences also pitches the N600i inkjet press at flexo printers. It operates reel-to-reel or in-line with a digital finishing station using a dancer roller web infeed. The 333-mm wide (13 inches) press uses Kyocera KJ4 piezo printheads to print paper or filmic labelstocks up to 50 m/min (164 ft/min) with four grayscale levels or 75 m/min (246 ft/min) with three grayscale levels. Although a CMYK press, its modular design allows for the addition of White and other colors as they become available. The N600i is driven by an EskoArtwork RIP and color management front-end.
Nilpeter showed its hybrid approach in a 340mm-wide (13.5 inches) press line comprising the Caslon CMYK inkjet module and three conventional FA-3 flexo towers to apply UV-cured varnishes, solid colors, and/or white opaque inks for filmic labels. Rotary die cutting and other converting processes for labels and packaging are also present in the line. The Caslon module uses Xaar's 1001 grayscale printheads for variable data printing on the fly, or printing single copies of full-color labels. It prints from up to 50.7 m/min at 180 x 360 dpi to 12.6 m/min at 720 x 360 dpi resolution. Caslon modules can also run as a stand-alone unit equipped with unwind/rewind units. Agfa promoted the Dotrix Modular industrial inkjet press, located adjacent to the Package Printing Zone. Configurations of the platform-based press can include in-line varnishing, slitting, die cutting and sheeting modules. The Dotrix uses the single-pass SPICE print engine with integral UV curing units for printing over 1,200 sq/meters per hour at full speed on substrates ranging from 25-micron foils to 450gsm board.
Another industrial-strength model is Stork Prints' DSI, shown combined with its Rotary Screen Integration (RSI) technology. Printing at up to 720 sq/m hour it delivers resolutions of up to 1,000dpi, as well as 3D effects that resemble screen printing. The modular DSI prints on various film and paper substrates. In standard mode it has CMYK printheads, but users can add an additional six to enable options such as digital white, digital primer to enable printing on machine-coated paper, and an extended color gamut.
Epson's SurePress L-4033A typifed the variety in inkjet technology. It can print up to six colors (CMYK, Orange and Green, with an overprint coating; White is under development) in widths from 80mm to 330mm. The multi-pass operation restricts speeds to five m/min, but Epson's Micro Piezo variable-size droplet technology delivers a native resolution of 720 x 720dpi to give smooth vignettes and sharp text on textured and coated grades, with no surface priming required. Using Epson's water-based SurePress AQ inks, the SurePress is aimed more at premium-quality applications, such as wine and cosmetics labels.
Heidelberg's topical arrival on the digital label scene was evident in the digital hall. The newly-acquired CSAT from Germany showed the iTS 6oo digital UV inkjet press for either in-line or off-line printing of commodity film or paper labels, also blister foil printing. It includes variable data and anti-counterfeiting features. Xaar's 1001 four-level grayscale printheads deliver a 600dpi x 600dpi resolution with four print widths up to 420 mm at speeds of up to 48 m/min. It ran with a LED curing system from Phoseon.          
Over on the Gallus stand, Heidelberg introduced the reel-to-reel Linoprint DriveLine B. It handles film and paper labelstocks, foils, blister materials, and film laminates and features a cooled central impression cylinder. A vibration proof chassis made from granite – first used by Gallus on the ECS 340 flexo press – ensures rigidity and precise web transport in widths of 150 and 340mm. The press prints UV-cured CMYK or spot colors at up to 24 m/minute using Konica/Minolta piezoelectric printheads.
With a long pedigree in alphanumeric, sequential numbering and encoding technology, Atlantic Zeiser has applied this knowledge towards digitized printing and finishing applications, especially for the security, pharmaceutical, industrial and logistical sectors. It majored on the Digiline Web 300 which can incorporate the Delta 105i grayscale printer. It was shown producing industrial labels using a liquid repellent plastic material made by 3M for the chemical industry. Also shown was the 70 P CMYK inkjet module and the Vericam for real-time zero-defect inspection. AZ makes its own inks for the Delta and Gamma ranges, backed by the Smartcure UV LED curing system.
The mid-range types        
Most single-pass inkjet technology is derived from reel-fed platforms, with software and control systems providing the main point of differentiation. Some vendors also offer their own off-line finishing lines, sometimes as OEM equipment. An example is Allen Datagraph Systems Inc (ADSI) which launched the iTech CENTRA HS digital finishing system for converting short-run label rolls from digital and analog applications in lengths up to 381m (1,250 ft) and widths up to 356mm. Instead of conventional dies it uses a computerized cutting technology developed by ADSI that can cut multiple depths within the same cut file allowing for perforations or multi-layer applications. The machine also laminates, removes waste matrix and slits custom labels in a single pass. It complements the new iTech AXXIS SR, which uses an Epson B-500DN inkjet print engine that gives a resolution of 720 x 720dpi.
Primera's new FX1200e finishing line includes another approach to digital cutting. The QuadraCut cutter works with up to four tungsten carbide knife blades across the web. The cutter creates almost any shape or size from various filmic labelstocks, including vinyl. The line offers optional laminating, slitting and rewinding to finished rolls at up to 6.1 m/min. Also shown was Primers's new stand-alone CX1200e Color Label Press for short-run, full-color label printing. It uses a toner-based laser cartridge to deliver a 2,400 dpi print resolution at up to five m/min. The unit includes Primera's PTPrint 8.0 RIP software for Windows XP/Vista with Pantone-approved color support.  
INX International chose laser cutting technology for its stand-alone NW140 color inkjet press. It incorporates a Spartanics X140 cutter that offers a laser spot size of 210 microns from a single head, which it claims gives good quality cuts with enhanced software control. Printing is via 14 Xaar 1001 printheads with seven ink channels, including base white, printing up to 24 m/min (80 ft/min) on any label stock. Other equipment includes a Phoseon FireLine 225 water-cooled UV LED curing system used with the NW140's substrate pre-treatment unit, and applying white backgrounds and varnish. Air-cooled UV LED lamps from Integration Technology supply the full cure, and any pinning, prior to laser cutting.
Collaboration between US-based iSys Label and Kompac Technologies includes the new APEX 1290 CMYK inkjet label press and a Kompac EZ Koat Web 15 roll-to-roll coating system. The stand-alone press runs at up to 14 m/min with a print width of 320mm. Users can apply UV-cured or water-based coatings to the printed labels to enhance their color hues and make them appear brighter, as well as protect the surface.
UK-based J F Machines promoted the five-color PicoColour press available in three web sizes. A dedicated RIP creates the four bitmapped CMYK files with on-screen previewing. It is another user of Xaar 1001 printheads, giving a top speed of 25 m/min at 360dpi resolution, or 50 m/min at 180dpi. An optional in-line rotary die cutter and waste rewinder can keep pace with the faster speed. Variable data printing and encoding with a dedicated RIP from Global Inkjet Systems is another option.
Other offerings included KG Digital Solutions' EM-250A label printer. Its Iwatsu printheads give resolutions of 600dpi and 1,200 dpi for a top speed of 50 m/min. Labelmate's new P-300 label printer uses standard HP inkjet cartridges for printing fixed and variable data at 300dpi or 150dpi. Shiki's new CMYK Pico Jet digital inkjet presses for short-to-medium runs use 4.25 inch wide Kyocera piezoelectric printheads with variable-size droplets with a native 600 x 600dpi resolution for fine gradations and sharp text. Staggered printhead layouts allow a choice of print widths: 108mm, 216mm and 324mm with fewer printheads. The presses print at up to 50 m/min using Kyocera's UV-LED technology, with a pinning cure option. The system can operate with existing in-line or off-line finishing systems.
Impression Technology Europe introduced the Rapid X1 table-top X1 and the floor-standing Rapid X2 developed in Australia by Rapid Label Printing Systems. Both machines offer CMYK, plus extra Black from 'hot-swappable' Memjet inkjet printheads. Uniquely, they are fixed and do not traverse the web. With over 70,000 nozzles, the heads on the Rapid X2 can print on webs up to 200mm wide at up to 18m/min, driven by a standard PC. Bar code software allows the printing of variable data. The Rapid X2 can run with in-line finishing equipment, including the iRapid line with varnishing and a semi-rotary re-registering system.    
 Memjet's drop-on-demand thermal technology appeared on the Wide Star, a roll-fed wide-format inkjet printer using dye-based inks from OEM manufacturer Own-X from Hungary. Using five 222-mm wide printheads (CMYK, plus Black), the machine can produce labels, cartons, indoor signage and posters in a single pass on materials up to 106.7cm wide (42 inches) at 18m/min. The Wide Star has a MS Windows-based touchscreen and Own-X printer control software. It handles continuous rolls or sheets prepared on an integral cutter. It joins the SpeedStar 3000 desktop printer, also powered by Memjet technology.
The wide-format printer/cutter machines show just how varied the world of digital printing has become. Roland DG, for example, showed the VersaUV line which prints both paper and heat-sensitive label materials in up to six colors: CMYK, White and transparent for matte, glossy and relief effects including Braille. Applications include proofing, prototype printing and printing small label runs using LED-UV technology. Mimaki Europe also uses this method of curing inks on the UJF-3042 flatbed printer, and the CJV30 series of inkjet printer/cutters. One was shown producing labels with solvent-based inks for silver and other metallic effects. It is available in four sizes up to 160 cm. Mimaki announced its cooperation with ColorGATE, a software developer for short-run digital labels and RIP software with variable data and bar coding capabilities.
This article was published in L&L Issue 5, 2011
Stay up to date
Subscribe to the free Label News newsletter and receive the latest content every week. We'll never share your email address.