Predictions for 2021
Industry experts look at the major trends and developments we are likely to see in 2021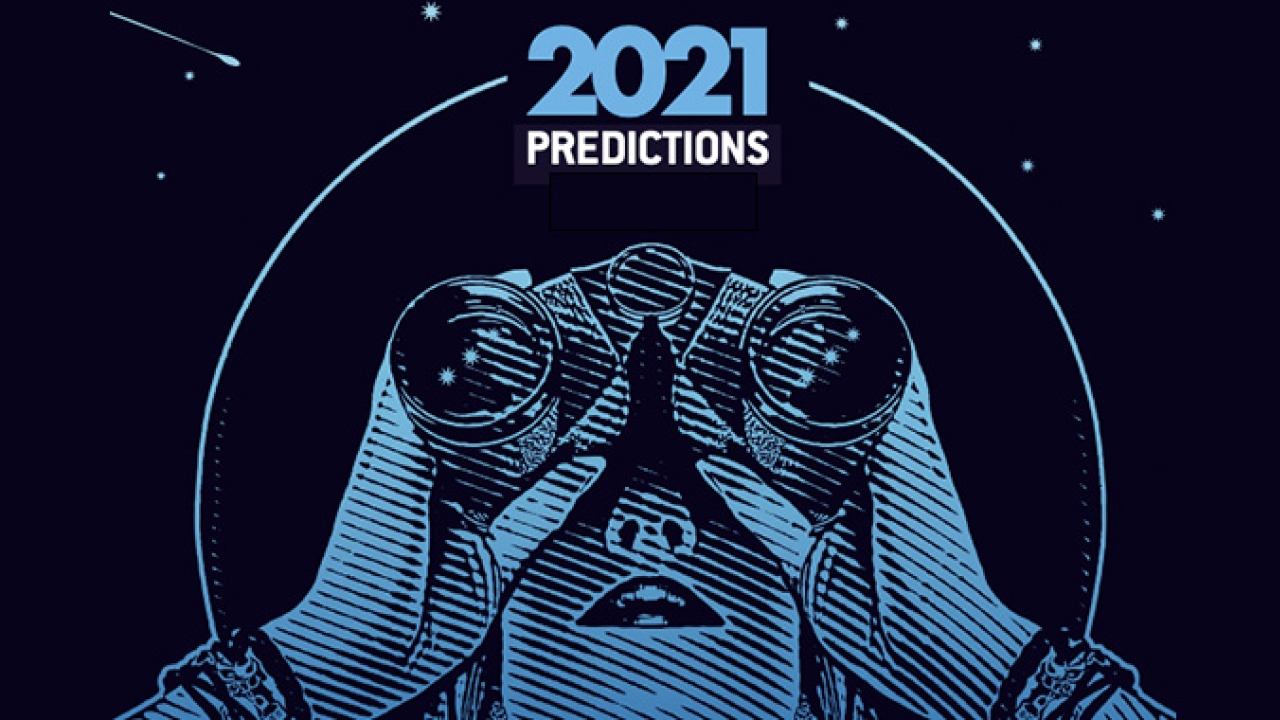 ---
3D AG, Oliver Kay  -  AA Labels, Ian Axelsen  -  A B Graphic International, Richard Knight  -  Actega, Mel Bishop  -  Actega Metal Print, Jan Franz Allerkamp  -  Acucote, Melissa Harton  -  Asahi Photoproducts, Dr Dieter Niederstadt  -  Avery Dennison, Jeroen Diderich  -  Aztec Label, Colin LeGresley  -  Bobst, Patrick Graber  -  Comexi, Philip Ferrer  -  DIC India  -  Durst, Helmuth Munter  -  ePac Flexible Packaging, Carl Joachim  -  Esko, Jan De Roeck  -  Fedrigoni Group, Fluvio Capussotti  -  Focus Label Machinery, David Lee  -  Herma, Herals Wallner  -  HP, Eli Mahal  -  HP Indigo, Haim Levit  -  HP Indigo, Maya Poleg  -  HP Indigo, Ronen Yancu  -  Hybrid Software, Guido Van Der Schueren  -   Innovia, Stephen Weber  -  Interket Group, Tony Exford  -  JM Heaford, David Muncaster  -  Konica Minolta, Eduardo Cotichini  -  Labels & Labeling and Labelexpo, Andy Thomas-Emans  -  Labelexpo Global Series, Lisa Milburn  -  Labels & Labeling, Mike Fairley  -  Lemorau, Pedro Teixeira  -  Lintec Europe, Soichiro Fujinaga  -  Lombardi Converting Machinery, Nicola Lombardi  -  Loftware, Josh Roffman  -  NiceLabel, Ken Moir  -  Miraclon, Grant Blewett  -  Nilpeter, Jakob Landberg  -  Omet, Marco Calcagni  -  PPG, Fabrizio Mandingorra  -  S-One Labels and Packaging, Thomas Hauenstein  -  Screen Europe, Carlo Sammarco  -  Solimar Systems, Jonathan Malone-McGrew  -  Sun Chemical, Dennis Sweet  -  Teklynx Americas, Doug Niemeyer  -  Tilia Labs, Tyler Thompson  -  Tonejet, Marvin Foreman  -  Toyobo, Kyozo Kotani  -  UPM Raflatac, Harri Janhunen  -  Weldon Celloplast, Harveer Sahni  -  Xeikon, Danny Martens
---
Andy Thomas-Emans, strategic director, Labels & Labeling and Labelexpo
Sustainability, in all its many guises, will be the key theme for 2021. The Covid-19 pandemic demonstrated how vulnerable companies are in terms of staff with key skills, disruption of supply chains and the need to quickly re-orient production, sales and marketing to compensate for lost business. 
Sustainability in this wider sense will mean above all the automation of all processes which require key operator skills. Not only increased automation of conventional and digital printing and converting systems, but also remote sensor networks to monitor machines in real time and robust remote working systems for design, pre-press and office management functions. 
At the same time, the continuing Covid crisis will stoke demands for a more sustainable future, reflected most recently in a number of key label and packaging industry initiatives in liner waste recovery and digital watermarking of plastics. At the converter level this will mean a relentless focus on waste reduction, reduced carbon footprint and zero waste to landfill. 
Finally, and perhaps most importantly, we will see an increased focus on building a pipeline of talent to take the pressure off a small number of older and more vulnerable key workers to build a more sustainable future. 
---
Mike Fairley, L&L founder and strategic consultant
With no end yet fully in sight for the coronavirus pandemic it seems that the challenges faced by manufacturers and suppliers are likely to continue for much of the coming year. Yes, vaccines may be getting closer to stopping the disease, but the longer term impact on the label industry will certainly have an effect on forthcoming investment decisions, leading to ever more production automation, enhanced data management and information handling and the way employees work  ̶  both in the factory and from home.
Having an effective, seamless and automated workflow of jobs from customer input, through supplier chains, the label manufacturing processes, proofing, flexibility in decision making, maintenance planning, and output through waste management, shipping systems, customer liaison and invoicing will become even more critical in the coming few years. 
But it's not just the pandemic that is having an impact on the industry. Governments around the world are planning for or introducing more environmental measures, establishing fast-emerging strategies or restrictions on waste, food contact and food safe materials, the use of plastics, recycling measures, energy usage, power generation, transport and travel. 
Things that label converters may have placed as relatively low category investment are suddenly being forced nearer the top of the agenda. Is the industry ready for what is almost certainly to come? Is somebody in the business tasked with keeping up to speed on such changes and what they mean? The use of solar power, back-up energy generation, electric vehicle charging, flying taxis and drone shipping and delivery potential? 
Investment strategies for tomorrow need to be being planned for today.
---
Lisa Milburn, managing director, Labelexpo Global Series
After the turbulence of 2020, I'm optimistic that we'll experience a global upturn in 2021 as we move into post Covid-19 recovery, borders reopen, international travel becomes possible again, and live trade shows return. Usually, we would have seen a number of major technology launches at Labelexpo shows – particularly Chicago or Brussels, and we know from speaking to our friends in the label and package printing industry how much our shows have been missed this year.
I have every confidence that our rescheduled Labelexpo Americas, due to take place in June, and Labelexpo Europe in September, will be back in 2021. Live exhibitions are going to be vital catalysts for economic recovery, and they are needed more than ever.
I think we're going to see the fruits of diversity in 2021, as manufacturers and suppliers have adapted to changing consumer habits and demands. Small and medium-sized companies in particular have really flourished, taking advantage of the opportunities for niche products, so it will be interesting to see how these play out with participating exhibitors. 
Knowledge will assume greater importance as the industry seeks to equip its employees with the tools it needs to kickstart recovery, so we plan to run more virtual and live events before and during shows, and increase our digital content offering. 
This really has been the year of the consumer, so we're going to see embellishment and product decoration – particularly digital and inkjet – among key trends next year. Expect to see these play major roles at our shows in 2021.
---
Eli Mahal, head of HP Indigo Labels and Packaging
The healthy growth of HP Indigo labels and packaging printing that we saw in 2020 is expected to continue in 2021, with some verticals such as food, beer and cleaning products experiencing particularly high demand. While the pandemic will be over sooner or later, it has certainly kickstarted several mega-trends that provide a tailwind to digital print: these include an increased need for agile supply chains, fast time-to-market and a versatile digital press. The trending rise of small brands and local manufacturing looks set to continue.
2020 has proven the need for a digital-first mentality, as the industry moves quickly to cope with new demand. Investing in the right set of technologies now will pay dividends in the future.
---
Marco Calcagni, sales and marketing director at Omet
Recently, strong changes have affected the market. The way of working, the needs of customers, the approach to suppliers – all these have radically changed. People travel less, and meetings are mostly virtual: at first, everything seemed difficult, but the result is greater efficiency and greater speed in communication and problem solving.
Packaging, in general, has not suffered any decline: it has remained stable with some increases in the food sector. It was forbidden to go to restaurants or on cruises, but people have not stopped eating, so they turned to supermarkets: buying packaged goods and producing an increase their demand. This didn't immediately result in an increase in the investment market, where Omet operates, but it balanced the fear of the future which was its main brake.
Looking to 2021, the key to everything is looking over the contingent emergency with a strong vision: much praise goes to the many forward-looking entrepreneurs who continue to invest, and to the governments that encourage the restart of economies. A positive vision is essential for the future of the economy and for new generations: we cannot leave debts to our children. It is a specific duty of any entrepreneur to give the economy a boost with strength and positivity.
---
Jeroen Diderich, vice president and general manager for label and graphic materials, Avery Dennison, North America
While sustainability issues were somewhat overshadowed by the events of 2020, Avery Dennison continued to drive innovations in this area. The importance of sustainability to consumers will gain momentum in 2021 and through our continued innovation brands and converters now have a broader range of labeling solutions to advance the circularity of their packaging in the coming year.
Intelligent labels will also play a key role in 2021 as they enable the revolution that is occurring in retail. E-commerce is a prime beneficiary of this revolution and intelligent labels provide retailers and consumers with the supply chain visibility that is essential to the continued growth in this segment.
The disruptions that occurred in 2020 have accelerated the major trends that were already occurring in labelling. At Avery Dennison, our innovation strategy has been focused on advancing the circularity and intelligence of labels and those attributes will become more important than ever in the coming year.
---
Richard Knight, CEO of A B Graphic International
It's inevitable that some industries and sectors will thrive, while others will decline. Labels, however, seem to be faring better than many. I strongly believe that working from home is here to stay, perhaps in a hybrid form, and there will also be a reduced importance on physical office space.
Healthcare solutions will continue to increase: warning labels, hand sanitizer labels, drugs and vaccines labels. Automation will continue to grow in importance as it has over the last few years. The growth of smaller online retailers will only continue to fuel the need for the short run digital offer and the growth of digital embellishment will allow this to grow.
People with more time at home (less commuting, lockdowns, leaving cities etc) fuel more hobbies and domestic labeling. Increased online shopping creates a massive increase in the need for shipping labels. With less traffic through restaurants and bars, there is the potential of a decline in high-end wine and spirits labels in some markets. With new car purchases suppressed, there is a reduced requirement for durable labels and likewise with the aviation sector with less baggage tags.
Shelf appeal will continue to motivate brands as more and more goods are sold in supermarkets, being one of the few shops that remain open in full lockdown. Growth in Amazon-style shopping will fuel logistic style label needs, and therefore the need for efficiencies in this type of label production will be of prime importance to label converters.
2020 and the coronavirus pandemic will only exacerbate the changes that the label industry was already going through. For example, the growth of online shopping has already led to the need for efficient converting lines to allow label converters to keep pace with demand. The growth of smaller retailers has been fueled by the fact digital print can offer them varied solutions for short runs.
---
Colin LeGresley, managing director, Aztec Label
From our viewpoint in the label industry, it's clear that 2021 is shaping up to be a challenging but exciting year. There is likely to be further demand fluctuation as the pandemic continues and likely recession bites, but importantly, sustainability is likely to return to the top of the agenda. 
At Aztec, we have already been investing heavily in automation and a number of initiatives to reduce waste and boost our environmental credentials, but I would expect more converters to follow suit as brands refocus their efforts on environmental objectives. In line with this, I am also expecting to see more innovation from material suppliers in terms of sustainable substrates, adhesives and finishes, not just new innovations for graphic stand out. 
Finally, due to the variability in demand seen in 2020 and the need for printers to react quickly to market changes, I believe the push toward digitalization and automation will continue in 2021. Companies like Aztec have to provide excellence in product quality and service and having connected systems and workflows is the route to delivering the speed, efficiency and quality consistency we require. The label industry is going to continue to be highly competitive and therefore automation gives us the competitive advantage we require.
---
Harri Janhunen, vice president, strategy and commercial development, UPM Raflatac
It goes without saying that no one anticipated how 2020 would turn out, so to make predictions about 2021 is an exercise in uncertainty. Recent news of potential Covid-19 vaccines is promising. Eventually we may be able return to a sense of normalcy – but, for now, we need to be ready to be responsive to multiple possible outcomes. 
During the pandemic, our value chain has proven robust. We have served essential industries without disruption despite demand volatility and multiple simultaneous forces shaping our industry. Consumers have driven accelerated growth in e-commerce, grocery shopping, food takeout/delivery, as well as increased focus on hygiene and sanitation. New innovative uses for label materials have emerged: labels on pizza boxes, hotel rooms and rental cars to give assurances to the consumers that things are safe. Lastly, existing trends such as sustainability have continued unabated. 
In 2021 we will need to continue to be ready to adapt. Trends that have shaped our industry will continue to be dynamic. Some of the trends will strengthen further while others may subside. 
We still see sustainability as one of the megatrends that will surely continue to strengthen in 2021. UPM Raflatac believes that 'labels matter' when it comes to sustainable packaging materials and tackling climate change. We will continue to innovate new sustainable products that will drive us – and our customers – closer to labeling a smarter future beyond fossils.
---
Guido Van der Schueren, chairman of the board, Hybrid Software
Today more than ever, customers are holding suppliers to a higher standard than before and favoring those perceived as doing the right thing for the industry. It comes to my mind that our industry, like so many others, is at a pivot point. These pivots are an opportunity to reinvent how we work, based on three conditions. 
First, align the long-term trend toward remote working with the capabilities of today's enhanced technology. More than 250 customers accepted our offer to install remote software for homework at no charge during the height of the crisis.
Second, laterally extend existing capabilities. We were ready. Years of effort in web applications and cloud technology are bearing fruit. We didn't know this in advance, but it shows were are on the right path.
Third, pivot toward a sustainable path for profitability both for our customers and for us.
I can guarantee you we are succeeding. We at Hybrid Software are doing more than fine. Yes, our expectations for the year were higher than what we have achieved, but the cancellation of Drupa and many other events had a profound impact on our operations. We are fortunate to be financially sound and able to increase our staff by 10 percent in 2020, when many other companies were dealing with layoffs.
This year we won a couple of industry awards which are always nice, but the biggest reward is the confidence our customers have in us. I am extremely proud to say that this summer we reached the magical number of 1,000 customers worldwide, after nine years of hard work and innovation.
---
Jakob Landberg, sales and marketing director, Nilpeter
Covid-19 has no doubt presented an entirely new challenge, both for personal and business relations, but Nilpeter predicts a bright future ahead. 
After a gentle start to 2020, for obvious reasons, it seems the printing industry is recovering quite well. Printers experienced a quick rise in demand for labels and flexible packaging, and now, the investment climate is back on track.
In 2021, Nilpeter predicts that the steady growth in labels and flexible packaging will continue, and furthermore expect increased demands for more efficient production, based on new, modern technology and equipment.
We have seen a great deal of focus on the actual print operation, making sure the operator experiences an attractive, modern user interface, and that should continue in the new year, 
Printers will look to create a competitive advantage through new value-added technologies and efficient production parameters – faster job settings, job changeovers etc.
Nilpeter focuses all activities on meeting these trends and will launch several new products within flexible packaging and combination printing in 2021.
---
Danny Mertens, corporate communications manager, Xeikon
Immediately, in the second half of March, we took the necessary measures so we could stay in business in a safe way to support our customers worldwide. In business terms, 2020 wasn't a disaster at all for Xeikon. Of course, we had to review our budgets for equipment selling. But on the other hand, our customers have been very busy. It shows we are in a very resilient industry.
2020 has been a pivotal year, from good to bad in many ways. We foresee for 2021 to be another pivotal year, hopefully from bad to good this time. The pandemic has clearly uncovered many weaknesses in all aspects of society, also on a professional level in Xeikon. It has sped up a lot of things and in 2020 we invested a lot in reinventing our way of communicating and promoting our products and services. It has aggressively accelerated digitization in many ways, and we're convinced a lot of that will remain. Of course, we still see great value and are really looking forward to physically meet up with our customers again and have coffee (or beer) together.
---
Stephen Weber, key account director for labels, Innovia
Key trends will be materials with lower environmental impact (lower carbon footprint, films with recycled content films), and materials which allow easier recycling of the primary packaging.
Significant commitments and actions have been made by global brands to reduce their carbon footprint and enable a more circular economy. From this we expect to see more on-pack communication about the environmental positioning of individual products to help consumers make more informed decisions.
As consumers increasingly include product environmental attributes in their spending decisions, brands will focus on more areas that will allow them to differentiate. This trend will accelerate the need to include the types of labeling materials used and we expect to see growing demand for facestock films with a low carbon footprint (carbon neutral) and films with post-consumer recycled content. 
The brands' aim will be to increase the recyclability of primary packaging – facilitating the inclusion of their product packaging into collection processes and allow them to be sorted into specific recycling streams. This in turn will allow more material to be recovered and reused as recycled content in the production of new filmic substrates.
---
Jan De Roeck, marketing director, industry relations and strategy, Esko
2021 is going to be an exciting year for the label industry. Despite what has been a challenging 2020 with the impact of Covid-19, the label market has remained strong due to demand from the food, beverage, hygiene, pharmaceutical and medical markets in particular. With ongoing market volatility, we believe we will see many label converters seeking to accelerate their digital transformation to bring about enhanced flexibility, agility and efficiency to cope with new demands.
Driving digitization, automation and connectivity across the label production workflow – from incoming artwork to shipping – will be key to competitive success in 2021. As converters seek to respond even more quickly to their customers' needs, adopting seamless integration of devices, tools and software will drive enhanced speed to market and customer satisfaction.
At Esko, we know that digital transformation is critical to label converters thriving, not just surviving. With the acceleration of e-commerce in 2020 and the wider impact of the coronavirus pandemic, it has forced the industry to accelerate its digital transformation. When we resurface from the pandemic, we will be ready for a breakthrough year in 2021.
---
David Lee, director, Focus Label Machinery
Reducing costs, eliminating risk and engaging consumers becomes more important than ever. Unprecedented, uncertain, unpredictable – whatever word you use to describe the pandemic and the resulting fallout, one thing is clear: the status quo is being challenged in every market and product category.
There is no doubt that many business owners are refocusing and taking a long look at their business model pre and post Covid-19 in terms of productivity, costs, margins and reaching a diverse client base. The recent positive news regarding vaccines provides a light for the future. Low interest rates will provide encouragement for companies to modernize and retire inefficient equipment. The range of digital print and finishing equipment continues to expand and in the present climate makes a solid reason to invest.
---
Nicola Lombardi, marketing manager, Lombardi Converting Machinery
I believe that after such negative period, there can only be a rebirth. The arrival of tools to defeat the Covid-19 pandemic, along with the new skills we have acquired in our companies to cope with this radicle change in the world, can only lead to a restart period. A renaissance. I think that in 2021 we can gradually return to travel and meet again at the trade shows that have always characterized this sector. 
The market wants to restart with the free movement of people among continents; real and not just virtual encounters (though virtual will remain as a fundamental part of communication); and handshakes. I am optimistic about the future of this industry.
---
Jan Franz Allerkamp, CEO of Actega Metal Print
What a year! So many challenges, but even during worldwide lockdowns and a global pandemic, I'm proud to say that we successfully installed six EcoLeaf metallization units across Europe – these included units in Germany, Italy, Spain and the UK. These systems are now enabling our customers to produce sustainable metallic embellishments onto various kinds of labels – all without conventional foil.
While it's virtually impossible to predict anything right now, we are optimistic about 2021. We expect further adoption of the ´next normal´ with companies finding new ways to conduct business despite the obvious challenges.
With virtually no duty-free purchases and much reduced bar and restaurant trade – we see tier 2 and tier 3 markets starting to boom as consumers buy online from home. A shift in consumer behavior towards purchases of high quality but cheaper products – we expect this to continue at least into H1 next year.
Of course, we also hope to see an improvement between the spring and summer seasons, where medical progress should enable society to avoid and treat Covid-19 infections and facilitate a wider business and social recovery.
---
Fulvio Capussotti, executive vice president, self-adhesives, Fedrigoni Group 
It is clear in 2020 that all in the supply chain must have full confidence in every aspect of that chain, from the supplier's production processes, the product, to logistics. The global impact of Covid-19 has resulted in a turnover growth for more obvious sectors such as pharmaceuticals and with the race for a vaccine ongoing, this growth is likely to continue in 2021.
'Smart working' is sure to continue for many, even once returning to normality after Covid-19, ensuring online sales will grow. People love the convenience of buying online but without sacrificing quality or safety with packaging, especially for high value goods such as cosmetics, perfume, health and personal care, wines, spirits, craft beers and gourmet foods.
In 2021 we expect further increases in digital printing for small and medium runs that require variable data present. Product traceability and safety is an ever-growing need and the growing shift towards digital printing means we keep on increasing our product ranges for that market.
As a self-adhesive materials supplier we aim to always optimize brand potential and having thus far seen an increase of around 30 percent in large-scale distribution during Covid-19, we recognize that premiumization, namely offering quality materials and solutions that have a high value, is imperative to stand out from the crowds either on the shelf or online. 
---
Helmuth Munter, segment manager for labels and package printing, Durst
The label market is expected to grow at a CAGR of 4.2 percent over the forecast period 2020-2025, however there is currently a lot of uncertainty due to the ongoing Covid-19 pandemic, which will continue to impact the market's development into 2021. 
No predictable forecast can be made until a vaccine becomes available, which at present is estimated to be available for mass-vaccination no earlier than mid-2021. In any case, labels and packaging is an essential industry and converters continue to adapt to changing demand; therefore they will get through this crisis better than other printing industries. 
While flexography and offset still remain predominant print technologies in label printing, the rapid rise of digital print technology has made the label market more sophisticated and increased the adoption of printing labels digitally, with an annual growth of around 20 percent. Especially single-pass inkjet print technology with its versatility and flexibility, combined with the high print quality and printing speeds, are key features for success and future growth.
From a label industry print technology supplier perspective, the outlook for 2021 is rather cautious as a noticeable decline in growth will also impact converters short- and medium-term investment plans. This also effects the business of print technology suppliers with an increased competitive landscape. We expect an even higher pressure on sales prices of hardware, software and ink. 
In general, recovery of the overall economy is foreseeable only for Q4 2021 and beyond, depending also on government support packages.
---
Melissa Harton, marketing manager, Acucote
Unlike previous years, we believe sustainability is now here to stay. Both from a raw material and organization standpoint – our customers expect solutions. Requests for thinner liners and facestocks will continue to be commonplace, requests for materials made with recycled content will increase, biodegradable and compostable materials will continue to evolve and materials produced from more organic resources will be sourced. We even have access to plant, vegetable and fruit-based facestocks.
2021 is still very unpredictable but as it emerges, digitally topcoated materials will continue to be ever-growing. We expect nutraceuticals and cannabis labeling to increase even more. And there is still potential growth in prime label for food packaging as Covid-19 moves into the one-year mark. We see continued demand for security/anti-counterfeiting labeling, and increased demand from pharmaceutical products relating to Covid and overall health.
---
Harald Wallner, international sales director, Herma
At the moment, we are confident that the corona pandemic will be contained at last in the next one or two years. We still have to face tedious months and perhaps even years ahead of us. But the positive news about vaccine developments is giving everyone back the confidence they have been waiting for so urgently. And as confidence grows, so do the markets.
But we should not be deceived: things will not go back to the way they were before. Many issues that received less attention in 2020 will come back with a force in 2021, most notably the crucial discussions on how we can stop the extremely threatening climate change and what forms of sustainable management are needed to do so.
Fortunately, our industry in particular is already seeing a lot of movement in terms of sustainability. Our customers and the end users of labels are following news about corresponding new Herma products or manufacturing processes very closely. We experience this, among other things, in the high level of feedback and discussions that would have been unthinkable in this abundance on 'conventional' new products in the past. For us it is the best proof that our products are currently hitting the bull's eye. 
We can now offer printers and label users an entire product portfolio that we call HERMAreThink. It is based on the three core requirements that the EU also sets out, namely Recycle, Reduce, Renew. This applies, for example, to our linerless labeling system Herma InNo-Liner and to a label material that consists almost entirely of recycled PE film. But it also applies to adhesive materials with reduced material usage or a growing proportion of recycled materials, as well as to a whole range of different wash-off adhesives. It is no wonder that we have won the prestigious German Packaging Award in the sustainability category twice in a row. This year we also received the Austrian Green Packaging Star. 
We will continue to place a very strong focus on sustainability in 2021, both in the development of new products and in the marketing of our existing portfolio. This is because end users of labels will, on the one hand, be pressing in this direction and, on the other, are very open to practical and convincing innovations in this field.
---
Patrick Graber, label segment manager, Mouvent, Bobst
We will see an acceleration of existing trends in 2021. Brand owners will continue to ask for more customization leading to shorter runs while at the same time expecting faster time-to-market – all at the same price or less.
We will see more demand for digitally printed labels across all digital technologies: inkjet, toner and liquid electro photography. Within these technologies we will witness a new growth chapter for inkjet printing due to the new Bobst Group Mouvent Cluster technology, which combines high quality with high speed to define a new normal.
The market will also witness new label solutions that integrate priming, printing, embellishment and die-cutting as an all-in-one fully digitalized and in-line process for greater efficiency and faster time to market. 
Converters will require more automation and digitalization to stay competitive and depend less on the press operator. Quality control systems and extended color gamut printing replacing traditional ink mixing will help the optimization of production processes leading to an improved cost structure and higher equipment utilization. 
Sustainability will grow in importance. Converters will look for water-based inkjet printing, which will become the norm for many applications.
Finally, new business models like web-to-print will further grow to offer SMB companies a convenient source for commodity labels.
---
Ian Axelsen, business development manager, AA Labels
Increasingly the Amazon and eBay online experience is becoming the expectation and customers want to place orders effortlessly and have them fulfilled quickly. Consumer preference for environmentally sustainable products has waned slightly this year, but this is only temporary and we anticipate that the continued growth of this trend will return in 2021.   
Industry trends have been accentuated and accelerated as a consequence of changing market conditions and requirements. Many manufacturers are responding to the challenge, with plans for the investment in technology required to stay current and relevant.
For those manufacturers with a large and growing export business, in Europe, 2021 remains an unknown in relation to the continued ease of trading possibilities with countries in the EU.
The demand for specialist materials and adhesives is also interesting for middle-market converters. Being bold enough to make the investment in stock, and provided the customer proposition is well targeted, can provide access to export markets worldwide.
The demand for labels has actually increased as a consequence of the growing use of e-commerce and consumers' environmental concerns about sustainable packaging and the use of single-use plastics. This is reflected in the growth of removable and re-sealable adhesive use and biodegradable label facestocks.
Demand for shorter print runs, driven by cost control improvements in logistics, product specificity and personalization, means manufacturers responsive to this trend are seeing increased growth from additional market share.
Added to the above is the increasing demand for innovation and label embellishment, with really interesting options being created not just in the more traditional production technologies, but the introduction of new finishes and inks.
In all markets, technological developments bring change and with labels this is developing the production of label solutions closer to the end user and converging the, to date, largely separate label and packaging industries with interesting and innovative production solutions.
---
Kyozo Kotani, general manager, photo functional materials, Toyobo
The pandemic highlighted two challenges to the market: productivity improvement and remote customer support. These two factors, alongside sustainable development, will be key trends in 2021.
Regarding productivity improvement, we saw strong demand from the market this year, and it will continue in 2021. Especially, the installment of process automation will speed up in various stages. As for pre-press, solvent-free process such as water-wash has been a trend to improve productivity. Automated platemaking has also become a trend.
Travelling across countries will remain difficult at least for the first half of 2021. Many suppliers are providing the necessary support, utilizing online communication tools and enriching digital content on websites, and this trend will continue. 
Countries such as China and others are implementing tougher restrictions on company operations to reduce environmental impact. As to platemaking, we will develop new products that have a lower environmental impact, not only for being water-wash, but also with a complete recycling system of waste water.
---
Oliver Kay, director of sales and business development, 3D AG
Major trends in this sector will continue. Consumer demand for smart and connected packaging will continue to grow, as will global trade and e-commerce. Counterfeiting will grow, and thus the need to implement smart anti-counterfeiting brand protection technologies. Budgets to implement such technologies will return.
The prices per unit of smart tags (ie serialized QR codes, RFID, NFC, etc) will come down – so we can finally print it and scale it. More blockchain-enabled brand protection and track & trace technologies will be implemented.
Converters will enable every package to be 'smart', so brands can 'switch on' on demand – for example, printing a serialized, GTIN Datalink-enabled QR code on every package, whether needed or not.
It's all about data: just-in-time data collection, big data, AI-based analytics, business intelligence, predictive forecasting, intelligent 'one-on-one' user engagement.
New laws and governmental regulations will put more pressure on sustainable packaging and CSR and will drive 'smart' consumer recycling schemes and incentives.
---
Fabrizio Mandingorra, PPG segment manager, Labels and Graphics
Now that there is news of multiple vaccines for Covid-19, there is light at the end of the tunnel. We predict the market will start to return to 2019 numbers in the second half of the year.
Food and beverage will continue to be the main driver of label and packaging throughout the year. 
Medical equipment and pharmaceuticals will continue to increase as Covid-19 infections surge; however, we anticipate that we'll see a peak at the beginning of the year, but these numbers will go down as the pandemic eases.
Once we are all able to move about more freely (without masks and physical distancing), online purchases will slow somewhat, but we have all grown accustomed to buying this way and it is here to stay. We expect online shopping – from Amazon and other retailers to our local grocery store and meal delivery services – will see higher levels than 2019. 
And, as more goods are shipped, the need for scuff-resistant labels will increase. This need will result in increased demand for synthetics. This will also be driven by an increased adoption of inkjet print technologies. 
As Covid-19 subsides, we should see an increased need for intercontinental shipments, especially for overseas shipping. This will also drive an increased demand for synthetic material like PPG Teslin labels.
The supply shortages for some synthetics that converters experienced in the first half of 2020 will probably not be as significant. Demand for these materials increased along with use of medical equipment and pharmaceuticals. Time will tell if converters built up supply of these materials over the summer. 
The trend of DIY home projects will not continue at the same high levels we saw in 2020. 
Sustainability will continue to be a major concern. 
RFID labels for track and trace and brand protection/authentication will increase along with the demands for shipping and online shopping, but we don't expect RFID labels on the retail side to increase. 
We also expect to see increased demand for craft beer labeling – both from small breweries providing 'to-go' bottles, cans and growlers, as well as for home aficionados. The availability of high-quality inkjet printers will allow these groups to design beautiful labels with unique, eye-catching designs. 
---
David Muncaster, director, JM Heaford
It is impossible to consider the outlook for 2021 without acknowledging the uncertainty that still affects us all. Whatever the situation of the pandemic come next year, our industry, while thankfully still vibrant and healthy, is changed for the long-term by the experience of managing business and production through the challenges of 2020. While the vast majority of label printers have seen steady or increased volumes, they have often needed to operate with fewer staff and those companies with a 'multi-skilling' philosophy have been able to ride the storm more smoothly. Having equipment and processes that are simple and intuitive to use has become more important than ever before. At Heaford, our focus on de-skilling processes, and not just on our automated machines but also on our more 'manual' machines, has come into its own. It has led to latest introductions such as our barcode scanners for entering jobs and improved operator interfaces, which all help reduce the risk of 'operator error' and the waste and loss of production associated to it. Economies will bounce back, as will capital equipment investment – and already has in many cases – but companies have learnt a lot about lean and flexible operation. As we all strive to work smarter and achieve more with less, having equipment that is easy to use contributes to this goal.
---
Edoardo Cotichini, senior manager Professional Print, Konica Minolta Business Solutions Europe
Whatever happens in the overall economy at large, the printing industry – digital labels and packing in particular – will remain resilient and continue to play an important role in our everyday lives.
Any crisis such as coronavirus will accelerate trends that were already under way. They include the drive towards automation, online print purchasing and webshops, plus, of course, the unstoppable analogue-to-digital transition.
We see growing demand for complete start-to-finish manufacturing processes, as well as a need for production devices that need fewer and less-skilled operators. 
Looking to the future, we know that labels will continue to form the supply chains of basic necessities and provide a vital tool to convey information. Healthcare, pharmaceutical and food and drink sectors are among those that will continue to be growth areas for digital label printing. We have seen that ourselves in the use of our AccurioLabel machines in the field: during the first lockdown in spring of 2020, page volumes in terms of linear meters printed on Konica Minolta AccurioLabel presses across Europe jumped by 150 percent in March 2020 – at the peak of the lockdown – compared to previous months.  
Brand owners also recognize the value of digital in label printing markets. In addition to greater versatility, flexibility and variable data printing, innovative decorative and tactile elements will also play an even bigger role in the future. This is one of the key reasons we have strengthened our relationship with strategic partner MGI. 
Despite the global uncertainty, we see a positive future for labels, and we are looking forward to continuing our partnerships with existing and new label printing companies in the market.
---
Carlo Sammarco, regional sales manager, Screen Europe
After an unprecedented 2020 we should expect an equally unprecedented 2021, as the high level of economic uncertainty caused by the pandemic may continue to exist for a while, even as vaccinations are bringing the coronavirus under control. Yet we expect continued resilience of the label printing industry. Screen's customers reported remarkable strength in the label printing sector in 2020, with continued investments and even growth at the height of the pandemic, driven by increased demand for labels in the food and health industries.
The coronavirus crisis is likely to accelerate existing industry trends. We expect the transition to the automation of the printing process to gain momentum, both on an equipment and workflow level. We expect to see the increased adoption of high-production digital presses and finishing equipment requiring high up-time ratios. At the workflow level, we expect the demand for highly automated, fully integrated workflow systems to speed up.
Accelerated automation is expected to coincide with an increased demand for print devices that are easy to operate. Because of the coronavirus, managers are more aware of the risks that their production could stall if operators fall ill or are absent for any other reason. Highly skilled engineers can't easily be replaced. Easy-to-operate systems requiring fewer skills make it easier to find or replace operators.
---
Soichiro Fujinaga, technical manager, Lintec Europe
I think there are a number of trends we can expect to see in 2021, but two I would single out would be sustainability and pharmaceutical labeling. Sustainability is increasingly important at every stage of the label value chain, from manufacturer to end user. It has always been hugely important to Lintec, and we're continually working to bring to market new, high-quality, environmentally friendly alternatives to traditional filmic materials. 
For obvious reasons, there is also going to be a big focus on pharmaceutical labeling in 2021, especially in relation to Covid-19 vaccines. Dry ice freezing and cold chain distribution presents a huge challenge to label makers of course, as most standard labelstocks break down when frozen and thawed. Lintec is always innovating to keep up with the very specific demands of this important sector. Our new Epson-approved water-based inkjet material is evidence of this. It can even be used in cryogenic processes, meeting the growing demand for high definition color data in laboratory labeling. 
---
Dennis Sweet, vice president – NWTL, commercial, Rycoline and distributors at Sun Chemical
Like most other companies during this time, Sun Chemical has been heavily impacted by Covid-19, not just due to changes in the markets we serve, but also changes in how we serve those markets. As the new year begins, businesses will continue to search for the right way to serve customers, drive value to their customers, and keep their employees safe, productive and engaged.
In terms of the label industry, trends and innovations are constantly evolving and we don't see that changing in 2021, despite the pandemic. We're seeing growing interest in shrink sleeves, low migration (especially for food and pharmaceutical), and an industry-wide push to LED-curing at high press speeds. Press speeds are pushing the limits to produce projects quicker than ever before, so we will continue to formulate inks that print at high fidelity at those speeds and meet sustainability objectives.
---
Marvin Foreman, sales manager, Tonejet
2020 has been an interesting year to say the least, but one clear message that remains consistent is that we need to do a better job protecting our planet and take the responsibility seriously to reduce single use plastics to benefit our environment. So, as we move into 2021, we expect that more and more label printers will be looking at alternatives to shrink sleeves and plastic wraps, as beverage producers will continue making the switch to the increasingly popular aluminum can – and not only for its environmental benefits. 
Digital solutions, as they have already, will continue to play a key role in the growing market for low volume, personalized or customized products, whether that be for labels or for packaging in general. As production runs grow shorter and environmental demands grow stronger, businesses wanting to commit to greener packaging will be looking at new and alternative solutions emerging in the direct-to-shape digital printing industry.
---
Jonathan Malone-McGrew, senior director of engagement, Solimar Systems
Everyone wants their product to stand out, so it is no surprise then that customers are looking for new technologies to add value to their labels. This is in the form of print embellishments, additive digital technologies like AR and security for brand protection including counterfeit or regional distribution tracking methods. Add to that an increased demand for personalization and we are seeing orders that are smaller in quantity. The smaller these orders get, the more label printers will need to ensure they are producing and delivering them in a cost-effective manner. The smaller and more personalized label orders become, the more processes may challenge the current production chain in the way that work is set up, produced, completed and delivered. This is where the ability to know exactly what is happening on the production floor will add value. A real-time view of all jobs, including each piece inside a job, through the entire operation and from any remote location, is something that might be necessary as we move into 2021. 
---
Pedro Teixeira, CEO, Lemorau
Lemorau's plan for the next year is to continue developing new machines and improving our existing equipment. Currently we are planning to develop two new Lemorau machines in order to launch them in 2021.
Even in these unpredictable times with the worldwide pandemic, we are focusing on innovation and automation in order to offer our customers reliable, innovative and high-performance machines with best after-sales support.
Next year we hope for the return of international exhibitions such as Labelexpo Europe 2021, and we hope everything will return to a 'new normal'.
---
Dr Dieter Niederstadt, technical marketing manager, Asahi Photoproducts
Many companies across multiple industries have suffered as a result of the pandemic. But in labels, we have not seen much in the way of deterioration, and in fact, believe the industry will continue with its moderate level of growth.
The key trend we see lies in increasing workflow automation, from design to print. This is particularly important in the production environment, since many companies have difficulty finding the appropriately skilled workers. Increased automation serves to make the process simpler, requiring less skill on the part of operators. 
There is a significant amount of work underway to improve automation across the entire supply chain from many of the suppliers to the industry, and we expect to see many more announcements coming during 2021. For example, there is an increased use of advanced viewing technologies in design that speed up the design and approval process. In terms of platemaking automation, we see advances in the automated feeding and unloading of plate materials into and out of imagers and processors, automated mounting of plates in the press room, and increasingly automated software used to manage the production process.
---
Ken Moir, VP, NiceLabel
For me, one of the biggest trends is the move to convergence. Organizations are increasingly looking for integrated solutions for everything from artwork management to factory labeling and direct marking. Artwork management systems that deal with pre-printed packaging that often has content on it. That content is typically the same content that the label management system uses for factory labeling, so it is likely that the two will integrate over time. More users also want to use one system for traditional thermal printing and for direct marking. This convergence is supported by the ongoing rollout of centralized label management systems that are able to interface with a wide range of devices performing a wide range of different functions. 
Label management systems will also integrate with vision management systems as well as product lifecycle management systems, which are typically a rich source of data.
Data services are likely to also see a significant growth across the labeling industry. The move to online remote labeling is helping generate more data and that will help provide actionable intelligence to many businesses. Printer manufacturers, for instance, will be able to tap into much more insight on how their printers are performing. Labeling system vendors will be better able to understand what features their customers are using and which they are not.
---
Doug Niemeyer, general manager, Teklynx Americas
2020 was a year like no other. Rapid decline across some industries, immense growth in others, and shifts in the global supply chain due to a pandemic created new perspective for the labeling industry as we move into 2021.
This new perspective is met with opportunity for manufacturers to implement technology that solves the current challenge of how to 'do more with less'. Lean manufacturing principles put to work in a labeling environment is how organizations will reduce waste, conserve resources, and increase operational efficiency. 
Automating repetitive manual steps is on the rise. Organizations will seek solutions like label print automation software that enables print jobs to be automated by a trigger action in a database or business system like SAP or Oracle. 
Demand is increasing for cloud-hosted solutions to help organizations deploy on-demand label printing from anywhere in the world without hosting local server infrastructures. This will continue in 2021 with more organizations connecting labeling solutions to cloud-hosted data sources and file storage like Google Drive and One Drive.
A single, unified solution managing supply chain labeling will help organizations respond to unexpected shifts including increased e-commerce sales that will continue in 2021 with consumers demanding even greater speed.
---
Tony Exford, spokesman, Interket Group
Interket sees 2021 as year for significant change in both the development of sustainable substrates and the adoption of digital print technology. 
Although stifled by the pandemic, we have an active project developing a sustainability strategy in partnership with our substrate suppliers and selection of customers. Standard labelstocks include the face material and liner, and many applications can also include an additional overlaminate film. Developing a solution for all three components that meets the requirements of the industry and various government run initiatives and legislation is quite a challenge. 
We are committed to achieving these targets and can see the strides our industrial waste management schemes have made in recent years in terms of capturing and reprocessing PIR. However, the real challenge will be in developing the PCR (Post-Consumer Recycling) collection schemes. From what we understand the consumer collection and sortation operations have a long way to go in terms of providing the volume and quality feed the recyclers need. That said the DPG style collection schemes for PET and HDPE bottles will help with this.
For the aspects we control we have seen recycled content increase from 5 percent to 30 percent PPR (Post-Production Recycled) and are working closely with our suppliers to deliver this across the substrate portfolio along with liner waste for which we also have a collection scheme in place.
The Interket Group is mindful that to compete in the next three to five years change is required, along with continued investment in equipment, people, raw materials and R&D. During the biggest test for our industry this year we have adapted and remained fully operational across all sites, so believe we are in a good position to pick up and continue our growth strategy next year. The ability to coat our own self-adhesive substrates will help us to develop and trial wash-off adhesives while controlling costs, which will always be a factor regardless of the drive for the green agenda.
---
Mell Bishop, global market manager, labels, Actega
2020 has certainly been a challenging year. Despite this, the labeling industry has maintained healthy growth and innovation, and we are sure this will continue in 2021. The biggest trends that we expect to see advance next year are those surrounding solutions that enable sustainability and recyclability of end products. Brands and consumers continue to drive demand for more sustainable labels and packaging and forward-thinking, environmentally conscious manufacturers are leading the way with solutions that meet and exceed these requirements. 
The transition from conventional UV inks to UV LED has many benefits, but improved sustainability is a key one and therefore a crucial reason why we are seeing an acceleration in their adoption. Stricter regulations banning the use of chemicals for UV products is also putting label converters under pressure to adapt quickly to more sustainable production methods. In addition, solutions that enable easy and more effective end-of-life product recycling, such as invisible watermarks, are also on the increase. 
Another trend that we expect to continue in 2021 is the use of haptic effects on shrink sleeves to enhance the consumer experience. Adding relief effects or soft touch surfaces to shrink sleeves offers brands an impactful and engaging marketing opportunity.
---
Felip Ferrer, brand manager, business development manager, offset printing, Comexi
Governments are already significantly increasing sustainability pressure, and this will further increase in the coming years. Market leaders will develop new standards, which will include easy to recycle and environmentally friendly packaging.
In reference to packaging, more mono-material recyclable solutions will result in replacing complex laminations. Regarding process, the focus will be on solvent-free technologies, VOC emissions-free, and reducing energy and waste. Consequently, EB applications will grow, as this technology is solvent-free, thus perfectly matching these trends. Furthermore, EB coatings have the best protection properties, allowing external layer resistance against scratch, chemicals and high heating conditions, such as pasteurization, sterilization or retort.
EB coatings and cross-linking process provide increased heating resistance, improving sealing conditions and performance in the pouch making machines or filling lines of packaging to be maintained.
High quality printing is a combination of technology, machine performance and pre-press skills. Comexi Technological Center CTec offers the highest pre-press/press integration. This is especially relevant in digital and offset printing which allow full pre-press integration. This is also a clear trend as flexo printing moves to extended gamut processes
Design variations, customization, and special editions will continuously increase, resulting in a higher number of SKUs and lower volumes. To be competitive in short and medium orders, converters will further develop extended gamut process; fast pre-press and changeover times; minimum set-up waste; the grouping of orders and multiple SKU printing; automatization/robotization; online ordering and digitalization of workflow.
Not only is the average order size shrinking, but the delivery time is too. In this sense, the entire value chain must challenge their process to accelerate it to the limit. Today, offset and digital printing are clearly in the first line of the race due to an extremely fast pre-press and set-up time. On the offset side, the entire pre-press and set-up time goes up to a very competitive 90 minutes, with a higher production speed of up to 300m/min without the high costs involved in digital.
---
Tyler Thompson, solutions director, Tilia Labs
2021 will see 'hyperautomation' become a major trend as enterprises push forward with strategies to implement artificial intelligence similar to the technology that powers Apple's Siri, and IoT technology. Identified by market research firm Gartner, hyperautomation refers to the application of advanced technologies, including artificial intelligence (AI), Internet of Things (IoT), and machine learning (ML), to increasingly automate processes and augment human roles. 
Driving further automation and data collection in printing and converting processes is critical to support the industry's continued advancement through digital printing, shorter print runs, e-commerce, and on-demand packaging and print decoration. Relying on static packaged software does not support the ability to connect to IoT enabled devices. To augment human decision making, organizations need software able to consume real-time machine data via IoT for solving complex problems such as print imposition and planning at speed. 
For Tilia Labs customers, hyperautomation becomes more than a stretch-goal for 2020 following latest developments such as the major release of tilia Phoenix 7.0. By giving users access to real-time cut estimates for Zünd cutting tables and thus more accurate planning, estimating, and budgeting, tilia Phoenix is the industry's first IoT-enabled imposition and planning software. In 2021 this progress will gather momentum as we continue to partner with more manufacturers of IoT-enabled equipment.
---
Grant Blewett, chief commercial officer, Miraclon 
The packaging industry has been on an upward trajectory for the past two decades. Whilst the pandemic has certainly impacted the market, it's also shown how resilient and adaptable the supply chain can be. In 2020, most businesses delayed their capital investments as they dealt with unprecedented working conditions and production circumstances. This has now created a major need for trade shops and packaging printers to ensure they're optimizing their current equipment and processes as we move into 2021, including how to ensure press runs with minimal downtime achieve better on-press consistency and maximize print quality.
The 2021 Global Flexo Innovation Awards, which give our customers the opportunity to show how they have continued to push the boundaries of flexo, also comes at a great time so that we can recognize the businesses that continued to innovate in this unprecedented year. We are heading into 2021 with less certainty on how businesses will continue to be impacted by global events compared to other years but look forward to see – and celebrate – how brands have evolved their packaging strategies, and how our customers have adapted to continue growing and innovating.
---
Harveer Sahni, chairman, Weldon Celloplast 
From an Indian perspective, the lockdown brought immense hardship for the converters. The smaller printers suffered more while the larger ones catering to food and pharmaceutical segments were still active, yet restrictions and migration of workforce to evade the infections due to Covid-19 added to their woes. Growth in the label industry has apparently remained flat during the year, but the industry is now recovering gradually from an adverse market scenario.
Covid-19 will still be prevalent in much of 2021, yet due to the sheer market size and organic growth, business will still grow in the next year. Already the growth is evident, but the past year has left a difficult financial liquidity situation. Banks, on advice of the government, may already have or will start funding the industry to return to normal working conditions and growth. It is a time when label manufacturing companies will be tightening their belts. Lean manufacturing, wastage control, inventory management, workflow automation and producing more with less will become the new normal. While the Indian label industry is largely into flexo printing, digital printing is now catching up. HP has made robust sales for label production even during the pandemic, which goes to prove that short runs and quick turnarounds will be the way forward. Innovation and being equipped to create a niche in the labels and packaging market will become more important.
Sustainability and environmental concerns must become an inevitable part of a label printer's social responsibility. We hope to see more green initiatives in the label and packaging industry.
---
Haim Levit, VP and general manager at HP Indigo 
2020 has been an unprecedented year for us all. HP Indigo has focused its efforts on managing the wellbeing of our partners, customers and their families with urgency and a deep sense of care. On reflection, despite initial uncertainty, it has been brilliant to see how the industrial businesses have adapted and evolved to bring a sense of hope and positivity to the industry. 
Mega trends favorable to digital printing are accelerating including the need to respond with high agility to market changes and the growth of ecommerce. The industry has also discovered new opportunities for digital printing, with the need for automation, profitability, and differentiation. I approach 2021 with a positive mindset and confidence that the industry will continue to grow and serve brands and communities around the world.
---
Maya Poleg, head of products and solutions, HP Indigo
The word digital often means virtual in the age of Covid – the way we often learn, work and engage with friends and family. In the print industry, digital also stands for benefits that answer the needs for shorter runs, faster turnaround times, more flexibility and increased personalization. These trends have all accelerated over this unprecedented year.
For Indigo customers, this year has been one of challenges, but also one of very concrete opportunities. The innovation that defines them enabled them to quickly respond to the changes in the market – for example, ensuring robust supply chains, and also meeting the surge in demand for labels and packaging in diverse sectors such as healthcare, food, home improvement and more. 
On the commercial print side, eCommerce and web-to-print are flourishing, and here too there is an expectation from end customers for faster turnaround times and innovative applications. These all point to an increase in demand for digital print, and Indigo in particular. 
This year we also say a doubling of the use of applications in PrintOS for managing and optimizing production, ensuring the right technical skills and training for their teams, and completing complex processes such as installations and remote services.
And no less importantly – we saw the importance of collaboration and the support of the community, with so many of our customers and Dscoop stepping up to help their communities, and each other.
Looking ahead to 2021, we believe that these trends will remain, and likely continue to accelerate.  In fact, PSPs will see capabilities like automation, smart manufacturing and diversity of applications move from 'contributing factors' to their competitive advantages to capabilities that are business critical.
---
Ronen Yancu, head of strategy and business management, HP Indigo
Personalized products continue to be a growth area for the print industry- and we see this expanding in 2021. HP research indicates that the personalized gift market will grow by 55 percent to USD 31 billion in 2021. As Indigo customers have shown this year, Business to Consumer (B2C) printing is alive and growing, and reflects the appetite for products, photo specialty and gifting, greeting cards and packaging – many of which are meant to improve home spaces and home offices, and to remain connected with friends and family through social distancing. Beyond individual consumers, businesses are also driving personalized products by using them as tangible ways to connect with their teams in an era of working from home. These eCommerce and B2C areas also represent opportunities for diversification for print service providers who traditionally focus on business to business applications, a sector that has been affected for most of this year. 
Another driving factor is brands, who are continuing to use customization and personalization as differentiators, but also, as tools to remain close to consumers in this era of constant change. One recent example was the partnership between Mondelez and Liverpool FC, who used HP Indigo technology to create limited-edition Champions chocolate bars to 50,000 fans as a thank you for their unwavering support throughout the 2019/20 season.
---
Carl Joachim, co-founder, and CMO of ePac Flexible Packaging
At ePac, our focus is on working with local brands in the communities we serve and helping them grow. Most of these brands are small to medium-sized businesses, many bringing healthy eating options to market, which is a trend that will continue into 2021. The growth of these brands far exceeds what we see from large CPGs. As ePac has expanded internationally this year, we see the same theme emerging, even accelerating government support. 'Buy Local' campaigns and tax incentives encourage start-ups and local manufacturing to reduce dependence on imports. We expect all of this to continue in 2021, which will drive greater demand for shorter runs and faster turn times in the flexible packaging space.
I also believe that demand for serialized 'Connected Packaging' will continue to grow and start to become more available to brands of all sizes. Brand protection, consumer engagement, track and trace, and the ability to generate better insights into how products behave in the market are applications we expect to see growth in next year.
---
Thomas Hauenstein, vice president of sales, S-One Labels and Packaging
2021 will be a difficult year to predict due the uncertainty around the strength and duration of the Covid-19 impact. We have seen certain markets decline dramatically, other markets be unaffected, and still other markets grow dramatically during the pandemic. However, with vaccines going out today to many parts of the world, the optimism is rising. As many people have been quarantining for so long, some experts are predicting a bit of global economic response not unlike that of the Roaring Twenties, when the world benefited from coming out of wartime devastation and deferred spending.
The deferred spending point is a nice segue into what we are already seeing in the purchase of capital equipment. Many companies, rightfully so, put off any type of capital equipment purchases this year, due to economic insecurity. However, we are already witnessing a huge uptick in interest in the capex solutions we provide into the label converting and flexpack markets. Many OEM's have echoed that they are getting a lot of activity as well, which is more than an encouraging sign.
Digital packaging is one of the markets that we have seen grow rapidly during 2020, and I believe that growth trend will continue sharply up for the next five to ten years. Digital packaging offers a lot of value to the market such as SKU proliferation, security printing, consumer customizable packaging, short runs for just in time inventory, and quick turnaround time. That coupled with the booming cannabis and craft beer markets, along with the rise in demand for locally sourced products, will create a dynamic shift in that time period in how packaging will be offered.
Sustainability will also have a large impact on this space. Large CPGs are committing to some level of sustainable packaging between now and 2025. This will lead to a massive increase in demand for bio-based or certified compostable films, as well as a shift back to paper products to be used for packaging. The sustainability efforts also are converting a lot of packaging from rigids to flexible, so it will be interesting to watch that impact over the coming years as well.    
Because of these factors, I believe that 2021 will get off to a bit of a sluggish start in Q1. However, I believe a lot of companies that are able to quickly shift their offering to adapt to the changes forthcoming will witness record growth numbers in Q2-Q4.  
---
Josh Roffman, VP of product management at Loftware
As this pandemic continues to impact our global economy, certain geographies and markets are hit hardest. We have all seen the significant impact it has had on our global supply chains. Many companies have experienced bottlenecks due to a disruption in warehousing or distribution or have closed down facilities. Countless companies have found themselves needing to shift production from one location to another. 
This is why, as we enter the new year, the focus of being able to shift labeling to meet production demands has become critical. When production moves, these companies must also be able to shift labeling to that new site. What's more, their labeling must be flexible to support new products, languages, regions, formats, shipping routes, and more. This all must be done quickly and in a compliant and consistent manner to ensure continuous operations or, at least, to minimize downtime. This is where having a multi-site approach designed to ensure continuous operations, which provides the benefits of both centralized and decentralized deployments at the same time, will be increasingly important. 
This approach provides greater control, allowing companies to drive labeling centrally and immediately fail over to any local instance – ensuring uptime and reducing risk. Companies can quickly and easily shift labeling from one location to another if there is a break in continuity or a disruption at any point across their enterprise. This is critical in maintaining business operations in the case of any outages, shutdowns, or supply chain disruption.
---
Manish Bhatia, MD, and CEO, DIC India
At DIC India, we looked at Covid-19 challenges as an opportunity to embrace the new normal by acknowledging the need for safer and more efficient modes of operations. The growing environmental concerns have spurred interest in the adoption of sustainable and healthy industry norms, and the recent consumption trends in India show that demand for packaged products has increased significantly, which will remain one of the biggest trends in 2021. Additionally, the move by The Bureau of Indian Standards (BIS) to ban the use of toluene-based inks for printing of packaging materials used in the food industry will further accelerate this trend. We believe it is a highly progressive step taken by the regulatory body to steer the industry into a more sustainable and safe packaging direction. 
We expect a further increase in the use of green and eco-friendly technology. Complementing this change are innovations and advanced digital systems, which will also come to the forefront, as brands will look for more efficient and safer ways of operation. We strongly believe that the packaging and printing industry in India is likely to see a radical change in 2021 where companies and the converter community need to re-think and re-calibrate with a sustainable outlook supported by a digital-first approach to navigate this new normal.
---
If you would like to add your contribution to this article please email your 2021 predictions to editorial@labelsandlabeling.com
---
Stay up to date
Subscribe to the free Label News newsletter and receive the latest content every week. We'll never share your email address.