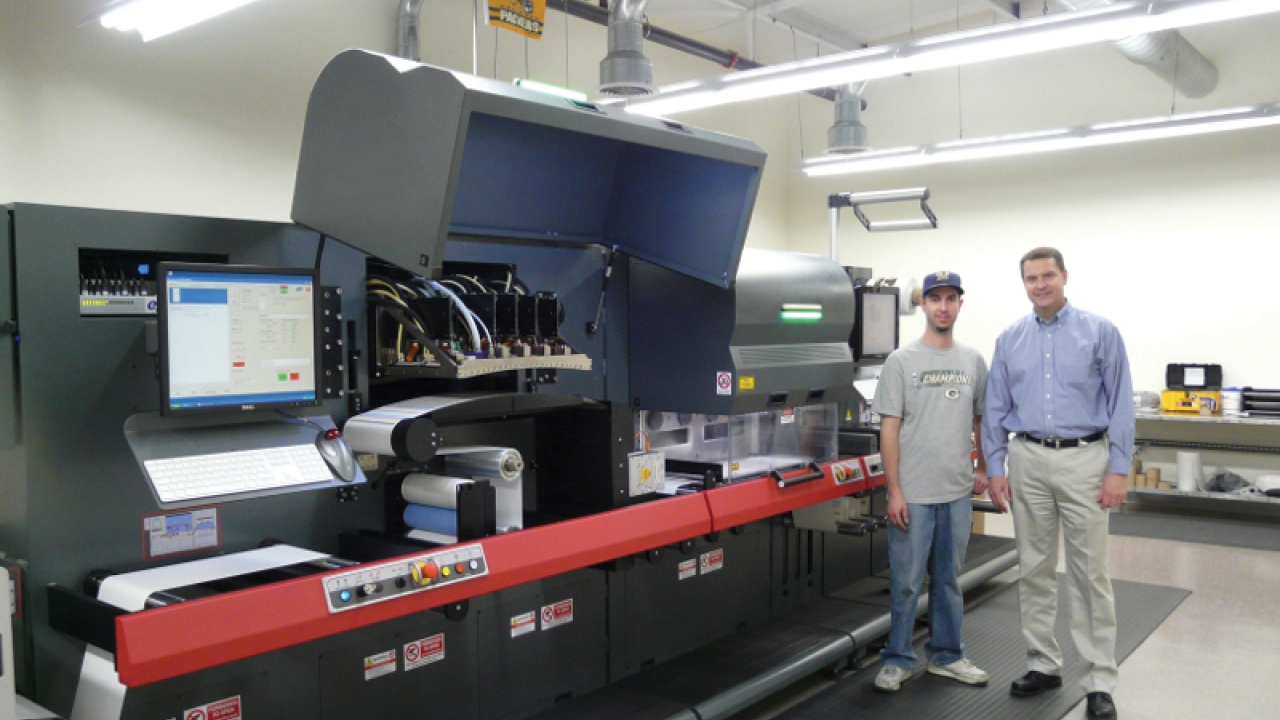 Integration of the Aladdin Label business and continued investment in leading edge digital equipment is propelling business at Repacorp, as Danielle Jerschefske discovers
Repacorp Label Products has expanded significantly in the last two years, acquiring a long-standing prime label converter, purchasing a third Jetrion digital press and expanding both Midwest locations by more than 17,000 sq feet each. Headquartered in Tipp City, Ohio, the converter also has locations in Wisconsin and Arizona. At the core, the company is family-owned with roots in the re-sale business. Today, according to plan, the converter is evolving the business, developing the digital side and providing customers with more effective production options to meet their needs.
Acquisition
Repacorp finalized the agreement to acquire the assets of Aladdin Label at the close of 2010. Aladdin Label had two facilities west of Milwaukee, and a strong customer base in the prime label market for food, dairy, beverage, as well as health and beauty labels. The sites have since been closed and the people and capital plant moved into the existing Repacorp in Franklin, Wisconsin.
Multiple presses from seven and a half – 20 inches wide and up to 12 colors convert  long runs of children's stickers, address and charity labels. To improve productivity the 20 inch machine is equipped with a KTI splicer and rewind system. To improve print quality, the Wisconsin plant installed a full CTP DuPont Cyrel digital platemaking system.
A matrix recovery system has been set-up throughout the plant, automatically collecting the waste from every machine through a lubricated vacuum and directed through pipes to be shredded in a baler and compacted. The material is collected by Channeled Resources Group and shipped to northern Wisconsin where it's turned into fuel pellets that can be used to replace coal.  Tony Heinl, VP says, 'We're evaluating the numbers and cost of the process here in Wisconsin versus Ohio to decide if a similar investment there would be worthwhile.'
Digital
When L&L first visited with Repacorp in 2009, the converter had invested in two Jetrion digital inkjet presses, a 4000 and 4830 finishing off-line with two Spartanics laser die-cutting units, to move business in a new direction. At the time Repacorp believed that digital was its best opportunity to find organic growth. The converter experienced 80 percent growth in its digital business last year.
Following through its plan to invest in digital printing for its Wisconsin facility, Repacorp installed Jetrion's newest UV inkjet 4900 press with in-line finishing in the fall, 2011. Jetrion had introduced the digital converting system to the world at Labelexpo Europe, reflecting its end-to-end approach with dual laser cutting, festoon system, web slitting and automatic turret rewinding. The new press has the same web width as the 4830 model at nine inches and is supported by EFI's Fiery XF RIP.
Heinl explains, 'We have had great success in Ohio with digital printing and laser die cutting since we started in 2009. Because of that success we decided to purchase the 4900 press.'
In-line finishing reduces the number of steps required to produce the labels, says Heinl. 'In Ohio digital printing is a three step process. We print first, then cut with the laser and then rewind the labels on a table top rewinder. One of the main advantages of the 4900 is that only one operator is required to print, cut and rewind whereas with off-line finishing it takes three people to do the same thing.'
The press prints CMYK plus opaque white using Xaar 1001 grayscale printheads and Jetrion's specially formulated inks. When using white, it is printed first and LED cured before process colors are layered on top. The OEM laser cutters are made in Italy by SEI Laser Converting. Repacorp is pleased with the inking system upgrade and the ability to use UV inks.
'We've had virtually no issues with printheads clogging,' says Heinl. The EFI Jetrion systems suit the needs of existing Repacorp and Aladdin customers and promises to continue capturing new business. Already some of the work done flexo for Aladdin customers has been moved over to the digital machine and more will be shifted.
Set to Go
With the business consolidated into three locations across the US and a swelling database, Repacorp will integrate a Seradex ERP system to streamline the various business lines and processes. Seradex is a Microsoft based program that is designed to handle multiple SKUs, automatically loading and sending data, which removes human error from the equation.
The system aligns nicely with the converter's ongoing e-business by directly tying into the current system. Repacorp's online quote module allows distributors to post a link on their own website for customers to obtain answers instantly to queries. With the new systems only one server is needed to support every location, simplifying production from the order through fulfillment.
Repacorp's RFID business has also experienced some pick-up recently. The converter attributes this shift to the adoption of item-level tagging by some leading retailers to improve inventory control and replenishment rates, and an increase in custom orders for a variety of markets.
With a total of 160 employees, it's possible that the converter may continue expanding westward as its client base increases on the West Coast. After successful growth and consistent investment in digital printing and finishing of labels over four years, Tony Heinl still says, 'We're only just scratching the surface of digital.' No doubt, more is yet to come.
Pictured: Tony Heinl, VP Repacorp (R) and operator Chris Lovely with the company's EFI Jetrion 4900 with in-line laser die cutting
This article was published in L&L issue 1, 2012
Stay up to date
Subscribe to the free Label News newsletter and receive the latest content every week. We'll never share your email address.