Brady expands in Southeast Asia
Brady Corporation expanded its presence in Southeast Asia with the inauguration of a manufacturing plant in Bangkok, Thailand, in 2019. With this plant, the company now has three manufacturing sites in the region. SY Lim, Southeast Asia operation director, says: 'The new facility is focused on providing more customized products and to strengthen our presence for local customers.'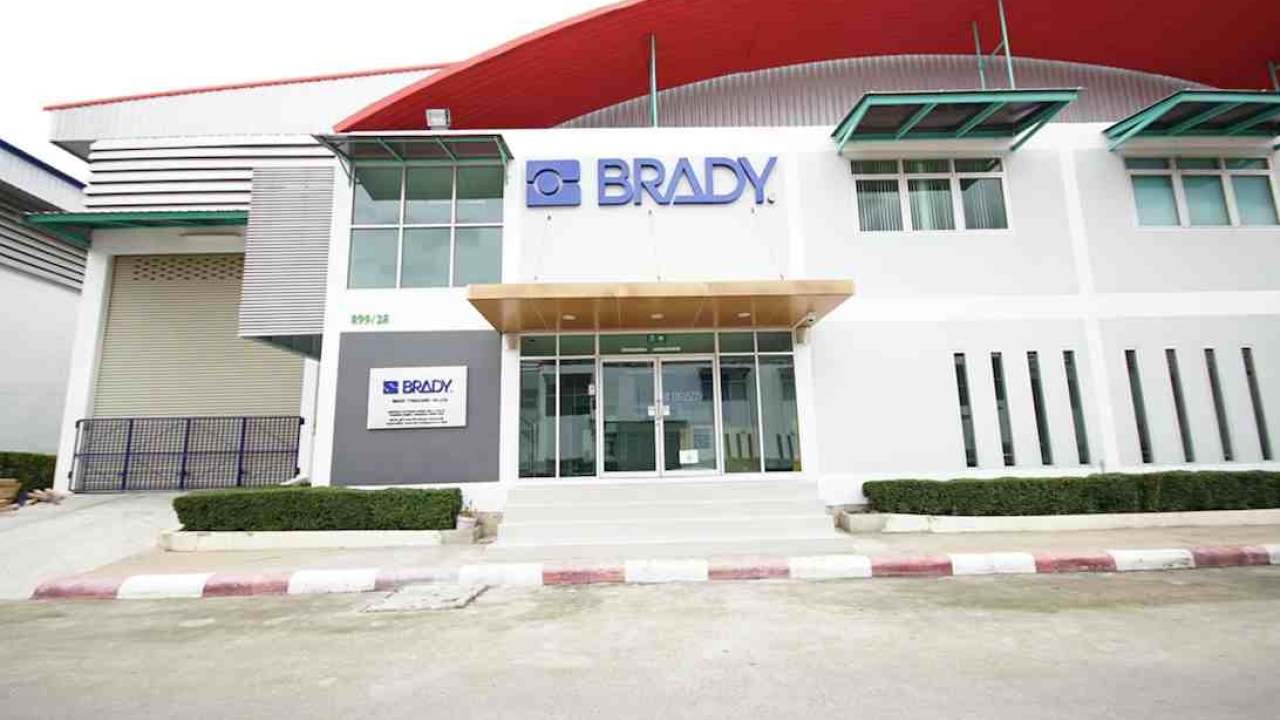 Brady Corporation moved into Australia, Hong Kong, Japan and Singapore in the 1980s and subsequently expanded to other parts of Southeast Asia in the 2000s. The company opened its first manufacturing site in the region in 1991 with a plant in Singapore. 'We started operations in Malaysia in 2001 in the Bayan Lepas Free Industrial Zone in Penang,' says SY Lim. 'Due to an increase in demand, this facility is set to be a significant manufacturing hub with a wide range of products being produced here.' 
Brady has continued to invest in various printing capabilities in Southeast Asia, including thermal transfer, flexo, letterpress, silkscreen and digital printing capabilities. 
'The choice of printing technology or adding capacity depends on customer and market requirements, as well as the need to add capabilities for futuristic and niche product demands,' says SY Lim.
'Each technology has its own pros and cons. We made our first investment in a digital label press for the local market in 2004. This technology has helped us improve our capabilities and product offering to our customers. It helps offer faster response to customers with more innovative products using efficient processes while offering better quality.'
Product offering 
With an array of options for label printing, Brady puts its customers' experience at the center. 'We adopt the most optimal solution at the right price and best quality to resolve customers' issues,' says SY Lim. 'Although Brady is a multi-national company, we adapt to local needs and demands when it comes to business development. We have customized products to serve the region's needs. Having said that, there are also standardized items that are used across different regions, such as our printers or standard materials.'
'For the Southeast Asian market specifically, we largely use THT printers as we are industrial identification experts,' explains Desmond Chua, sales manager, Southeast Asia. 'This includes catering to industries such as marine, oil and gas, among others. Many of these industries require outdoor identifying labels that have to withstand aggressive solvents and temperatures without suffering losses in visibility or readability.' 
One of the latest developments from the company is an ADR (Australian Design Rules) compliant label for shipping companies transporting hazardous goods. 
'We take pride in offering the best solutions possible, answering challenges set by industries, by the environment they operate in, or by legislative bodies,' says Ren Wanting, R&D manager, APAC Material Technical Service. 'Therefore, it is very important to constantly research, develop and invest to drive future organic sales growth. We have a large R&D team globally that works tirelessly to increase productivity and diversity of our new product pipeline. With an investment of 45 million USD globally in its research and development in 2019 fiscal, Brady is committed to focus on efficiency and shortening time to market.'
Responding to market trends, Brady moved into smart label production in 2014, providing RFID-enabled labels to its customers. 
Catherine Oh, senior sales manager, Southeast Asia, says: 'Currently, Brady Corporation is providing a complete RFID solution to the aviation industry. Brady's aerospace RFID integrated label is designed to meet AS5678 requirements and the aerospace industry's ATA Spec 2000 specifications. These smart RFID labels are the next generation of products to extend the use of smart asset tagging in aerospace applications. At Brady, we use customer feedback to continually design, improve and innovate our products from general identification solutions to custom engineered labels. With multiple research and development centers globally, Brady is capable of providing testing, as well as product development, to meet the stringent specification provided by various segments such as the fast-growing e-commerce market.'
Other product offerings from Brady range from customizable supply chain-controlled labels that are used in highly targeted anti-counterfeiting applications, to an assortment of tamperevidence labels. The company caters to many brands worldwide with different kinds of brand protection labels. 'Brady's product authentication labels and services help client combat threats of counterfeiting, gray market diversion and tampering. This can be achieved by designing a multi-faceted security strategy for brands with various overt, covert, digital authentication and tracking technologies,' says Oh. 
For products manufactured in Southeast Asia across all three factories, about 50 percent are exported, and the rest are consumed in the domestic market.
Waste management 
Brady ensures that all sites comply with governmental standards and laws as defined by the relevant local authorities.
In Malaysia, hazardous waste which is known as Scheduled Waste is treated in accordance with the standards set out in the Environment Quality Act 1974 (Scheduled Waste) regulations 2005. All hazardous waste is fully controlled by the Department of Environment Malaysia (DOE), Ministry of Energy Malaysia, Technology and Environment & Climate Change. All hazardous waste is sent for disposal through the licensed contractor based on guidelines set by Department of Environment Malaysia. 
Similarly, in Singapore, toxic industrial wastes and non-recyclable general wastes are disposed in accordance with the criteria stated in Environmental Public Health Act and its relevant subsidiary legislations. The company engages licensed waste collectors to collect and dispose the wastes, based on requirements set by the local authority, National Environment Agency. 
For recyclable waste, which mainly consist of packaging materials such as pallets and carton boxes, the company either reuses them or they are collected by recycling vendors for recycling off-site or disposed of as general waste. 
Workforce management 
Thorough waste management, however, is just one of the many aspects of Brady's operations. The company also boasts a minimal and manageable staff attrition rate at a time when there is a shortage of skilled workforce in the market. 
Lim Siew Yin, senior human resources manager, Southeast Asia, explains: 'Brady believes in recognizing and rewarding our employees who go above and beyond in their jobs. We run a "Bravo program" which is a rewards system to thank our employees for the work they've done. It allows managers to award employees with points that can be redeemed for cash or gift cards. 
'All employees are encouraged to participate in continuous improvement projects. We track the Kaizen project progress and performance periodically. On top of that, Kaizen project submission is also one of our factory's key performance indicators (KPI) that gets evaluated in yearly employee's performance's goals. These individual goals affect individual yearly performance assessment or evaluation.' 
Furthermore, the company organizes both in-house and external equipment training to its employees. 'They are trained by equipment vendors, or visit one of Brady's other sites or the local site's experts trains them on specific machines or technology. We also have a Global Learning Center (GLC) for providing local in-house training by our personnel. At the same time, we also engage with some external training services providers for both soft skill and hard skill training,' says Siew Yin. 
GLC is an e-learning platform that is accessible by employees in all sites. This platform supports a wide variety of learning delivery including instructor-led training and virtual classrooms through an intuitive and personalized experience. Courses catering to the varied needs of individual needs, whether in soft or hard skills can be found on this platform and employees can register for it. 'They can find a course suitable to their own development needs and learn at their own pace too. We have about 39 percent and 28 percent of our exempt employees in Singapore and Penang respectively accessing the training courses conducted in 2019,' says Siew Yin. 
Stay up to date
Subscribe to the free Label News newsletter and receive the latest content every week. We'll never share your email address.