Australia's smart packaging powerhouse
Peacock Bros.' acquisition of fellow Australian converter AMR Hewitts has united 280 years of printing history and created a powerhouse ready to start the smart packaging revolution.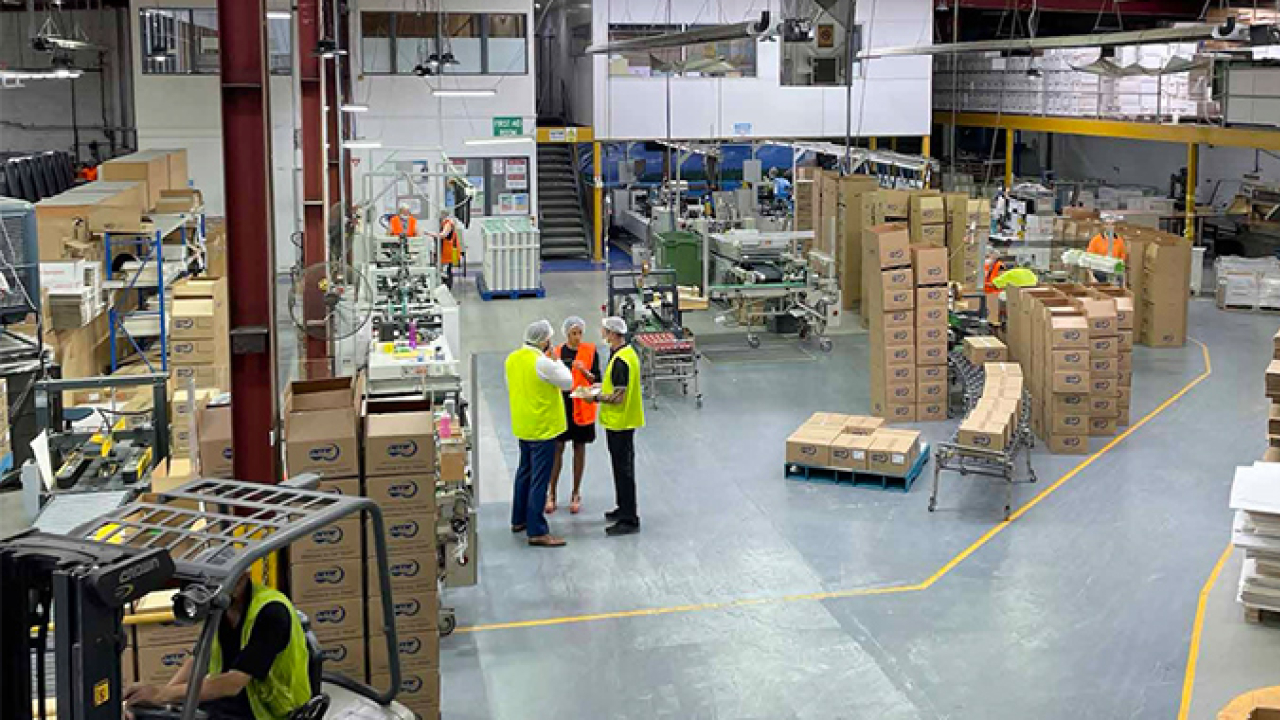 In 1888, Ernest Peacock opened a small general printing business in Collins Street in Melbourne, Australia, with just one platen press. Seeing opportunities within the explosion of business
in the new Federation, Peacock developed printing systems and binders – often in gold leaf – which quickly positioned him as a printer of quality.
Not content with limiting his offering to print system stationery, he gradually expanded the portfolio. Soon, he was trading filing cabinets, manila folders, book-keeping equipment, and even Millionaire, the first commercially successful mechanical calculator that could perform a direct multiplication.

Since then, innovation has been permanently engraved into the company's operations and is the signature of Peacock Bros. The company developed loose-leaf binders and filing systems for doctors, lawyers, real estate agents and payroll systems, as well as providing printing services for a variety of clients, ranging from local schools to major companies such as Coles and Myers supermarkets.
In the 1970s, Peacock Bros. was the agent for the iconic Casio hand-held calculator, but it was, in fact, hand-marking machines that pointed the company in another direction. Cartons were still being labeled by hand, causing endless problems – it was the perfect time to address this need.
With the purchase of a Mark Andy press and producing a significant number of labels for chemicals and addresses, Peacock Bros. decided to sell off the general printing business in 1978 and concentrate solely on manufacturing labels and desktop printing systems.
The innovation continued. In 2011 Poland-based Emis, manufacturer of the Flexor line of inspection slitter rewinders installed a die-cutting and converting machine at the Australian converter's Melbourne headquarters – the first such machine in the country. That same year Peacock invested in a Mark Andy P7 Performance Series, an 8-color machine with GEW UV curing and Harper ceramic anilox rolls of 430mm web width.
Peacock Bros. also became the first company in the region to invest in an HP Indigo 8000 just a few years later, in 2017, to utilize its capacity and high speeds as key to opening new markets. The recent investment in AB Graphic finishing equipment further strengthen its capabilities.
Today, Peacock Bros. is one of the most prominent label manufacturers in the ANZ region, with branches and channel partners across Australia and New Zealand. The company also made its name as a regional provider of barcode printers, data capture and software integration, and software products for warehouse, logistics, and stock distribution.
The books are filled with over 12,000 customers representing a wealth of industries – from manufacturing, distribution, warehousing, transport and logistics to healthcare.
Coming together
The company has recently acquired AMR Hewitts PrintPackaging, a 146-year-old family-owned business specializing in printed carton packaging. It operates with over 35 staff members based in Victoria, Australia, primarily servicing packaging customers in pharma and food and beverage, including well-known brands like Aspen Pharmacare Australia, Ferndale Foods, and BIC Australia.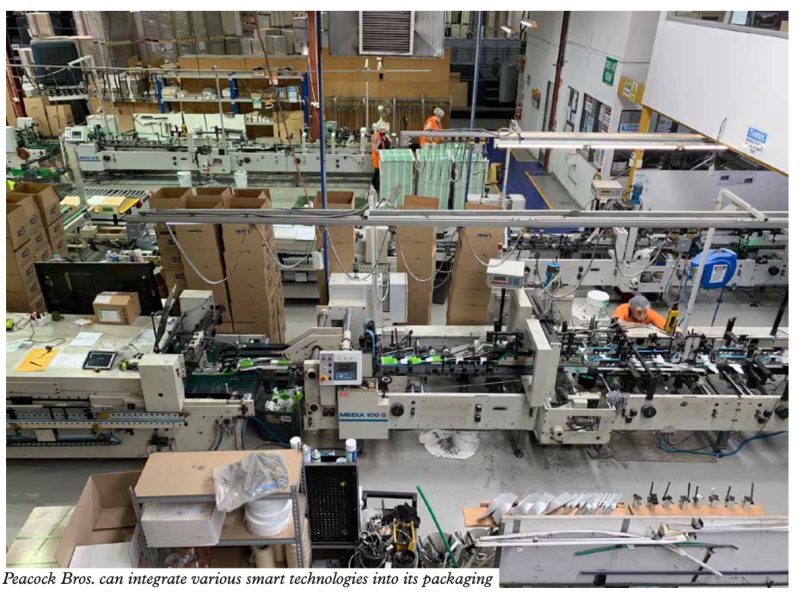 'We are delighted to announce the coming together of two of the great family-run printing businesses in Australia, with over 280 years of combined printing history, to create the most experienced local printing group in the country,' says Ryan McGrath, group managing director at Peacock Bros. 'The acquisition of AMR Hewitts will further strengthen Peacocks Bros. offerings in the printed packaging marketplace, complementing our current range of color labels and flexible packaging products.'
The acquisition includes AMR Hewitts' offices and production facilities in Tullamarine, expanding the Peacock Bros. coverage to include Melbourne's west.
Hewitts was established in Melbourne in 1876 by Thomas Hewitt, starting as a printing shop on La Trobe Street. In 1985, Dandenong-based printers AMR took over Hewitts' operations, leading to the creation of AMR Hewitts PrintPackaging at Tullamarine.
'AMR Hewitts is a proud family-run business with long-standing customers who have come to know and trust the quality of our work. We are so pleased to be joining the Peacocks Group given its shared values and operating culture and knowing that our staff and customers will be looked after and that the long history of the business and our brand will continue to grow into the future,' comments Matt Mimmo, founder of AMR Hewitts.
AMR Hewitts is regarded as one of Australia's pioneers and industry leaders in printed carton packaging – having led the adoption and specialization of cold foil printing, pearlescent inks, holograms and tamper-evident packaging in the country; along with successfully securing several patents for its carton printing innovations.
The company has the ability to print lithographic cartons with the highest DPI dot to enhance the look of the printed product. Its presses can produce up to seven colors with two different coatings in one pass. AMR Hewitts has also recently invested in in-line cold foil printing to offer further enhancements for the look of folding cartons.
AMR Hewitts previously won the Heidelberg Australia Award for Excellence in Craft and has been inducted into the Victorian Manufacturing Hall of Fame for Sustained Manufacturing Excellence, acknowledging its pioneering achievements as an innovator in packaging research and development.
'Our businesses are culturally aligned: two great Australian-owned companies with a rich history in Australian manufacturing. Both businesses pride themselves on quality
products, solutions, and services,' adds McGrath. 'It is an opportunity to leverage and grow the business in time – adding more value to the overall business and to our customers. The carton market is also set for growth, especially with companies looking for more sustainable options and substitution of plastic materials.'
Smart packaging revolution
The smart packaging revolution is gaining momentum worldwide. Peacock Bros. is at the forefront with its in-house manufacturing capabilities integrated with this new technology to offer its customers a single supplier that can digitize their products and take them to market.

'Digitized product solutions such as anti-counterfeit, supply chain visibility, consumer brand engagement, and recycling initiatives are just some of the solutions we specialize in, and the ability to now offer these solutions to the printed carton marketplace is very exciting for our customers,' says McGrath.
The recent acquisition further strengthens Peacocks offerings in the printed packaging marketplace, complementing its current range of color labels and flexible packaging products.
'Now that we have AMR in the mix, we have strengthened our position as a single supplier of all our customers' printing needs, says McGrath. 'Pharmaceutical or beauty companies often have many different packaging needs depending on the type of product, so they can now work with a one trusted single supplier.'
Peacock Bros. might have just become one of the APAC region's biggest and most modern printing powerhouses. However, the business values and innovative ambitions have not changed since 1888 and are guarded by the founder's first platen press, proudly displayed in the reception at the company's Melbourne head office.
---
Stay up to date
Subscribe to the free Label News newsletter and receive the latest content every week. We'll never share your email address.