Beijing hosts first L9 summit in China
A wide range of subjects including digital printing and sustainability were discussed at the latest meeting of the world's regional label associations in China.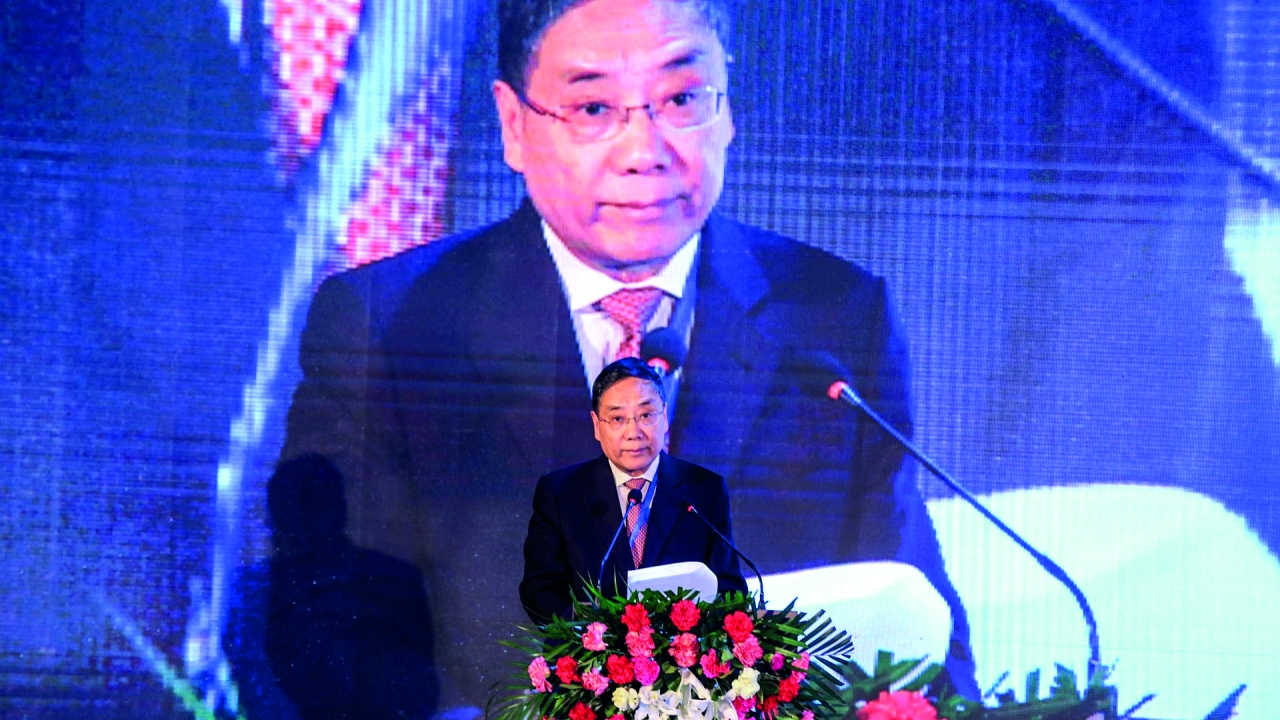 The World Label Association (L9) Beijing Label Printing Summit & Industry Forum was held in Beijing's Westin Hotel in April. Besides the hosting association PEIAC, delegations from Finat (Europe), TLMI (North America), Latma (Australia), LMAI (India), JELP (Japan), Ametiq (Mexico), and Salma (New Zealand) travelled to Beijing.
This is the first time the L9 holding meeting – which coincides with the 9th anniversary of PEIAC's founding – has been held in China. The eight association members came from across the world to discuss and celebrate the latest label printing technologies, market developments and future trends. In particular, they brought the most eye-catching highlights from their various regional markets. The conference was chaired by Yao Yi, the president of Luster LightTech Group, and Ramon Lee, the general manager of Bro-tech.
Current developments
Opening the event, Xu Jianguo, chairman of PEIAC, told delegates China's economic growth has slowed in the last couple years. GDP in 2016 increased by 6.7 percent to a gross total of 74 trillion Yuan (10.7 trillion USD), basically equivalent to an increase of 10 percent over the last five years. According to data from the International Monetary Fund (IMF), China's economy now accounts for more than 30 percent of global economic growth, which means China is still the most important growth engine for the global economy. The Chinese economy still has huge potential for development, and this was a key reason for holding the L9 summit in China.
Tan Junqiao, honorary director of PEIAC, agreed with the above ideas. Packaging enterprises account for 49 percent of all the printing companies in China and their total yield is up to 74 percent of the industry's total volume, he said. This includes label printing, which will be benefit from the huge growth potential of package printing. In 2016, the industrial growth rate was 7 percent, and this is predicted to continue for the following several years. The data from another developing country, Mexico, is also quite positive, with the label market showing a consistent growth rate of 8 percent.
Jules Lejeune, Finat managing director, said the European market has shown a clear trend towards recovery since 2012, and kept up a growth rate of 5 percent. The eastern European market accounted for 12 percent of total European market share in 2013, now increased to 22 percent.
Digital printing
Digital printing is a hot topic. From Finat's 2016 survey of printing houses, 31 percent of new investment was in digital equipment, exceeding conventional press investment (28 percent) for the first time. Another survey of end users showed that 71 percent of them purchased digitally printed labels. In 2015, the digital printing in Europe accounted for 9 percent of total volume. The average run length of conventional presses stands at 5,000 linear meters while the average run length of digital presses is 750 linear meters.
Data from Australia's FPLMA showed digital press sales increased by 20 percent, accounting for 10 percent of total volume. Of label printing houses in Australia, 40 percent are now using digital printing technology. In New Zealand, Salma reports 28 percent of adhesive labels are produced by digital presses.
According to TLMI data, new digital press installations increased from 33 percent of converters in 2011 to 52 percent in 2014 and this is estimated to reach up to 77 percent of all label converters by 2020. TLMI's data showed that inkjet label printing technology showed the highest projected growth rate, with compound annual growth of 18 percent from 2014 through 2020.
In the Asia-Pacific printing market, there are fewer installations of digital presses. If you take out the developed country of Japan, labels produced by digital presses account for just 5 percent of total volume.
New opportunity
PEIAC consultant Fu Qiang talked about how the development of e-commerce is already bringing huge market growth for logistics labels. His study data shows that the volume of labels for express packages was 31.35 billion pieces in 2016, half of which used more complex 3-layer adhesive labels. Adhesive logistics labels are a full part of the industrial chain in China and there are dozens of printing houses specialized in producing logistic labels throughout the coastal cities.
Vice-president of the Beijing Institute of Graphic Communication (BIGC), Xu Wencai, was very optimistic about the future growth of smart labels. 'The features of short-run, personalized, intelligent, short delivery time and variable data are emerging in the current label market as the smart-tag and functional labels become more and more popular. New technologies such as RFID, TTI etc are applied in new labels which can track temperature, humidity, freshness and logistics information and add more value to the label. More and more of these new opportunities are appearing in the label market.'
Environment protection and sustainability
According to Yao Yi of Luster, the Chinese government is giving increasing emphasis to environmental protection, especially in first-tier cities, and now the Beijing government has ordered many printing factories to move out of the city.
Wang Lijian, general secretary of PEIAC, told L&L that the association is leading the way in establishing an alliance for VOC control and management to improve the environmental credentials of ink, plate-making and print facilities. Water-based ink has meanwhile demonstrated some technical breakthroughs regarding quality, cost and reduction of the intensity of VOC emissions.
Sharon Xiao, sustainable development manager, Asia-Pacific for UPM Raflatac, said sustainability has now become one of the company's main competitive focuses. Looking at the customer enquiries received by the Greater China area of UPM Raflatac, more and more people are becoming concerned about sustainability issues. UPM Raflatac is joining up with WWF China and some other organizations to enhance the promotion of certified environmental products and actively push the company's liner recycling project.
Mark Easton, president of FPLMA, said in Australia several large wineries have started to use the recyclable labels constructed with PET liners, while some printing companies have started to use 'greener' UV LED curing technologies.
Stay up to date
Subscribe to the free Label News newsletter and receive the latest content every week. We'll never share your email address.