Printing a high quality self-adhesive label is one thing, but it is the die-cutting and finishing procedures which add the final flourish of quality. Although not always immediately apparent to many in the supply chain, correct die-cutting is an important part of the finishing process for self-adhesive label production. 
When we consider the purpose of the die-cutting tool, it becomes obvious how accurate the manufacture of the tool has to be. The bottom line regarding the purpose of die-cutting is to ensure that the self-adhesive label not only leaves the liner carrier cleanly and efficiently on the label application equipment, but also allows the finished labels to be stored in roll form until required for application to the final product. In the self-adhesive industry the die-cutting procedure, in most instances, is carried out in line with only a 'kiss impression' pressure on the facestock. Consider how accurate the tool must be to be able to cut through the facestock yet not penetrate the liner, so the margin for error is strongly related to the thickness of the film or paper facestock being cut (a few micron). Equally it is vital that the die-cutting tool is set very accurately and that attention is paid to the condition of the tool during the production run. Some fantastic results can be achieved by combining clever die-cutting and relief embossing/debossing, as can be seen the image of a label produced by Spanish converter IPE. 
"Consider how accurate the tool must be to be able to cut through the facestock yet not penetrate the liner"
The two main types of dies used in the label industry are flexible cylindrical rotary dies or solid cylindrical dies. Solid dies are the most robust but are more expensive but can be sharpened whereas flexible dies are cheaper but do not last as long and cannot be sharpened.
Industry 4.0
Italian company Albertin Alcide e figli has been manufacturing dies and tools for almost 50 years (it celebrates its 50th anniversary next year). Over the past few years the company has added a five-in-one stamping tool which allows five different effects to be achieved in one pass without changing the tool, including hot foiling, embossing, debossing texture and anti-counterfeiting holograms. This innovation is compatible with several well-known machine manufacturers. 
Ferruccio Albertin, CEO of Albertin, comments: 'Since our foundation, we've been searching for new opportunities and new technologies allowing our customers' to make their production processes more accurate, easier and faster. Our latest developments have moved in this direction and we aim at creating an Industry 4.0 compliant production plant. 
'Industry 4.0 offers a high level of control for all aspects of the production process and thanks to state incentives, the Italian market is empowering and revamping machinery to be competitive. It's a big effort in terms of investment and training. However, we strongly believe in this revolution and we are aware of the benefits that can be gained from it. Any factory that wants to achieve the fastest and the most accurate production process has to reply with technology. We do not foresee a hardware revolution, however, we do expect increased importance in sustainability initiatives and a drive to achieve zero environmental impact.'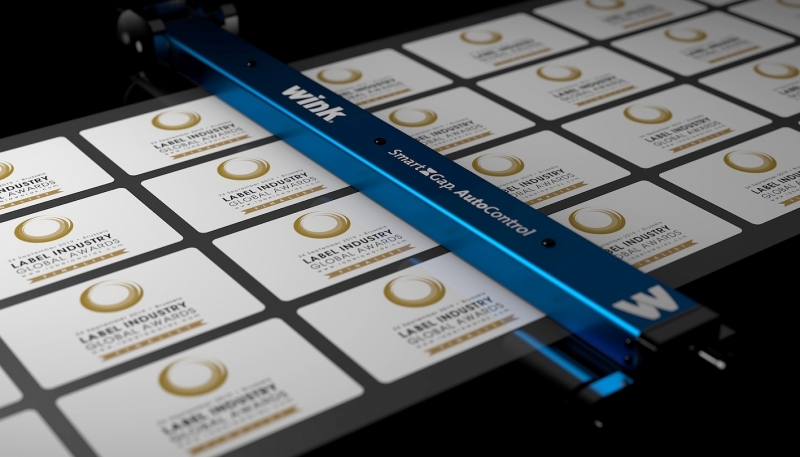 Wink's latest development is the AutoControl version of the established SmartGap adjustable anvil system, which represents a further step towards Industry 4.0. A specially developed sensor bar continuously monitors the cutting result and sends immediate signals for automatic gap adjustment for perfectly cut labels. This results in a significant reduction of waste, effort and costs for the label converter.
'The "mega-trends" of digitization, automation and sustainability have long since found their way into all sectors of the economy, also in the label industry,' says Andre Gysbers, marketing director at Wink. 'Digital printing and the corresponding reduction in run lengths, personalization and SKU proliferation are primarily issues that affect the printing process to a stronger degree than the die-cutting process. However, when it comes to increasing efficiency, stable processes and avoiding waste, die-cutting plays a decisive role.'
Flawless labels
Perfect tools with the highest precision are the basis to producing flawless labels quickly and reliably. Wink's SuperCut magnetic flexible dies guarantee minimum tolerances and maximum durability. SuperCut dies are available with several finishes and coatings to maximize die-cutting efficiency. Alongside the SuperCut dies, Wink provides OptiMag magnetic cylinders, which are manufactured with high-tech equipment in all standard dimensions, as well as special formats. 
"When it comes to increasing efficiency, stable processes and avoiding waste, die-cutting plays a decisive role"
However, in addition to the basic tooling, currently it is recommended to use adjustable anvil systems such as Wink's SmartGap to meet demand for highest quality labels and maximum efficiency. The small gap between the magnetic and anvil cylinder, also known as 'clearance' or 'undercut', plays an important role in label converting. Even the smallest deviations can affect the success and failure in die-cutting, as changes in the gap size have a negative impact on the die-cut quality. 
In particular, ultra-thin (downgauged) liners are very demanding in terms of die-cutting, because they are not compressible like glassine liners, and thus much more sensitive to die strikes. Wink uses special engraving and hardening techniques for its SuperCut dies to guarantee minimum tolerances, and offers the SmartGap adjustable anvil system to gain full control of the cutting depth.