A sustainable technology ecosystem is not only defined by reducing the environmental and social burden, but it must be economical, and above all, there can be no compromise in quality.
This is especially so in the case of metallic effects. Silver or gold embellishments are a proven method of creating visual and sensual appeal that stands out on a crowded retail shelf, particularly in luxury wine, spirits, cosmetics goods, and many other premium sectors. While foiling may be renowned for its brightness, reflective color and fine detail, both hot and cold processes incur waste when a significant proportion of foil and adhesive is not used in the final product.
However, specialty coatings and inks manufacturer Actega seeks to challenge foil's dominance with EcoLeaf, a metallizing technology that promises equivalent quality – but without waste and with reduced operating costs.
Actega Metal Print hosted an open house event at its Lehrte, Germany headquarters to show that after five years of R&D development, EcoLeaf is now ready for the label converting market.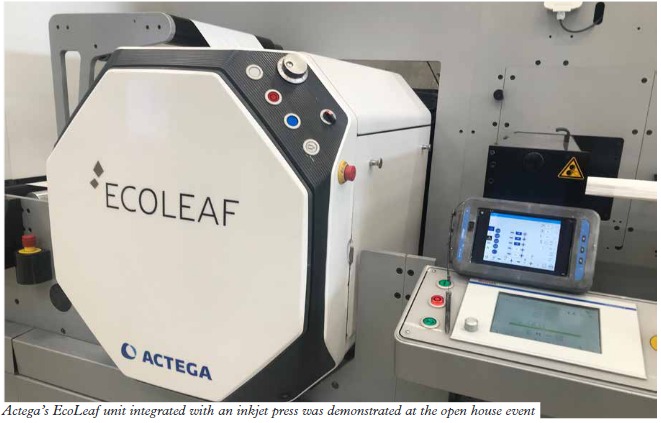 Only print what you need
EcoLeaf uses 'liquid foil' instead of plastic-backed reels used in conventional hot and cold foiling. By only placing metal flakes precisely where they are needed, EcoLeaf avoids the need for PET carrier film – and reels altogether. Actega claims the technology reduces the CO2 footprint by more than 50 percent compared with hot and cold foil.
The application process is similar to inks but uses pure metal flakes. These are processed and reproduced in a super flat monolayer, enabling mirroring and quality that rivals traditional foiling.
Trigger image process
The print result is created by printing a trigger image in a varnish-like material, applied by flexo, screen or inkjet printing. The trigger image is then UV-cured before passing to the metalization unit, which processes the metallic flakes from a liquid format to a fully dried, flattened surface and transfers it to the trigger image with a donor roller. No drying is needed, and the metalized web may then be overprinted with a variety of colors and coatings.
Eliminating waste
Only the precise amount of foil needed on the package is used in the process, which means consumption is kept to a minimum, and the potential for waste reduction is significant.
''There is no other need for the unused foil and its adhesive. [Traditional foil] only gets used by 10, maybe 20 percent of the whole coverage area of the label. The rest is a waste that often gets either incinerated or sent to landfill,' says Paulo Grasso, sales director for EcoLeaf at Actega Metal Print. 
Initial calculations from the company's life cycle assessment suggest that 1kg of EcoLeaf flakes replace 3,000kg of foil waste, eliminating 20 tonnes of CO2 emissions plus 250 liters of dirty, recyclable water.

Mirror effect
The flake production method assists EcoLeaf's high quality. Being a PVD (physical vapor deposition) coating, EcoLeaf flakes are smaller, while the edges and orientation are more regular and flatter than metallic inks. While metallic inks are more prone to scattering light and sparkling, EcoLeaf achieves a shiny,
mirror effect. 
In gloss level tests, EcoLeaf achieves 600 measurable gloss points, measured at a 60-degree angle, which for the human eye Actega claims is acceptable and comparable to the 700 gloss points of foil. 
Rolled for image sharpness
The processing of the metal layer in the unit into a fully dried, flattened surface plays an important role in assuring a clean, sharp image – as does speed.  
The metalization unit has a central impression configuration. The donor roller is a soft, silicone-coated sleeve mounted on an air mandrel in the middle of the machine. Surrounding this are seven process positions. The first process is an application station. Metal flakes, suspended in deionized water, are pumped into a cassette, then applied to the donor roller via counter-rotating rollers.
Next is a polishing station with chrome-coated rollers to smoothen and flatten the flakes. This application-polish sequence is repeated, then a squeegee removes excess water and flakes and is fed to a tank below for reuse. A hot air or infrared unit fully dries the metallic layer on the donor roller. At the nip point, the flakes are applied to the trigger image. Bonding is instant, as the varnish that forms the trigger image is specially formulated to attract the flakes, 'like a magnet,' in a way that would not be possible with a standard varnish, Grasso says. No drying or curing is needed, and the metalized web passes to the next stage in the printing or converting sequence.
Seamless inline and near line integration
The EcoLeaf metallizing system can be integrated to run inline on narrow web presses and offline into finishing equipment. At the end of 2021, an agreement was reached for AB Graphic International to become exclusive distributors of EcoLeaf with the company's converting machines.
Actega showcased the EcoLeaf system on a Gallus press and demonstrated the productivity and flexibility for flexo applications. The metallizer is mounted on an optional overhead rail system which is easily slid into any position in the printing sequence. Only a standard anilox roll is suitable for applying the trigger image.
For flexo, Actega claims speeds of up to 70 m/min are possible at optimum quality and stability.
Screen if you want to print thicker
Using screen printing, Grasso claims single-pass laydown of up to 80-micron thickness is possible. The combined flexo and screen effects can be metalized using a single pass: it is simply a matter of applying the trigger image with those processes before metalization.
'Flexo is extremely beautiful on films or coated papers or for very fine details, like linework or micro text. With flatbed or rotary screen printing with the EcoLeaf, we get the beauty of haptic effects, simulating the embossing effect even on film,' Grasso says.
For inkjet, a digital UV print bar is used to jet the trigger image with 600x1200 resolution Ricoh Generation 5 printheads, chosen according to Grasso 'because of their capability of achieving the necessary jetting volume for haptic effects.'
'For inkjet applications, EcoLeaf will run apply a 10-micron deposit at up to 50m/min or go to 20-micron with max 25m/min,' he states. 'With inkjet embellishments, we have a continuous flow of printing, with computer files activating the digital print bar. A series of short runs, perhaps of 500m can be run with immediate changeover and no material waste,' Grasso says.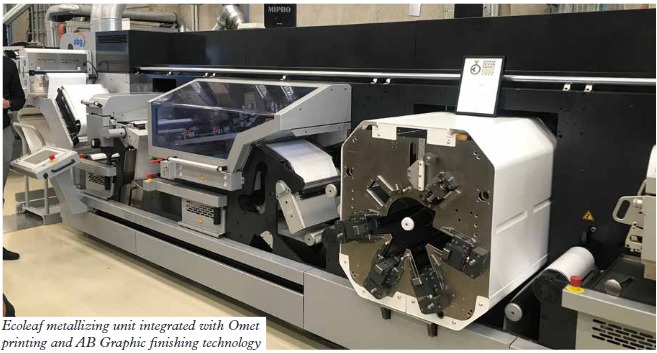 Operational efficiency
Besides quality and sustainability, EcoLeaf contributes to lower operating costs in a variety of ways.
First is reduced stock holding, as eliminating the need for foil also cuts logistics and inventory costs. A tank of ink substitutes piles of different colors, diameters, and widths of foils – and their management.
Machine operation is straightforward, like any inking process: the metallizing unit features single button activation. With no reels, splicing or tooling, setup times are limited to plate and screen exchange for analog processes, while inkjet avoids these altogether.
Donor roller exchange takes seconds, enabled by a foot pedal-activated air compression.
Also, Actega leases rather than sells the unit to converters, charging on a pay-per-use basis.
The elimination of waste also helps the converter reduce the burden of 800 USD per ton levied by the EU on non-recyclable plastic packaging.
Furthermore, the metalized coating is safe for microwave ovens because, as seen under a microscope, the flakes do not quite touch each other. There is no conduction beyond a few centimeters of the surface. However, this makes EcoLeaf unsuitable for printed electronics.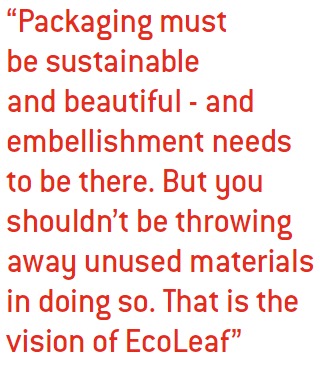 Beta tests
In 2019, beta testing began at several label converting facilities across Europe to raise performance on flexo, screen, digital and hybrid digital presses. Among these are Germark in Spain and Vollherbst, Kolbe-Coloco and All4Labels in Germany.
All4Labels's WItzhave, Germany, facility was the first to install the EcoLeaf unit on a digital hybrid press. Guided by Actega's R&D team, All4Labels has been testing several papers and films and began sample production at the beginning of 2022.
Chen Yan, head of global operation technology, All4Labels, says: 'The biggest component is the CO2 placed on the supply chain. We all need to make incremental changes in every business area to reduce CO2 footprint drastically. We must also show how we re supporting that reduction and enabling the younger consumer generation to succeed and achieve their own sustainability goals. As a technology that is helping us to improve our CO2 footprint by 50 percent, EcoLeaf is an example of that commitment.'
Certainly, for analog print applications, EcoLeaf metallizing speeds are comparable with traditional foiling speeds. Even so, the R&D team at AMP continues to investigate ways of driving up printing speeds. The key challenge to running at 120m/min and beyond is maintaining water and metal separation when the system spins faster, which is essential for image sharpness. R&D continues to raise the gloss count further and optimize suitability on a broader range of substrates.
There are plans to market EcoLeaf outside Europe from 2023 and, in due course, apply the technology to wider web packaging markets.
Grasso says: 'Packaging must be sustainable and beautiful - and embellishment needs to be there. But you shouldn't be throwing away unused materials in doing so. That is the vision of EcoLeaf: achieving excellence with fewer materials, more process simplicity and flexibility, more efficiency, with less waste.'