Ease of operation aids Smyth
Until 2019, Smyth Companies' Minneapolis facility had eight narrow web flexo presses from four different manufacturers. The label and flexible packaging converter was experiencing growth in short runs and anticipated more, so its leadership had become focused on changeover time, speed and throughput.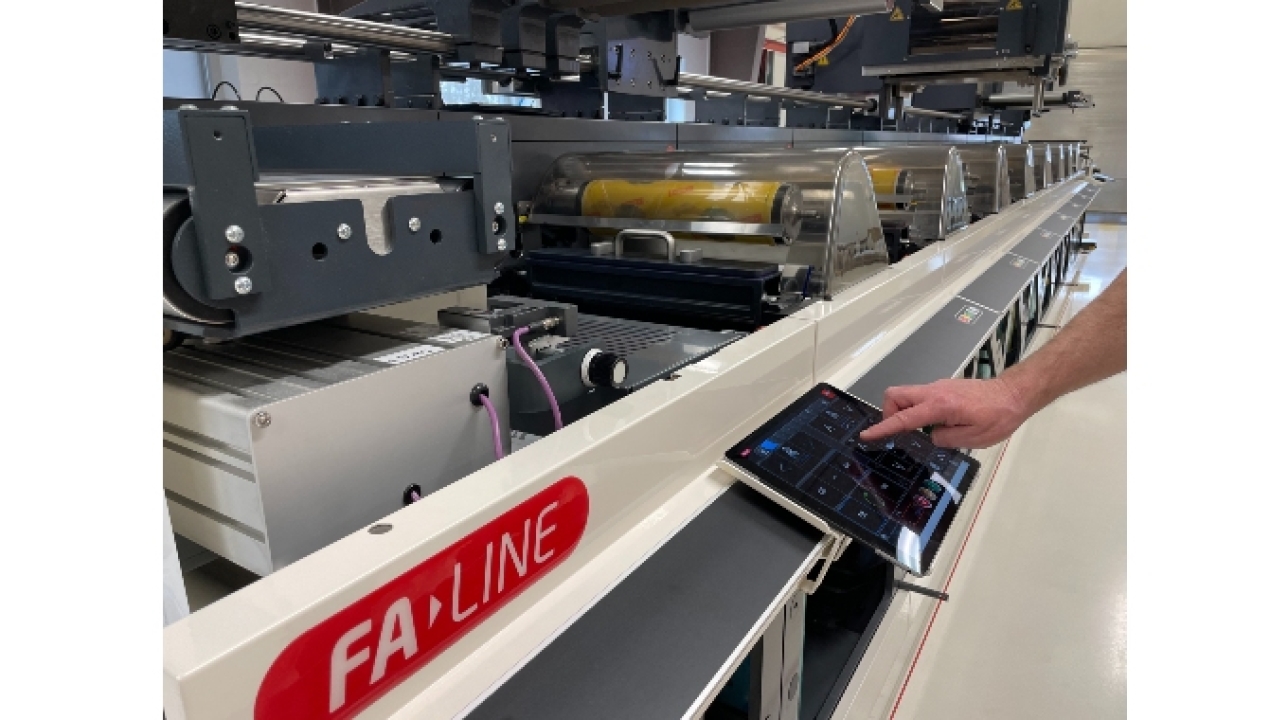 The company's management teams recognized that its older presses were cumbersome to change over, requiring operator skills which were a challenge to find. The automation built into new narrow web presses was appealing both for operational advantages and operator usability.
Ultimately, to be more competitive, it was time for Smyth to invest in new press technology. The team's objective with its next press selection was to find a partner for its future development in Minneapolis. At the same time, Scott Fisher, president of Smyth Companies, envisioned a fleet of flexographic assets that would meet any of Smyth's customers' extensive requirements. This strategy would also make it easier to train and move operators around the shop floor from press to press.
The first Nilpeter FA-Line that Smyth installed was a 17in 10-color flexo press with laminating and cold foil capability. The focus of the first investment was to take work off the other presses, to shorten changeover time, and to reduce waste. Smyth's data has shown the team that it can put thirty percent more footage through the FA-Line compared to any other asset in the plant.
By 2020, Smyth installed its second Nilpeter FA-Line, also 17in wide, but with 12 flexo printing units and two screen units on a rail, each with its own curing system, plus cold foil and hot stamping units. In June of this year, the converter will install its third FA-Line, moving even closer to the leadership's vision for its Minneapolis facility.
Jim Stark, general manager at Smyth-Minneapolis, says: 'Nilpeter has excelled in the sense that they are extremely interested in our success. This is what led to us buying the second press within a year, and a third one again this year, because of the support we have and the partnership.'
"We have two operators running our new Nilpeter presses that have never been operators before. In a short amount of time, they are becoming efficient and effective"
Scott Fisher adds: 'We see benefits with the FA-Line that we do not see with other manufacturers. One standout feature is the registration. I've never seen a flexo press hold register the way the FA does. We can run up to 400 ft per min [122m/min], and we laugh that the crosshairs aren't moving.'
The machine's ability to hold ultra-tight register can be attributed to the modern manufacturing process at Nilpeter's US facility. In a traditional shop, presses had been made up of 8-10 pieces of metal. Today, the Nilpeter FA is made from a single piece of steel, which greatly minimizes fractional movement in a printing run. The full unit goes into a large CNC machine. This helps make each unit almost identical, and it requires very little assembly.
Nilpeter's investment in automation has simplified the press manufacturing process to improve consistency, quality and lead time. Each machine is tested to ensure that side-to-side and front-to-back registrations meet the tight tolerance of +/- .001 of an inch in movement; if not, it is rejected.
Says Fisher: 'They've made some serious investments here in the US, which made the decision to choose them as a partner easier, as well in that they are going to be able to deliver on what they have promised. We appreciate their move for redundancy in manufacturing globally, their quality objectives, and their overall philosophy on how they are building their machines. And the stability in their business is reassuring.'
Overcoming workforce challenges
Simplified operator usability is a feature of the FA-Line that has helped Smyth overcome what might be the biggest challenge in the label converting industry: finding skilled press operators. The pressure to find human resources has only intensified in recent years, little sign of potential improvement.
In today's manufacturing environment, a modern user interface and automation are key to luring and keeping younger talent in the narrow web printed packaging sector. Lenny DeGirolmo, president and managing director of Nilpeter USA, says: 'When our R&D and engineering teams designed the FA-Line, they knew we needed to come up with something that is easy to run. This is why the FA has very friendly interface icons that allow for monitoring a lot of the functionality of the machine. The simplicity in user operation allows our customers to put people on presses that have never run one before.'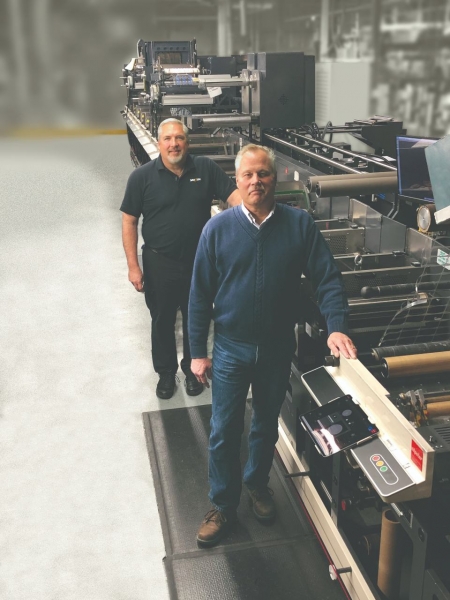 Stark agrees: 'The interface of the FA-press combined with the auto-functionality has certainly helped relieve some of the challenge in finding operators, and in our experience with this new equipment, the younger workforce likes what they see, and want the opportunity to learn the new technology.'
The FA-Line saves all data for a given job, so an operator can easily recall parameters to re-run the next order. Anilox and print cylinders are automatically set to near kiss impression, when the user enters the print cylinder size. And while other press options in the market also deliver quick-change, Smyth has found the changeover with the Nilpeter FA to be less mechanical and command far less tooling to get up and running quickly and consistently.
'Our other presses require experience to problem solving as things come up,' Stark continues. 'We have two operators running our new Nilpeter presses that have never been operators before. In a short amount of time, they are becoming efficient and effective.'
'Running the machine is almost intuitive,' says Fisher. 'There are fewer buttons and minimal settings that need operator direction, which eliminates the human variable that we have all been dealing with.'
With the initial installation, Nilpeter's technician trained four Smyth operators equipped with headsets on the same shift for a week. By the second week, they split the operators into shifts, moving into a special schedule for an eight-week period to allow the production manager to spend time with each operator on every shift, serving as an internal support hub.
Stark says: 'Our training strategy built everyone's confidence. All four operators felt they were on the same team, sharing the same knowledge and any other opportunities to learn.'
Service
With its global headquarters in Denmark and manufacturing locations in the US and India, Nilpeter has established a 24-7 service system to support all of its customers around the world. Service process are set up so that customers in any region can call a hotline and reach someone at any time of day.
Lenny DeGirolmo, president and managing director at Nilpeter USA, explains: 'With anything, support is everything after the fact. We went side by side with the Smyth team on the whole journey.'
Smyth ran into some trouble with the integrated die station and were grateful for Nilpeter's responsiveness and steadfast support. Explains Stark: 'With Nilpeter, if we have any adversity at all, they will do what they can to help us. They are focused on understanding our business and know how important our uptime is to servicing customers. With Nilpeter, it's about us, and this is a differentiator in the marketplace that is real.'
"Running the machine is almost intuitive. There are fewer buttons and minimal settings that need operator director, which eliminates the human variable"
Smyth's maintenance team loves the partnership it has developed with Nilpeter's technical group. The technicians take pride in getting a press up again after it's gone down, and with this new relationship, Smyth's maintenance team has been able to keep presses up and running better than ever before.
Fisher says: 'The machines are performing exactly how they predicted they would, and in some cases even better. I have always been a fan of Nilpeter technology. Their equipment is well-made and well-constructed; it's high-performance.
'But what impresses me the most with Nilpeter is their service and commitment. There has been a tremendous amount of trust, respect and sharing to make each other successful. Nilpeter made the promise to be our partner, and spent the time to learn about our needs – not just current state, but where we want to go.'
Stay up to date
Subscribe to the free Label News newsletter and receive the latest content every week. We'll never share your email address.