East Africa on the cusp of growth
Sachen Gudka, managing director of Skanem Interlabels Nairobi, says the East African label market is on the cusp of growth.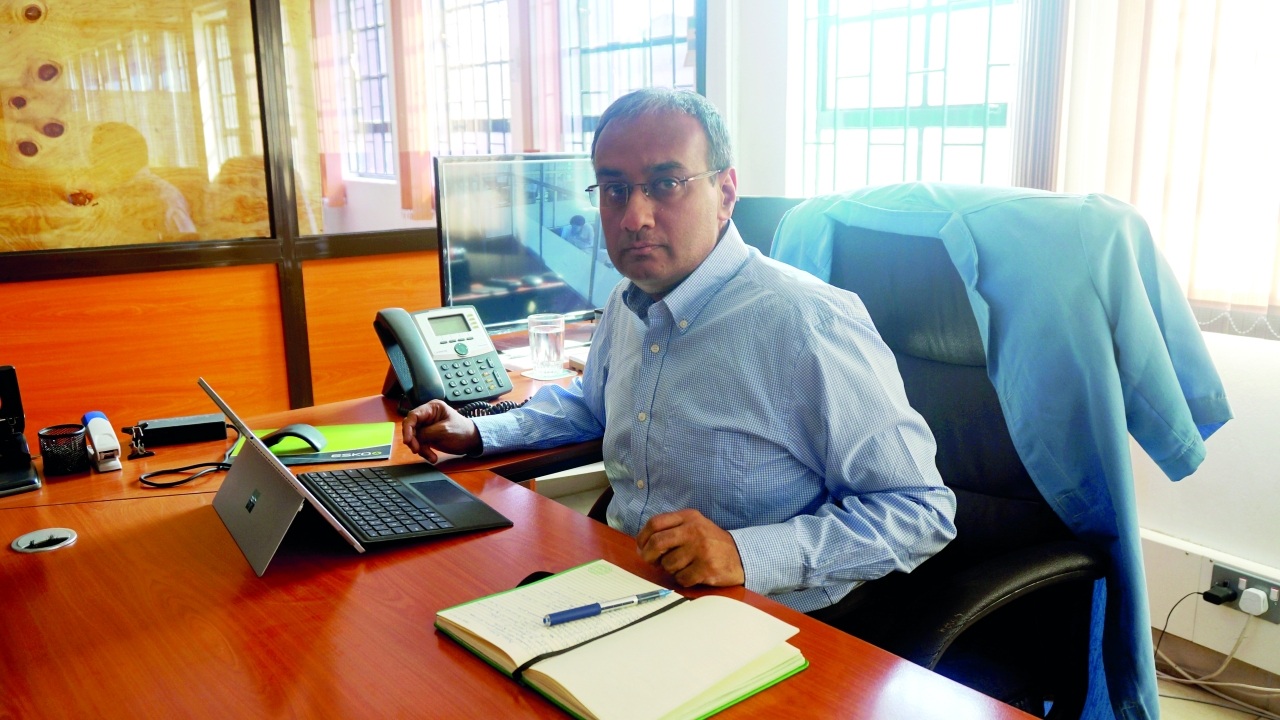 Skanem Interlabels Nairobi began existence as Interlabels Africa Limited, a joint venture between The Rodwell Press of Kenya and Interlabels Industries of India. When Skanem acquired Interlabels in India in 2012, Interlabels Africa also came under its wing, and was subsequently renamed Skanem Interlabels Nairobi.
Today, Skanem Interlabels Nairobi exports to 15 countries all over Africa and the Middle East. The plant houses three UV flexo presses – a 10-color Nilpeter FB 4200, a 10-color Gidue bought in 2015, and a Bobst Revo M4 installed August 2016. A Prati finishing line was also installed in August 2016.
Determined to maintain global printing standards, Sachen Gudka, managing director at Skanem Interlabels Nairobi, says: 'We have an in-line inspection camera from AVT on the Bobst press. The workflow of this press is linked to the Prati and BST finishing machines so the entire operation runs like an assembly line.' Inspection cameras on the other presses are being evaluated as well.
Flexo pre-press is outsourced to subsidiary company The Flexo World. It houses two Esko CDI platemaking machines for high definition plates for Skanem as well as several other printers in the country. The unit runs on an Esko platform and also houses spectro­photometers and a spectroproofer.
The ink kitchen at the plant is run by Flint and is equipped with proofing and color matching machines. Skanem Interlabels Nairobi is the only company to have this kind of color management system in the region. The unique machine requires the Pantone number and the quantity of ink required as input. It then dispenses the exact color in the amount entered. The machine also indicates the quantity of color left in stock so the plant can manage its inventory.
The print proofer in the ink kitchen has mini anilox rolls that can be configured to the job requirement. 'The print job is first run on the proofer and checked for accuracy. Only when approved in the kitchen do we run it on the press to avoid wastage,' Gudka explains.
Talking of future investment in a digital press, he says that the company does not feel the need of the technology immediately but may reevaluate in 2018. 'There is a difference in short runs in Europe and Africa. Due to high labor costs, it makes sense for European converters to print a job of 2,000 meters and less on a digital press. According to our calculations, it makes economic sense for us in Nairobi to print jobs on a digital press if they are 800 meters or less. There are not many jobs that require that less number of labels yet,' he elaborates.
However, Skanem has been investing in digital label printing technology elsewhere. Last year, the company bought an HP Indigo WS6800 for its Mumbai plant in India and two Domino presses at its plant in Sweden.
East African market
Giving a regional market overview, Gudka says that there is one HP Indigo press in Kenya and one Xeikon in Tanzania. Another HP Indigo 20000 will be installed shortly. 'Though digital is a fairly new technology in the region, converters are bringing in world class equipment,' he says.
Of the wet-glue label segment, he confirms that it is increasingly losing its share to pressure-sensitive and shrink sleeves/wraparound labels. This segment is estimated at 15,000 metric tons in the East African countries of Kenya, Uganda and Tanzania. 'There are 500 bottled water manufacturers in the industry here and about 490 are using shrink sleeve labels, with the rest on pressure-sensitive labels, BOPP wraparound and wet-glue labels. Other major segments for shrink sleeve labels are cosmetics and juices. An estimated 5,000 metric tons is converted per annum in the region,' Gudka adds.
While gravure and letterpress are also declining in the region, flexo is gradually gaining momentum. There are 26 pressure-sensitive label printers in Kenya, and three each in Tanzania and Uganda, who together are converting an estimated 30 million sqm per annum. Of this, Kenya alone accounts for almost 23 million sqm. Talking of the market trend in Kenya, Gudka says, 'While food and beverage are the main industries in Africa, horticulture, personal care, automobile and home care are also building momentum.'
Due to a legislation passed last year, many distilleries in the region were closed. 'Only four were allowed to continue operations. The pres­sure-sensitive label market shrunk considerably because of issues in the liquor industry. However, the government has gradually started giving out liquor licenses and factories have started operations again. So, going forward, this segment will grow,' he assures.
In-mold labels are also showing good growth as the market is estimated to grow to 2,000 metric tons per annum in Kenya. There are only four players with blow molders and injection molders. 'In-mold label is catching up with ice cream containers, dairy products such as butter and yogurt as main applications,' he says.
Talking of other packaging segments, Gudka spoke of corrugated cartons, folding cartons and flexible packaging.
While the Kenyan market size of corrugated carton is 80,000 metric tons, the remaining East African market size, comprising Uganda and Tanzania, stands at 50,000 metric tons per annum. 'There are a total of 23 converters in Kenya and approximately eight in Uganda, totaling 37 converters in the region. This sector is ready for consolidation. Investors are looking for printers with cross border operations,' he says.
Folding cartons are produced by 29 major converters – 15 in Kenya, eight in Tanzania and around six in Uganda. The market size in Kenya alone is 12,000 metric tons and the rest of the East African market is 11,000 metric tons per annum.
'Flexible packaging is also ripe for consolidation, but there is significant pressure on margins. Any further investment will lead to a downward pressure on margins. According to research figures from 2015, there are 15 converters in Kenya, and three to four each in Uganda and Tanzania,' Gudka informs. Kenya is manufacturing 41,400 metric tons per annum of which 40,000 is for domestic consumption and 1,400 is exported. Some 1,800 metric tons are imported into the country. The market size of Tanzania is 16,200 metric tons with a domestic consumption of 15,000 metric tons, and that of Uganda is 14,100 metric tons with domestic sales of 11,100 metric tons per annum. 'Kenya is thus a giant amongst dwarves,' he summarizes.
Other divisions
Taking this opportunity to further grow the business in the region, Skanem Interlabels Nairobi sells label applicator machines in Africa that are manufactured at the company's plant in Mumbai. 'We have 75 to 80 installations all over Africa. The installation and post sales service is handled by engineers in Nairobi. This division is gaining momentum as Africa continues to move towards more automation,' says Gudka.
The plant in Africa also has a barcode division which sells printers and ribbons to facilitate other label printing businesses.
Stay up to date
Subscribe to the free Label News newsletter and receive the latest content every week. We'll never share your email address.