Read later
European label volumes surge as pandemic reshapes industry
This year's Finat European Label Forum (ELF) kicked off with a look at Europe-wide trends in the PS labelstock market and wider trends among European converters
Finat managing director Jules Lejeune's regular annual review of the state of the European self-adhesive label market understandably focused on the all-enveloping Covid pandemic.
Ironically, it is largely as a result of the pandemic that 2020 proved such a bumper year for European labelstock growth, which shot up to 4.3 percent in 2020 against just +1.5 percent year-on-year (YoY) over the previous two years.
Total PS label consumption in 2020 was 7.94 billion sqm, with filmic roll label materials continuing to increase market share and now accounting for over 28 percent of labelstock demand against just 15 percent in 2000.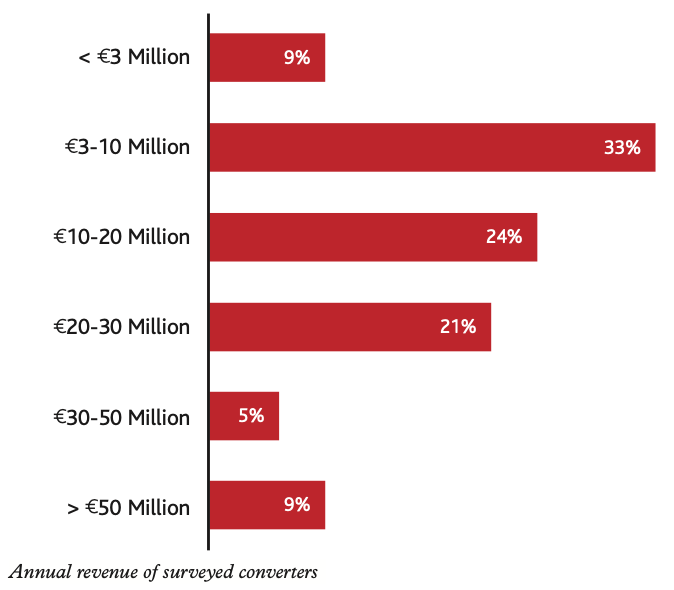 Another long-term trend is confirmed with the 2020 figures, with eastern Europe now accounting for 24 percent of total European label volume – double the figure in 2003. 
Overall, Lejeune pointed out, the European market has more than doubled in size since 2000.
Lejeune noted that the Covid-19 outbreak in March 2020 followed a volatile 2019, which had seen declining growth in both UK & Ireland and central Europe. Q1 2020, before the pandemic really hit, was still positive, showing 6.6 percent YoY growth. 
The Covid-19 outbreak from Q2 2020 completely transformed the picture. In the first wave, the label industry was faced with lockdowns, transportation issues, retailers prioritizing essential
goods and setting up 'green' lanes for the cross-border transport industry. 
But this was more than matched by a surge in demand for labels in essential sectors including food, personal hygiene, pharma/medical and retail and transport, propelled by a spike in e-commerce and home shopping and panic buying from bricks and mortar retailers. The PS signage industry saw a boom in demand for social distancing signs.  
Lejeune said the pandemic amounted to a 'stress test' for the label industry, involving a mixture of raw materials supply issues – sourcing, lead times – end-product delivery issues and staff shortages from enforced quarantine. The end of the first wave saw de-stocking in Q3 which saw label volumes decline.
This whole cycled repeated itself through the second and third waves, the last of which was compounded by raw material price increases and more interruptions to trade and infrastructure. 
Turning to regional trends, Lejeune noted that against a European growth average of +4.3 percent (against 1.6 percent in 2019), northern Europe (Scandinavia) was the highest performing region in 2020 with growth of +8.2 percent against +2.3 percent in 2019. This was followed by eastern Europe at +6.9 percent (+4 percent 2019), UK & Ireland at +4.6 percent (-1.5 percent 2019), central Europe at +3.4 percent (-1.3 percent 2019) and southern Europe (Mediterranean) at +2.8 percent (+3.1 percent 2019). 
White coated paper saw an increase in volume of +3.3 percent in 2020 as sales of packaged consumer goods surged, while direct thermal grades showed a +5.3 percent increase in 2020, driven by intense demand for product identification and variable data labels for on-line shopping, logistics, process automation, stock and inventory management. 
PP filmic substrates grew at an astonishing +10.8 percent in 2020 due to the general need for high-quality product decoration films, while PE grew at +8.1 percent. Together, white coated and direct thermal papers and PP accounted for 72 percent of label volume, up from 66 percent in 2010  confirming the continued shift to higher-end applications. The Covid pandemic was a major accelerator for all grades except PS sheets, which continued their historic decline as end users continued to shift to automated roll dispensing systems.
Radar survey
Jennifer Dochstader of consultancy LPC then introduced this summer's Radar report, which surveys a selection of Finat converter members.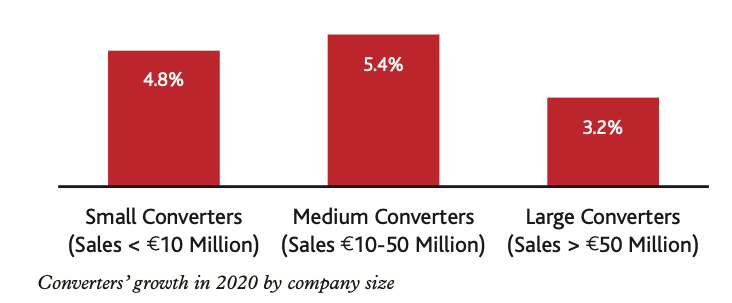 Trends identified in LPC's 2020 Radar survey largely mirror the PS materials trends seen in the roll label report. Converters in central Europe reported the lowest growth and converters in eastern Europe, Scandinavia and the UK & Ireland the highest growth rates compared to 2019.
The highest YoY annual turnover growth was among medium-sized converters with sales between 10 and 50 million EUR. Lowest YoY growth was among the largest participating converters, averaging more than 2 percent lower than the medium-sized group. Year-over-year growth for the smallest converters averaged just below 5 percent. The report's authors suggest this could reflect the disruption in trans-national supply chains which would impact converting groups with operations across multiple countries and regions.
While profitability in the sample converter group was mostly down in 2020 compared to 2019 (4.7 percent to 4.3 percent), Scandinavia and central European converters did manage an increase in YoY profitability. 
The most dramatic profitability decline was seen in Eastern Europe, where average converter profitability shrunk from 7.8 percent to just 3.7 percent last year. The authors speculate that many of these converters were over-buying consumables to counter any potential collapse in the supply chain. 'With the cost of goods increasing in addition to overhead expenses, converters' profitability results would have certainly been affected and we believe we are seeing this reflected in this year's data,' said Dochstader.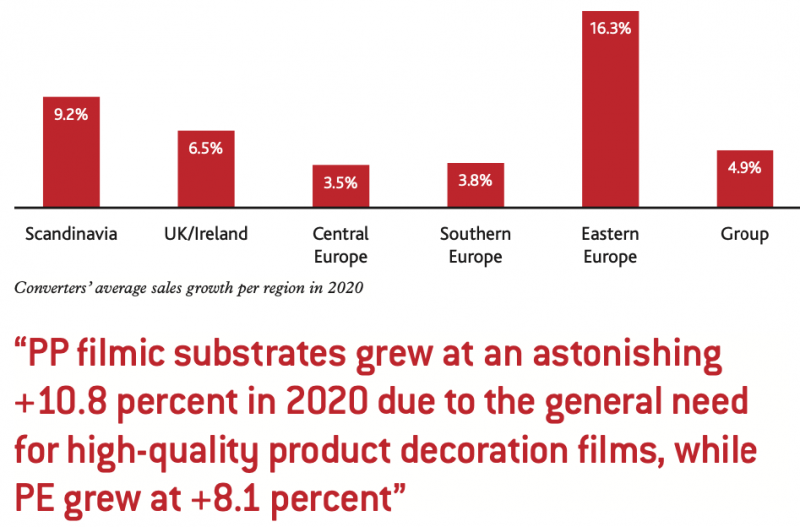 The LPC Radar report also compares the first quarters of 2021 with 2020, showing that growth remained stable at an average 3.6 percent. Scandinavia, central Europe and eastern Europe reported better profitability levels over this period, while in the UK & Ireland converters saw just 1.4 percent sales growth for the first three months of 2021. 
Radar surveys have now been tracking converter sales revenue for the last seven years, allowing longer term trends to be evaluated. One interesting finding is that Scandinavian converters in 2020 outperformed all previous seven years. Converters in the Nordic region have historically reported lowest growth in Europe. 
End user trends
For the second year in a row, the food segment delivered the highest YoY sales growth to Finat converters, followed by household chemicals, pharmaceuticals and health & beauty care. 
Predictably, the top performers through the pandemic were the food and household chemicals segments as consumers stockpiled printed packaged food goods and antimicrobial cleaning products. 
Food sectors closely affiliated with the Hotel-Restaurant-Café (HORECA) space were hit extremely hard at the same time as the printed packaging food sector benefited from consumers shifting from eating out to preparing and eating meals at home. Pharmaceuticals and nutraceuticals sectors also delivered significant growth throughout 2020. 
At the lower end of the growth curve were consumer durables and automotive segments, two sectors impacted profoundly by the pandemic. The European Automobile Manufacturers' Association (ACEA) reported a more than 25 percent drop in passenger car registrations in the EU in 2020 compared to 2019. 
Nearly one in four responding converters reported that delivery times for consumables are still a major issue, with converters in the UK/ Ireland facing the worse problems. 
Capital purchasing intentions 2021-2023 
LPC sees an increased interest in equipment procurement over the next two years. One in five respondents say they will purchase either a conventional or digital press in 2021, and 27 percent in 2022. 
Unusually, and for the first time in a Radar survey, more converters says they will invest in conventional press technology than digital. Interesting also that 8 percent of surveyed companies will be investing in screen printing equipment in 2021 – not a single respondent mentioned screen in the 2020 Radar survey. 
While converters believe 2021 and 2022 will be strong years for press and finishing systems purchases, they expect capital equipment investment to taper off sharply in 2023. 
Looking at digital in more detail, toner-based press investment will outpace inkjet among this year's Radar survey participants, with 34 percent indicating investment in a toner-based press within the next three years and 27 percent inkjet. 'It's also important to note that more than one in four participants in this year's survey indicated that their companies would not be purchasing a digital press of any kind within the next two to three years,' noted Dochstader.
---