Following the failure of the Benpac acquisition, Heidelberg CEO Rainer Hundsdörfer tells L&L that Gallus' future lies as a more independent company within the Heidelberg family.
Over the last year the label industry has been avidly following the fate of Gallus, an iconic company which was one of the original founders and key innovators of the narrow web converting industry.
This story centered on Gallus' changing relationship with Heidelberg, the leading name in the global commercial sheet-fed press market. It begins in 1999, when Heidelberg acquired a 30 percent stake in Gallus with a view to better understanding the narrow web label business. 
There was some limited technology cooperation, particularly in the development of offset printing heads for the Gallus RCS press platform, and in some 
parts of the world Gallus took advantage of Heidelberg's sales and support network to bolster its global operations.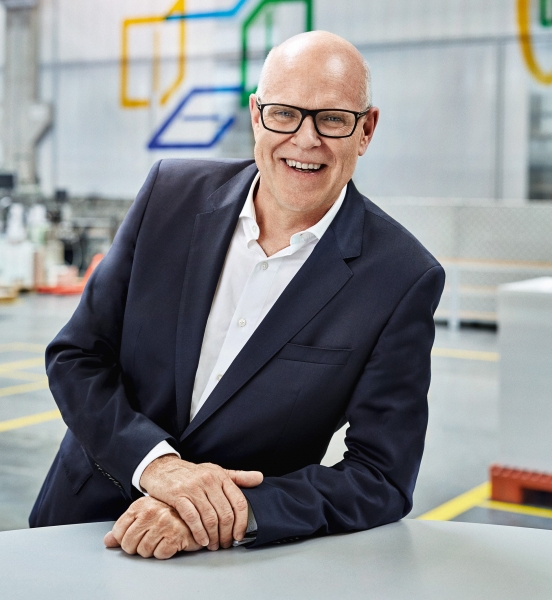 In August 2014, Heidelberg exercised its option to buy the remaining shares in Gallus, and set about fully integrating the company into Heidelberg's global sales and service network. Development of the Gallus Labelfire print engine, integrating FujiFilm printhead technology, was moved to Heidelberg's Wiesloch manufacturing site where it formed a key plank of Heidelberg's broader tilt towards digital across its sheet-fed operations.
Then in July, Heidelberg made the startling announcement that it had sold Gallus to Switzerland-based Benpac Holding for 120m euros, a deal subsequently passed by the German Federal Cartel office and due to be closed by the end of 2020. The closing date was postponed until the end of January 2021, but when Benpac failed to make the payment on the final deadline of January 29, the deal collapsed, and Gallus remained a member of the Heidelberg group.
How had this situation come about? And where does it leave the Gallus-Heidelberg relationship going forward?
These were the questions that L&L put to Heidelberg CEO Rainer Hundsdörfer and Dr Frank Schaum, head of Business Unit Label, Gallus.
Covid crisis
According to Rainer Hundsdörfer, the decision to sell Gallus was taken a little over a year ago, as the Covid pandemic was sweeping across Europe. But the subject of Gallus' place in the Heidelberg operation was already under consideration.
We learned narrow web label is another market. Sheet-fed and in-mold label is not the same customer base, except maybe just at the top. Full integration had just cost time and money
'We had started a restructuring program in 2019, and one of the aims was to make Gallus more independent, so Heidelberg could concentrate on its core business of sheet-fed equipment, services, software and subscriptions,' recalls Hundsdörfer.
'We had already tried to fully integrate Gallus into Heidelberg, because it is close to our core packaging business, but this did not prove to be the right way. We learned narrow web label is another market. Sheet-fed and in-mold label is not the same customer base, except maybe just at the top. Full integration had just cost time and money.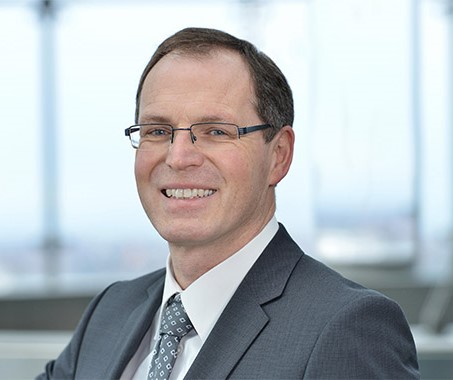 'So we wanted to give Gallus back its management independence so it could chart its own growth in a more agile way. We looked for the best of both worlds – where independence was of most importance to Gallus; and where the infrastructure of Heidelberg could be used, for example in Heidelberg's global logistics and sales service.' 
The restructuring plan was finalized in March 2020. 'But this was swept away a few weeks later when Covid threatened the whole industry.' 
The Benpac deal ddid not come out of a clear sky. The company had already taken on Gallus technicians from the St Gallen operation who would otherwise have been made redundant and had expressed an interest in taking on Gallus' wider manufacturing operations.
'We had other deals with Benpac, and we had to secure Heidelberg's financial stability, so it was a welcome offer at that time,' explains Hundsdörfer. 'In the tight economic situation from Covid it was a logical move for us to sacrifice a good piece of growth business to get us through the crisis.' 
Hundsdörfer now insists that Heidelberg's financial situation has greatly improved compared to a year ago because of the cost-cutting and rationalization measures the company has undertaken, meaning there is no further need to sell Gallus. 
'We laid off more than 1,600 people – a program we pulled forward, so saving personnel costs, and we engaged in a number of M&A deals instead of selling Gallus, like getting rid of operations we do not need any more like high-tech coating and chemical companies, divesting Cerm and managing our operational network and capital in a better way. So in the end we could afford for the deal not to go through. We can keep Gallus and we are going back 
to the original strategy to give Gallus more independence. We are back to square one a year later.'
Hundsdörfer says that in preparation for the Benpac sale Gallus had already moved along the road to independence. 
'The focus for Gallus now will be to push its new products and become more competitive. I am optimistic about what we have already achieved. There is a good possibility Gallus will provide significant growth and contribute nice profits to the Heidelberg group.' 
Digital future
Looking to the future, Hundsdörfer stresses the importance of digital printing to both Gallus and Heidelberg. 'Despite the exit from Primefire, we believe that this is important for the future of Heidelberg and we will be back with new solutions. Heidelberg put a lot of effort in and this is still the best technology in the market. It is important for Heidelberg to save this investment because it will become valuable for the Group in the not too far future, and also very important for Gallus.' 
Hundsdörfer confirms that Gallus' digital assets were not part of the Benpac deal – the relationship between Heidelberg and Gallus here was too strong. 
In the end we could afford for the deal not to go through. We are going back to the original strategy to give Gallus more independence
'Heidelberg acts as a (digital) supplier to Gallus, but not just a supplier/customer – it's more like family. And we have the opportunity to develop it further. The Gallus Labelfire is not just for printing on flexible packaging materials, but also for folding cartons. Now we are closer to Heidelberg's core business again. So we will keep that technology in-house and together improve the performance level.' 
Gallus perspective 
Dr Frank Schaum, head of Business Unit Label at Gallus, elaborated on the company's technology roadmap, starting with digital.
Dr Schaum said the next step for Labelfire will be both a wider 430mm web and a 250mm 4-color model. 'We are designing the Labelfire as a modular 
platform which can be scaled to customer needs, so the customer can build up their own digital system in terms of print speed, colors and width.'
In line with Heidelberg's push towards total service offering, Dr Frank Schaum emphasizes that digital is a business model. 'You have to include a service contract and maintenance and the full range of inks. We can now provide special inks for flexible materials or low migration and we have very good digital white, and printing at 70m/min. It is so important to have ink R&D in-house. Having a digital machine without having ink development in-house does not make business sense. Everything is in one hand.'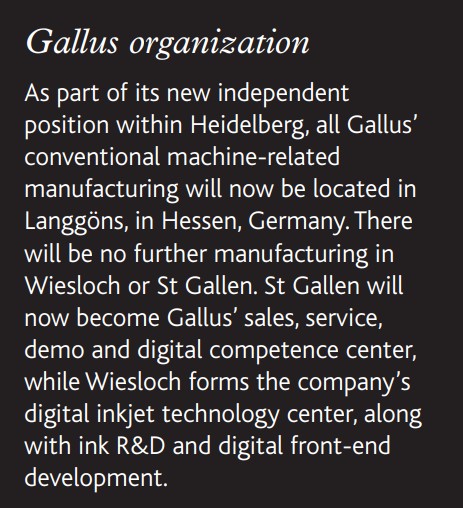 Hybrid inkjet-flexo is a major priority. 'So a label with high coverage of ink and can use flexo printing units in the Labelfire. We are fully convinced that the hybrid concept is the way to go. Everybody is testing business models and brand owners have their own ideas facing pressure for more SKUs, marketing innovation and multiple-languages.'
At the same time, conventional print development will not be neglected, insists Dr Schaum.
'We still have enough applications for conventional printing at the high end with high speeds and long runs. Also for areas of high ink coverage which don't make sense for digital.' 
The venerable RCS platform – which remains after 20 years Gallus's high-end machine – has been refitted with a state-of-the-art electronic control system which opens up new multi-web applications. 'This is still our highest automated platform with eleven servos per print unit. We can't add any more,' jokes Dr Frank Schaum. 
The Labelmaster remains Gallus' 'bread and butter' machine and the ECS the 'value' machine. 'Our next step for the Labelmaster platform is adding the next level of web width. For that we now bring additionally to the existing widths of 340mm and 440mm the web width of 570mm,' says Dr Schaum. 
'This new type brings the Labelmaster on the one hand to more productivity, namely 200m/min on 570mm and on the other hand the capability for more 
applications like shrink sleeves and flexible packaging. For applications from 670mm web width and even more Heidelberg offers solutions out of its site in Weiden, Germany [Heidelberg Web Carton Converting GmbH]. These machines are more specialized for dedicated applications like card board and 
can be customized to the customer's needs very specifically.'
The 570mm Labelmaster is currently under development and the first prototype will be delivered in the next few months.