The entire value chain is turning to new technologies to transform pharmaceutical packaging into a safe and efficient ecosystem. The race is on.
The worldwide health crisis has had an irreversible impact on the pharmaceutical value chain. 
A report conducted by consultancy Research and Markets in January 2021 at the height of the pandemic suggests that 'future-proof' labeling technologies are set to transform the pharmaceutical industry. The report predicts that technologies such as RFID and NFC will make drugs and medical devices digitally visible, traceable, and well monitored, from the manufacturer all the way through to retail shelves and even to the consumer's home. This trend, in turn, is expected to boost interactive technology applications in pharma, registering an enormous CAGR of 14 percent in the next five years. 
'Hospitals, pharmacies and other healthcare providers are looking for ways to manage costs better, increase efficiencies, and ensure the wellbeing of their patients. RFID technology can improve inventory management, ensure quality, and prevent waste,' agrees Cory Keller, senior product manager for the pharmaceutical division of Avery Dennison. 
'They can also help save lives by supporting clinicians with vital information. Our RFID-enabled labels can improve inventory accuracy by 99 percent or more. They can help manage costs across the supply chain and prevent counterfeiting. Pharmaceutical companies can also use intelligent labels to track the movement of assets and always keep high-demand items available – something that's critical for the pharmaceutical industry and especially challenging for companies with a global supply chain. RFID provides end-to-end inventory and item tracking solutions for increased accuracy, visibility and security, starting at the point of manufacture.'
UPM Raflatac's senior manager for pharma business, Paavo Sillanpaa, agrees with this opinion: 'The FDA's Drug Supply Chain Security Act is one of the main drivers of using this technology. It's a mandate that you must be able to trace the pharmaceuticals to the point of sale and it's tracked through the wholesale pharmacies and all stages of the supply chain. Quite often, the tracking is done by using serial numbers and barcodes, but I think there's an increasing number of RFID and NFC solutions coming into play now.'

Interactive packaging is rapidly gaining acceptance among consumers, so to extend it to the pharma business seems an obvious move. 'For example, a long-standing debate in the pharmaceutical industry has been what is the best way to include all the information about side effects and other critical information in pharmaceutical packages,' adds Sillanpaa. 'Most commonly, this is a leaflet attached to the package. However, you could easily accomplish this by putting that information in a barcode or an NFC tag on the product and making the same information accessible through your smartphone or tablet.'
Schreiner MediPharm, a leading developer of innovative self-adhesive systems for the pharmaceutical and medical device industry, sees the untapped potential of RFID and NFC technologies going beyond traceability and authentication tools. 

'Smart labeling for pharmaceutical products based on RFID technology offers a significant number of benefits, enabling interactive applications for patient support, digital product authentication and inventory management,' comments Gene Dul, president of Schreiner MediPharm US. 'This enhances patient and product safety, and helps to optimize processes. Patient centricity and growing self-medication has created a demand for medicines that are easy and convenient to administer. Smart labels with an integrated RFID or NFC chip can add value to the primary container or injection device while supporting the digitalization trend. A label-integrated NFC chip, for instance, enables diverse interactive applications to optimally assist the patient during self-medication. Via a smartphone, he or she can easily access additional product information, demo videos or special apps, or perform mobile product authentication.'
Ian Axelsen, business development manager at UK-based converter AA Labels, thinks that improved customer communication will provide huge benefits to both pharma companies and patients.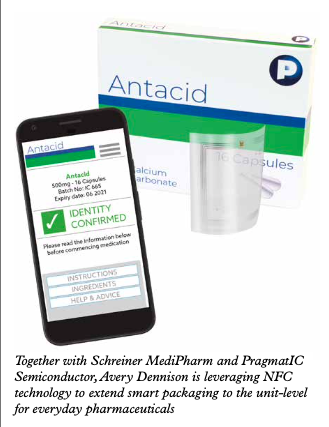 'The trackable nature of RFID provides huge value by enabling organizations to locate and manage their inventory throughout its lifecycle, making it easier to manage supply chains and improve efficiencies,' says Axelsen. 'Increasing accessibility for consumers is an additional benefit that interactive labeling can offer, providing scannable information for those with visual impairments and offering additional resources and advice for users. Multi-layer labels currently provide improved customer communication, but their life expectancy is often limited by the continual introduction of innovative technology applications, such as encoded inks and NFC.'
Steve Wood, president and CEO of track and trace specialist Covectra, cautions that some pharma companies are voicing reservations about RFID tags, concerned with the risk of contamination of the drug by RF energy. 'Because of this concern, one of our customers, a pharma company, decided against it and used serialized 2D Data Matrix barcodes on the unit dose, primary carton, cases and pallets.'
AlpVision, provider of covert anti-counterfeiting technologies, thinks that RFID will remain a niche market owing to cost implications and other constraints. According to the company, QR Codes or 2D Data Matrix 'are better options, in particular for giving consumers access to electronic leaflets.'
Bart Vansteenkiste, global life sciences business development manager at Domino, explains that Data Matrix and QR codes have significant advantages over linear barcodes in pharma applications. 'QR and Data Matrix codes are much smaller, and they can contain a lot more data than linear barcodes.' 
A key use of machine-readable codes is supply chain management. A 2D code can contain a wide range of information including product name, batch number and use by date. This provides an overview of which products are sitting where in the supply chain, which batch the product came from, and how much shelf-life remains. 'This enables manufacturers and suppliers to manage the movement of goods within the supply chain and facilitate the location of products in the event of a recall,' says Vansteenkiste.
Andy Scherz, commercial labels product manager at Epson America, identifies two drivers behind the continued adoption of QR codes. 'First is its potential for counterfeit detection,' he says. 'I can see a QR code being effectively used as part of the online verification of genuine products. The second element is the sheer volume of informational content required on a label, which sometimes exceeds the real estate available – even at the 0.1-point font. A QR code offers a way to augment the information on the label by tapping online resources.'
Ian Axelsen notes an increased interest in QR codes throughout the Covid-19 pandemic, proving vital for track and trace purposes and helping reduce contact in public spaces on everything from menus to bus timetables. 
Technology fights counterfeiters
According to the World Health Organization, counterfeiting globally costs the pharma industry USD 75 billion every year. Integrating interactive technologies into pharmaceutical labels is currently the most significant opportunity for vendors.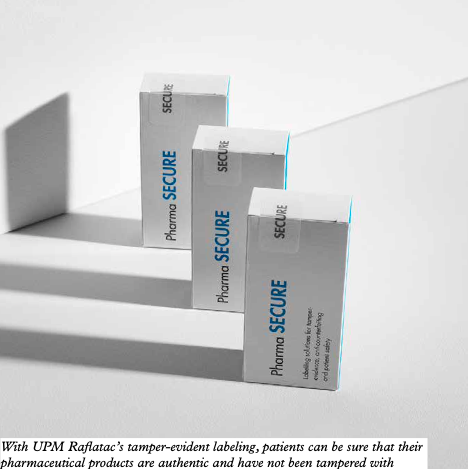 There are already a wide range of label systems targeted at combatting this threat. Avery Dennison's Keller lists the many kinds of protection available, ranging from overt destructible and Void-effect labels to covert solutions, for example those that fluoresce under black light. 'I think the most robust solutions combine both overt and covert technologies.'  
Some brands have already begun using RFID technology to authenticate prefilled syringes and track the time and temperature of products during shipping. The next stage for many pharma brands is integration with the Internet of Things (IoT). 
Andy Scherz of Epson America agrees that leveraging the internet is the only reliable method for fighting counterfeiting. 'Any unique label feature can almost always be copied,' he says. 'Even things like RFID can be programmed and duplicated by a sophisticated counterfeiter. Hence, we must tie a label's content back to some source of truth. This means that we cannot label large quantities of products with identical labels printed in bulk. Instead, each label must be unique with some codes or elements that can be scanned and verified by an app tying back to a master data source. A counterfeit item will either have a code that fails to match any in the database, or it will have a code that has already been used. Either way, the party knows they have a suspect item.'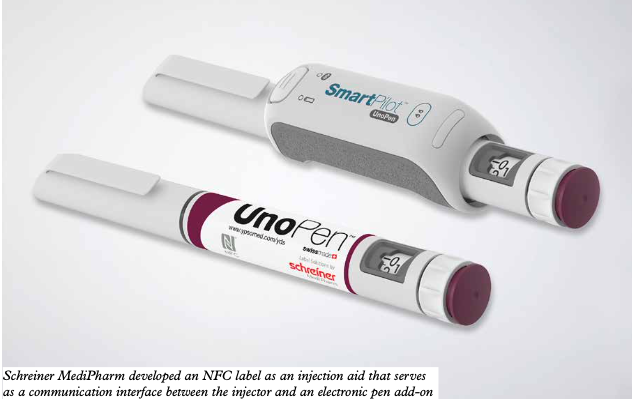 Domino's Bart Vansteenkiste agrees. 'Serialization combined with tamper-evident labeling is crucial to prevent counterfeiting and ensure patient safety. With serialization, when buying products from a pharmacy, you can be sure the product is genuine. Tamper-evident labeling then ensures that the product has not been compromised in any way and is safe to use.' Other features which can add further levels of safety include inks containing taggants, says  Vansteenkiste. 'These small particles show up when studied under a spectrometer, which can identify whether the ink used for coding a product came from the correct manufacturer. In addition, there's the option of using a software program to make a mistake in a code, such as a symbol printed in a different font or a small amount of deliberate damage. A counterfeit product will typically have a perfect code, as the error is difficult for a counterfeiter to spot.' 
Schreiner MediPharm considers the specific threat scenario of a pharmaceutical manufacturer and a particular product. 
'To enhance product integrity, there are customized sealing solutions for medicine packs and containers, and which act as the first hurdle against counterfeiters,' says Schreiner president Gene Dul. 'In addition, label-integrated authentication features ranging from overt, covert, and forensic to digital technologies are important in offering effective protection against counterfeiting. Track and trace systems to identify and trace products, and thus indicate gray market activities are available. Ideally, multi-level security concepts should be implemented that are individually tailored to a specific use case, combining analog and digital features, which can be verified by different stakeholders within the supply chain.' 

'There's definitely an oversupply of technologies,' adds UPM Raflatac's Paavo Sillanpaa. 'I think the difficult thing is deciding which to use, as well as how many. With anti-counterfeiting, the key is to combine different technologies, not just one. And there's also the question of who in the supply chain needs to detect if the product is genuine? Is that the supply chain? Is that the consumer? So the technology applied really depends on the kind of solution desired. Typically, it's a combination of different elements, including cloud software, so you're able to read from the package or label and then verify online that this is a genuine product.'
Covectra's Steve Wood starts from the assumption that variable data barcodes can be easily duplicated, 'and it would take a considerable amount of time to realize that multiple barcodes with the same number have been used.' 
'We believe that the best tool and technology is our security product called StellaGuard, which is a label that employs a 2D serialized barcode printed on a highly secure substrate. In order to provide maximum security of the substrate, each label has a number and pattern of visible 3D holograms within the label referred to as "stars." This combination of 2D barcodes plus the unique number and pattern of holographic stars is processed by a smartphone in seconds,' says Wood.
Step into the future
What trends might we see in the near future?
'I think we'll see serialization of over-the-counter medications introduced as legislation in Europe and the US,' suggests Domino's Vansteenkiste. 'At present, this is limited to prescription medicines only, but I expect it will be a requirement on OTC packages within five years and anticipate that it may become a requirement for other products soon after this. We're already seeing this trend in Russia, where the Chestny Znak regulation requires serialization of all prescription and OTC medicines and is now being broadened to cover items such as bottled water and milk.'
'I think mass customization is likely to be on the cards,' Andy Scherz adds. 'Just look at something like airbags – initially introduced as a one-size-fits-all, they now strive to match the force with the size of the occupant. Is one pill ideal for everyone? Can it be tuned by patient size, age, sex? What about a person taking many medications? Would the ideal formulation vary to accommodate the full spectrum of medications the patient is taking? I think yes. This means producers must focus on nimble manufacturing and labeling techniques that allow for efficient production of many unique products, rather than bulk production of identical formulations.'
---
For further info: 
For more information, read 'Focus on label markets: pharmaceutical and medical' as part of the Label Academy subscription service.