Read later
Gallus event highlights low migration Labelfire
A low migration-enabled Labelfire hybrid press was demonstrated by Gallus at its High Performance Day event. 
Gallus ran its first 'virtual' live showcase in March, with 1,500 people signing up to view multiple press demonstrations at the High Performance Day 2021 event. Over two days Gallus demonstrated a Labelfire hybrid press, a Labelmaster and an RCS430 in addition to three expert breakout sessions. 
The main focus was on the Gallus Labelfire hybrid press printing with low migration inks. The low migration configuration includes a nitrogen inerting unit to suppress oxygen at the point of cure and a UV booster to ensure a high level of cure. Built-in sensors monitor residual oxygen levels and UV intensity. This is a relatively new development for Gallus-Heidelberg, and there are currently three presses in the field proving the low migration concept.
Digital business development manager Martin Leonhard explained how Gallus has control over low migration components. The ink is developed and manufactured by Heidelberg, which also controls the digital engine development and front-end workflow. He explained the challenges involved in developing a low migration UV inkjet ink. UV flexo ink manufacturers tackle the issue of migration by increasing the size of the photo-initiator molecules. But this route is not open to UV inkjet ink developers because larger molecules are more likely to block the inkjet nozzles. Achieving low viscosity ink formulation with a low photo-initiator ratio and the smallest possible molecular components is a challenge.
He stressed that the press and inks are just one component of a total low migration system. 'Pre-press is also critical. We use a reduced volume approach, an algorithm which minimizes ink laydown, since what's not on the substrate cannot migrate.' 
GMP (Good Manufacturing Practice) also has to be followed, which involves all the participants in the production chain including equipment and consumables suppliers and even the print buyer. GMP means the converter needs to keep all low migration components and operations separate from conventional (non-LM) operations, and the whole process has to be documented in a form which is 'legally robust'. Low migration procedures must also be documented throughout the distribution chain.
Digital embellishment 
The Labelfire demonstration also allowed Gallus to show off the capabilities of the Labelfire's in-line Digital Embellishment Unit (DEU). The DEU jets at 600 DPI resolution using Ricoh inkjet heads and is a joint development with Swiss company Steinemann Technology and Schmid Rhyner. It can print variable spot matte and gloss varnishes and cold foil adhesives as well as creating a range of haptic effects. The demonstration wine label job showed simulated embossing combined with digital cold foil metallic effects.
Gallus estimates the Labelfire breakeven at 7,000 linear meters – compared to around 2,800 linear meters for a stand-alone Labelfire without the hybrid flexo units
The addition of the flexo white station allowed Gallus to demonstrate the power of the hybrid approach in extending the breakeven point of the Labelfire against in-line flexo presses. Gallus estimates the Labelfire breakeven at 7,000 linear meters – compared to around 2,800 linear meters for a stand-alone Labelfire without the hybrid flexo units.
The Labelfire demos also showed other aspects of the tight integration with Heidelberg. The front-end (DFE-L) is built around the Heidelberg Prinect workflow, which includes data preparation and Fogra-approved color management. The HMI handles tasks such as job queueing, all hooked up to a server network. Variable data job preparation and automatic data check is also supported. Avery Dennison's Vladimir Tyulpin talked through the substrate requirements for a hybrid press. He said that because UV flexo and UV inkjet inks are from the same family of products, the majority of UV flexo topcoats will be compatible with hybrid printing. The situation is different in the US, however, where top coatings tend to be optimized for the dominant water-based flexo process. Coatings here generally need to be tailored for UV inkjet.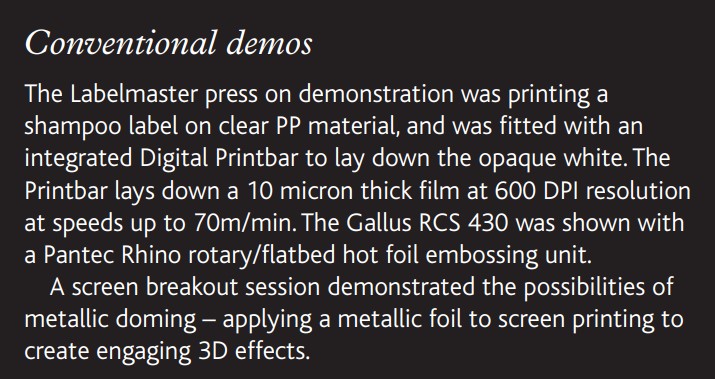 Uncoated papers – for premium food and beverage labels for example – present more of a problem. While UV flexo anchors well, the different ink load and non-contact nature of inkjet can present issues. This requires the use of papers with dedicated inkjet coatings which will not affect the look or structure of the paper.